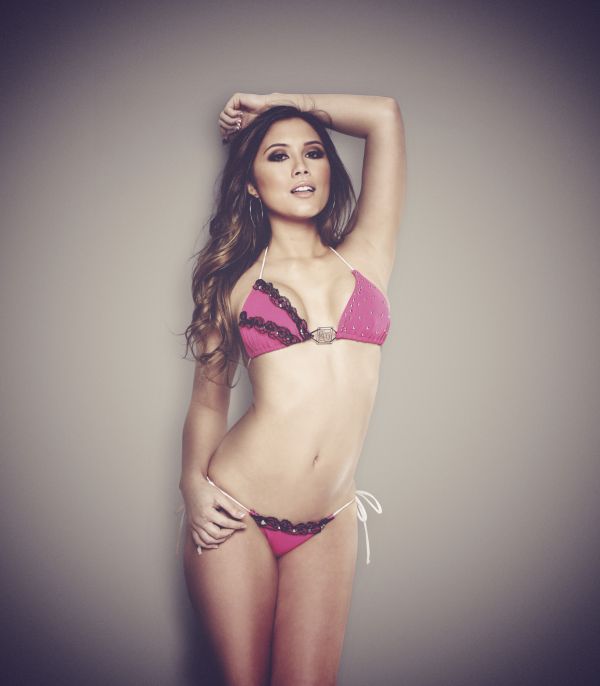 You, no doubt, have seen Erica Ocampo before on the cover of Maxim and in the "Like a G6 Video". That's why we jumped at the chance to make the flirtatious French/Filipino 24-year-old the PASMAG cover girl. The L.A.-born hottie has been making waves for a while in her hometown and even though she puts in work during the day her response of "unrated" to how wild she is in the bedroom on a scale of 1-to-10 leaves much to the imagination for how hard she works at night. Read on for the full interview.
---
Birthday: January 07
Location: Los Angeles, CA
Zodiac Sign: Capricorn
Height: 5'7"
Weight: 118
Measurements: 32-24-34
Ethnicity: French and Filipino
Turn-Ons: Confidence, Passion and Chemistry
Where are you from? And, are you currently living there? If not, where are you currently living?
I'm currently living in and am from Los Angeles, CA. My work allows me to travel so I've spent the past year between here, Bali, Indonesia, the Philippines, and Hawaii.
How long have you been modeling?
Since I was 18 years old.
How did you get your start in modeling? Were you discovered?
My make-up artist friends used me to model for their portfolios and I was first discovered when I was asked to model for the clothing line Dime Piece Designs.
What would you say are your strengths as a model? (ex. body, eyes, smile, certain poses and emotions...)
I've always used a bit of my acting skills to play into my modeling. The eyes are definitely what means the most to me in a photograph. They have to be able to tell you something.
Describe yourself in three words or statements.
Ethereal, entertainer, entrepreneu.
What are some of you modeling highlights so far?
Being on the Cover of Maxim Magazine, playing the lead for the "Like A G6" music video, being featured on shows like Entourage, Girlfriends, The Wedding Band etc. and the international side to the world of modeling.
Does your personality match your Zodiac sign? Describe.
Yes, I'm definitely ambitious, extremely loyal, and have a strong work ethic.
What is your best beauty, fitness, nutrition secret?
For me, I always feel best when I can be outside a lot and I guess that comes from being an island girl. I love to go to the beach to work out and run, surf, swim or go for a stand up. I really enjoy going on hikes and long walks as well. As for nutrition, it's not really a secret, but I'm a vegan and try to eat mostly raw foods.
How do you keep in such great shape?
In addition to my active lifestyle I also try to go to the gym everyday.
What is the strangest photo-shoot that you've done?
When I did the cover of Transworld Surf Mag. We did a shoot with Globe on the beach for two days and they body painted all the models pink and created a pink set/world for the shoot and had surfing in the background. The story was strange but also cool. It was epic!
What was the first major event that you modeled at? How was it?
I went to the Magic tradeshow with Dime Piece Designs a few times and we had a lot of fun. Also, when I hosted Nelly's album release party for "Brass Knuckles" in Las Vegas because I got to work with my friends and just have fun.
Who is your favourite model or celebrity of all time? Why?
Angelina Jolie… Have you seen the movie Gia?
What traits do you like most about yourself?
That I'm following my dreams.
What is your top unfulfilled fantasy?
It's a secret.
Do you have any birthmarks, scars or tattoos? Please state "what", "where", "how noticeable?"
My freckles that I have to hide when I wear make-up.
Do you have any pets? What kind?
I have a cat that's been living with me since I was seven years old. It's hard to keep pets when you travel. I took care of a cat in Bali as well. She was crazy and loved sleeping in baskets and bags!
What are your hobbies? Any hidden talents you'd like to share with the world?
Acting, dancing, writing, surfing, yoga, and traveling. I also have a black belt in martial arts.
What is your favorite food?
Anything that Chef Juliano from Planet Raw in Santa Monica makes. If I had to choose though, I have to say I love coconuts, dragon fruit, mangoes, and passion fruit.
Everyone has their weird habits. Do you have any?
Not that I know of.
What is your dream car? Why?
I love Mercedes-Benzes and I'm used to driving them, however, I've always wanted a Porcshe.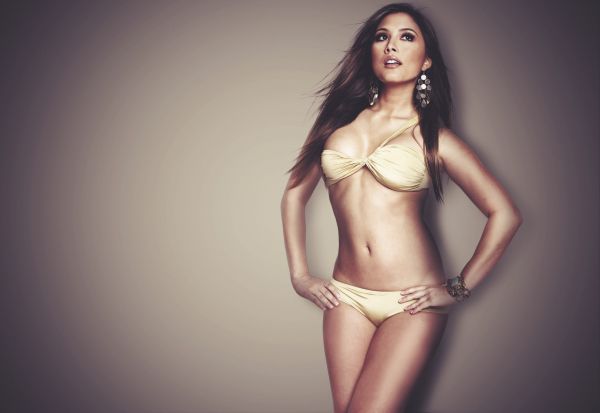 What do you look for in a guy? What would he have to do to get your attention and to keep you interested?
I don't really have a type. Surprise me!
What gets you in the mood? What are some of your turn-ons?
Being with the right person.
How do you feel about pick-up lines? What was the best line that was used on you? Did it work?
I don't really like them and would rather talk to a guy who's just being himself.
On a scale of 1 to 10, how wild are you?
Unrated.
What do you wear to bed? Why?
That depends on where I am.
Have you posed in the nude? If so, how did it make you feel?
I don't do nude modeling but have work implied only for artistic purposes. It's quite taboo in Los Angeles and people look at everything I do when they hire you as an actress. In Europe modeling nude seems normal. On the contrary, I'm from LA.
Who are your heroes in real-life? Why?
Vin Diesel and I worked together on The Ropes and he created the character Juliet for the show based off me. He's been a positive mentor to me in my life.
If you could have one superpower, what would it be and why?
To fly, read people's minds, or freeze time.
Tell us about any upcoming projects of yours?
The cover of PASMAG!!! It's been so great working with you guys!
With any 'spotlight' type of job, you are looked upon as a role model. What advice would you give out to aspiring models?
If you really want something make sure you give it your all and immerse yourself in it. Don't give up.
Do you have any shout outs or last words?
Thank You PAS! xoxo