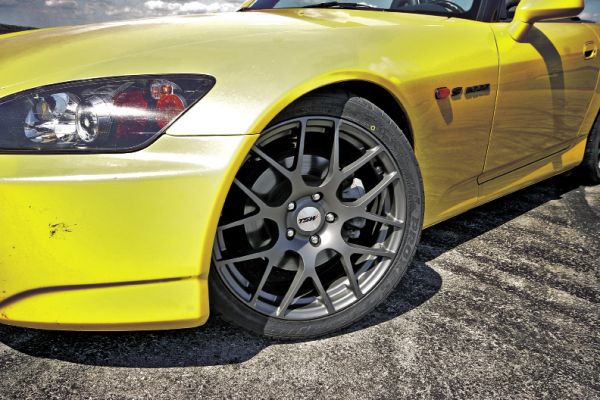 Toyo Tires are well known for their Ultra High Performance offerings in a wide range of products. Because they have a reputation for constantly improving their products, we knew the introduction of any new tire would raise the bar for performance. Their legacy products are so good that anything similar to their existing technology might not be considered an improvement at all, so the pressure was on to step it up.
Enter the Proxes T1 Sport, a new flagship tire that will be released in Spring 2011 which has already met with some great reviews in the European market having been introduced there last year. We were eager to check out this new tread pattern and see how it stacked up against previous Toyo legends like the Proxes T1R and R1R. The tread design isn't nearly as radical as its predecessors, however we quickly found out that there's a purpose to the new pattern and it means business. In order to meet the performance and practical needs of today's sport sedans and sports cars, the T1 Sport must be capable in different weather and road conditions.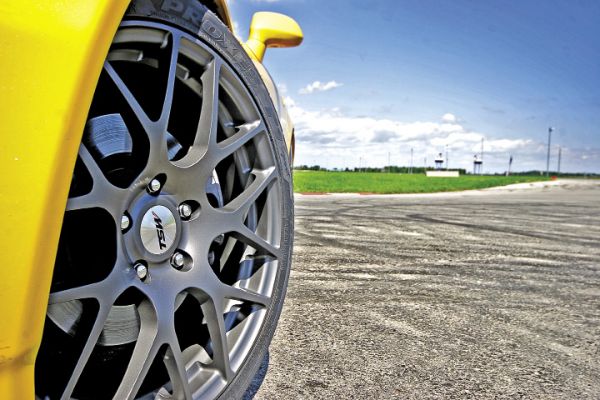 According to Toyo Tires, this radical change in tread design from the T1R was to improve dry road performance yet maintain the wet weather capabilities expected from Toyo's flagship products.
Having heard this, PASMAG wanted to put these dry grip claims to a real test. We installed them on a set of forged TSW Nurburgring wheels on our Project S2000. This fiery roadster has an upgraded BC Racing coilover suspension and can generate a load of G's in every direction. The Proxes T1 Sport selected was the 225/40R18 OEM size in the front, but we added some contact patch in the rear by going with a slightly wider 265/35R18. The T1 Sport is a Y-speed rated tire that will be stable up to 186mph or 300km/h, speeds our S2000 isn't going to reach anytime soon. But the 2,700lb roadster tears up the corners and asks a lot from whatever tire it is rolling on.
FREE Trial Issue
Driving Impressions
First off, the T1 Sport is an extremely quiet tire. Since many tuners or race enthusiasts run DOT race tires on the street, we forgot how silent some tires really are. The T1 Sport definitely has a comfortable ride even with its firm, yet forgiving sidewall construction. Toyo claims to have invested a lot into the sidewall technology of the T1 Sport to improve rigidity.However through compounding techniques and advanced tread design, the tire feels more comfortable during everyday driving. We found out that it sure is ready when you want to turn it up! When it came to dry grip the T1 Sport shined.
240-AA-A
Made in Japan
Y-Speed Rated (186mph or 300km/h)
Tested 225/40R18 & 265/35R18 on Honda S2000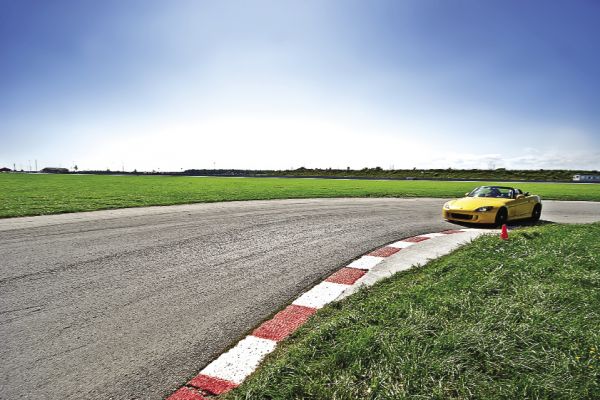 This tire comes with a 240 UTQG wear rating so we were expecting solid grip. This rating also adds to the expected life of the tire over some of others rated at 200 or lower. The T1 Sport delivered lap after lap of sure-footed grip. Since the S2000 doesn't have a load of torque to cause an oversteer condition when applying throttle out of a corner, it simply squatted and rocketed out of the turn while sticking to the track. In a couple of fast turns we were able to get the car loose, but we simply backed off on the throttle slightly for the T1 Sport to easily hook-up again and maintain momentum.
We liked the audible warnings the T1 Sport gave us when getting close to the limit, as this is a tire that talks back to you. Considering this isn't a track tire, it held its ground at over 64°C (147°F) which is more heat than you will ever generate on the street! With that said, you can take your car to the track with the T1 Sport for a casual lapping day and have the confidence the tire will hold up to the stress and the heat but still maintain adhesion. Under braking, the grip was exceptional because the tire remained more composed than our brakes did, which faded early on this 32°C (98°F) day.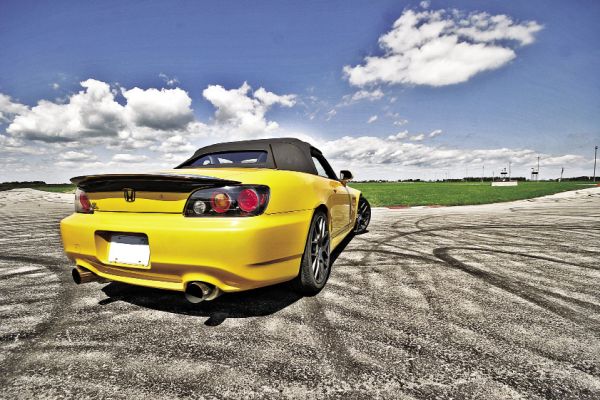 Around town the tire was quiet and dealt with all of the nuances of city driving. In the rain, the T1 Sport was composed and didn't disappoint. In standing water with its wide circumferential grooves and numerous sipes to channel out the water, the T1 Sport held its ground. You really had to hammer the brakes or gas to get the T1 Sport to lose traction and we all know no one should be driving like that in poor conditions in the first place. If you need to stop fast or make a quick turn, you had enough traction in the wet to do it.
Overall, this is another serious contender in the Ultra High Performance market. There are many tires vying for the business from those performance drivers that want a premium ride all the time. The Proxes T1 Sport is a good all around performer, so don't be fooled by its change in tread pattern, this tire can hang with the best of them, wet and dry. The T1 Sport is one tire we would definitely consider for a daily driven sport sedan or hot coupe.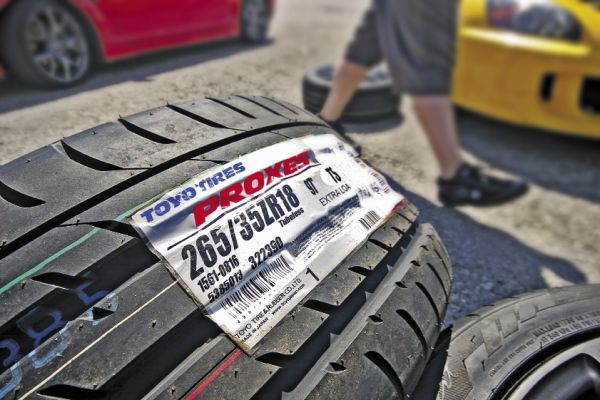 Highlights:
Legendary Toyo all-round performance
Great dry grip
Solid and predictable wet performance
*The Proxes T1 Sport is now available in Canada and is due out in the US in May 2011*
CAN: www.toyotires.ca
Want to Read More?
Click Below for Full Digital Issue!