AEM Digital Gauges
EM's Digital Display Gauges include sensors and all necessary hardware for installation and operation. The gauges are available for Oil Pressure, Fuel Pressure, Water Temp, Trans Temp, Oil Temp, UEGO, Boost and Voltage with more applications to follow. Our digital display gauges complement our existing gauge controller designs to deliver a consistent look inside the cockpit of your street or race vehicle.

For more visit www.aempower.com
---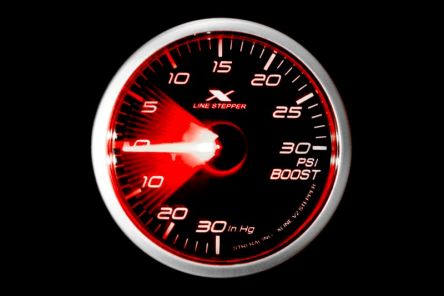 STRI DSD-Series & V2-Series
STRI Racing Electronics, manufacturer of today's and tomorrow's racing gauges offers two different series, the new DSD-series and new V2 Series. Both provide hardcore enthusiasts with the features and accuracy they demand. The precision, performance and durability of the new STRI gauges are elevated from previous versions, yet the price-point remains very competitive. Features include Full electronic, Peak Recall, Auto Self Calibration, 270 Degree Sweep, Short circuit auto detect, Sequential open / closing mode, LED Dimmer function, All sensors included.

For more visit www.autotechinteriors.com
---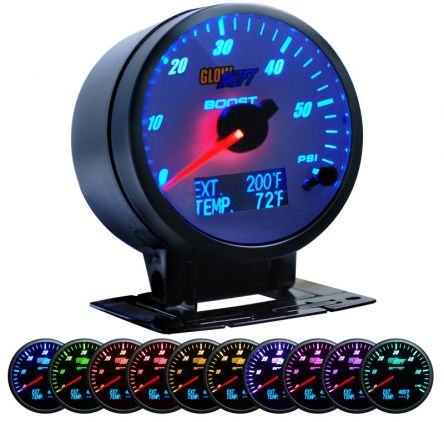 GlowShift 3 in 1 Combo Gauge
GlowShift Gauges is proud to welcome the newest member of its product line. This one of a kind meter provides the ability to monitor and display readings from 3 separate sensors. The new 3 in 1 Combination Gauge boasts a variety of distinctive nonetheless space saving features packed into a single 60mm gauge. This unit provides the ability to monitor 3 individual engine measurements that include boost pressure (0 – 60 PSI), exhaust gas / pyrometer temperature (0 – 2200 degrees Fahrenheit) as well as another temperature measurement indicator from your choice of oil, water / coolant or transmission fluid (0 – 300 degree Fahrenheit). Boost pressure (in PSI) is read out on an analog dial indicator that spans the majority of the gauge face with a 10 color illumination display designed to match your vehicle's stock gauges. The exhaust gas temperature and secondary temperature readouts are viewed in a digital display in the center, lower portion of the gauge face. Measuring only 1 ¾ inches deep and featuring a magnified tinted lens, this meter provides a variety of functions in a unique, sleek, and stylish approach previously unseen elsewhere. Each unit is fully electronic and comes with the necessary electronic sensors / senders needed for a quick installation and easy operation right out of the box. Instructions, mounting hardware, a one year limited warranty, free lifetime technical support and free ground shipping.

For more call (888) GS-GAUGE or visit www.glowshift.com
---
Prosport Performance - Phantom RPM gauge
The Prosport Performance Digital Phantom RPM gauge is a 4-inch diameter LED tachometer with integrated shift light. It features 3 color (blue, white or amber) LED lighting, stepper motor electronic movement to ensure pinpoint accuracy and has a 0-10,000RPM range with a 270 degree sweep. Special features include a peak / recall function, illuminated red pointer, 3 color LED control box, opening and closing ceremony an a side mounted shift light as well as a fully programmable warning feature.
For more visit www.prosportgauges.com or www.prosportcanada.com
---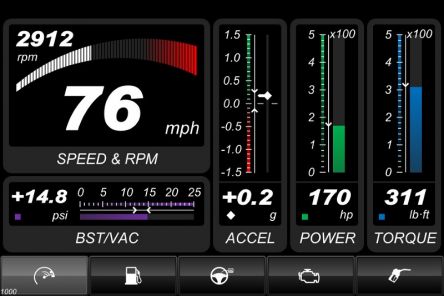 Palmer Performance DashCommand
Palmer Performance Engineering submitted the latest version of DashCommand to Apple for approval. It is estimated that DashCommand will be available for purchase from Apple's iTunes App Store as you read this. Demonstrated at SEMA Show 2009 and entered in the New Products Showcase, DashCommand was named first runner up in the hotly contested mobile electronics category and won 9 Global Media Awards. DashCommand is a supplementary instrumentation app for the iPhone OS which uses OBD-II diagnostics data pulled directly from a vehicle's ECU. The 28 possible gauges are organized in 5 dashboards and cover performance metrics such as horsepower and torque, fuel economy metrics such average mpg and distance to empty, engine metrics such as temperatures, air and fuel flow, and air/fuel ratio. It's gauge nirvana without the clutter and the expense. DashCommand is also an OBD-II scan tool able to read and clear trouble codes. Data logging for diagnostics and performance tuning is also available.

For more call (647) 890-2059 or visit www.dashcommand.com
---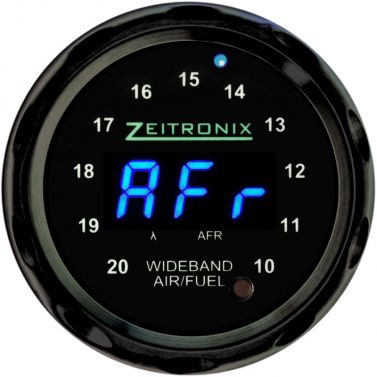 ZR-2 Multi-Gauge
The ZR-2 Multi-Gauge displays air to fuel ratio, boost/vacuum, exhaust gas temperature, and configurable user input readings.  The user input display can be configured to monitor voltage, air intake, water/oil/transmission temperature, or fuel/oil pressure.  The ZR-2 Multi-Gauge has a peak-hold feature and uses high contrast LEDs visible even in direct sunlight.  The outer ring of LEDs and inner digital readout are configurable to display independent sensors.

www.zeitronix.com