---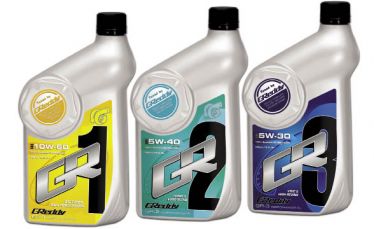 GReddy GR synthetic Oil
www.greddy.com
GR Synthetic Oil is made from the finest automotive grade synthetic bases. The GR oil line up is designed specifically to protect and enhance modern, small displacement, high horsepower engines. The GR-3, 5W-30 is ideal for high revving normally-aspirated engines, like VTEC Hondas. GR-2, 5W-40 works great for stock or bolt-on turbo kits, while the flagship GR-1, 10W60 is geared towards super high horsepower built-engines with high boost. GR synthetic oil can be purchased at any authorized GReddy dealer.
---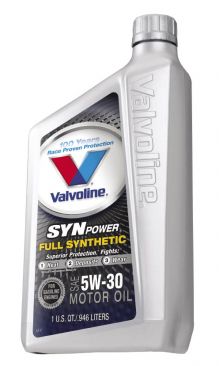 Valvoline Synpower
Full Synthetic Motor oil
www.valvoline.com
You want to protect your engine, but everyday heat, deposits and wear stress engine parts. Valvoline SynPower Full Synthetic Motor oil is formulated to keep your car running its best. With SynPower Full Synthetic you get the ultimate protection against the three major causes of engine stresS. Heat - SynPower is formulated with full synthetic base oil and premium chemistry that stands-up to extreme temperatures. SynPower flows when the engine is cool, and maintains its protection barrier as engine temperatures rise. Deposits - SynPower has extra detergents and dispersants to help prevent harmful build-up of sludge, varnish and other deposits in your engine. Wear - With all the concern about lower zinc in motor oil, SynPower responded with advanced, more durable anti-wear additives that stay in the oil longer for outstanding protection against friction and wear.
---

Chevron Supreme Motor Oil
USA - www.chevron.com
Canada - www.Chevron.ca
Chevron Supreme Motor Oils are high quality automotive engine oils. Use of these motor oils promote long engine life and protect against high temperature oxidation, rust, corrosion, varnish, sludge and oil thickening. Chevron Supreme Motor Oils exceed the latest API specifications for essentially all new cars and light trucks. For different driving needs, there are different grades of Chevron Supreme. Each one is formulated to meet various manufacturers' requirements, and ambient conditions. Yet, all Chevron Supreme motor oils have one thing in common. They're all formulated to reduce engine deposits and deliver protection while driving.
---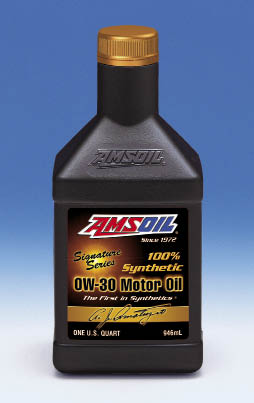 AMSOIL Signature Series
Synthetic Motor Oil
www.amsoil.com
Amsoil introduces their new Signature Series Synthetic 0W-30 Motor Oil. The oil is supplemented with a proprietary ashless antiwear system for improved heat and viscosity control. The Signature Series 0W-30 sets the standard for protection and performance. Engineered with the world's finest synthetic base oils and high performance additives, the exclusive extended drain formulation delivers superior engine protection and maximum fuel economy. Amsoil Signature Series 0W-30 is premium grade synthetic motor oil that exceeds the requirements of modern, high-performance engines and older engines, replacing other 0W-30, 5W-30 and 10W-30 motor oils.
---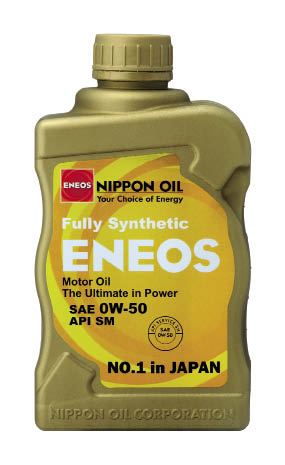 ENEOS Performance Oil
USA -
www.eneos.us
Canada -
www.revcompetition.com
Eneos is a premium motor oil line-up made with the highest quality synthetic base oils and advanced additive components for performance and protection. Developed by Nippon Oil Corporation, the Eneos product line-up features unique products such as the 0W50, deriving its technology directly from Nippon Oil's Formula 1 research and development. Nippon Oil reacts to changes in the engine temperature, maintaining a stable viscosity, protection and performance in the widest temperature range. Eneos 0W50 is designed especially for your high performance vehicle. The Eneos motor oil line up also offers the Ultimate Fuel Saving 0W20, European Performance 5W40, 5W20, 5W30, ATF, CVT Fluid and Gear Oil.


For More Products Read On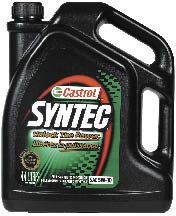 Castrol Syntec
USA -
www.castrol.com
Canada -
www.castrol.ca
Castrol's Syntec has a fully synthetic base oil and dedicated additives package combine for hot weather performance. At high summer engine temperatures engine bearings and crankshaft rely on an oil film thinner than a human hair to prevent wear. Syntec's continuous viscosity provides certain protection as the mercury climbs. As well Syntec's additives keep engine surfaces free of dirt and deposits, as well antiwear agents prevent engine wear. Castrol also adds antioxidants to reduce the formation of deposits and sludge, viscosity improvers and antifoam agents reduce the air in the oil.
---
---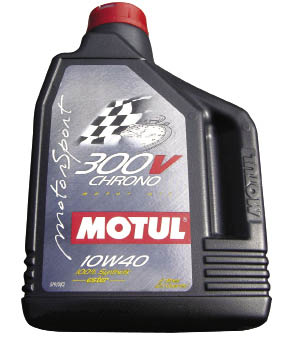 MOTUL 300V Synthetic Engine Oil
USA - www.motul.com
Canada - www.motul-canada.com
Motul has made improvements to their superior 300V ultra high performance racing oil lines. Motul has developed "Double Ester Technology" for the new 300V series, which is a superior to complex ester which is recognized as the best base oil for engines up to now. The 300v series is designed to maximize performances for a given engine as there are 6 viscosity grades line-up, the 300v range provides a precise solution to cope with any race condition for the best targeted results.
---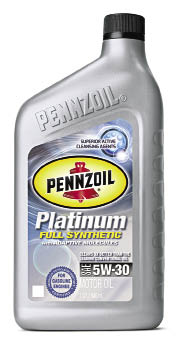 Pennzoil Platinum
www.pennzoil.com
The superior active cleansing agents in Pennzoil Platinum full synthetic motor oil not only help prevent sludge, but also clean out up to 46 percent of built-up sludge in the first oil change, which is on average three times better than the leading conventional motor oil. Pennzoil Platinum contains a unique additive formulation that provides superior protection against engine wear and deposit formation compared to our conventional and synthetic blend motor oil, helping to reduce piston ring-sticking in the engine. The advanced technology in Pennzoil Platinum helps maintain engine responsiveness.


---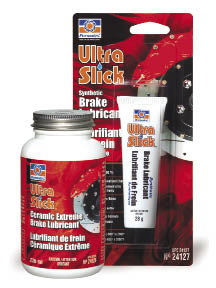 Ultra Slick Ceramic Extreme Brake Lubricant
www.Permatex.com
Ultra Slick Ceramic Extreme Brake Lubricant provides superior protection against friction and wear that will last throughout the life of your brake pads. Ultra Slick is 100% synthetic with an extreme temperature range of -54oC to +1538oC (-65oF to +2800oF) allowing it to easily stand-up to the demands of the street and track. It prevents disc brake squeal and chatter while protecting caliper pins, sleeves, bushings and pistons against seizing and galling. It will easily outperform ordinary caliper greases and traditional disc brake quite products. Available at Canadian Tire and Part Source.
---
---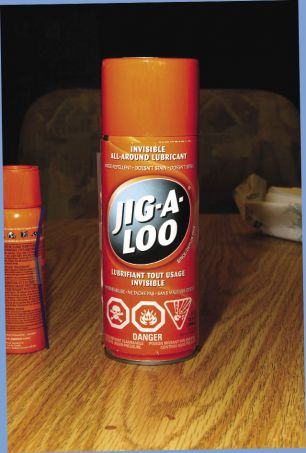 Jig-A-Loo Lubricant
www.jigaloo.com
Jig-A-Loo is a revolutionary new product that combines the power of a lubricant with the properties of a water-repellent. It's a dry silicone-based lubricant that, unlike any other lubricant, contains no oil, grease, wax, petroleum distillates or detergent, so it doesn't stain or stink. It stops squeaks, un-sticks just about anything, protects against rust, and is an exceptional water repellent. Jig-A-Loo is ideal for wood, metal, glass, rubber, leather, fabrics, most plastics and a number of other surfaces, helping just about anything operate and slide better. Keep a can handy for around the shop or in the garage.
For More Products Read On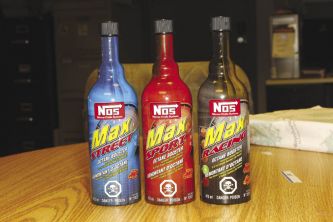 NOS Octane Booster
www.nos-performance.com

NOS maximum performance for the street was developed to increase octane effect up to 30 points or 3 octane numbers. Blended with the strongest MMT concentration allowed by law for street use. Also contains our unique performance-enhancing Powertane. Restores and improves horsepower. Improves gas mileage, eliminates knocks, pings, and hesitation. The booster also protects against carbon deposits in the fuel injectors and combustion chamber. The NOS booster is also available in Off Road and Race formulas, depending on the application.
---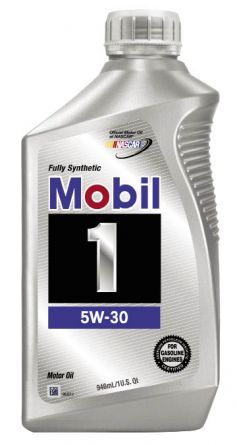 Mobil 1 Synthetic
www.mobil1.com
Mobil 1 oil provides total engine protection, excellent fuel economy and a product recommended for applications under warranty. As the world's leading synthetic motor oil, it features a proprietary SuperSyn anti-wear technology that provides performance beyond conventional motor oils. Technology that allows Mobil 1 to exceed the toughest standards of Japanese, European and U.S. car builders -- and to provide exceptional protection against engine wear, under normal or even the most extreme conditions. In fact, many car builders put Mobil 1 in their vehicles before they leave the factory. And it is used by more than 70 percent of teams in the three NASCAR® series.
---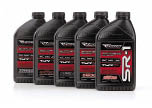 Torco SR-1
Synthetic Motor Oil
www.torcoracingoils.com

Torco SR-1 Synthetic Motor Oils are a selective cross blend of highly advanced 100% synthetic base oils and proprietary additives aimed at power efficiency and engine protection. SR-1's performance is simply a purpose built, specialty formula designed to exceed the demands of high performance Japanese, European and US sports cars. TORCO SR-1 through special formulation can increase horsepower and torque by as much as 3%.Torco SR-1 Synthetic Motor Oils are the ultimate in high performance synthetic motor oil  technology.
---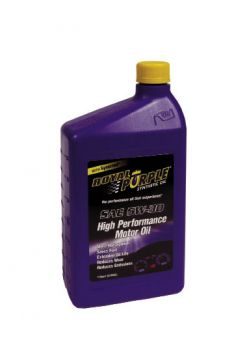 Royal Purple Motor Oil
www.royalpurple.com
Royal Purple Motor Oil delivers superior protection and improves performance in four-cycle gasoline and diesel engines. It increases horsepower and torque, saves fuels and reduces heat, wear and emissions. It has unsurpassed oxidation stability that allows for extended oil drains and fewer oil changes, which saves you time and money and reduces the impact on the environment. Royal Purple's performance advantages come from a blend of synthetic oils plus Royal Purple's proprietary Synerlec technology. Royal Purple Motor Oil is compatible with other mineral and synthetic motor oils.
---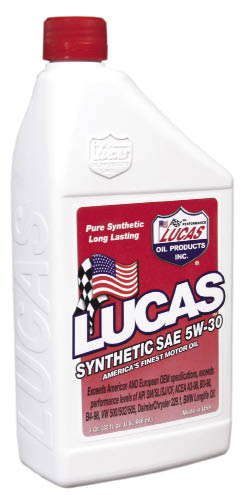 Lucas Oil
Synthetic Motor Oil
USA - www.lucasoil.com
Canada - www.lucasoil.ca
Lucas High Performance Synthetic 5w30 is an excellent product that provides the consistent viscosity needed for high performance engines. It's blended with an exclusive additive package that includes lubricity agents and anti-seize agents that control drag like a zero weight oil and protect metal like a heavy multi-viscosity oil. It is perfect for high RPM performance engines and is also excellent for normal highway usage. Available in 5w, 0w30, 5w20, 5w30, 10w30, 20w50 and P3.
For More Products Read On
Red Line Motor Oil
www.redlineoil.com
Red Line motor oil offers more power and improved fuel economy by offering less friction and a more stable oil film at operating temperatures than petroleum-based oil and other synthetics. This ester-based product contains antiwear additives which last far longer than many other synthetic and the synthetic blend oils on the market today. Lower oil temperatures and less turbo lag make this product perfect for sport compact tuners. For a dealer near you or to buy online, contact: Red Line Synthetic Oil.
---
---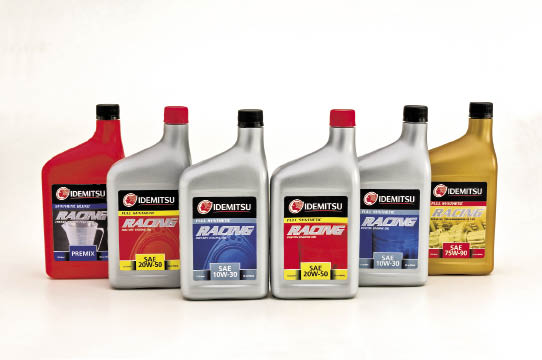 Idemitsu Racing Lubricants
www.idemitsu-usa.com

Idemitsu has specifically designed their racing lubricants for the unique demands of Japanese Engines. Idemitsu oils are unique as they offer a line of oils for both piston and rotary engines. All of their formulas have enhanced film strength for excellent durability and wear protection. Special additives are reducing carbon deposits, minimizing compression loss and maximizing power output. Idemitsu also adds special molybdenum agents to reduce friction, boosting horsepower and torque. Idemitsu's oil formulations exceed API SM standards and are the OEM choice of many Japanese auto manufacturers. Idemitsu has a full line of lubricants for many different applications.
---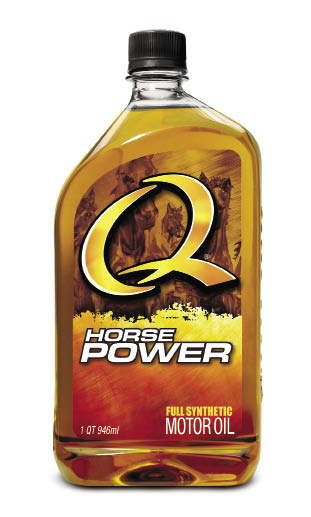 Q HORSEPOWER Oil
www.qpower.com
Q Horsepower full synthetic motor oil is the latest addition to the Q line of products and features heat activated technology. Q oil is engineered by the same development team that created championship winning formula that powered Jimmie Johnson to the 2006 NASCAR Nextel Cup. Q Horsepower is specially formulated to reduce friction throughout an engine's RPM range. The new oil provides exceptional protection against friction and outstanding resistance to thermal breakdown Also Q HorsePower is the only motor oil approved for service fill by Ferrari North America and Maserati North America.