Page 2 of 7

---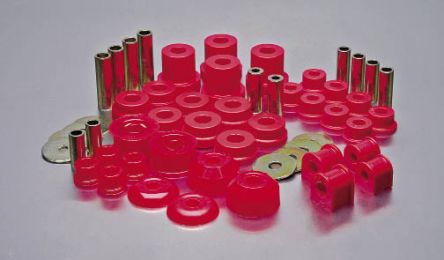 Energy Suspension
Polyurethane System Master Bushings
www.energysuspension.com
Energy Suspension polyurethane system master bushing set improves performance, durability and appearance. They are proven for the street or the track, restoring and replacing distorted or worn out original rubber mounts and bushings better than new. Each Energy Suspension component is engineered to go beyond OEM specs to drastically improve corner to corner handling and maintain front end alignment. Impervious to oils, gases, road salt and atmospheric conditions, Energy Suspension products last 5-10 times longer than conventional rubber.
---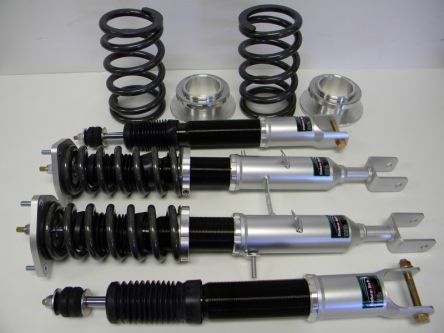 Endura-Tech
350Z Coilovers
www.endura-tech.com
The Endura-Tech Nissan 350Z coilovers feature a twin tube gas damper to steady handling, durability and excellent ride quality. They are a 10-way rebound adjustable gas shock for your driving demands and comfort level. The have 10K (560 lbs/in) spring rates for both front and rear coilovers. The front coilovers come with pillow ball upper mounts and adjustable camber plates.   The rear coilovers will use the genuine mounting parts for a better riding and quieter in noise.
---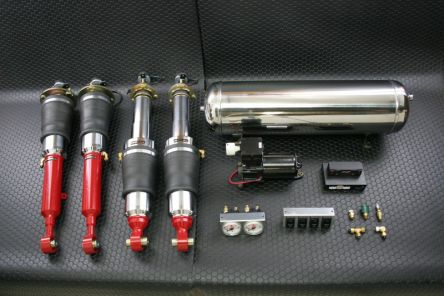 Air Runner Systems
TC-5 Edition
www.airrunnersystems.com
Winding roads and country lanes have never been so fun. A sleek digital interface is paired with 5-way adjustable shocks to make suspension adjustments as simple as pressing a button from your driver seat. The revolutionary TC-5 system is the first air suspension technology to feature automatic dampening adjustment control from your driver seat. The Air Runner TC-5 system offers 6 programmable presets for dampening adjustment to suite your needs under any condition imaginable.
---

STD Standard
Circuit ENR3
www.stdstandard.com
STD Standard ENR3 suspension system is the result of valuable experience in automotive racing. The ENR (External Nitrogen Reservoir) series is available as a piggyback reservoir type or as a remote reservoir type. This circuit suspension features an adjustable reservoir with separate low speed and high speed compression adjustments. The Circuit ENR3 suspension system's cylinders are manufactured with an increased diameter. This STD suspension system is designed for advanced and professional drivers that need great suspension tuning possibility at each and every race track they encounter. All Circuit ENR suspension systems are custom ordered to meet individual driver's needs.

For More Products Read On