Page 2 of 2
---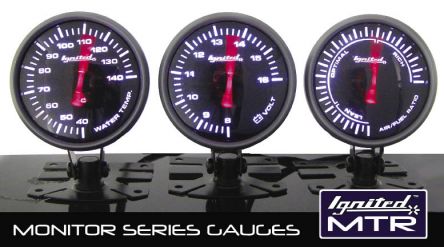 Ignited - MTR Gauges
Introducing the MTR Series performance gauges from Ignited Performance. Key features include a sleek "Black-Out" face, precision dials, LED back lighting, and an opening ceremony every time you turn your ignition! Each MTR Series gauge comes with an aluminum mounting bracket/stand and the required sensor/sending unit (where applicable).Gauges are available in 52mm and 60mm.
---
AEM Analog EGT / Boost Gauges
AEM is proud to announce the release of its Analog EGT and Boost Gauges, the newest additions to its high-tech analog gauge line. AEM's EGT and Boost gauges unite unsurpassed accuracy, speed and control with an easy to read, analog interface. The AEM analog gauges also offer a 0-5v analog output for use with data loggers and virtually any engine management system, such as the AEM EMS or FIC. The backlighting is user adjustable to 7 colors, allowing users to easily match the EGT and Boost gauge to most factory gauge clusters. Each gauge comes with interchangeable black / silver bezels and is available in black or white gauge faceplates.
---
---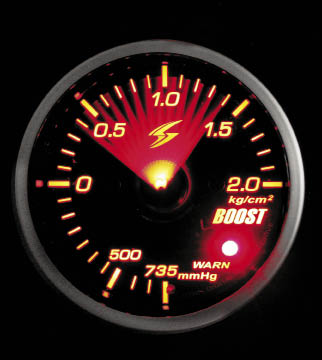 STRI Racing DSD & X-line Series
Available in two different series, the DSD series and X Line series from STRI Racing both provide precision, performance and durability for the hardcore enthusiast at a reasonable price. STRI's DSD racing gauges offer all of the functions a winning driver requires. Controlled by an advanced microprocessor, the DSD gauges are the latest in technology. Using the highest quality components DSD gauges will keep tabs on your car with surgical precision.
---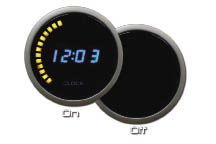 Prosport Digital Clock Gauge
In addition to the many gauges offered by the experts at Prosport, this Blue LCD clock display is designed to upgrade your interior and flawlessly match with other performance gauges. This digital clock is totally blacked out when shut off, for a sleek tuner-inspired look. This 12 volt digital clock matches both Prosport Performance Series and Digital Series gauges. Only 1.25 inches deep, this unit is also available in amber color.
---
Stack Pro-Control Stepper Motor Analaog Gauges
Stack's Pro-Control range of the already popular 52mm Professional Stepper Motor Analogue Gauges bring total control and driver awareness of critical engine functions. Key hardware features in the Pro-Control series include a larger viewable area for improved visibility, pre-made wire loom for ease of installation, and solid-state sensors to ensure unrivaled accuracy.