---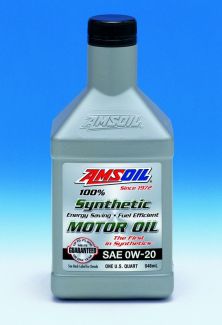 AMSOIL Synthetic 0W-20 Motor Oil
AMSOIL Synthetic 0W-20 Motor Oil is formulated to provide maximum performance and protection while significantly extending drain intervals. Its light viscosity and premium additive package contribute to reduced friction and drag, to help maximize energy efficiency and fuel economy.  Its low pour point and cold temperature performance make it ideal for vehicles in cold weather climates. AMSOIL Premium Synthetic oils are second to none, offering vehicles premium protection and the performance they were designed for. AMSOIL Synthetic 0W-20 Motor Oil is recommended for Honda, Acura, DaimlerChrysler, Toyota, Ford and all other applications where SAE 0W-20 or 5W-20 is required.
---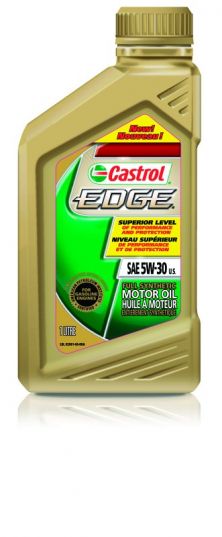 Castrol EDGE Ultra-premium synthetic
Castrol EDGE delivers an advanced proprietary formula for performance and protection in extreme conditions. EDGE exceeds the world's toughest industry-agreed standards providing maximum protection for everyday use and especially in extreme conditions such as towing, hauling, high and low temperatures, rapid acceleration and stop and go traffic. Using the industry standard Sequence IVA test, Castrol Edge provided eight times better wear protection than the top competitor. For drivers who want the very best their car, Edge is a the way to step up to the very best care while adding enhanced fuel economy through reduced internal engine friction. It's more than oil, it's liquid engineering.
www.changeyouroilchangeyourlife.com
---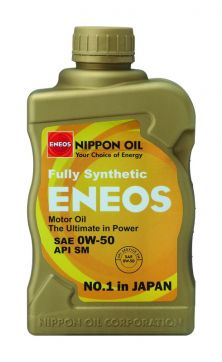 ENEOS Performance Oils
ENEOS is a premium motor oil line-up made with the highest quality synthetic base oils and advanced additive components for performance and protection. Developed by Nippon Oil Corporation, the ENEOS product line-up features unique products such as the 0W50, deriving its technology directly from Nippon Oil's Formula 1 research and development. Nippon Oil reacts to changes in the engine temperature, maintaining a stable viscosity, protection and performance in the widest temperature range. ENEO 0W50 is designed especially for your high performance vehicle. The ENEOS motor oil line up also offers the Ultimate Fuel Saving 0W20, European Performance 5W40, 5W20, 5W30, ATF, CVT Fluid and Gear Oil.
---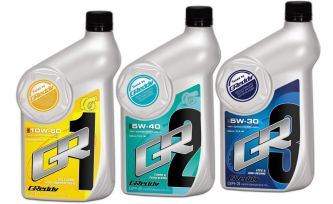 GReddy - GR Synthetic Oil
GR Synthetic Oil is made from the finest automotive grade, Group IV, PAO and Ester base oils and specially designed additive packages, the GR oil is designed specifically to protect and enhance modern, small displacement, high horsepower engines. GR-3, the 5W-30 is ideal for high revving normally-aspirated engines, like VTEC Hondas. GR-2, 5W-40 works great for stock or bolt-on turbo kits, while the flagship GR-1, 10W60 is geared towards super high horsepower built-engines with high boost. GR synthetic oil can be purchased at any Authorized GReddy Dealer.
Read on for More Products
---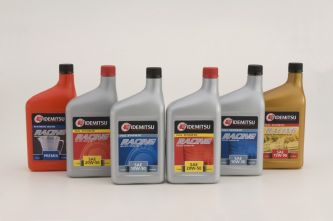 Idemitsu Racing Lubricants
Idemitsu has specifically designed their racing lubricants for the unique demands of Japanese Engines. Idemitsu oils are unique as they offer a line of oils for both piston and rotary engines. All of their formulas have enhanced film strength for excellent durability and wear protection. Special additives are reducing carbon deposits, minimizing compression loss and maximizing power output. Idimitsu also adds special molybdenum agents to reduce friction, boosting horsepower and torque. Idemitsu oil formulation exceeds API SM standards and is the OEM choice of many Japanese auto manufactures. Idemitsu has a full line of lubricants for many different applications.
---

Lucas Oil Synthetic Oil Stabilizer
Lucas Oil's Pure Synthetic Oil Stabilizer is perfect for use in new equipment that requires synthetic oil, or any that needs enhanced performance. Used to protect both new and used heavy-duty and high-performance transmissions, gear boxes, and engines, it controls heat and wear in motorcycles, air-cooled engines, and all drive-train components. It reduces friction for more power and MPG, eliminating dry starts in new engines. It also provides extra protection for import and domestic engines requiring newer, lighter engine oils with a slick and lasting film strengths that stands up to high temperatures and pressure.
USA - www.lucasoil.com
CAN - www.lucasoil.ca
---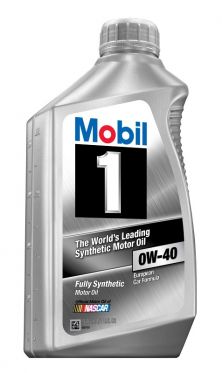 Mobil1 0W-40
Mobil1 0W-40's wide viscosity range provides unsurpassed levels of protection and an overall smooth driving experience. Mobil1 0W-40 keeps engines starting even in Arctic-extreme cold, and it cleans deposits, sludge and varnish often formed in high temperature operating conditions. Exceeding industry standards and the major leading builder requirements is the cornerstone of the performance reserve that lets Mobil1 0W-40 keep performing well after conventional oils cannot.
---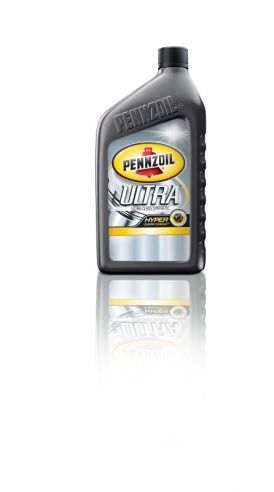 Pennzoil Ultra
Pennzoil is ushering in the next generation of engine protection with the release of its most technologically advanced motor oil, Pennzoil Ultra.  The new, ultra-class synthetic product is the output of a global team of scientists pursuing the goal of maintaining an engine in factory-clean condition. The advanced proprietary synthetic formula of Pennzoil Ultra motor oil with Hyper Cleansing Technology is also designed and engineered to exceed the toughest industry standards.  Pennzoil Ultra helps prevent sludge and other deposits, but also cleans up existing sludge. Pennzoil Ultra became a reality through the incredibly high standard set by the Pennzoil brand and delivered by Shell Lubricants technology teams around the world – going beyond just lubricating and protecting an engine.
USA -www.pennzoil.com
CAN - www.pennzoil.ca
Read on for More Products
---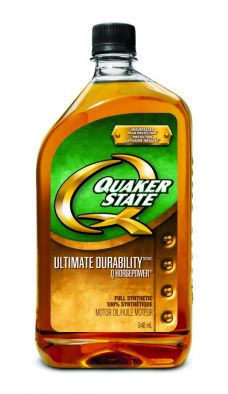 Quaker State Ultimate Durability
Quaker State Ultimate Durability motor oil is heat-activated to protect your car's engine from wear even under the most extreme driving conditions.  In fact, it provides unsurpassed protection against friction related wear. Quaker State Ultimate Durability oil provides improved resistance to engine stress at high RPM's and under heavy loads.
USA - www.quakerstate.com
CAN - www.quakerstate.ca
---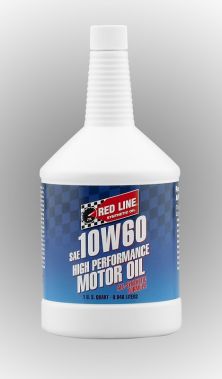 Red Line 10W60
Red Line fully-synthetic 10W60 motor oil is designed for BMW technicians and enthusiasts frustrated with the lack of motor oil options in the 10W60 range. You can now benefit from the performance, durability and availability of Red Line's 10W60 Motor Oil (PN 11704). Including the robust ZDDP antiwear packages one expects from their products, Red Line's fully-synthetic motor oils are engineered from polyol-ester base stocks to offer better fuel economy through reduced friction and offer a thicker oil film at operating temperature than conventional oils and synthetic blends. Sold in Asian markets for years, this product is now finally available for consumers and installers in the North American market.
---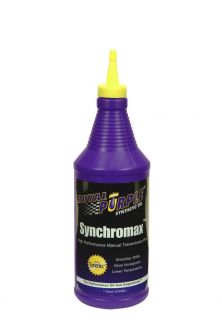 Royal Purple Synchromax
Royal Purple Synchromax is a manual transmission fluid that increases performance and the life of your equipment. It improves shifting, reduces gear noise and increases power transfer to the wheels. It also lowers operating temperatures and provides outstanding wear protection for longer transmission life. Synchromax is recommended for manual transmissions that specify an automatic transmission fluid. Synchromax is fully compatible with all types of friction materials. It provides excellent corrosion and oxidation protection without affecting the soft metals commonly found in manual transmission synchronizers. Synchromax is formulated with Royal Purple's proprietary Synerlec technology for unsurpassed performance and protection.
---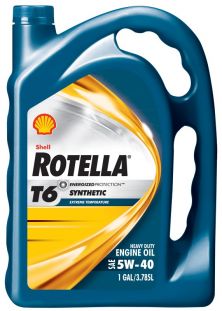 Shell Rotella T6 Full Synthetic
Shell Rotella T6 Full Synthetic oil features an advanced multi-functional, low-ash additive technology in a synthetic base oil designed to provide highly responsive protection that continuously adapts to your driving conditions. Use of selected low-viscosity synthetic base oils further energizes the oil's protective capability that promotes fuel-economy performance with no compromise in durability. Shell Rotella T6 delivers 34 percent better wear performance on average compared to the previous API CI-4 PLUS 5W-40 formulation.  In seven out of seven industry-standard, diesel-engine wear test measurements, Shell Rotella T6 outperformed the previous formulation.
---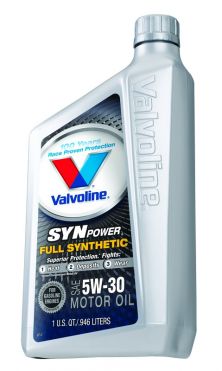 Valvoline SynPower Full Synthetic
You want to protect your engine, but everyday heat, deposits and wear stress engine parts. Valvoline SynPower Full Synthetic Motor oil is formulated to keep your car running its best. With SynPower Full Synthetic you get the ultimate protection against the three major causes of engine stress. SynPower is formulated with full synthetic base oil and premium chemistry that stands-up to extreme temperatures. SynPower flows when the engine is cool, and maintains its protection barrier as engine temperatures rise. SynPower has extra detergents and dispersants to help prevent harmful build-up of sludge, varnish and other deposits in your engine. With all the concern about lower zinc in motor oil, SynPower responded with advanced, more durable anti-wear additives that stay in the oil longer for outstanding protection against friction and wear.