Written by Mike Kojima for Moto iq. photos by jeff naeyaert. | 28 June 2011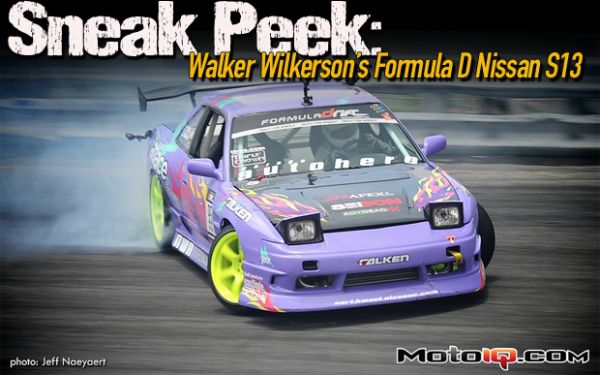 Walker Wilkerson has suddenly burst upon the Pro Drift scene.  At the Long Beach season opener, the 21 year old College student made a sudden appearance on the 2011 Formula D tour in his striking lavender hued Nissan S13, qualifying well and beating out many seasoned pros.  In his rookie year, Walker has surprised many drift fans by getting several high qualification rounds and decent finishes thus far in the season and looks to be a shoe in for rookie of the year honors.
What makes Walker's performance even more impressive is that he is not backed by any major sponsors nor is his effort a high dollar one.  His team is a family affair.  With his father as Chief and the rest of his family working in support roles, his team is the impressive underdogs.  The other thing that is notable is his car.  It is not your typical Domestic V8 powered with tons of torque and a mile wide powerband machine, but a good old fashioned traditional drift car powered by a potent turbo SR20DET.
Read the rest of the article at Moto IQ