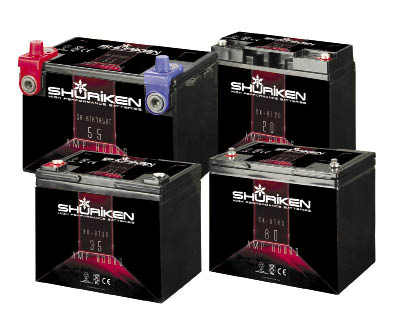 Shuriken
Power Cells
Shuriken Power Cells are engineered for today's high performance mobile audio systems. Utilizing Shuriken's Absorbed Glass Mat (AGM) technology these rechargeable power cells can be mounted in any position and will not leak. These power cells are extremely resistant to excessive heat and strong vibration. They can be discharged and recharged hundreds of times. With super-low ESR and closely packed pure lead plates, each Power Cell packs a punch. Some Shuriken power cells can provide the winning edge needed for SPL systems and they can also provide consistent back up power for all car electronics.
For more visit www.shurikenonline.com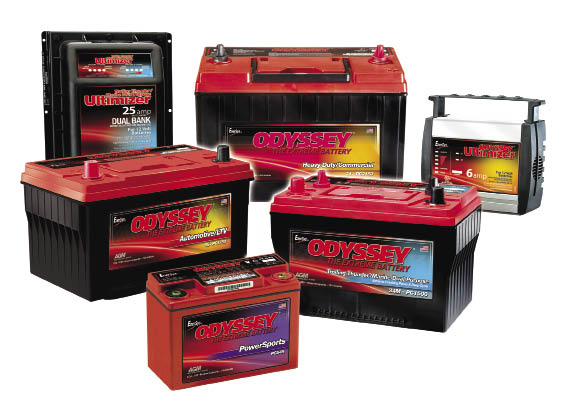 ODYSSEY®
Batteries by EnerSys®
Featuring rugged construction and packed tightly with 99.99% pure lead plates, the deep-cycle, non-spillable AGM ODYSSEY® Battery by EnerSys® offers the extreme power and mounting flexibility that today's high-wattage, in-car sound and video systems demand. ODYSSEY batteries are capable of providing engine cranking pulses in excess of 2250 amps for 5 seconds, and can handle 400 charge-discharge cycles up to 80% depth of discharge. The extreme combination of power and performance makes ODYSSEY batteries perfect for a range of applications, including automotive/LTV, marine, commercial and powersports.
For more visit www.odysseybattery.com
Scosche DCLAMP
Competition Battery Clamp
The DCLAMP Competition battery clamp features compression wedge technology that enables tremendous torque with little effort.  Additionally, the DCLAMP includes a patent-pending signature jump start attachment to prevent marring of the unit. The clamp also features two 0 or 4 AWG and two 8 AWG outputs with EZ-insert profiles, a negative terminal adapter, interchangeable polarity markers, and a durable polycarbonate protective cover.  The DCLAMP features the highest grade materials, EZ-insert dual gauge wire inputs/outputs and impact resistant polycarbonate covers.
For more visit www.scosche.com