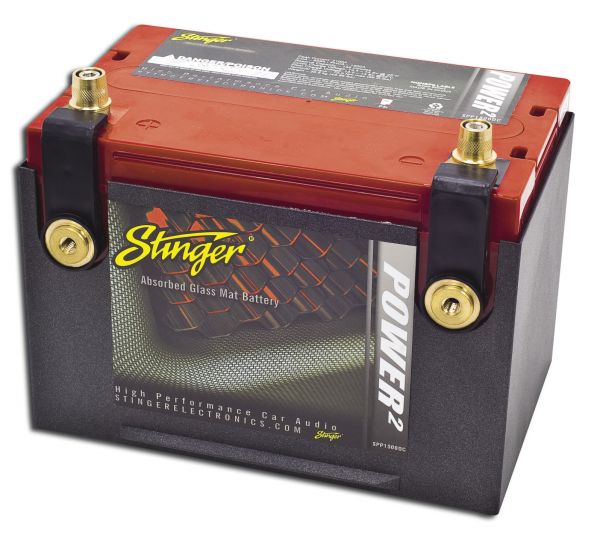 Stinger
SPP1500DC Battery
The SPP1500D – part of the Power2 Series of high-performance mobile audio batteries from Stinger – boasts 1500 amps of cranking power, a 3-year full-replacement warranty, spill-proof AGM construction, and corrosion-resistant top and side post terminals. As if that weren't enough, the SPP1500D can be installed at virtually any angle for custom installation and comes with a protective metal case.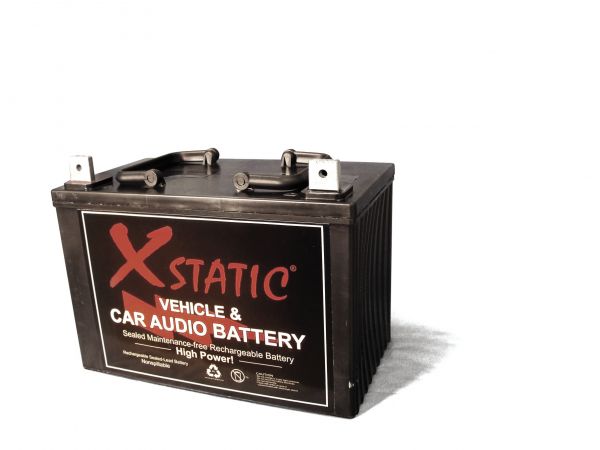 Xstatic
Model 3000 Batcap
Xstatic is proud to announce their new and improved Model 3000 Batcap battery with heavy duty terminals. Features include a 90 amp hour rating with low internal resistance for exceedingly high power performance. The Model 3000 weighs approximately 65 lbs. and the dimensions are L-12", W-6.8" and total H-9". It can be mounted in any orientation thanks to its sealed design. This extraordinary battery is low maintenance and can provide extreme power to get your system, and your vehicle cranking!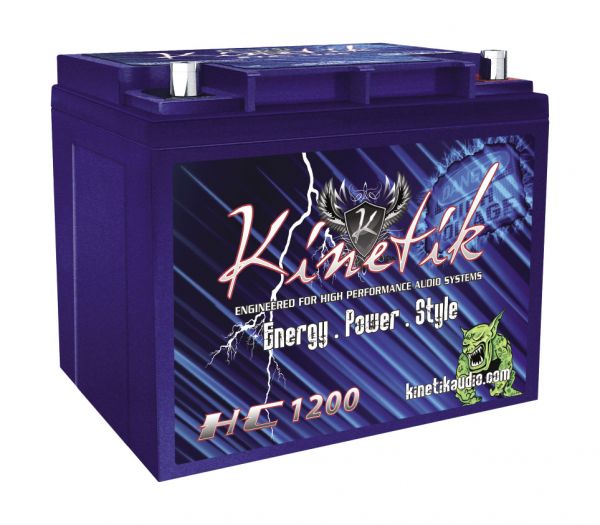 Kinetik
KHC1200 High Current Power Cell
Kinetik is the leader in power for your after-market electronics; providing the power that your products demand for peak performance. The Kinetik KHC1200 is a powerful yet compact addition to your electrical system with 50 Ah of reserve and having the capacity to support up to 1200 watts of power!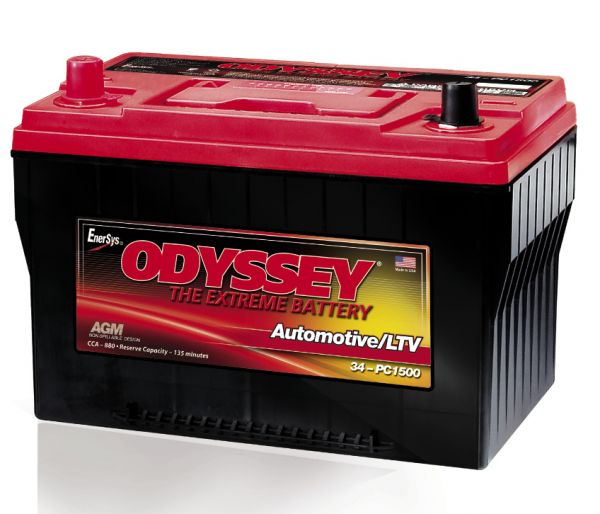 ODYSSEY® Batteries by EnerSys®
34-PC1500 Battery
Featuring rugged construction and packed tightly with pure lead plates, the ODYSSEY®
34-PC1500 battery delivers the right combination of power and performance that high-revving, high-vibration, power-sapping engines demand. Its non-spill AGM design ensures twice the overall power and three times the life of conventional batteries, delivering massive starting power, rapid recovery and amazing deep cycling capability.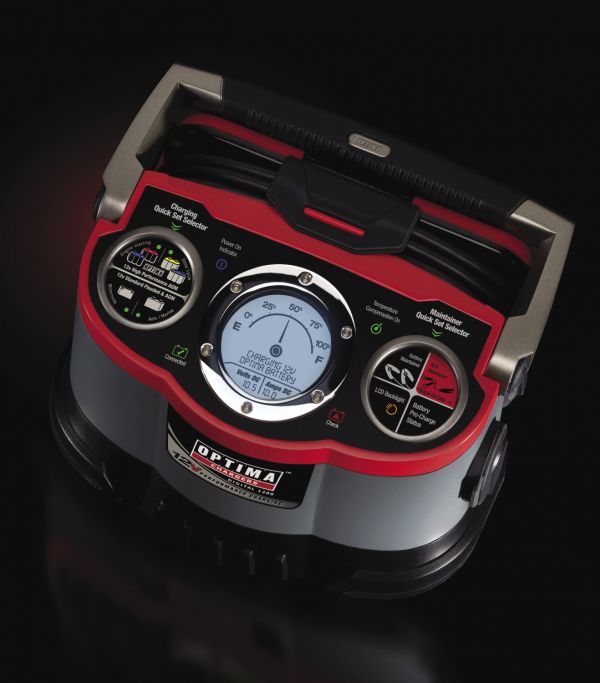 OPTIMA®
Chargers Digital 1200 12V Performance Battery Charger
The OPTIMA Chargers Digital 1200 12V Performance Battery Charger enhances the performance of OPTIMA and other AGM batteries, recovers deeply discharged batteries and extends battery life. It also features a full text LCD display for charging, maintaining and fault mode indication. Other innovative features include an integrated LED work light with ergonomically designed DC charging clamps and USB charging for iPads®, iPhones® and other devices such as cameras and phones.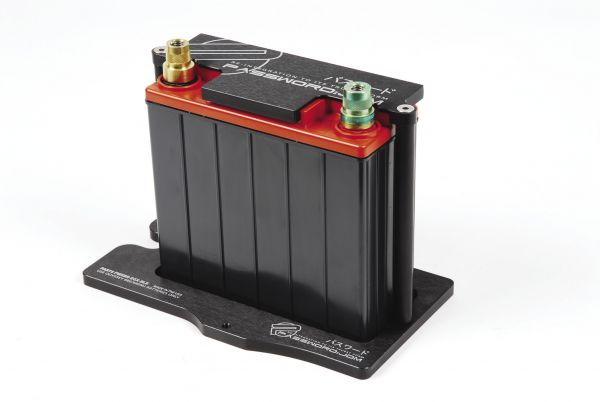 PASSWORD:JDM
Billet Aluminum Universal Batter Relocation Kit
The all-new Password:JDM Billet Aluminum Universal Battery Relocation Kit allows you to securely mount the ultra-light Odyssey 680 & 680MJ dry cell models anywhere in your vehicle. Constructed from black anodized 6061-T6 billet aluminum, the Password:JDM Billet Aluminum Universal Battery Relocation Kit is corrosion resistant. The recessed bottom tray locks the battery in position, ensuring your battery will never move or slip out of place.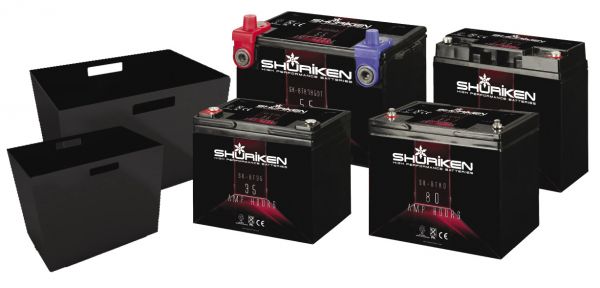 Shuriken
High Performance batteries
Shuriken High Performance batteries are engineered for today's high-performance audio systems. Utilizing absorbed glass mat (AGM) technology, these rechargeable power cells can be mounted in any position and will not spill. They are extremely resistant to excessive heat and vibration. They can be totally discharged and then re-charged hundreds of times. And with a super-low internal resistance and closely-packed lead plates these batteries can really pack a punch.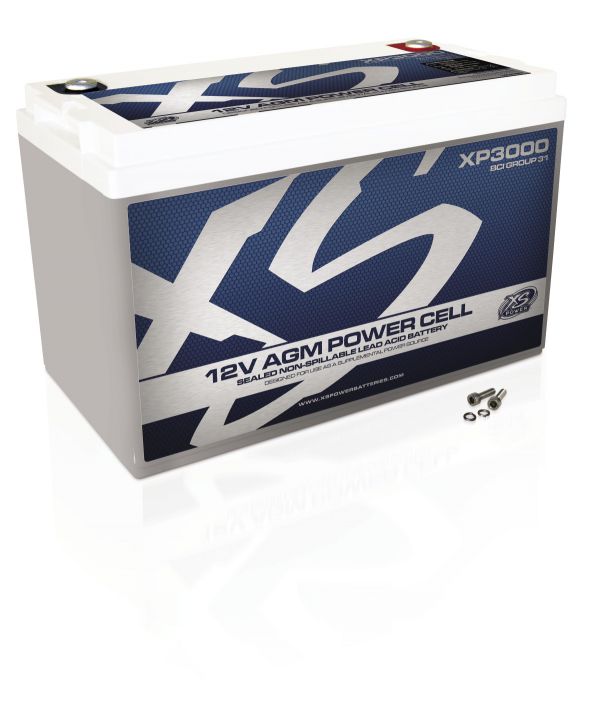 XS Power
XP 3000
The largest and most powerful battery in XS Power's XP series of batteries is the XP3000, which measures 13x8.65x6.8 inches and weighs in at about 73 pounds. The XP3000 has a 20-hour rating of 120 Ah and a reserve capacity of 240 minutes at 25 A of draw. Connections are made via M6 inserts though screw-in regular top post adaptors, which are also available.