30 July 2012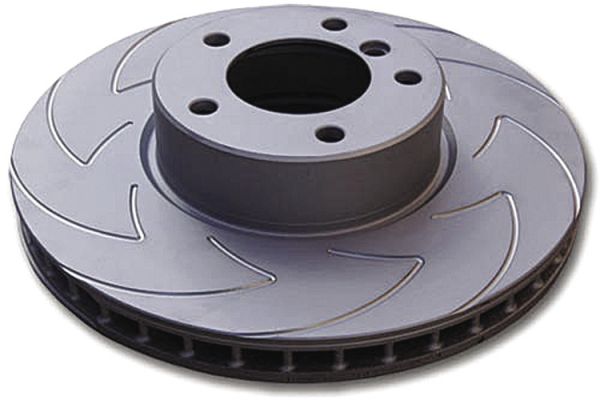 Have you ever wished you could put those incredibly cool carbon ceramic brake rotors you see on Ferraris, Porsches and F1 cars on your car? If you're like me, you definitely have! Then you realize the cost is astronomical. Not anymore! Now there's an option from EBC Brakes that will satisfy the urge for supercar-like braking without draining your bank account. Say hello to the High Carbon Blade discs from EBC Brakes!
Compared to normal brake rotors, EBC's High Carbon Blade discs use twice the amount of carbon element. Why is that good? Simply put, it helps to bridge the gap in performance and benefits between standard cast iron rotors and the $30,000 carbon ceramic brakes on the Porsche GT3-RS parked at the country club.
EBC Brakes High Carbon Blade discs dramatically reduce thermal cracking under high-temperature loads that you'd likely see on the race track. More silicon is also added to the alloy to promote the production of graphite, which forms during the cooling process to help absorb shock and reduce the likelihood of cracking. The higher carbon content also helps dampen high-speed vibrations, which results in much quieter operation.
The awesome and unique looking "Blade" slot design also helps improve initial bite and overall braking performance. The depth of the slots was taken into consideration to double as wear indicators. When the slots are gone, it's time to get new rotors! To top it all off, a new Geomet dry powder-coat finish helps prevent corrosion and speed up the bed-in process that mates the brake pad to the rotor for extended wear resistance and rotor life. Unlike full carbon ceramic rotors that require special brake pads, EBC Brakes High Carbon Blade discs can utilize the same regular brake pads that would normally be used on full cast iron rotors, which greatly expands pad selection, compound choice and availability. EBC Brakes recommends one of its popular compounds such as "Red Stuff," "Green Stuff" or "Yellow Stuff," which feature different compounds for use on the street or the race track.
With all these benefits, how much cheaper can these possibly be than a full ceramic supercar rotor? Well, EBC Brakes has managed to keep pricing on the High Carbon Blade discs to a mere 20% more than its standard rotors – a negligible amount for what you're getting in return, especially considering the new EBC Brakes High Carbon Blade rotors are most of the time still less expensive than buying OEM replacement steel rotors through your dealership. EBC Brakes makes its new High Carbon Blade discs from start to finish in the United Kingdom. It offers a wide range of rotors designed as direct bolt-on replacements for OEM rotors on many European, Japanese and domestic vehicles.