Written by Text By: Dave Pankew Photos By: www.exedyusa.com | 24 February 2010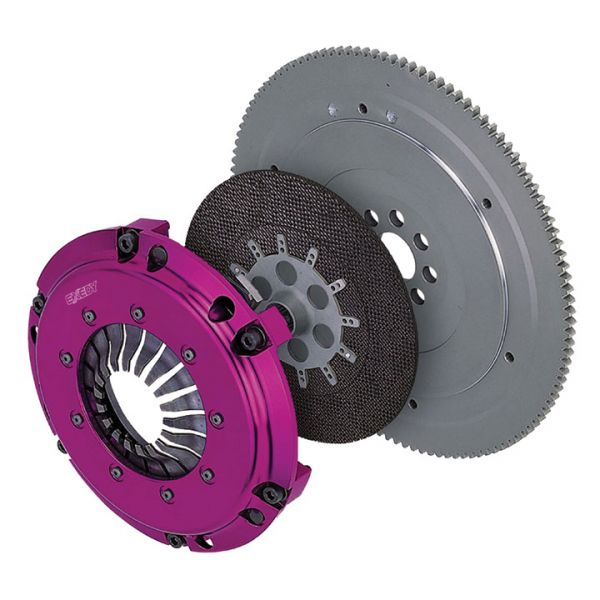 We have maintained for years the notion that as you modify one system in your car, you will have to upgrade other areas affected by the modification. If, for example, you run more boost, chances are your car will run hotter. If you double the horsepower, you might want think about upgrading the brakes in order to stop. Since most want to add go-fast parts in order to improve engine performance, one frequent casualty of those upgrades is the clutch. Even though it is one of the most important components in your car, it is often overlooked. An overmatched clutch and flywheel can't put the power down, starts to slip and eventually the car won't move at all.
Now it is time to go clutch shopping, but unless you're up to date it can be a daunting task. There are many manufacturers and nearly all are involved in the performance clutch market because drivers love to modify their cars. There are many different designs that employ various types of friction material designed to meet every style of driving and vehicle purpose.
Exedy Clutch manufactures products for nearly every need. As a manufacturer of millions of components for the new car market, it also has a huge application list and style in the Exedy Racing division. It makes everything from a simple upgrade above OEM caliber, to insane triple plate versions that use carbon fibre as friction materials. Here at PAS, we are proponents of doing the work right the first time. A carbon clutch will handle all of the power you throw at it while offering some distinct benefits over conventional clutches that make it well worth the extra money.
There aren't many carbon clutch manufacturers on the market, and many might not be aware that Exedy provides private label products for many companies. It has the technology patents other companies need, a reality that demands they work with Exedy. Their Hyper line of carbon clutches come in single, twin or triple plate configurations.
The single plate and twin plate carbon clutches with a sprung hub centre section are an ideal choice for the dedicated race car that needs a smooth engaging clutch with minimal driveline vibrations. Not only does the carbon disc provide superior engagement, but it is also very lightweight, resulting in an extremely quick shifting action. Unsprung hub clutches on the other hand offer a more direct feel but with loads of clutch chatter, stiffer engagement and more ambient noise.

Part of the benefit of carbon clutches is that they require no special break-in procedure. Just heat them up a bit and they are ready to hold the torque being sent their way! Once installed, the driver can ride the clutch a little to get it up to temp before tearing down the street. The shifting action is very smooth and allows revving to be much snappier with the weight reduction. The pedal engagement may feel stiff at first, but there is some dead-zone and it doesn't act like an on/off switch.
The flagship of Hyper line of clutches is the triple plate, which can hold up to 750 lb-ft. on the drag strip and 900 lb-ft. on a road course. All that technology does not come cheap, but after dishing out good money on a vital (but often overlooked) part of the vehicle you won't have to worry about your clutch at the track.
Source Box:
Exedy Racing Clutch
Hyper Carbon Clutch
www.exedyusa.com