Written by Dave Pankew // Photos by Somya Siva | 29 April 2010
For nearly a decade TurboKits.com has been the leading supplier of turbo kits and forced induction accessories to customers worldwide. From their humble beginnings in a rented three room office to the 10,000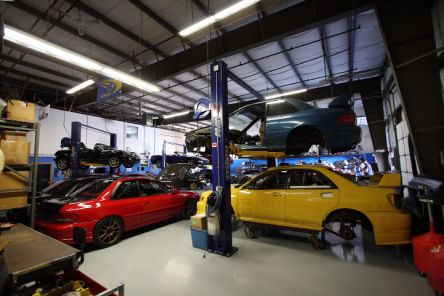 sq/ft facility they now call "home", the core principal of the company has never changed- make customers happy!
The dawn of the new millennium, in a sense, brought a drastic change in technology. Computers became cheaper and faster, cell phones offered internet service in the palm of your hand, more and more communities provided high speed internet service to residences… all of a sudden, BAM! People started to shop online! Sure you could buy things via the web in the past, but it now became common place. Shoppers began to trust their hard earned money with internet stores and thus, the successful launch of TurboKits.com.
Jesse Pellegatto was no stranger to building a successful internet based business. In the late 90's he established a company that aided clients in proper website formatting as a method of increasing sales growth. His spare time was spent preparing daily driven street cars for weekend battles at the track. His passion for speed grew when he installed his first turbo kit! With the coined phrase, "if you love what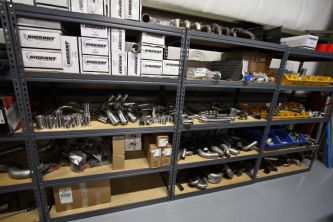 you do… you never work a day in your life" ringing in his head, Jesse took his internet website experience and his new found passion for turbos and registered the domain name TurboKits.com.
The phone began to ring, and ring, and ring and all of a sudden he found himself overwhelmed with requests for turbo kits! He quickly realized the potential of this new venture and knew he could not go it alone. Jesse spread the word to friends and family about the need for assistance with the growing business. His request did not fall on deaf ears and he soon received a call from Grant Smith, a veteran to the performance business from his days in college. Jesse realized that Grant shared the same "vision" for the company and their dynamic duo was born!
For the next year they tripped over boxes, stacked in any spare space available within the walls of their small Avon, Connecticut office. The rapid growth of the company and limited storage area forced the move to a much larger facility down the road to Canton, Connecticut. Now with ample storage space and more room for expansion, TurboKits.com put the selling "machine" in motion!
The new location offered two oversized bays with an attached office. Turbo kits were piled to the ceiling and Jesse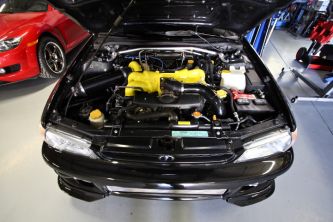 and Grant worked after hours packing and shipping turbo systems to anxious customers. The pace continued steady for the next year and then the quest for expansion would again rear its head. TurboKits.com should make turbo kits! The natural progression began to take shape and in what little spare room was available, fabrication equipment now sat.
Well, the company of two now became three with the addition of a fabricator. Welding, bending, cutting, sawing, and grinding metal into turbo kits became the new way of life! Demand for the prized turbo systems grew, but the space did not. The fabrication area became cramped and the warehouse and shipping departments were spilling into the office again. The TurboKits.com crew now had to make a pivotal decision. With their current facility reaching its capacity, they decided to move once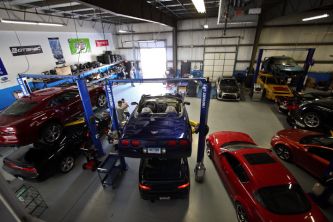 again!
The transition to Windsor Locks, Connecticut would lead them to the state of the art facility where they currently reside and share with ECS Performance. Machines have been upgraded, additional personnel have been hired and the services TurboKits.com can offer its customers have expanded! You will now find four lifts, an in-floor AWD DYNO machine, full R&D and fabrication center, large warehouse, packing and shipping station, showroom, waiting room with large LCD TV, and most importantly, an office with call center enabling unmatched support to all of their customers.
The latest move allows TurboKits.com to do one particular thing even better- make customers happy! While their current space suits their needs well, your guess is as good as mine as to how long they will stay. The unending "vision" of continuous growth may again lead them in search of the next facility to better service their clientele.