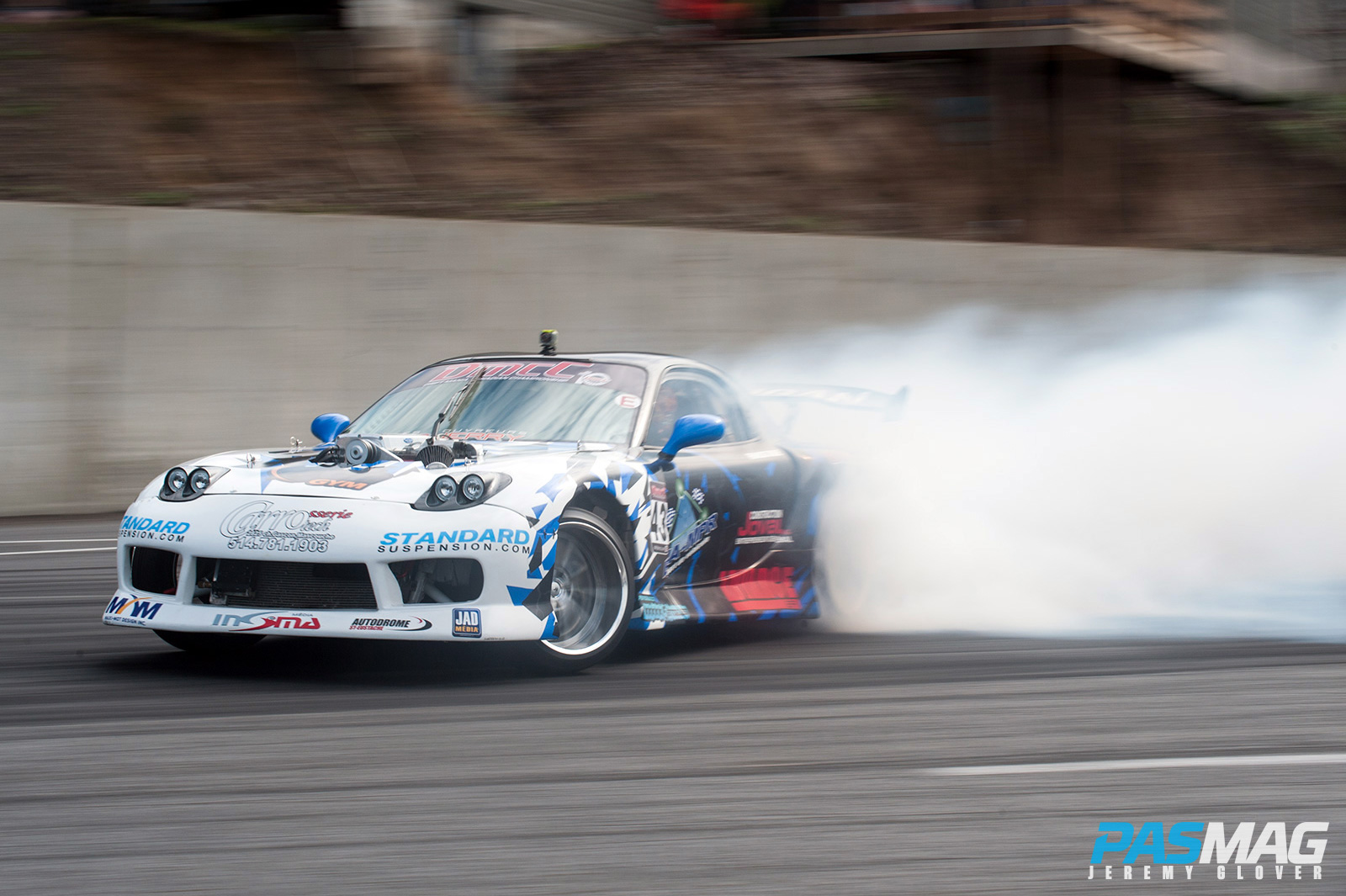 Written by Jeremy Alan Glover | Photos By Jeremy Alan Glover
Francis Tasse takes home his first win of the 2014 DMCC season at Autodrome Montmagny in Montmagny, Quebec on Sunday, July 12, 2014!
DMCC rolled into Autodrome Montmagny over the weekend for the 3rd round of the 2014 season. Mother nature was on our side again as it was another great day for the event. The Montmagny track always brings in a record amount of spectators and this event didn't disappoint. The biggest crowd we have seen all season packed the grandstands for this Top 16 Pro and Top 8 Pro Am event.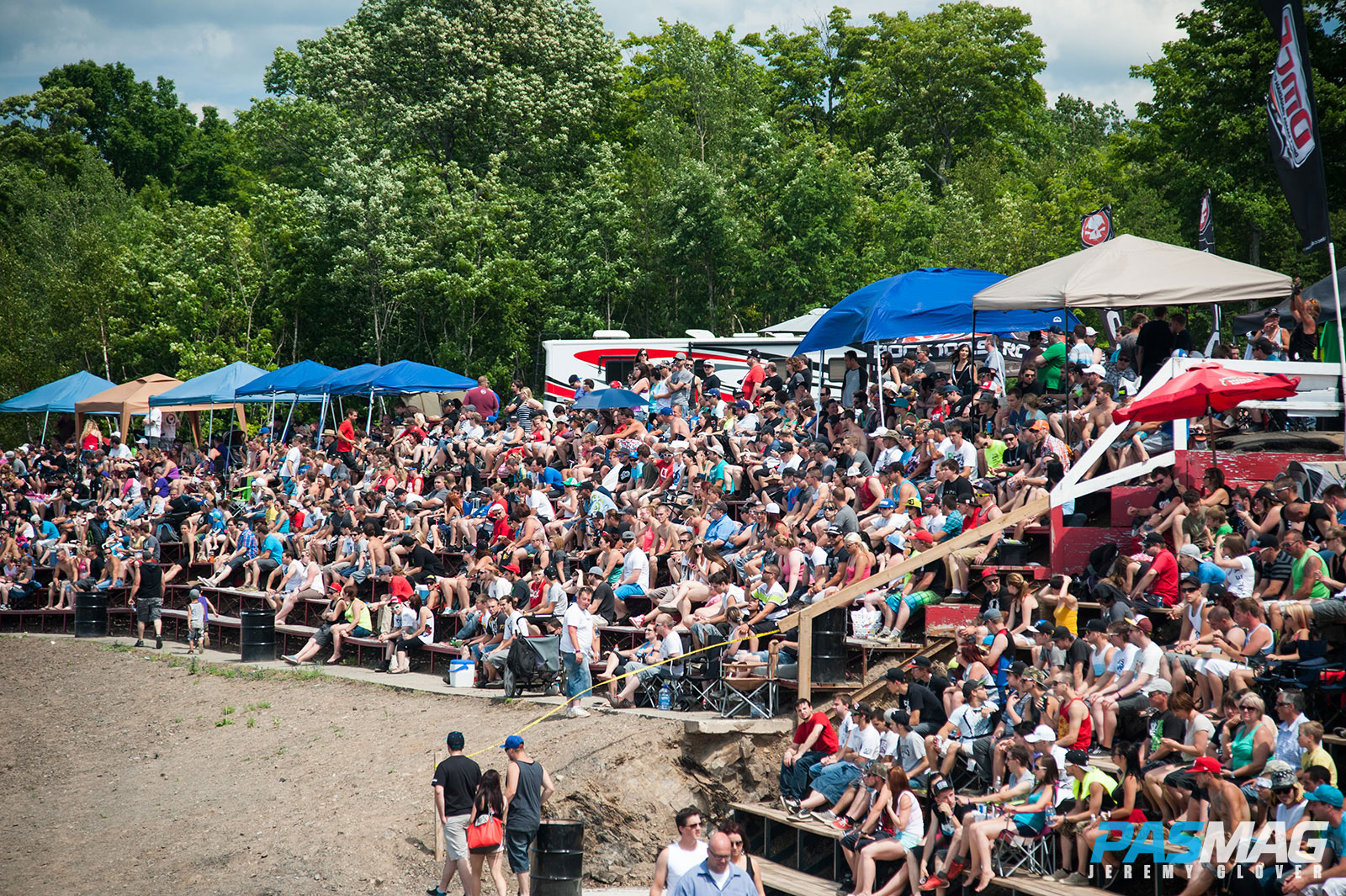 During the off-season, Autodrome Montmagny had some major changes made to the track. A new road course was added that, hopefully, DMCC will use in the future once the grandstands are added. The main straight was also widened to accommodate a new 1/8 drag strip. In practice, the drivers wasted no time using that extra room on the straight for an aggressive entry and to get their tires smoking!
Even in practice we saw some pretty intense tandem runs. Alex Michaud had some crazy chase runs coming within inches of the car infront of him on the switch back. It even had the judges going crazy! Another great tandem during practice was with Max Lemoine chasing Jonathan Guitard. Both drivers have been bugging each other and talking "smack", so when they lined up on the grid everybody knew it was going to be a crazy run. Sure enough, Max did not give Jon any room and as everybody expected, the tandem ended with some contact and Jon losing his bumper. It had the crowd going crazy.
In Qualifications, we saw some equally crazy runs. Last years champ, Francis Tasse, locked down the top spot with an insanely smoky run. After his 2nd place podium at the last round, Eric Paradis backed up his good performance by qualifying in the second spot. 3rd spot went to Max Lemoine, who is getting very comfortable in his new car.
Top 16 saw some interesting turn of events as current points leader, Jonathan Guitard, was taken out by Eric Paradis. A bunch of really good tandems went down until we were at the Final 4. Eric Paradis took out Max Lemoine to move onto the finals and, Francis Tasse beat out Jeff Laflamme. Battle for 3rd was as exciting as Max faced Jeff. These two put on a good show and after some deliberation by the judges, the 3rd podium spot was awarded to Max Lemoine. It was hilarious after the verdict was given - both cars would not start anymore. So, both teams raced each other off the track pushing the cars and Jeff won that battle!
Now onto the final battle of the night - Francis Tasse VS Eric Paradis. Again, both drivers put on a hell of a show! Between the both of them, there was so much smoke in the air it was hard to see. It was a close call and at the end, Francis Tasse got the win! Final order was Francis Tasse, Eric Paradis, Max Lemoine and Jeff Laflamme. Highest entry speed award went to Kevin Morin with a speed of 130kmh!