Photography by Erik Fleishhacker
---
The Abominable Snowmobile
So, you think you like snowmobiles? We can guarantee it's not as much as David Fischer. Growing up obsessed with powersports, like racing watercross, Fischer's biggest love was snowmobiling, whether competitive or just hunting around for the best trails. After years of shredding sleds, Fischer is now a Terrain Dominator for Polaris and represents them with his sled of choice: Polaris' 800 PRO-RMK 155. Not a bad gig!
As anyone who needs to move their toys around to use them can tell you, they have a love for trucks as well, and it's no different for Fischer, though he prefers to get a little bit more showy with his. Fischer has built four trucks for the SEMA Show in the past, but his trucks live a different kind of life from your usual SEMA build fare. Instead of being immediately sold off or rolled from one parking lot to another, all of Fischer's projects make it back home with him and are put to work hauling, working, or scouting zones for all of his favorite activities. His fifth SEMA build, the truck we're talking about here, is be the ultimate workhorse and showpiece of the lot.
SEMA 2016 is where Fischer would meet the guys from Wold Fabrication, including the man behind the name, Tom Wold himself. This meeting would get the gears turning to produce something amazing, as with Wold Fab stationed in Minnesota and Fischer being a Minnesota native himself, it made all the sense in the world to collaborate on something show-stopping and diesel, which just so happens to be Wold Fab's bread and butter.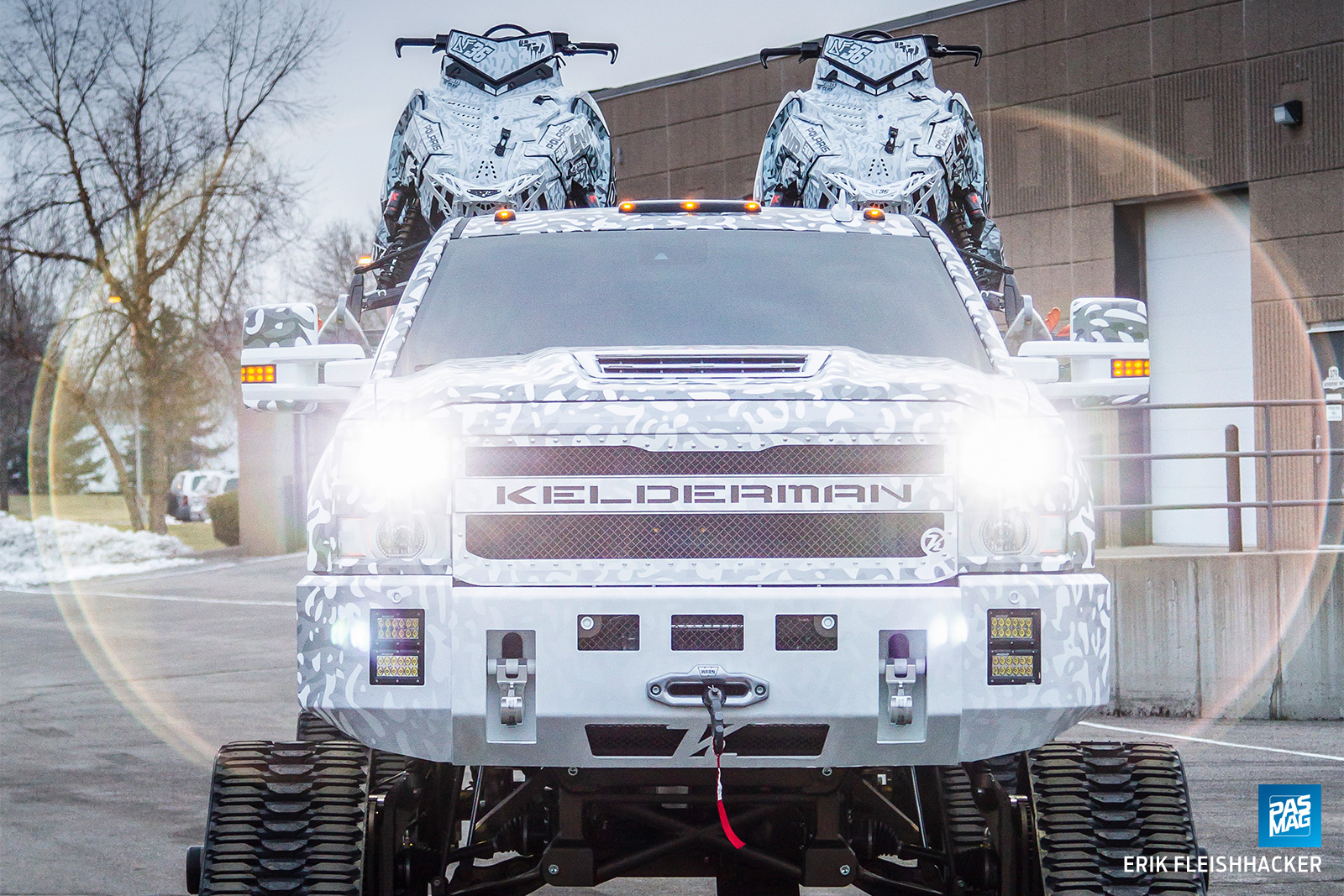 Fast forward to 2018, with SEMA being months out, and Fischer rolls up to the Wold Fab shop with a 2016 Chevy Silverado High Country equipped with a 6.6-liter LML Duramax diesel V8.
"My original intentions with this build was to have something that was clean, yet functional - not just for show," Fischer explains of his choices. "I wanted a big diesel with power to pull and get snowmobiles to higher elevations. This High Country Duramax was the perfect start to the build."
This is where the biggest draw of the truck comes into play. After a brainstorming session to figure out something to make the Chevy stand out amongst SEMA's sea of lifted trucks and haul Fischer's sleds, it was decided that they'd go full snowmobile and put the Duramax on tracks! Tom Wold had been fascinated by the tractors that roamed on tracks through the fields near his childhood home, and the idea had always been in the back of his mind to apply that mobility to a truck to make something that could go just about anywhere. With a talented team of fabricators and designers, Wold could finally make that dream a reality.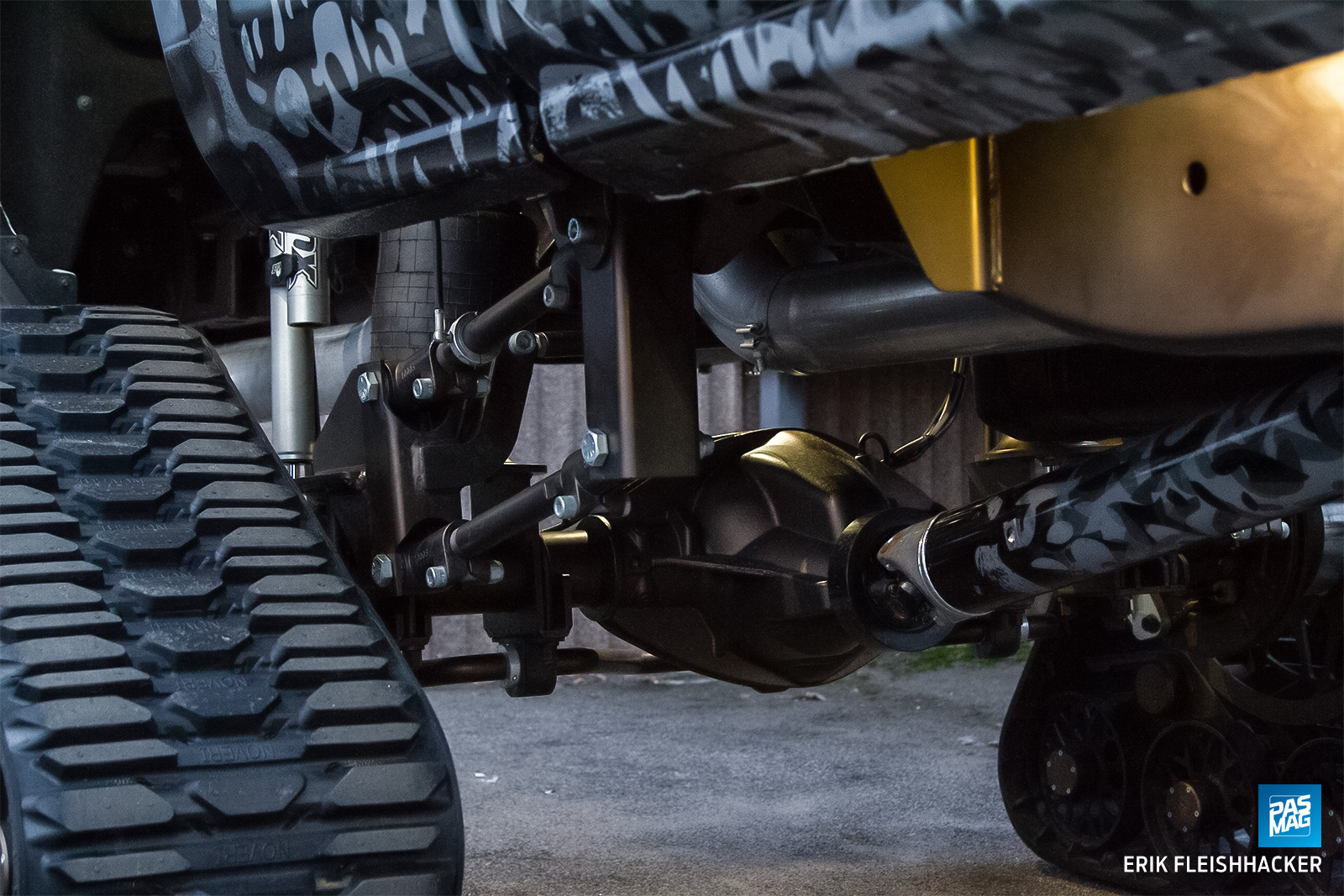 As per the root of inspiration with this build, it's only suitable that the first tracks tested were based a used set of snowmobile tracks. From there, pen hit paper and the ideas started flowing, which then turned into something tangible.
"For the SEMA build, we had to locate a rubber track that would hold up and to be the right size, and we found a company that made a custom set of rubber tracks to our specifications," Wold reveals. "Our Design Engineer, Alex Madsen, then began to draw a 3D model with ideas that had worked in the past. We wanted to design something that would not only turn heads, but also be completely functional."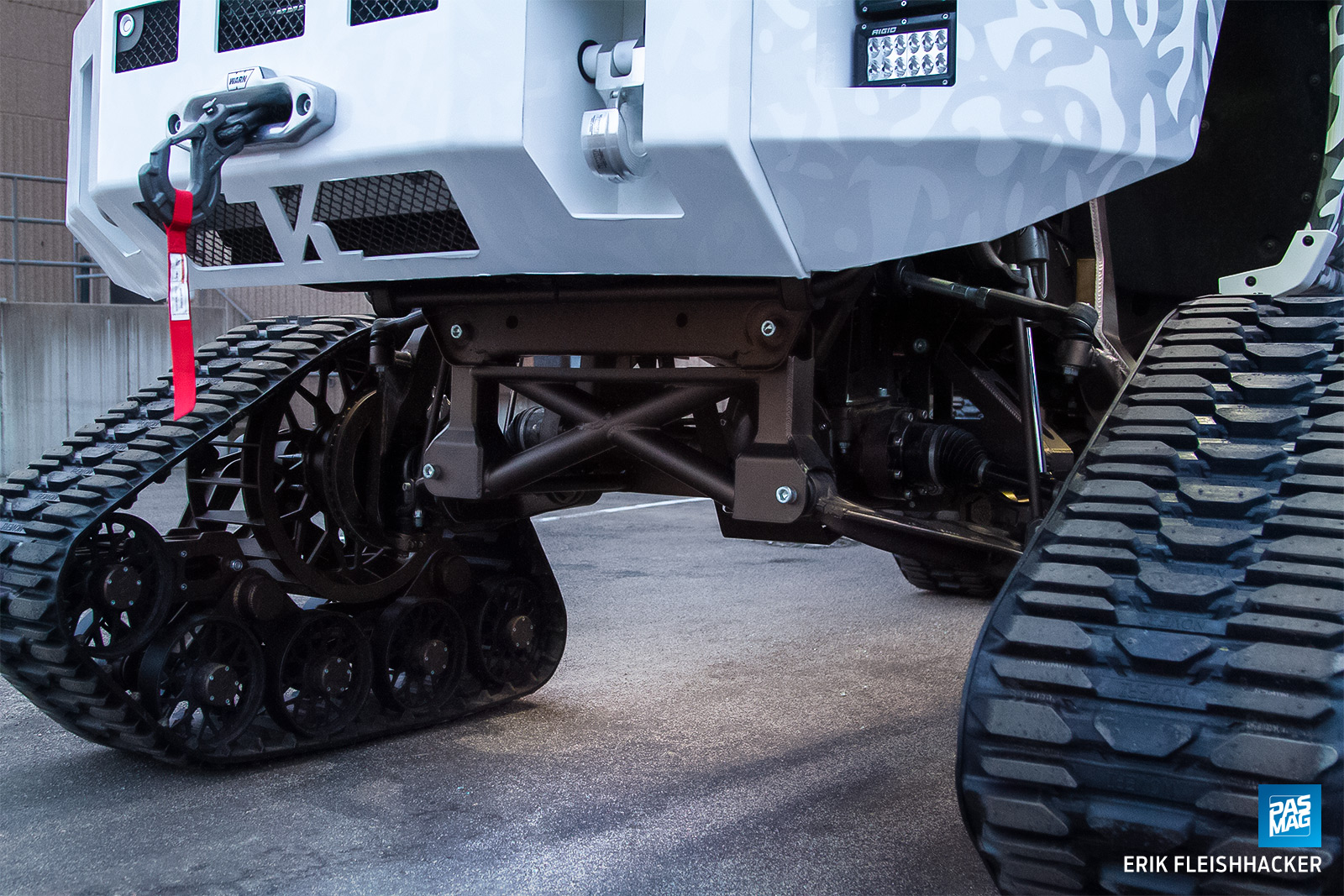 After Madsen had spent hundreds of hours designing the track system, the files of the final model were sent out to a local laser cutting shop to punch out the framework parts, while Wold Fab handled the machining of the bearing hubs and shafts from billet. Once all the parts were ready to go, it was on to the arduous task of welding it all together.
"We had three Miller welders going for three days to finish up the framework," Wold recalls, chuckling. "From start to finish, the tracks' construction was completed in less than a week's time."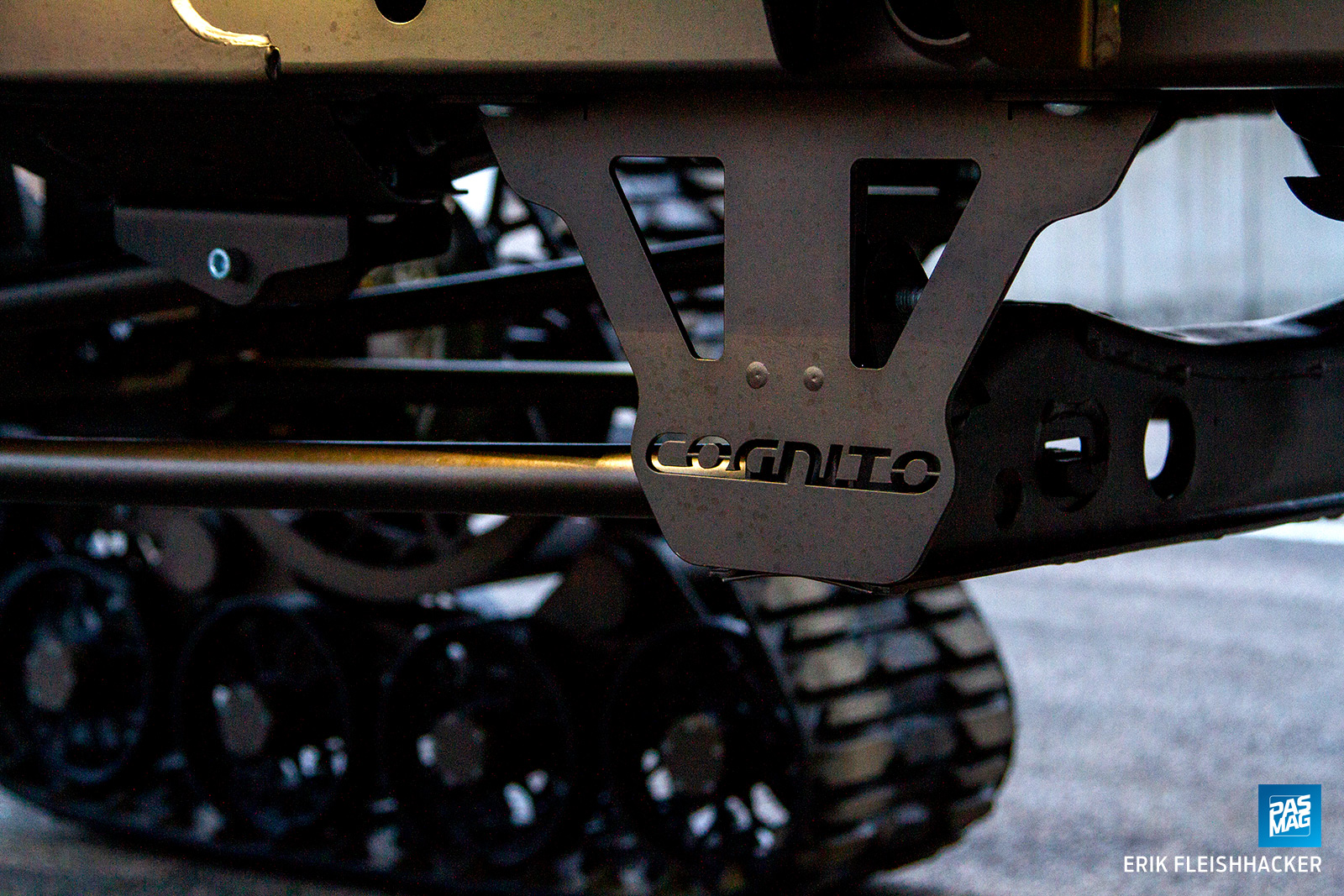 With the stress of the tracks out of the way, the next challenge reared its head: the rest of the build! Both Fischer and Wold agreed that nothing about this Chevy should be bolt-on, so they agreed on a frame-off build, but now they had a bare frame sitting on a hoist with just about 30 days until the ship out date for the show. Crunch time.
The frame was chopped, shaved, and powder coated, while every fastener and bolt was replaced with newly machined hardware. To keep the tracks moving at a steady rate, the LML engine was modified to support Wold Fab's Quantum-Max 68-mm turbo and work in conjunction with custom intake and piping kits from Wehrli Custom Fabrication. This has the Duramax churning out about 650 horsepower, which is more than enough for ripping through hills of powder.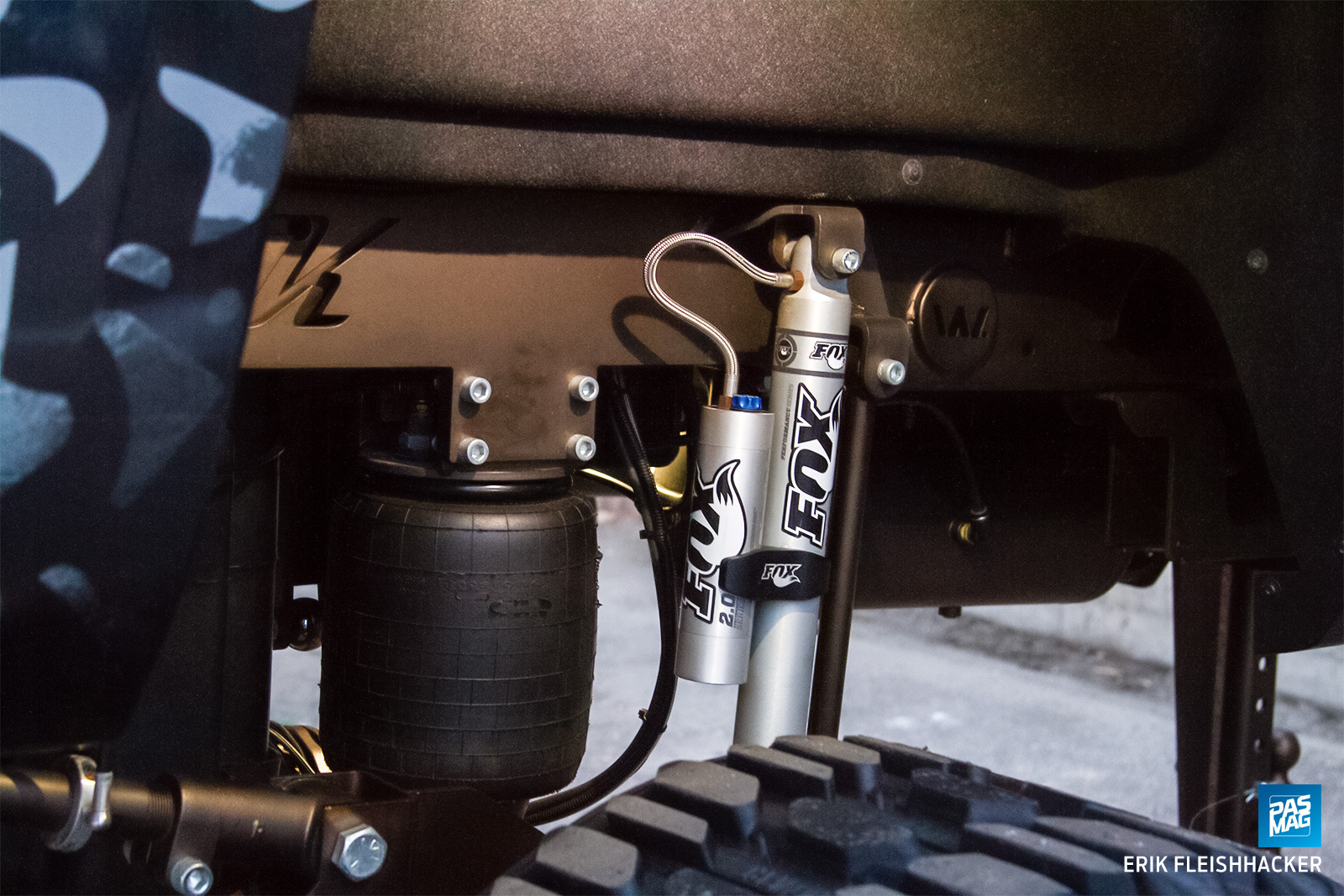 Of course, clearance is needed for any kind of off-roading, so the Chevy received a Cognito Motorsports 12-inch lift and sway bars in the front, while a 12-inch Kelderman air ride lift system takes up duty in the rear. The air-assisted rear suspension is key to this truck's function of hauling sleds to the best zones.
"We worked very closely with Kelderman on this build, from bumpers to lift," Fischer says. "With the rear air ride lift, it allows us to dump the air and lower truck for loading the sleds easily."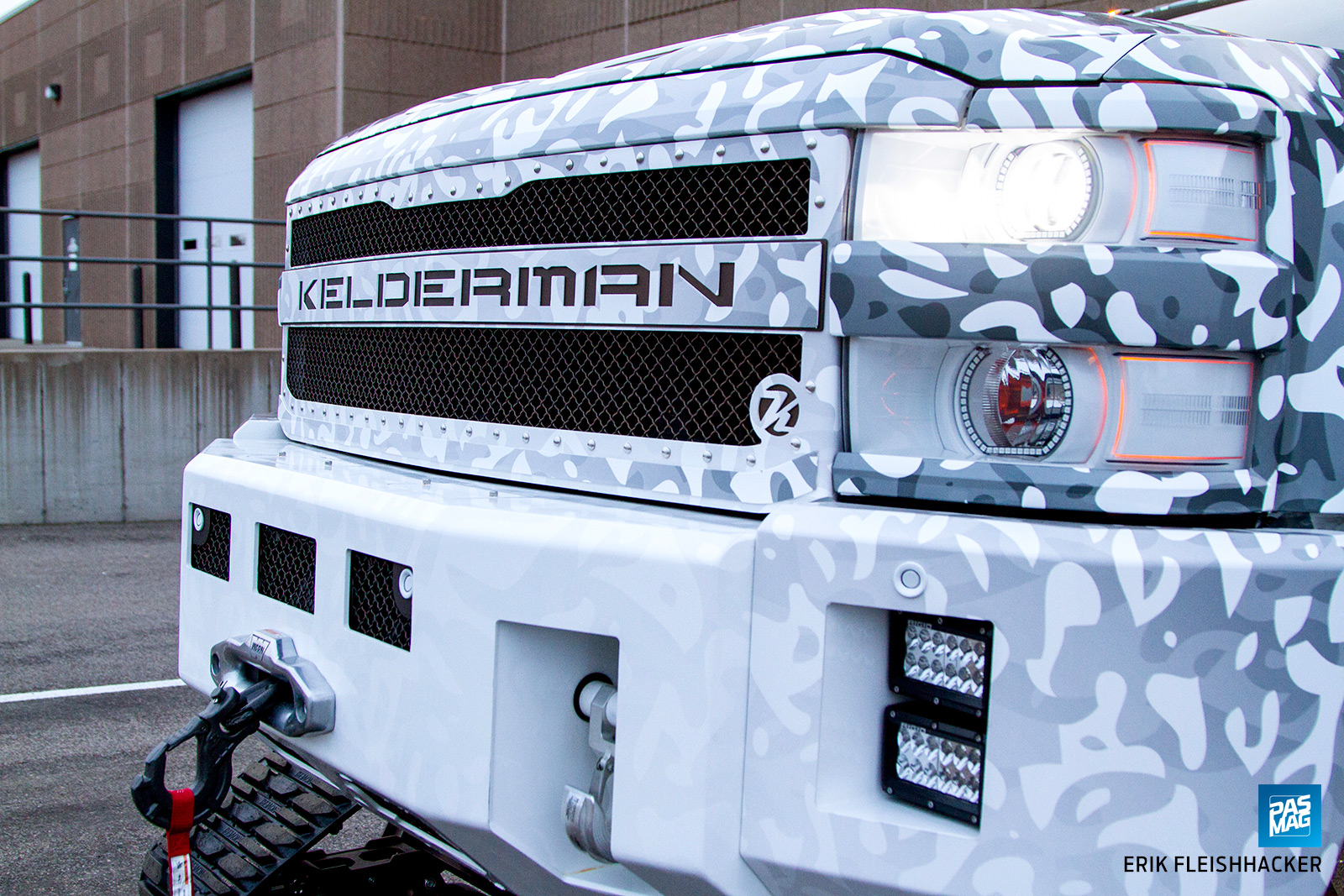 With some favors called in to get this truck together within the time frame, and a full wrap job from EDC Customs on location, the Duramax on tracks made it to SEMA to make one of the largest impressions of the show in the vast truck hall. Now that the show is over though, the Chevy has gone home with Fischer is already being put to good use hauling snowmobiles and going on adventures. Wold Fab has also said that once they can get their manufacturing process to reasonable cost, there's no reason they wouldn't offer this same tracks service to customers. If you love sledding, there should definitely be some tracks on tracks in your future.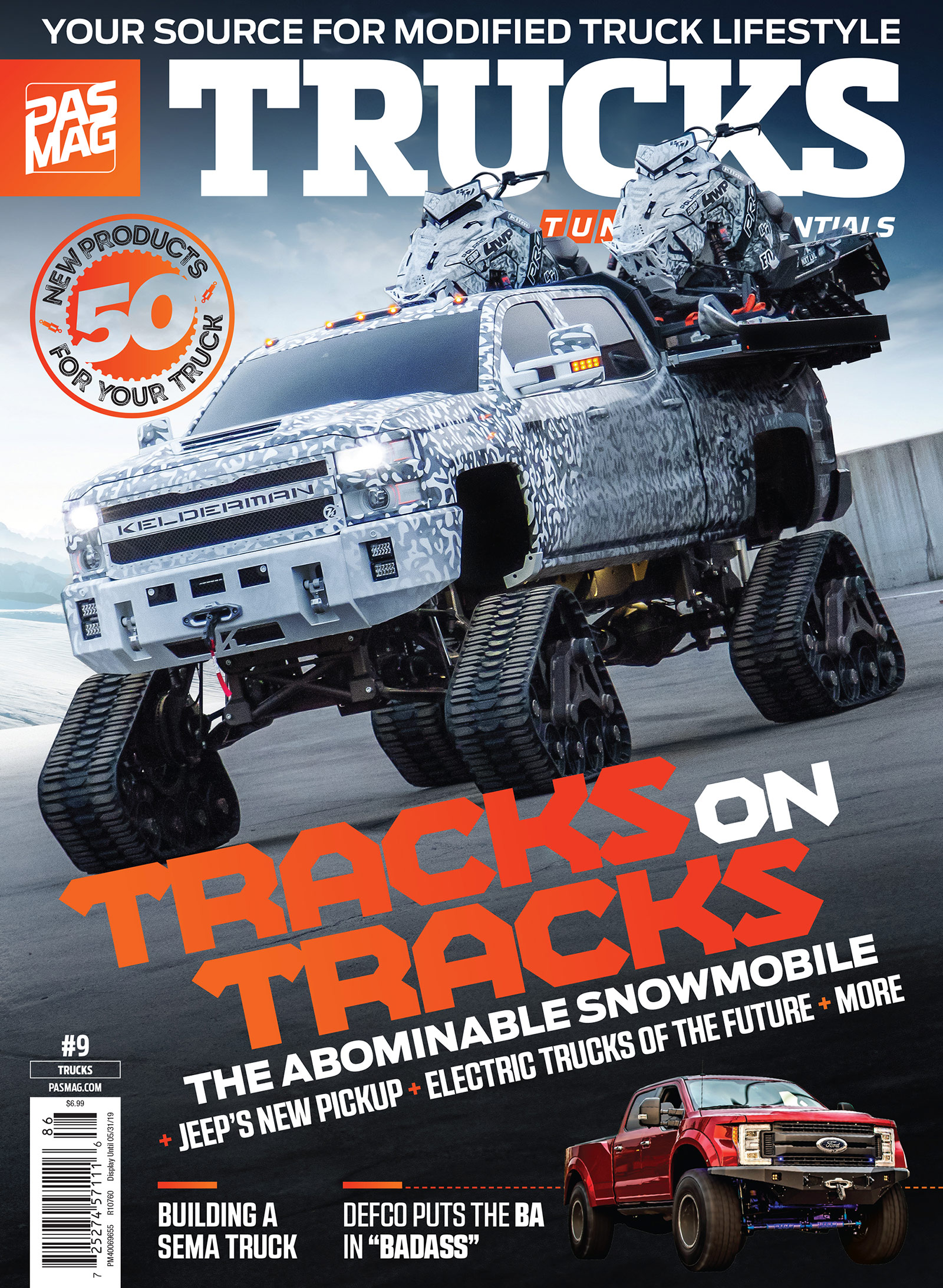 David Fischer's 2016 Chevrolet Duramax is the cover feature of Tuning Essentials: Trucks, Volume 9. Click HERE to order.