Photos by Tom Olesnevich
---
Round six of eight in the 2009 Redline Time Attack Series has come and gone but we saw many new faces and many familiar ones on yet another new track to the series! The event was held at E-Town Raceway in Englishtown, NJ and although threatened heavily by rain, the event went ahead and by Sunday conditions were dry and cars were running at full throttle. This event was also the championship event for the 4 race Street Class East and Stock Class East points series and the first official 2009 points champions have been crowned!

Mark Daddio and the AMS Performance/NOS Energy Drink Mitsubishi Evo X were the favorites at the event and rightfully so. Daddio was the only Unlimited Class car to break the 1:10.000 barrier and turned in a flying lap of 1:07.222 clinching another Overall, Unlimited Class, and Unlimited AWD Division win! Coming in within a second of that 1:10.000 barrier was Phil Grabow in the Element Tuning Subaru STi with a 1:10.498 taking 2nd in Unlimited AWD. Finishing off the Unlimited AWD podium was Bary Bodine and the Draco Performance Subaru STi with a 1:21.759. In Unlimited RWD it was set up to be a battle of the 240SX's between Jeff Ricca and Ramana Lageman who have been battling all season. Jeff Ricca and the Motoring Nissan 240SX came out on top with a 1:12.821 and the win in Unlimited RWD. A new face to the Unlimited RWD ranks by the name of Ben Salasko in his Honda S2000 would play the wild card and take 2nd with a 1:13.101 while Lagemann and the Dent Sport Garage 240SX settled for 3rd with a 1:13.277.

The Modified Class saw a truly amazing show as the unstoppable Ryan Gates in his Gates311.com/AMS Performance Evo X ran the second overall fastest time and became the only other car to break the 1:10.000 barrier, a simply amazing feat for a Modified Class car. Gates drove his Evo X to a 1:09.156 lap time claiming yet another Overall Modified Class and Modified AWD win. The Modified RWD division saw Thomas Hiromoto in his Fuji Racing Mazda Miata on top of the podium with a 1:14.717 followed by Formula D professional drifter Ryan Tuerck in the Gardella Racing Pontiac Solstice with a 1:15.856, although it was not the same Solstice Tuerck drives in Formula D. After suffering an engine failure in practice at Round #5, Ross Miller and the Ptuning/Lustine Scion tC were out for blood in Modified FWD where they took home the Division win with a 1:15.744 followed by Jose Mercado in his Acura RSX in 2nd with a 1:16.876. Taking third in Modified FWD was the Acura Integra of Eric Cheng with a 1:17.668.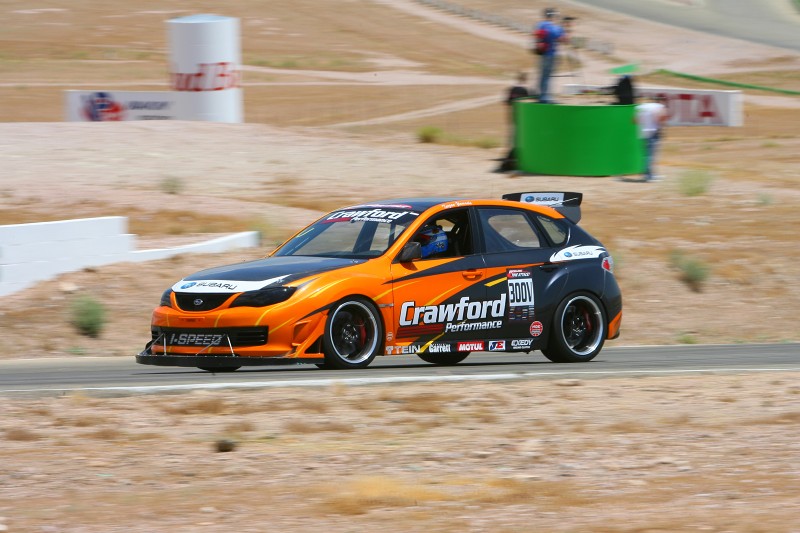 This event marked the finals for the Street Class East competitors as champions were to be crowned after this event. True to form, Tony Weisenhahn in the Turn In Concepts Subaru WRX once again dominated the class taking the Overall Street Class and Street AWD wins with a 1:12.643 followed by Jake Namer in the Hamfist Racing Subaru STi with a 1:14.384 and Bary Bodine in the Draco Performance Subaru STI with a 1:14.458 taking 2nd and 3rd in Street AWD. The Challenge/GT Motoring/Bridgestone cars were absent at this event and without them to challenge, Jeff Bender and the Tri-State Racing Nissan 350Z found themselves on the top of the podium in Street RWD with a 1:16.299. It was an all 350Z podium as Brandon Anandan and Joseph Richichi secured 2nd and 3rd with their 350Zs with a 1:18.135 and a 1:18.992 in Street RWD. The dominant force in Street FWD East this season has been Doug Wind and the Forced Performance/Continental Tire Dodge Neon SRT-4 and this event proved to be no different. Wind took another Street FWD victory with a 1:16.206 followed by the Tri-State Racing Honda Civic Si of Nik Bender with a 1:17.582 in 2nd.
This event marked the biggest overall turn-out of Stock Class East entrants, but Brian Flannagan, winner of Rounds 4 / 5 was a no show. The overall Stock Class win and Stock AWD Division win would go to Anthony Perry and the Dent Sport Garage Mitsubishi Evo blowing the competition out of the water with a 1:15.661 lap. Trailing in 2nd place in Stock AWD was Kahlee Aguilar-Ramos' Subaru Legacy with a 1:20.108 ahead of John Torres and his Mitsubishi Evo X in third with a 1:21.716. Raphael Santos in his Nissan 240SX took top honors in Stock RWD with a 1:21.092 while Bryan Hedian in his Honda S2000 and AJ Hartman in his Ford Mustang GT took 2nd & 3rd with a 1:21.814 and a 1:22.109. Michael Ko ran his DTM MINI Cooper un-opposed in the Stock FWD class winning with a 1:21.544.
With some champions already decided, the 2009 Redline Time Attack series races back to the West Coast for Round #7 held at Spring Mountain Motorsports Ranch just outside of Las Vegas, NV. Over 20 turns and the desert heat promise intense action from the last event before the finals where PAS Magazine will be on-site to catch all of the action.