The term "basshead" is only loosely definable. Some consider it a friend with a few subs. Some envision a wall full of drivers. Some want to simulate a seismic event. Go to a SPL (Sound Pressure Level) competition, and the community has its own standards for who is legit – and who really, really isn't.
Enter Audio Apex; a fledgling SPL subwoofer company, gearing its designs specifically for the SPL competitor. Founded by Nathan Munson, his son Chris Munson and Sal Gonzales, the trio of competitors are among the winningest in car audio competition history.
"I knew we could offer superior tech support. I knew we could offer superior customer support, having run a shop for more than 30 years. I didn't need to make a big splash. I have always loved the higher end product lines and wanted to build subs for the SPL community. We have several drivers in prototype as we speak."
Premier among the subwoofers being designed is a demo sub will be called the Silverback. "It's meant to rip your face off like a gorilla," according to the senior Munson. Carbon fiber cones with a fiberglass composite will be used throughout the brand for lightness, stiffness and durability. Engineers from Sundown Audio – another premier brand in the Basshead community – are being consulted to optimize the magnet structure and motor design. Every subwoofer will feature Neodymium magnets. The material is well known to not only be lighter, but more powerful than traditional Ferrite motors.
"I am not trying to fit in any particular market with these subs. I wanted to bring the best demo sub, the best SPL sub and the absolute best SPL sub. If you can come out of the gate and be even one dB louder than anyone else. People that want to win will pay attention."
Audio Apex plans on having the motors designed and manufactured completely in the USA, making them nearly unique in the mobile audio industry. Ratings for "burping" – a momentary burst of power – is projected to exceed 15,000 watts.
For the uninitiated, a "demo" SPL vehicle is meant to play music as loudly as possible, for as long as possible - often trying to stand out in a crowd of rides built for the same purpose. Who is the winner? The loudest. For the longest. Survival of the fittest.
Audio Apex products will be available on www.caraudiobargain.com, which is also ran by the Munson family and Mr. Gonzales.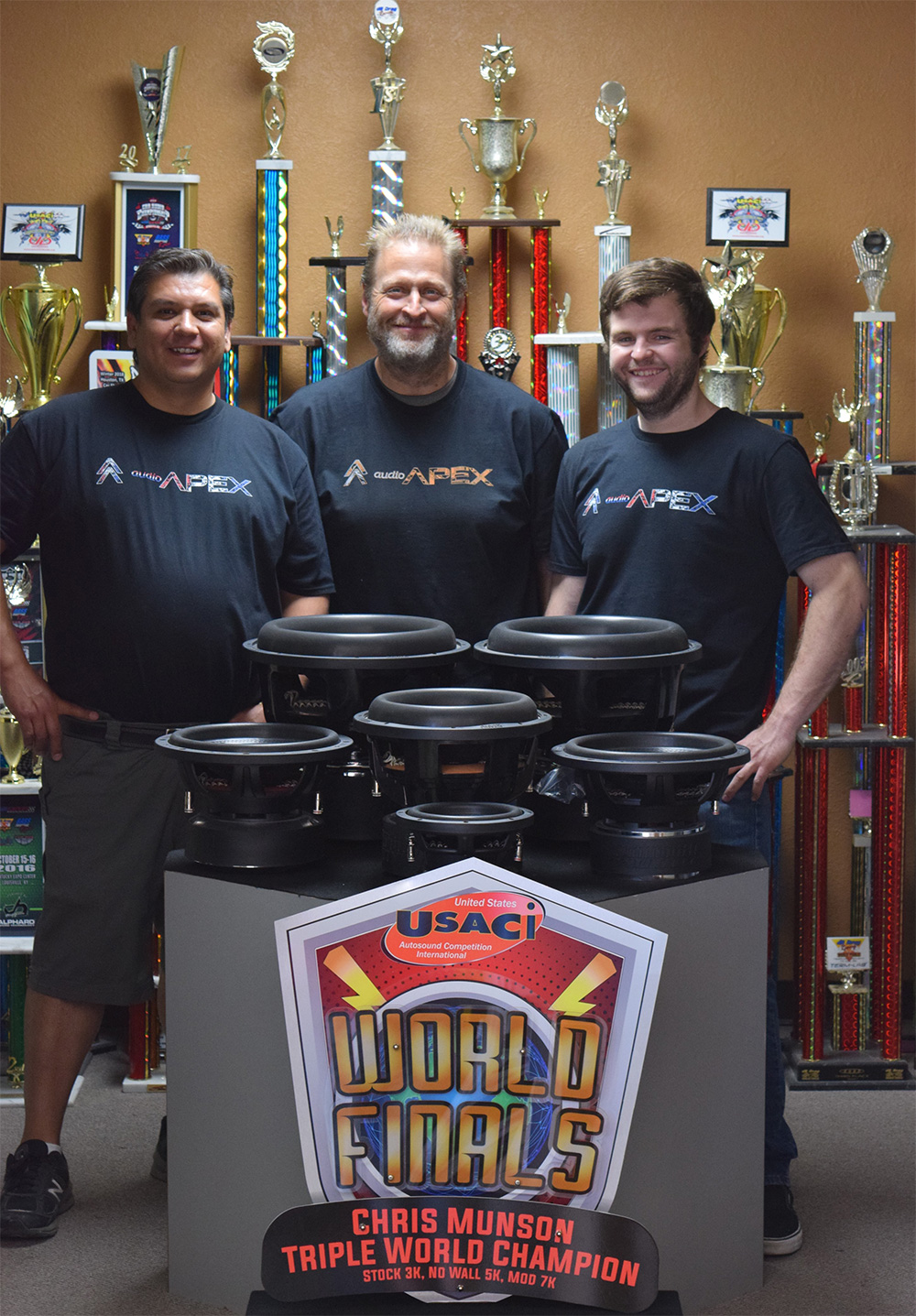 Pictured left to right (all co-owners of Audio Apex): Sal Gonzales, Nathan Munson and Chris Munson