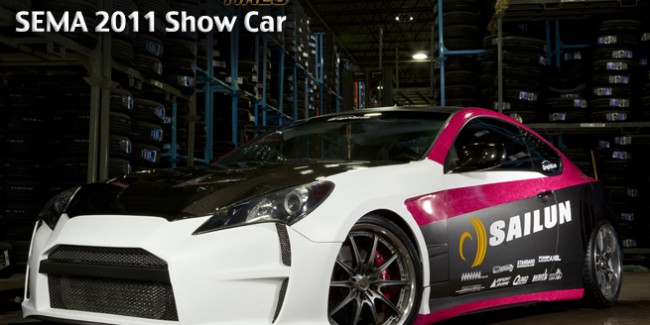 To build a show n' shine competition car is no easy feat and building one for the largest gathering of automotive minds is an even greater accomplishment. This gathering of international gear heads happens once a year in Las Vegas, Nevada by the Specialty Equipment Market Association – better known as SEMA. Unlike one's typical show car build, SEMA cars must not only be successful in showcasing a new product, but also the brand's overall image – especially as the new kid on the block.
As the first SEMA show for Sailun Tire (Canada), the pressure was on to produce not only a demo vehicle that would be worthy of displaying their newest tire, but also able to create a buzz of excitement amongst the thousands of international media members and industry colleagues. The vehicle of choice for this venture is one that is familiar to those in the tuning scene in Ontario, Canada – Andrew "FATnFLY" McDonald's Hyundai Genesis Coupe.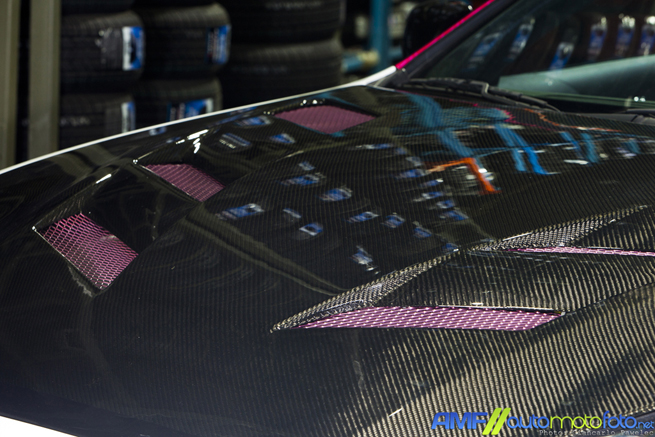 As most who know the car will notice, it has been completely worked over for the international show of shows. The exterior boasts a Vega Type 3 front bumper and side skirts combination. A vented VIS carbon fiber hood and Seibon carbon fiber trunk make light of a once bland and heavy body panels.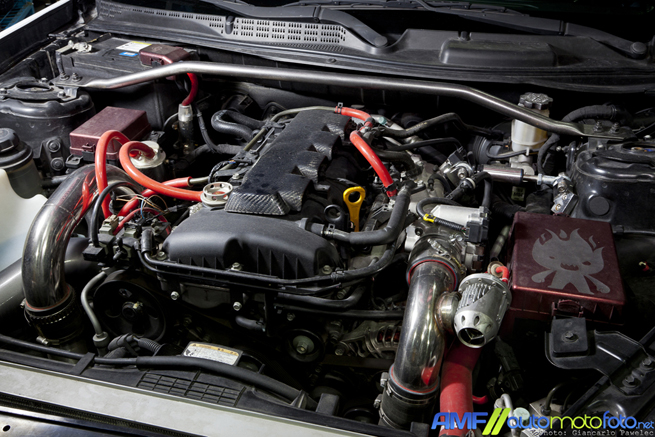 Under the hood sits the Hyundai Genesis 2.0-liter, turbocharged engine that has been re-worked with plumbing from AEM via a cold air intake system that feeds the charge into the factory snail. Hot exhaust gasses exit through an assortment of pipes from Ultimate Racing including 3-inch down pipe, high flow cat and test pipe into an HKS exhaust. A PowerAxel PowerX ECU reflash and other pieces of the puzzle allow for this sporty coupe to put down an impressive 265whp.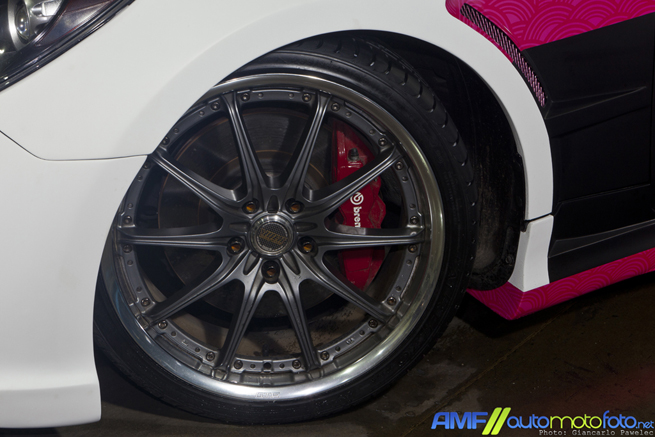 A set of 19-inch Volk Racing GT-F sized at 8.5-inches (front) and 9.5-inches (rear) wrapped in none other than Sailun Tires plant the boosted power to the ground. Tucked just behind are OEM Hyundai Brembo brakes on all four corners with KPR stainless steel brake lines. The aggressive stance is thanks to a set of R3 coilovers from Standard Suspension allowing for full adjust-ability on the fly.
In the cockpit, McDonald dressed up the bland black interior with some carbon fiber touches and custom painted center console. A TWM Performance shift knob and boot complete the esthetics. For the in car entertainment there is a UniNavi 7-inch LCD touch screen and Infinity head unit. Sound production is made possible by a set of Infinity mid and high speakers, two Kenwood eXcelon subwoofers for bass and two Kenwood eXcelon XR-1S amplifiers for juice.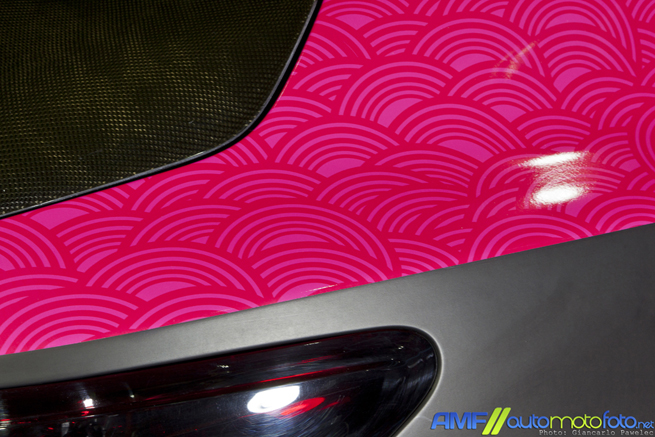 Because this Genesis Coupe is to debut at SEMA, Sailun Tire (Canada) wanted a unique one-off vinyl racing livery. After much debate and various renditions the final product was applied by Graphiti.ca. The multi-colour vehicle wrap consists of matte white at front leading into a matte black finish and a hot pink design for accent. Love it or hate it, it is certainly different and will surely captivate many lenses during the debut at SEMA – Bravo!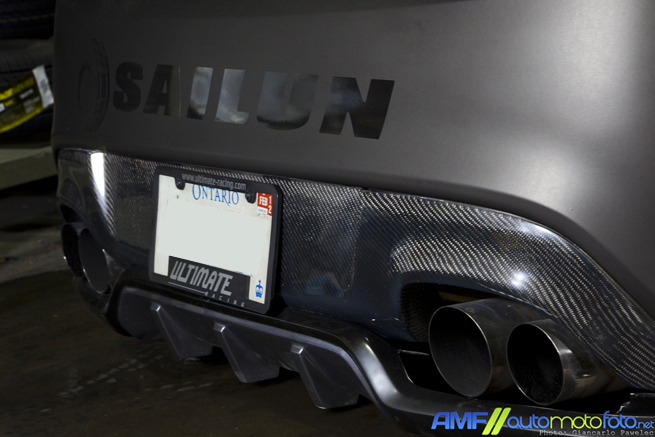 At back, an Ixion rear lip and Sequence-style carbon fiber diffuser are matted to the factory body work. The unique HKS quad-tip exhaust system sits flush with the rear end and adds a unique low-tone growl from the high-revving four cylinder engine.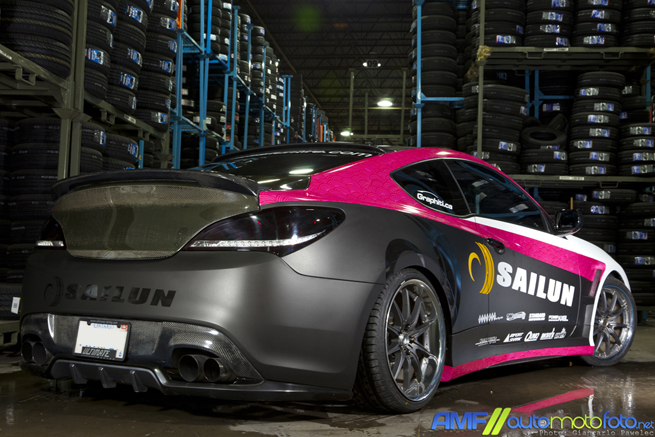 The completed package makes this car truly pop with colour and excitement – exactly what the folks at Sailun Tire (Canada) wanted! After endless nights of hard work and last minute details, it is safe to say that this Genesis Coupe SEMA show car is ready for the journey to Sin City, one that will never be forgotten for McDonald or his Hyundai Genesis Coupe.
The Specs
Owner: Andrew "FATnFLY" McDonald
Location: Guelph, Ontario, Canada
Vehicle: 2010 Hyundai Genesis 2.0 GT
Horsepower: 265whp
Torque: 320ft-lbs
Dyno Type: Dynojet
Dyno Sheet Included: No
Club / Team Affiliation: Sailun Tires
===
Exterior
- Custom vinyl wrap
-?Custom paint (Bathurst Black with gold and red pearl with green flake)
- Vega Type 3 front bumper
- Vega front fenders
- Vega side skirts
- Sequence-style CF rear diffusor
- Ixion Rear lip
- VIS AMS CF Hood
- Seibon CF Trunk
- Megan CF Roof Spoiler
- Sequence-style CF trunk lip spoiler
- SuperLux medium dipped taillights
- Hella horns
- 8000k HID headlights
- Ignited 3000k HID fog lights
- Tinted windows
- Painted headlight housing w/ gunmetal accents
Interior
- TWM Performance shift knob
- TWM Performance shift Boot
- CF dash kit
- Custom painted center console
- LED interior lighting
- RRM CF A-pillars / gauge pod
- Custom CF switch panel
- Lighter adaptor relocation
- AEM wideband
- Autometer boost gauge
- HKS turbo timer
- Racing pedals
- Stainless steel engraved "Genesis" door sills
- OEM red and black interior
In Car Entertainment
- UniNav 7'' touch screen
- Infinity head unit
- Infinity mid speakers
- Infinity high speakers
- (2) 10'' Kenwood eXcelon subwoofers
- (2) Kenwood eXcelon XR-1S amps
Wheels / Tires / Brakes / Suspension
- (F) 19" x 8.5" Volk Racing GT-F rims
- (R) 19" x 9.5" Volk Racing GT-F rims
- 25mm Eibach spacers
- Volk Racing center caps
- Racing Composite gunmetal lugs
- OEM Brembo?4-piston front and rear calipers
- OEM Brembo 13.4'' front rotors
- OEM Brembo 13.0'' rear rotors
- KPR stainless brake lines
- OEM GT front strut tower bar
- OEM 25mm GT sway bars (Front)
- OEM 22mm GT sway bars (Rear)
- Standard Suspension R3 coilover suspension
Engine
- PowerAxel PowerX ECU reflash
- Hyundai 2.0-liter, inline 4-cylinder, turbocharged engine
- AEM cold air intake system
- Grimmspeed intake manifold spacer
- RRM lightweight crank pulley
- Ultimate Racing 3" O2 housing
- Ultimate Racing high flow primary cat
-?Ultimate Racing 3'' down pipe
- Ultimate Racing secondary cat delete
- HKS catback exhaust
- Ultimate Racing intercooler
- HKS Limited Edition SSQV BOV
- Mishimoto radiator
- Mishimoto CF catch can
- SFR engine damper
- HKS grounding kit
- HKS oil cap
- HKS radiator cap
- Sprint Booster
- Vibrant air lines
- Venair silicone radiator hoses
- Custom painted engine
- CF spark plug cover
- Dress Up Bolts titanium bolt kit
- OEM 6-speed manual transmission
- TWM Performance short throw shifter
- TIC linkage bushings
- DTM Speed stage 4 clutch
- DTM Speed lightweight flywheel
- Torsen LSD
- KPR stainless steel clutch line
Sponsors
- Sailun Tire (Canada)
- Graphiti.ca
- Diamond One Stop Auto
- TWM Performance
- PowerAxel
- ImportShark.com
- Standard Suspension
- Uniq Performance
- Rockstar
- Point Zero Tuning
- Havoc
- Fat Science
Special Thanks
- My family, friends, and everyone who has supported me. To all my sponsors and the crew at Sailun Tires (Canada) for giving me an opportunity of a lifetime! A huge thanks to my father's beer fridge for the many late, non-sober nights, coming up with crazy ideas and following through with them.