Photography by Trevor Reiff (@fleetingmemoriesmedia)
Move over, mall crawlers. DEFCO Trucks is on the scene.
The world of big trucks in America is a rapidly expanding market. With the explosion of Cen-Cal style trucks over recent years, you can expect a gigantic lifted truck with powdercoated suspension components and oversized wheels as just about any show or meet across the country. While those more show-oriented trucks may be enough to get some peoples' rocks off, Doug Paddock of DEFCO Trucks is not one of those people. For him, a truck needs to be functional above all else - otherwise, what's the point?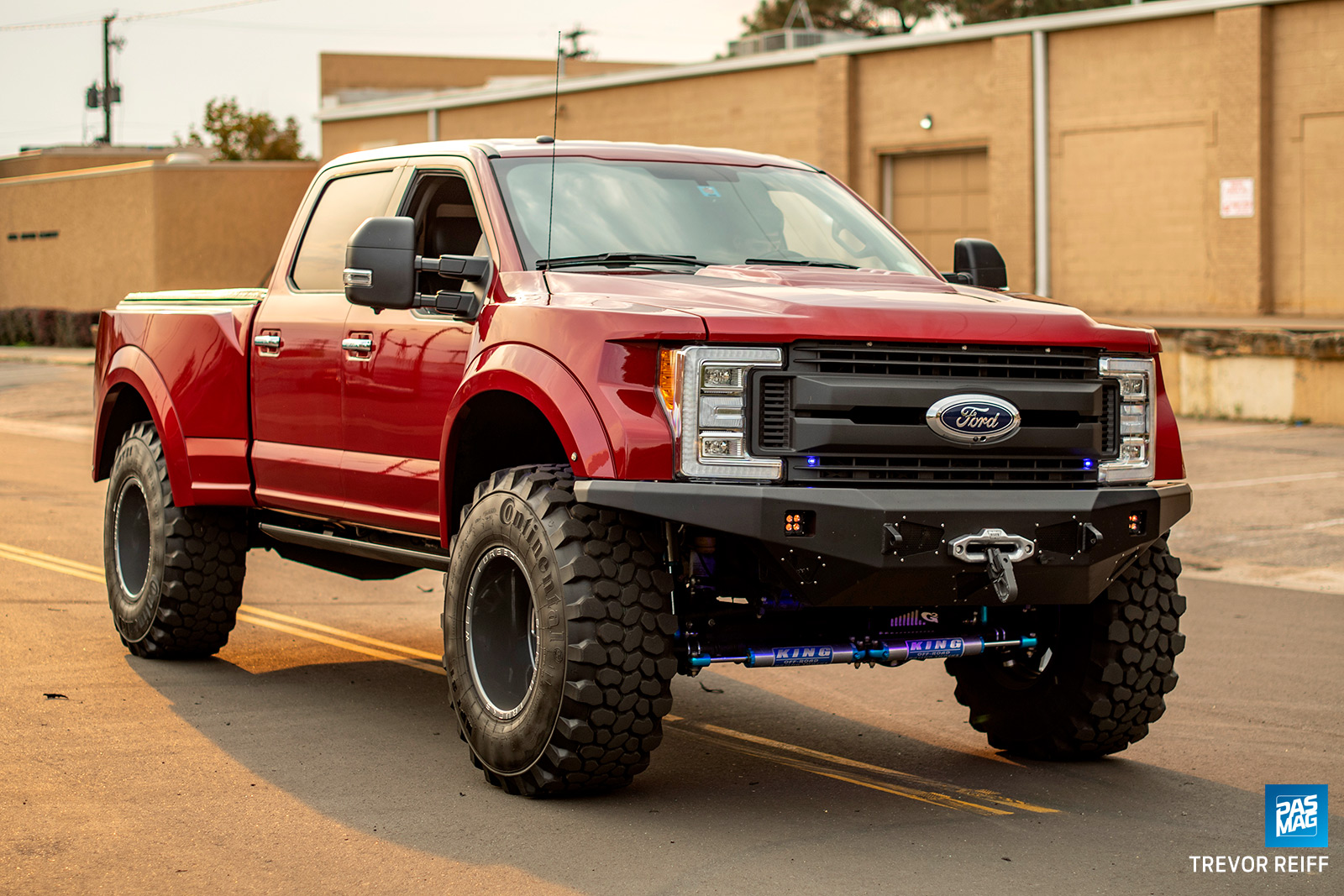 DEFCO Trucks is no stranger to the world of building trucks. The shop has built countless custom trucks for customers, as well as some seriously fast cars, and their love for both speed and practicality has dovetailed into a formula for trucks that not only look the part, but perform accordingly on or off the road. Back in Vegas during SEMA 2018, I got a chance to ride in their "BA-350" down the strip after the SEMA Ignited circus, and it quickly became one of my favorite trucks. I'll try not to offend any pavement-pounders, mall crawlers, or Cen-Cal style truck lovers as I explain why.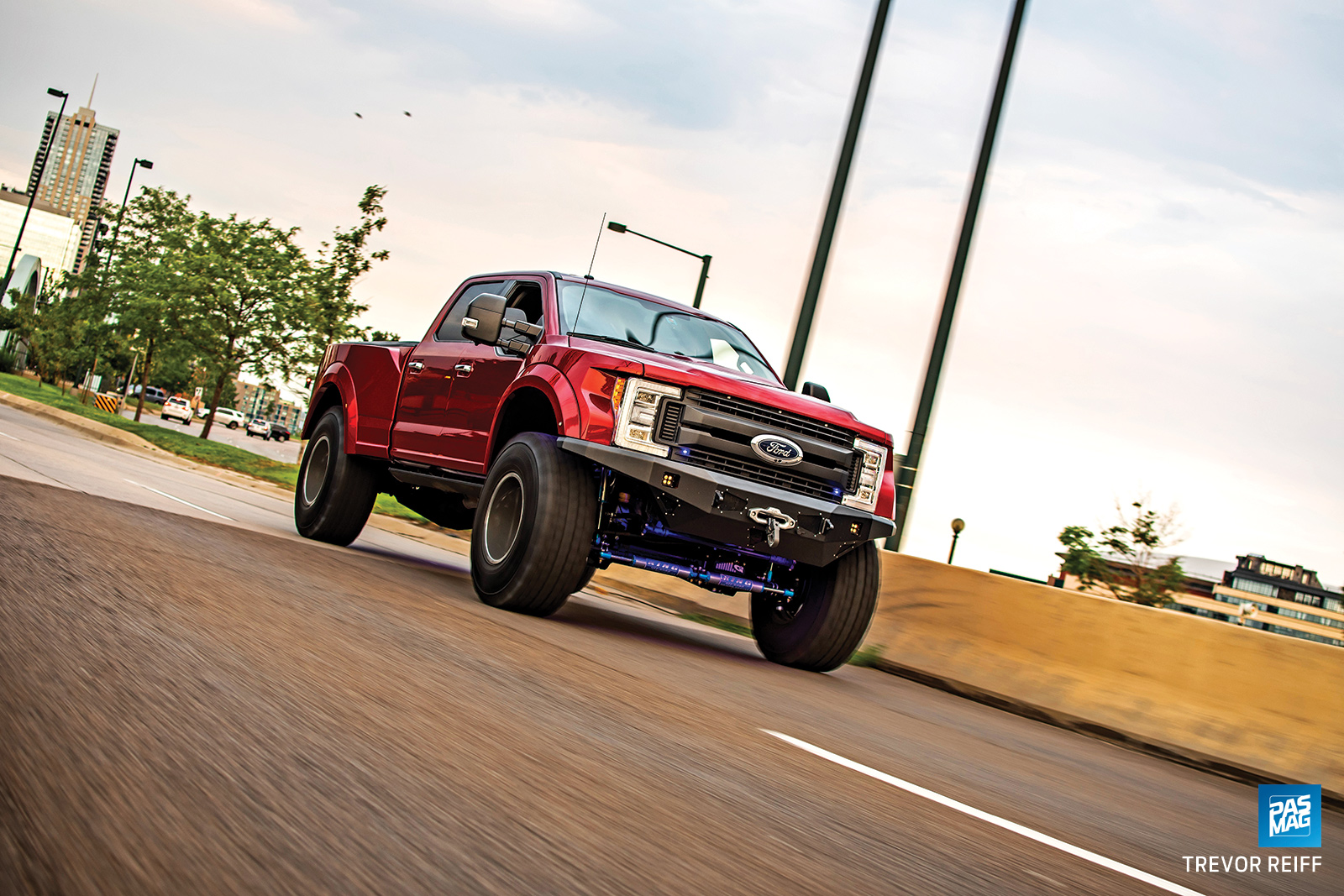 Unlike typical show trucks that seek attention with bright suspension parts, train horns, and LED light pods as bright as the sun, the BA-350 (the BA stands for badass, as far as I'm concerned) commands attention from the enthusiast with an eye for detail. It may not attract the Instagram fanboys of a neon-laden truck, but anyone who knows what they're looking at will appreciate the simple, subtle details. The first thing you'll notice is the complete re-body, made up of a custom kit from Advanced Fiberglass. This isn't your ordinary fiberglass prone to cracking at the slightest impact, either. While showing off the truck to me on the show floor, he grabbed his front widebody fender with both hands and shook it back and forth violently. It didn't even flinch.
As if the kit wasn't enough, complete with fenders, bedsides, tailgate cap, and a new hood, the front and rear bumpers are also custom spec, courtesy of LewisBuilt Performance in California. With integrated Quake LEDs in the front and rear, and a 16.5k Warn winch up front, the truck takes on an aggressively functional look. The BA-350 widebody kit adds a solid 4-inches of track width, and that calls for some serious wheels and rubber to fit the bill.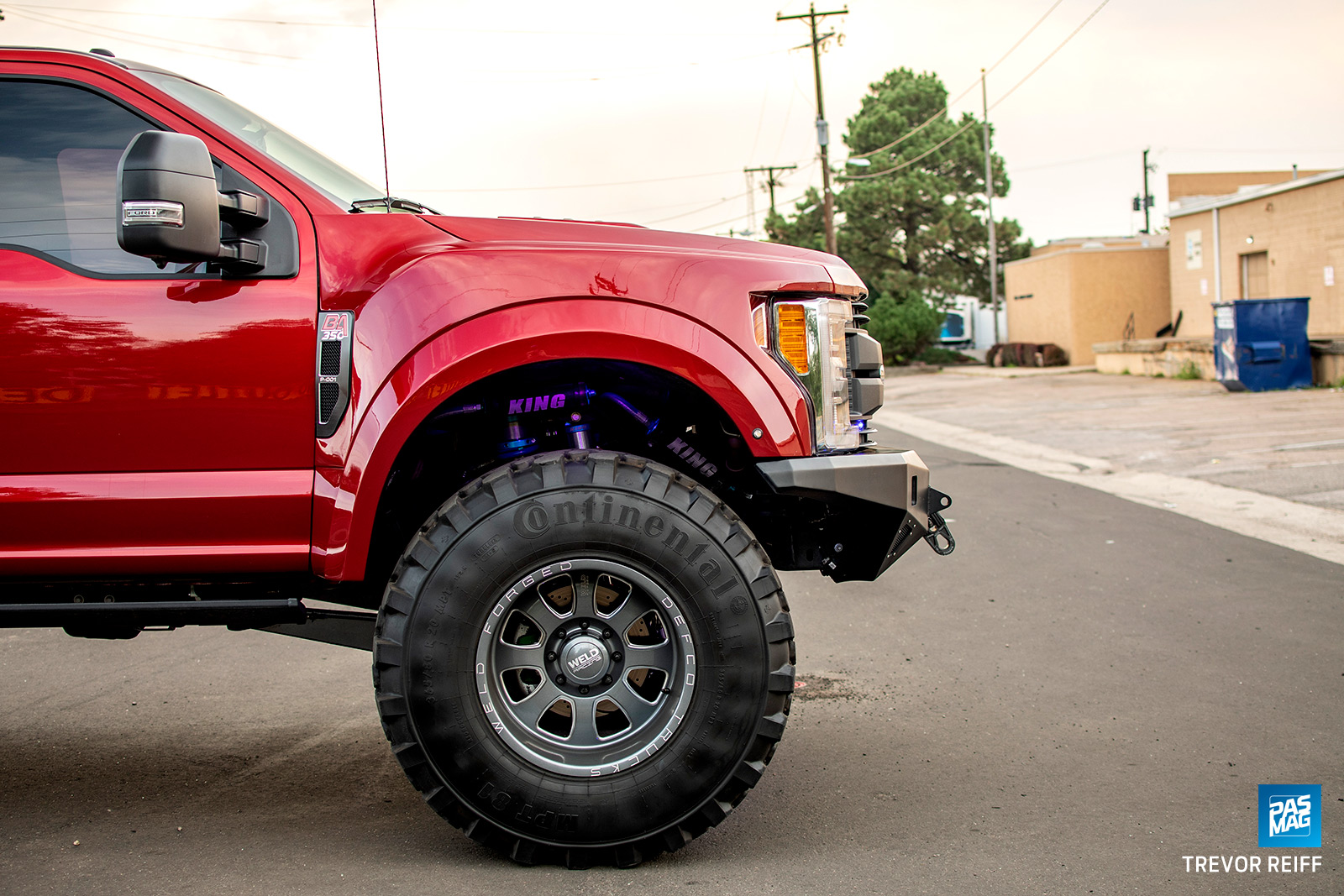 A set of custom-spec Weld XT Renegade wheels, custom built for DEFCO Trucks and measuring 20x14 with 4.5-inch backspacing on both the front and the rear, fill out the new fenders nicely. Wrapped in Continental MPT 81 tires measuring 365/80/20, the wheel and tire package offers an aggressive off-road-ready stance to the truck, as well as a promise of excellent off-road prowess, which complements the intricate suspension setup nicely. As you can imagine, a big truck meant to take abuse needs a beefy suspension setup, and the system built specifically for the BA-350 by LewisBuilt brings everything you need to the table.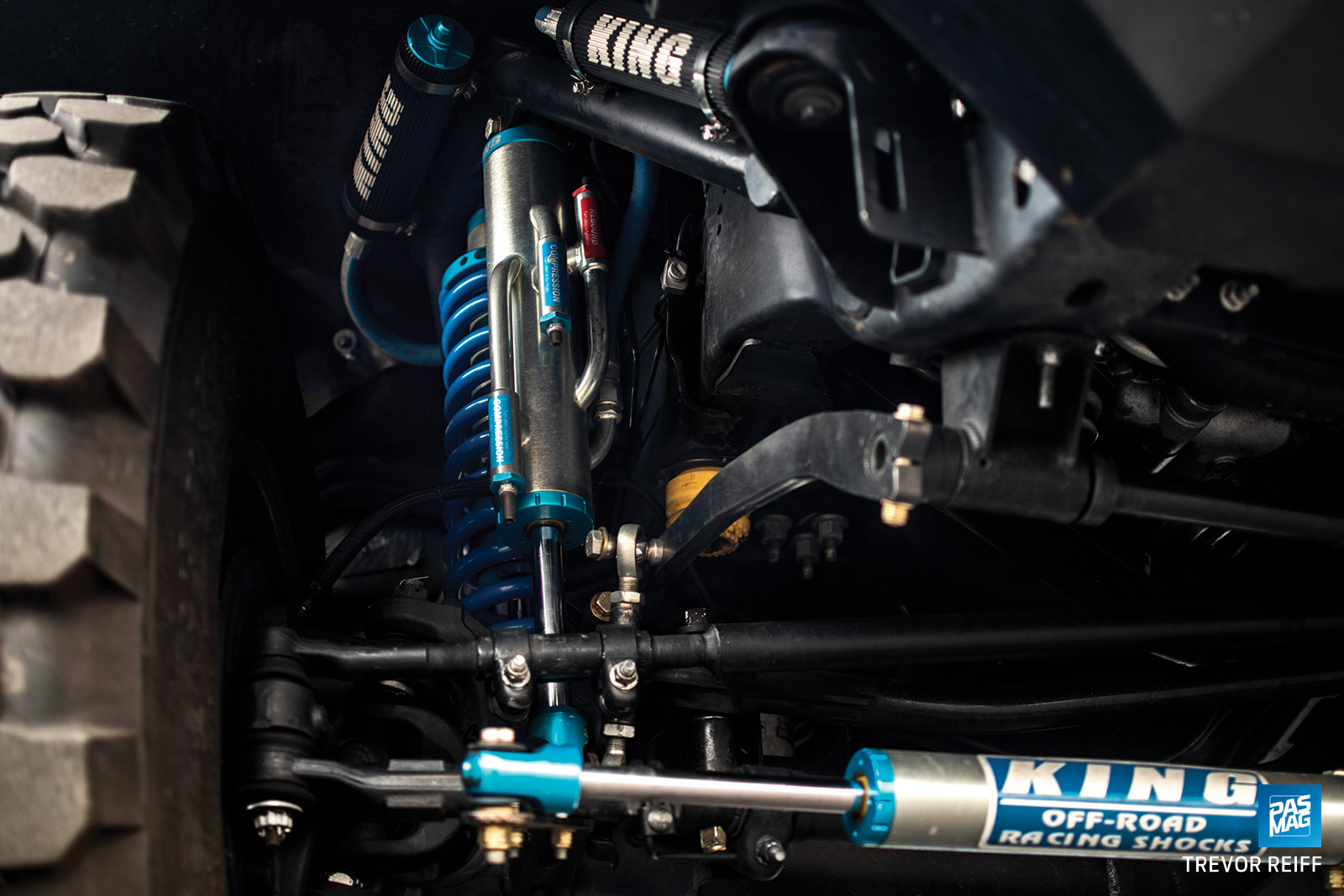 "When we were researching how to create unique and challenging suspension package for these trucks, we couldn't find anyone as crazy as we were to partner with us and help us design and build the suspension exactly how we wanted," Paddock grins. "Then we found Chris Lewis of Lewisbuilt Performance and it was a match made in heaven. When I called him he was extremely receptive to the idea, but I'm not sure he took it seriously until my shop foreman and I were in his shop showing him exactly what we were thinking and how we want it designed - increasing wheel travel without sacrificing a low center of gravity. Then, about two hours into our drive back to Denver from California, Chris sent me some Solidworks designs and it fit the bill perfectly."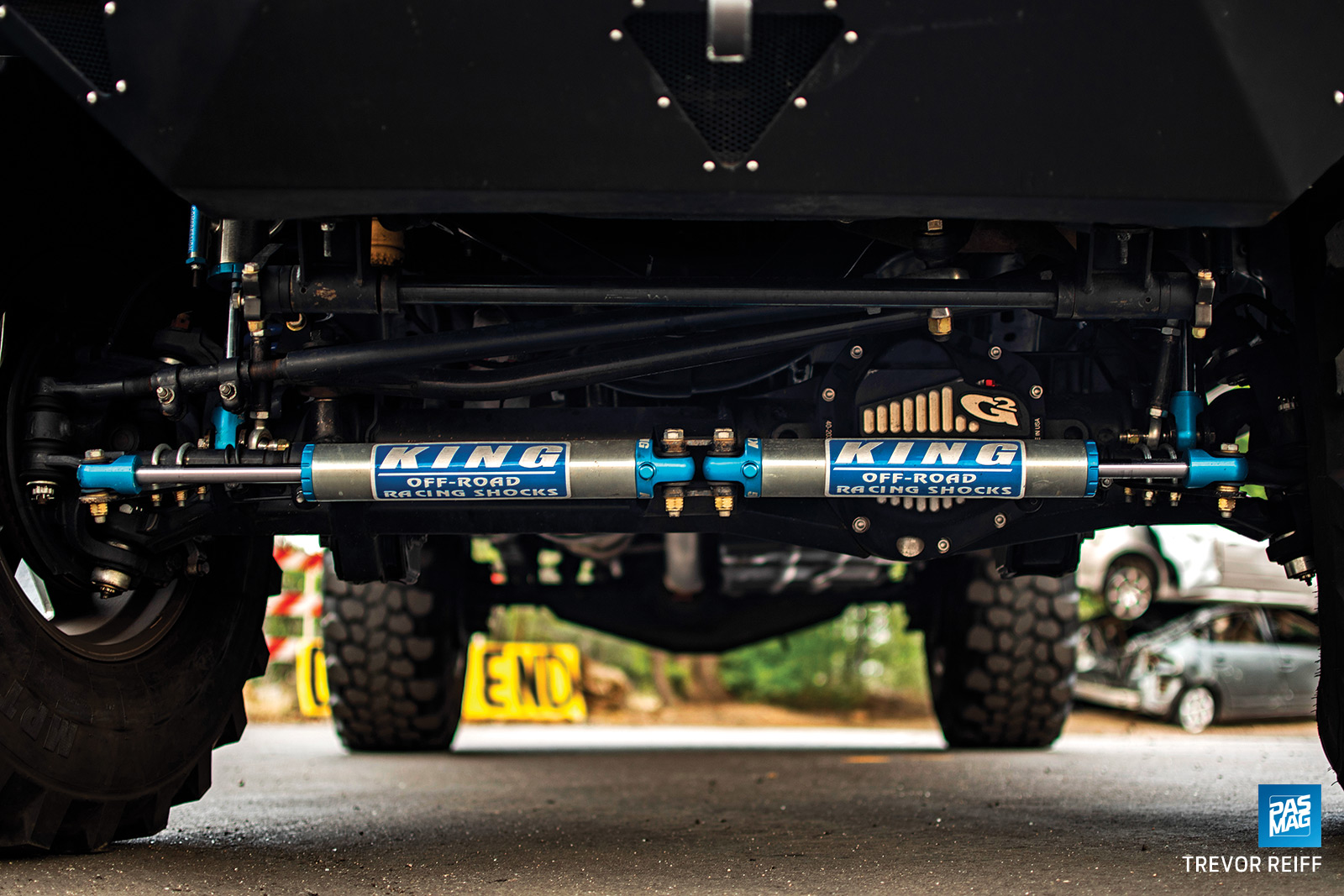 The development of the LewisBuilt Stage II suspension system was an exercise in reimagining how a big truck should perform, both in enthusiastic driving and when hauling. It starts with a unique fab job to relocate the front shocks to straddle the reinforced Dana Super 60 front axle. From there, custom BA-350 lower radius arms, a ProComp Track Bar and dropped pitman arm, Defco sway bar drop bracket, and dual King 2.5-inch steering stabilizers set the geometry, and a custom upper shock mount allows them to package a 3.0-inch King coilover and a 3-inch King triple bypass shock with an external reservoir. All in, the setup up front equates to 12 inches of useable front travel, with better-than-factory steering geometry thanks to DynaTrac ball joints and the LewisBuilt steering arm, pitman and idler arm supports.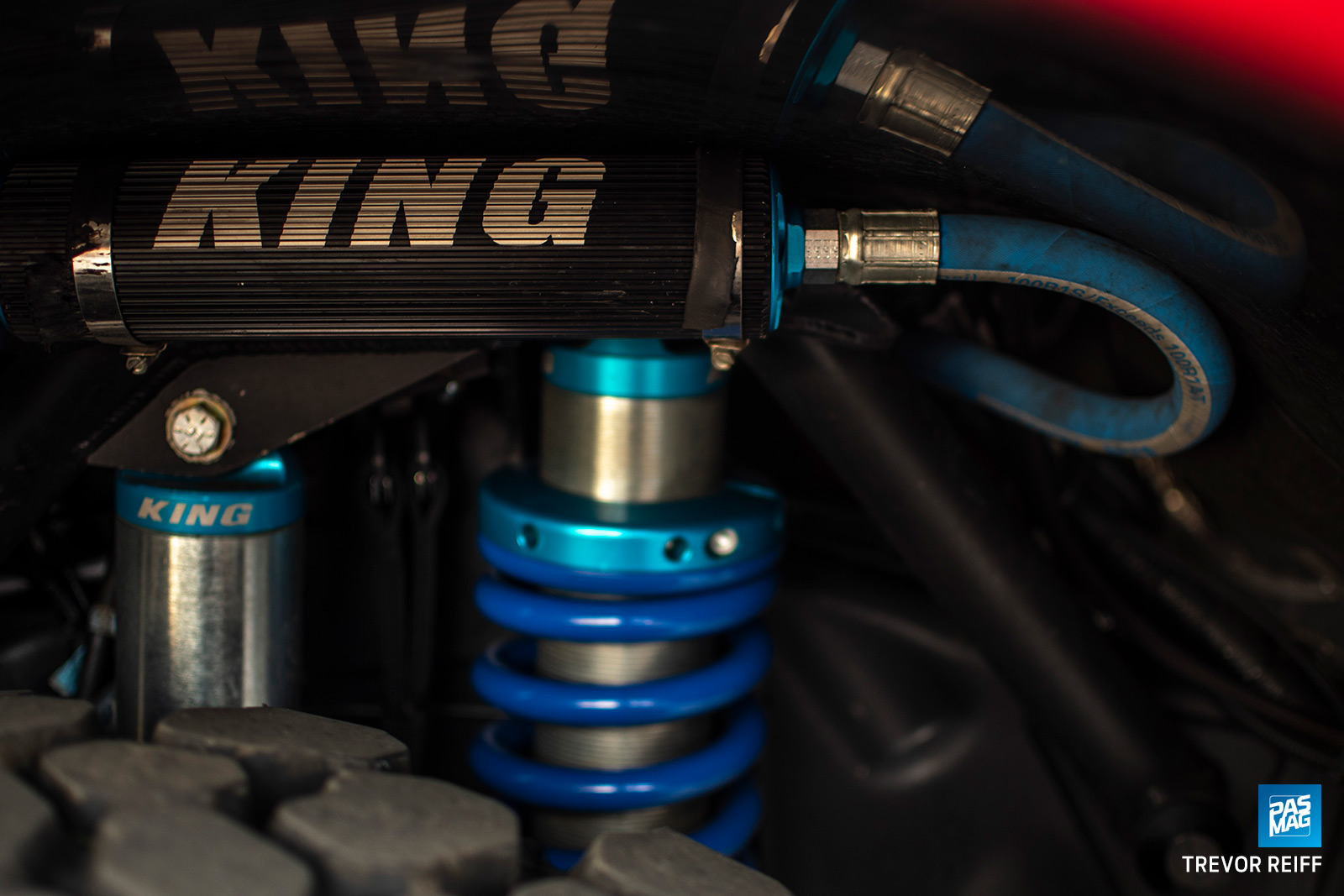 In the rear, King triple bypass shocks are found once again, this time measuring 3.5-inches. Custom rate leaf springs from Atlas Suspension are employed to handle more abuse than the factory offerings can take, and a patent-pending LewisBuilt cantilever shock arm system provides handling prowess unlike anything else available for the platform. By laying the shocks parallel to the frame, the system maintains complete functionality of the bed, and gives the BA-350 17-inches of rear travel.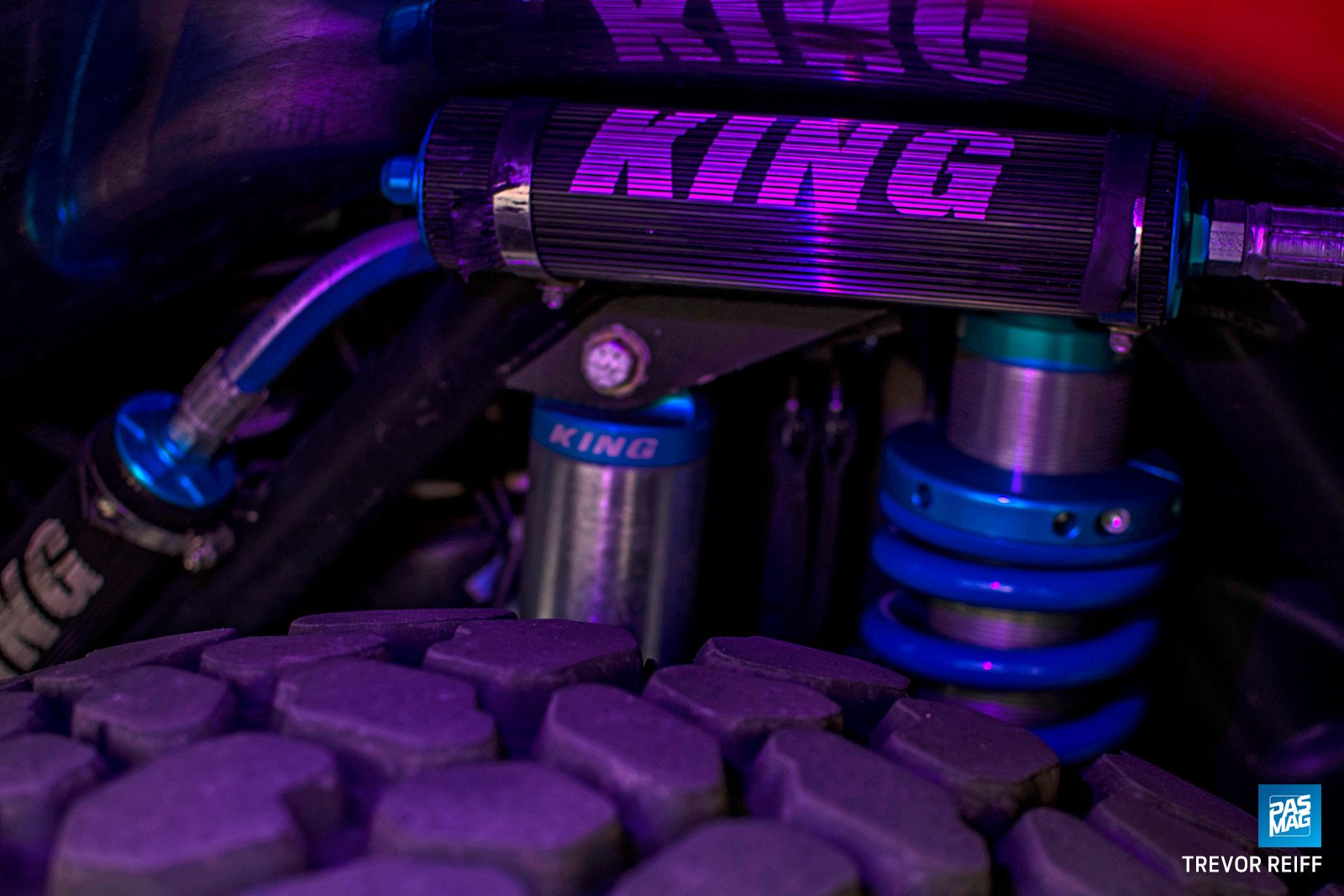 With the intricate and proven suspension system dialed in from front to back, the truck handles more like a car than the behemoth than it is, and the drivetrain needed some bolstering to take that kind of abuse as well. The Sterling 10.5-inch rear differential containing an ARB air locker is reinforced with gussets and braces, and both axles are re-geared to a 4.30 final drive ratio (with other ratios available on request).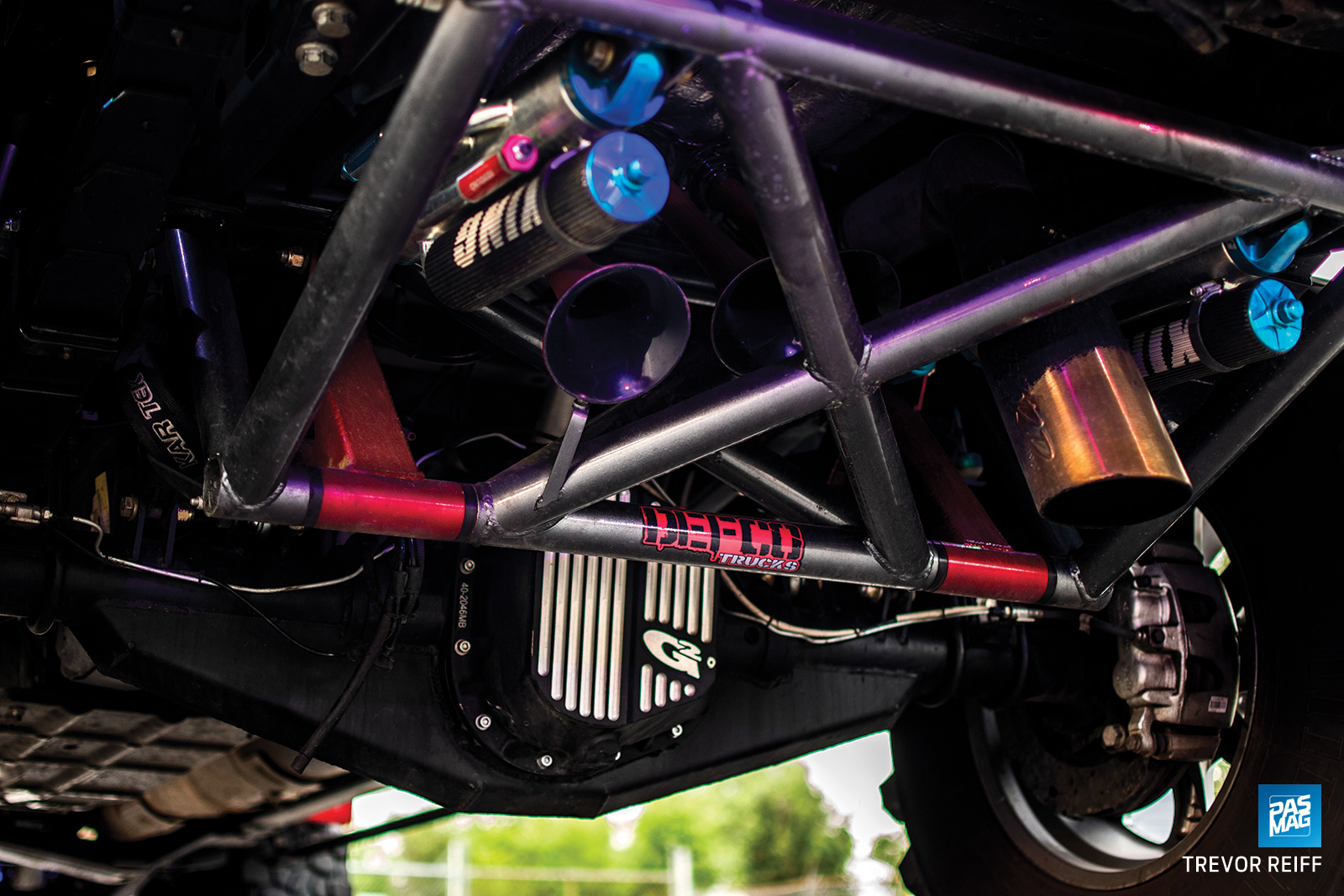 All together, the BA-350 is a truck with a clear cut purpose: to do it all, and look good doing it. "There's a complete uniqueness to the build. There is nothing like it out there," says Paddock. "We like to say that we're "making big trucks great again" because the truck, despite her being large and in charge, still continues to do all the things someone needs their truck to do." When the truck was finally finished, Paddock decided he would show off the truck's prowess in the best way he knew how. On New Year's Day, he rigged up a crude ramp, and hit it at 70 mph! Clearing about 100 feet from the jump, and 15 feet off the ground, the truck came down a little front-heavy after the overzealous launch, but other than popping off a fender mounting tab, the BA-350 took it like a champ.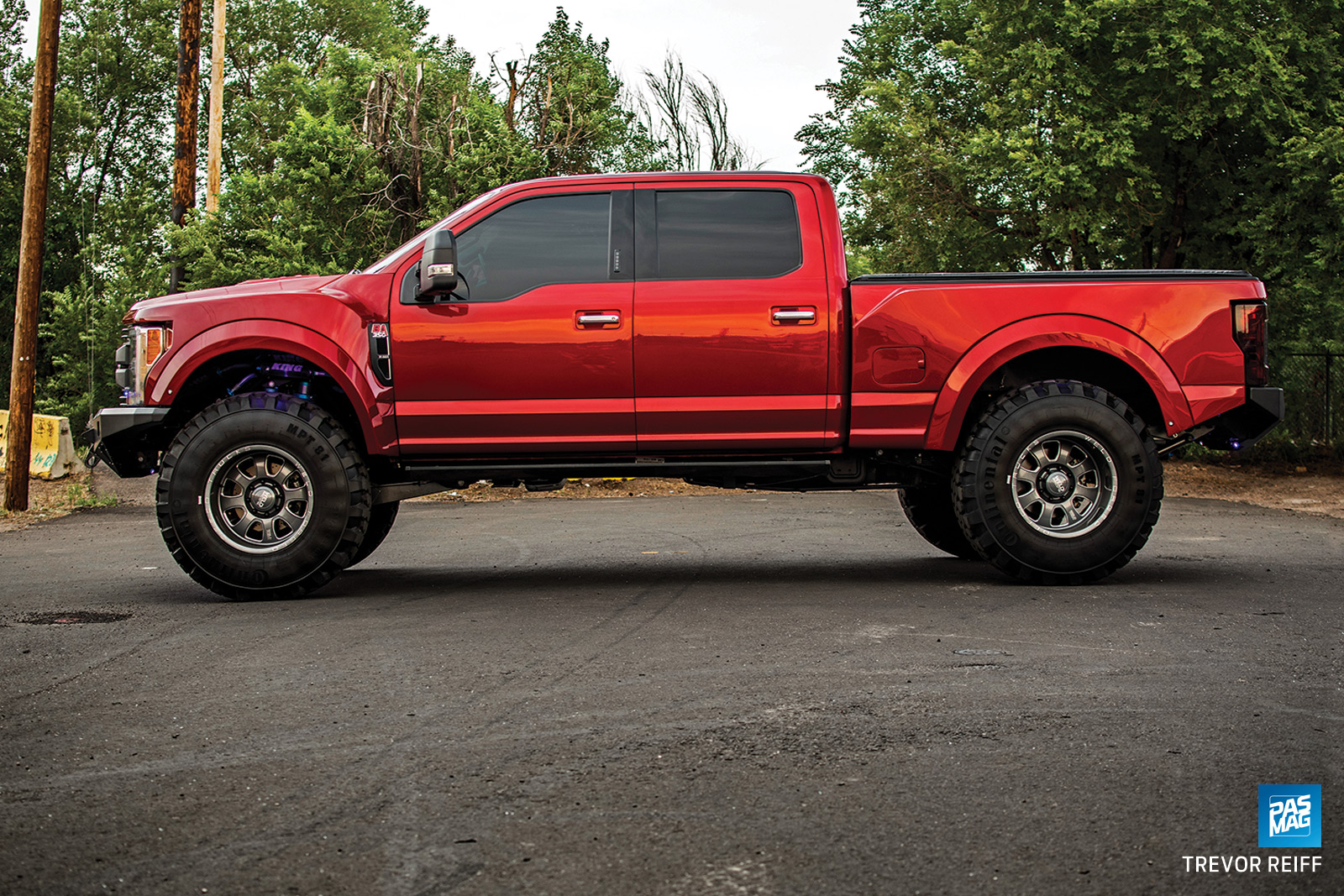 "We just wanted to build the most badass trucks on the planet," laughs Paddock. By all accounts, it looks to us like they succeeded with the help of some key partners who were just as crazy as they were. If you want one of these monsters for yourself, DEFCO currently offers a number of configurable packages, including a BA-250, and 4 different trim levels of BA-350, complete with all the proprietary components and engineering goodies you can fit on the platform.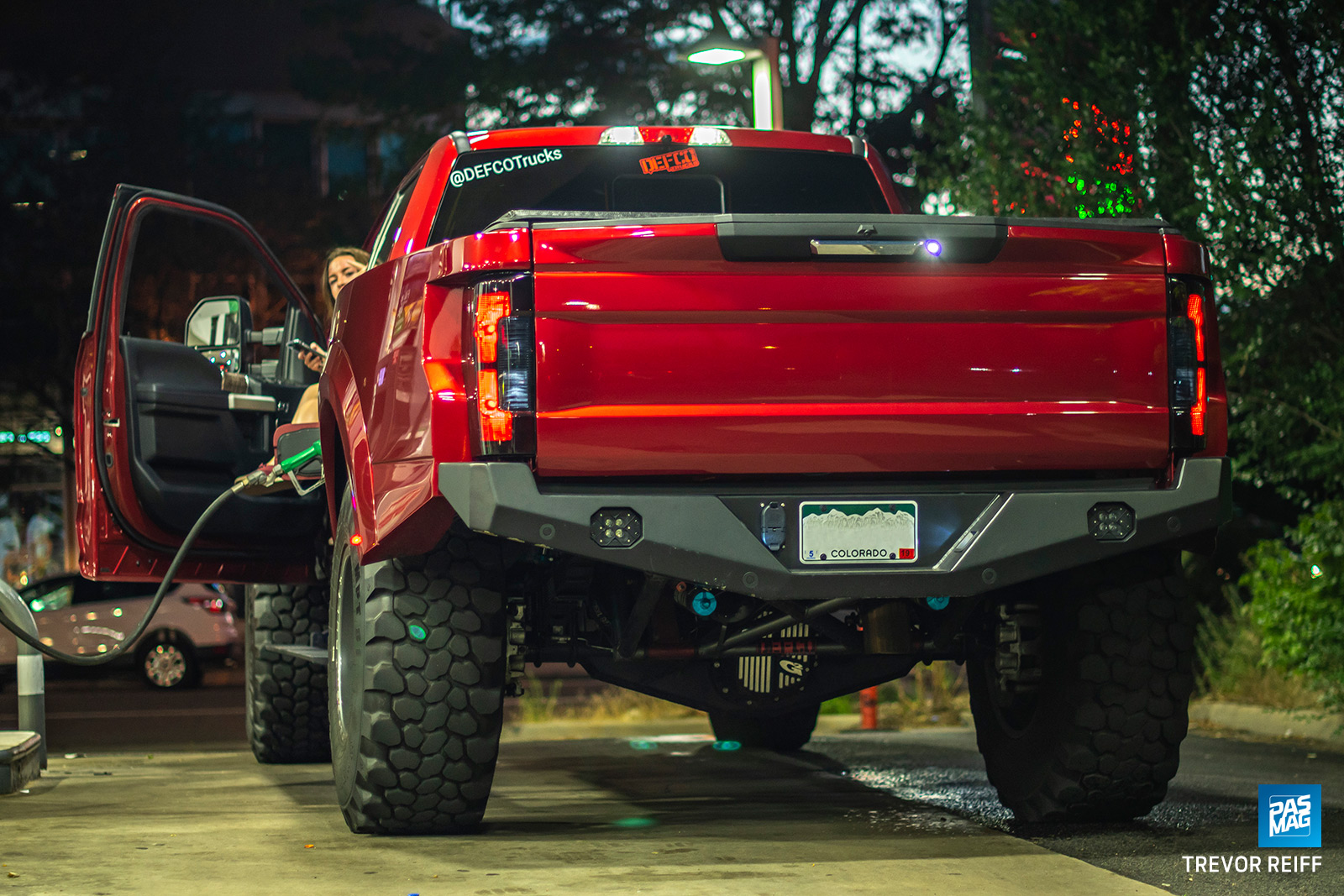 "Our partners have helped us make these trucks what they are," he says. "From custom leaf springs from Atlas Suspension, and custom badging from Billet Badges, to a custom billet wheel from Weld XT so that we could guarantee strength." In closing, Paddock thanks his in-house team for being the backbone of the operation. "I couldn't do this without my guys! Lance Jarman, our foreman, and Justin Kill, our fabricator, at our shop. They make it all happen and make these trucks what they are!"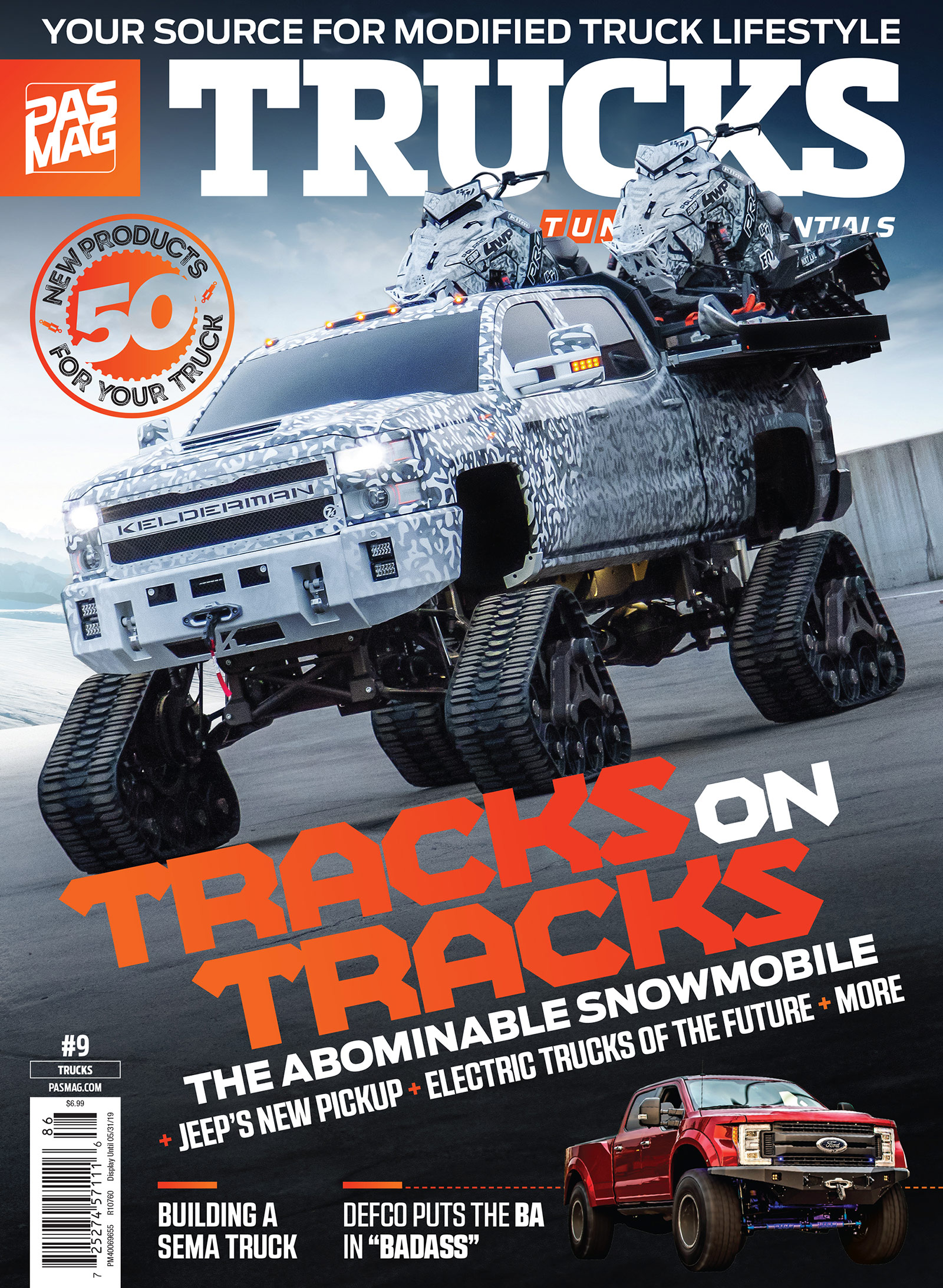 Doug Paddock's 2017 Ford F-350 is featured in Tuning Essentials: Trucks, Volume 9. Click HERE to order.