Photos by Dewayne Reid
---
We all have that one friend that says, "the party don't start 'til I walk in," which they then show by not handling their alcohol, calling their ex and passing out by 10 pm. When it comes to partying, leave it to the pros at Orion Audio. If you've ever been to any of the larger car audio events on the East Coast, you'll know exactly what I'm talking about.
The team at Orion take pride in stealing all attention from a room, hall, outdoor space, convention center, etc. Take CES for example. In arguably one of the most packed and labyrinthine events that are held at the massive convention space in Las Vegas, you can find Orion's floor presence by following the noise and pissed off booth neighbors. This year, once you'd arrived, you'd see a Dodge Challenger, Jeep Wrangler, a Polaris Side x Side, and the centerpiece, this incredible Dodge Ram 2500.
"It's a mobile party truck," chuckles Edgar Cedeno, the man behind Orion. "We wanted to make sure that the only thing we needed when we pulled up to the party was the girls."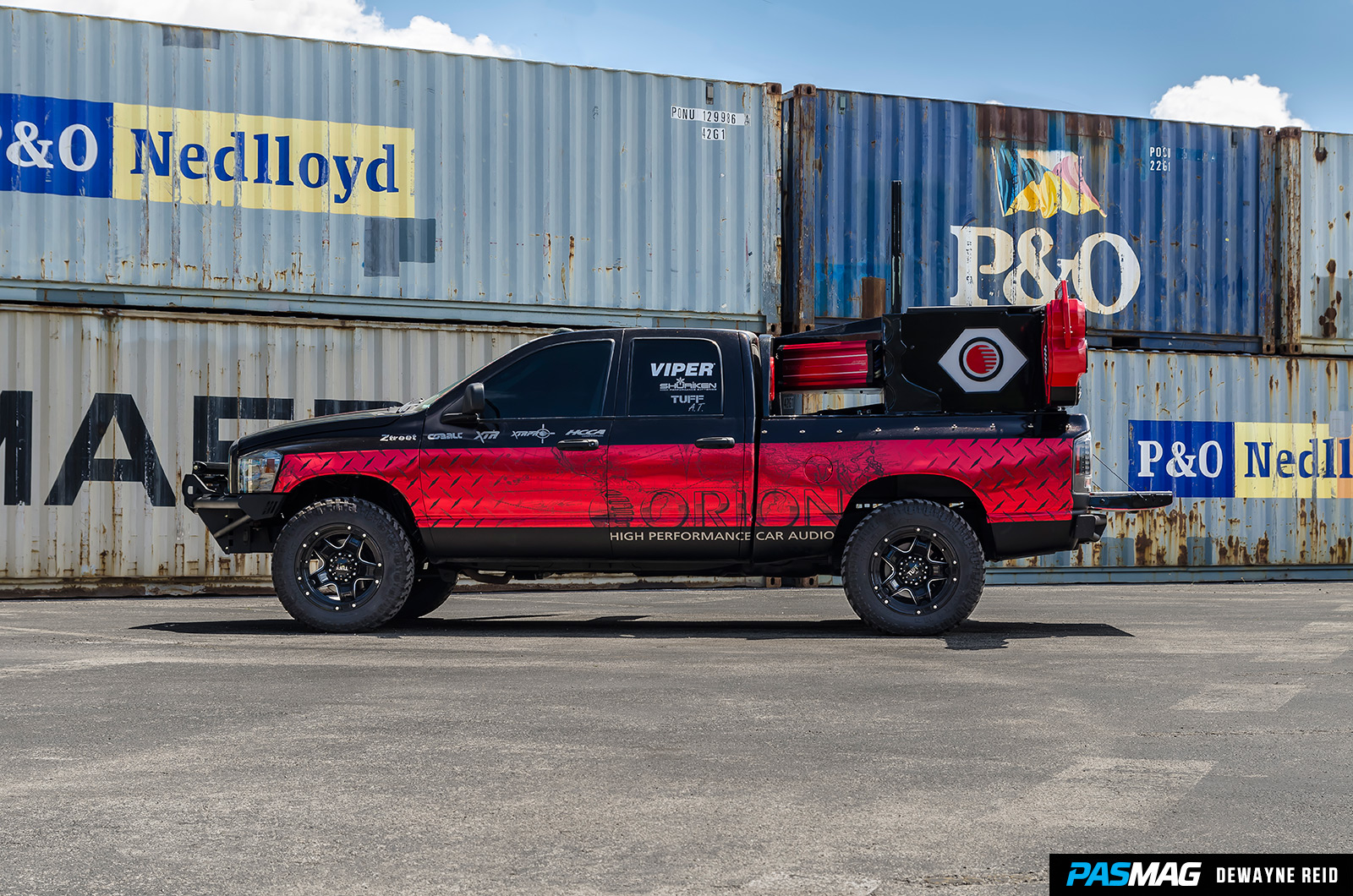 Not that those are ever in short supply anywhere in Miami, where Orion is based.
Actually, the aforementioned Jeep is feature alumni to PASMAG's Truck issue and served as the inspiration for this Ram. The Wrangler was a version one, if you will, with its fold-out wings loaded with bass cannons. Cedeno says that the Jeep was a "medium-sized build" to them and that they wanted to go "bigger and better."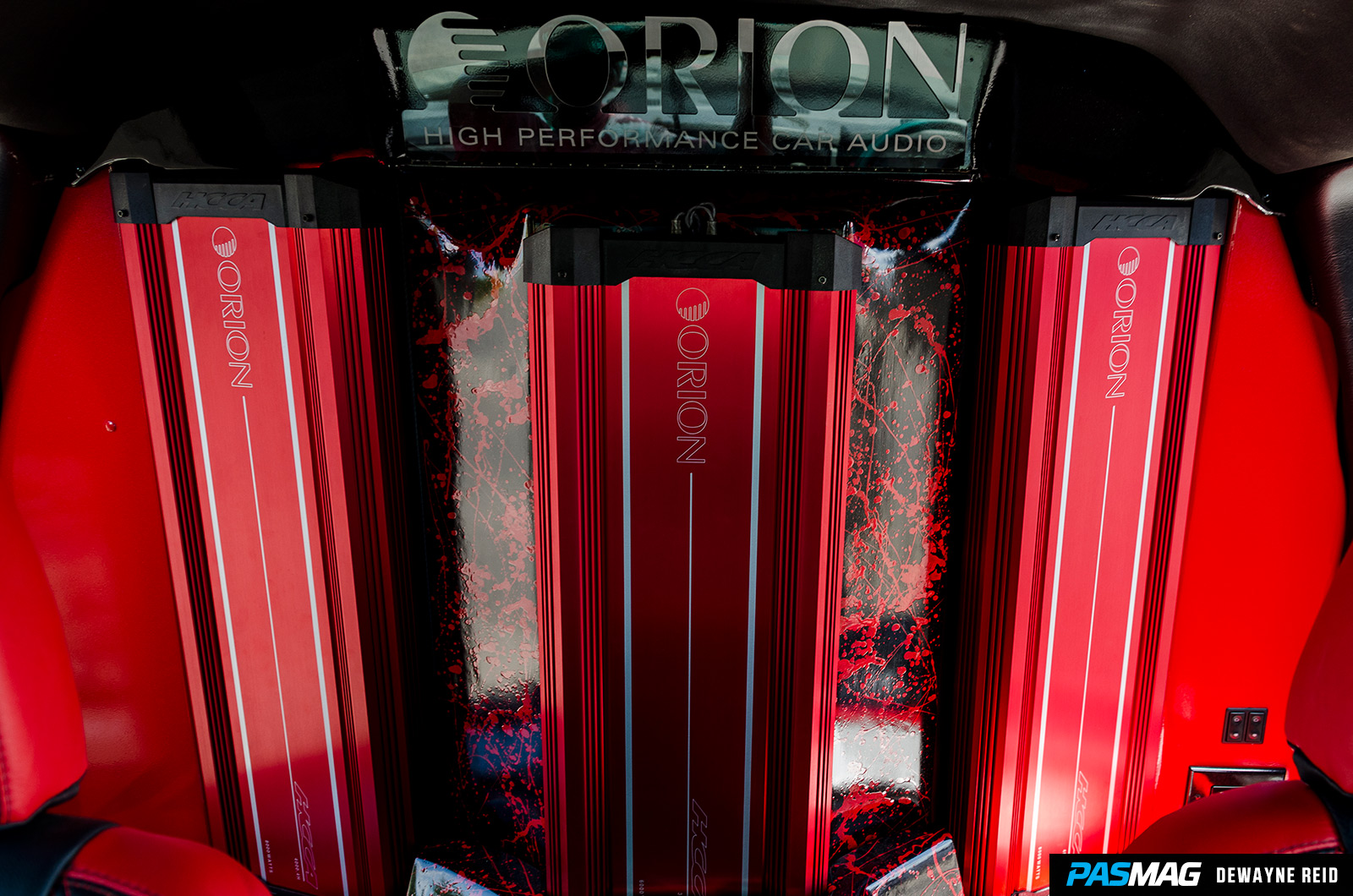 With five of their high-end HCCA series amplifiers powering 34 (you read that right) of their largest and hardest hitting subwoofers, mid-bass speakers, mid-range speakers and tweeters, you could definitely saythey stuck to their guns. That key number, 34, is made up of six 15-inch subwoofers, eight 10-inch mid-bass speakers, eight 10-inch mid-range speakers, and an assortment of 12 tweeters. This all equates to an astounding 33,000 watts true RMS power. Not too shabby for what started life as a work truck in Columbia.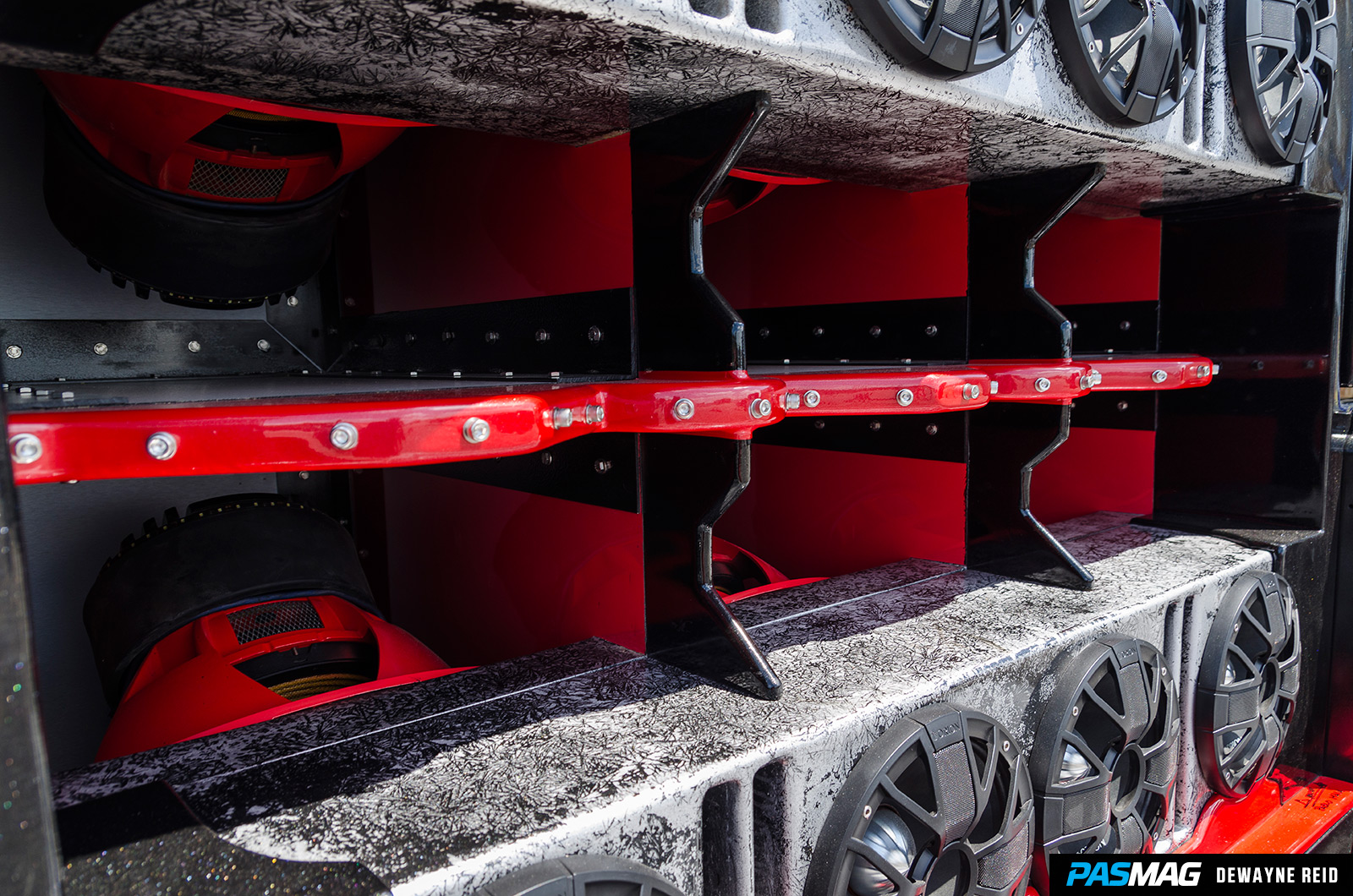 Actually, the Ram's work truck roots helped solve an issue that Orion had problems with before: weight. On past projects, Orion would have to splurge on custom suspension setups, but because the Ram is a 2500 and meant to be worked, they went with some beefed up offerings from Pro Comp and reinforced the chassis with some bracing bars. Other than that, the 2500 is able to handle the extra payload. But just how much extra are we talking here? Well, Cedeno assures me that they increased the total weight to 10,640 pounds. With a cover to protect everything from the weather and stuff like that. The Ram is much easier when it comes to preparing it for shows."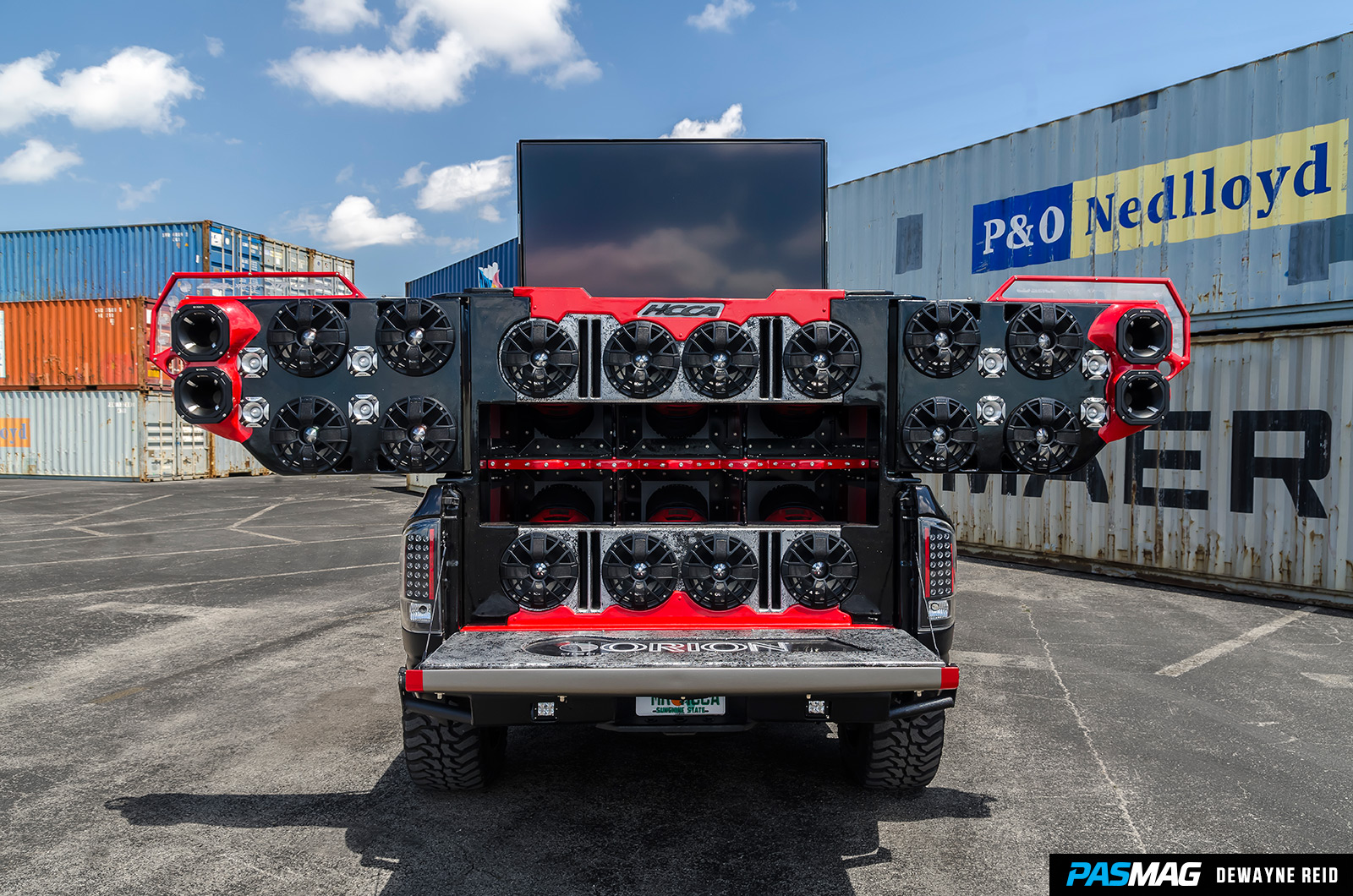 The literal boatload of audio gear the Ram has to haul around is just the precursor to the party. On top of the massive box in the bed is a 60-inch Vizio LED TV, which can lower and raise in and out of the box. Orion's team usually plays music videos to complement the beats the truck is pumping out, but they've often tossed on the game and had a killer tailgate. Also, in the rear door on the driver's side is a Pioneer DJ console. The console can be used to just plug in a playlist, or have an actual DJ setup and mix on the spot.
When both the console and TV are used together, however, that's when the party really kicks it into high-gear. That's right: karaoke! Those who are drunk enough to think they can sing are able to hook up some microphones and go to town, while following along with the lyrics on the 60-inch screen. We weren't lying when we sid this Ram is a mobile party.
For Cedeno, what really matters is how people have enjoyed themselves when they're around the truck. He loves hearing people's reactions to the thumping fun factory.
"The feedback from people is that it sounds like a really good concert," Cedeno says. "Once you play it loud, the reaction from people is unbelievable. No one has come up with a concept like this before."
It definitely is a one-of-a-kind concept. Have you ever heard of a Dodge Ram that carries a 4,000- plus pound party on its back that puts out 33,000 watts of clean, loud power? Well, once you have heard it, it's not something you're going to forget – no matter how much you've had to drink.