Vasily Mishukov has always dreamed about owning an Audi B8 Avant when he lived in Russia, and about 4 years ago he started thinking about buying one. "But the dream was always to own and build an S4 Avant," Mishukov mentions, "but the biggest problem was that North America never released the S4 in the Avant body." It was at this point Mishukov had the plan to hunt one down that was in decent shape, and the motor's condition was not a concern.
Mishukov eventually found a 2009 Audi A4 Avant located in Halifax, Canada, and fortunately his friend lived in the area. It took a few months to figure out how to ship it to Toronto, and when Mishukov finally had the car in his hands, he took it to a local shop called TSH Auto, which agreed to do an S4 engine, transmission and rear differential for him. Since the engine was out, a dual pulley setup was ordered right away. "I knew the stock 333hp wouldn't be enough," he states.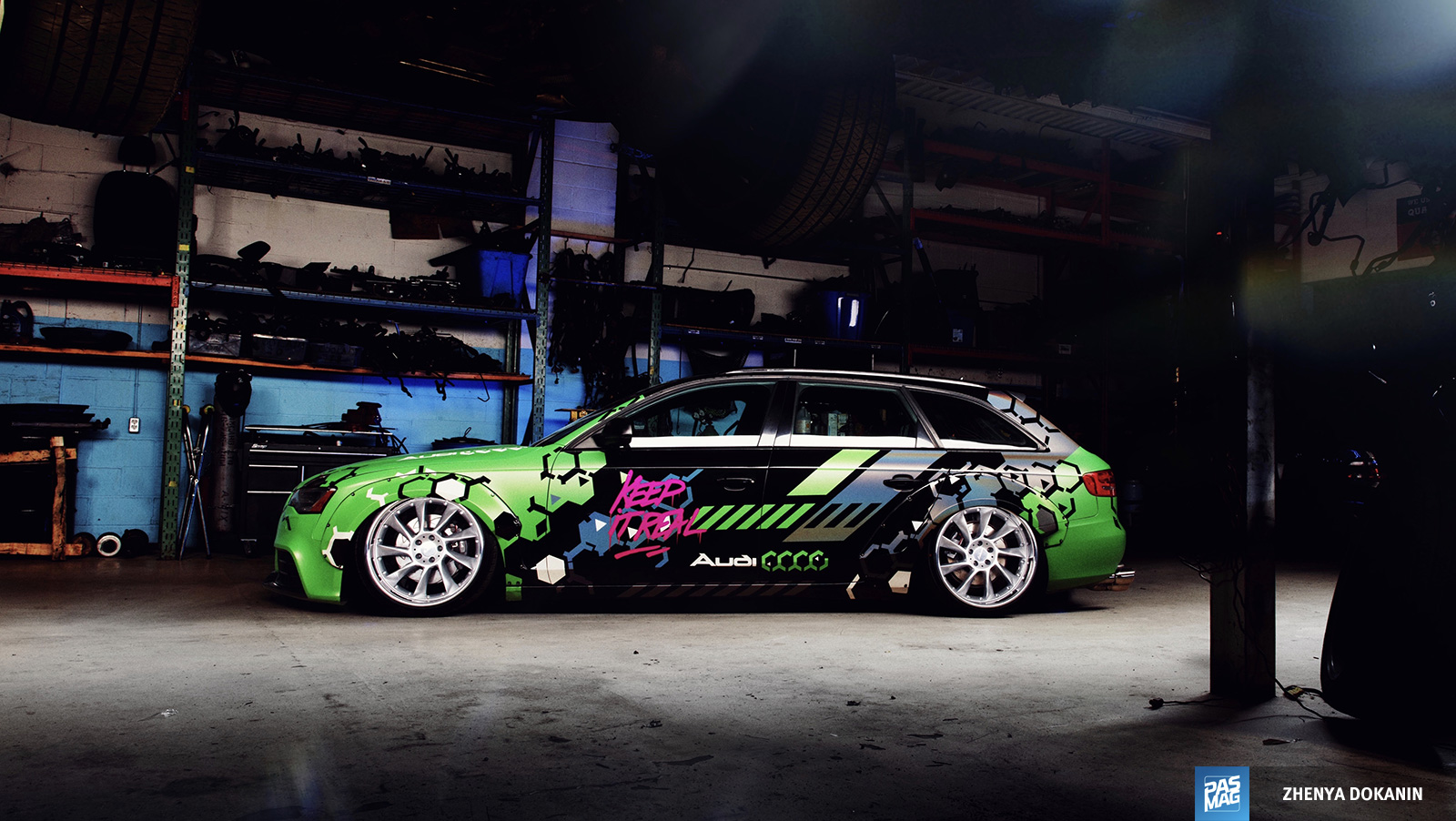 While TSH Auto worked on the engine Mishukov installed an Air Lift Performance air suspension setup. "All my previous cars had a crazy stereo system in them when I lived in Russia, he mentions, "and so I couldn't make this build any different." Mishukov has had a long-standing relationship with the team at Alphard Group, and so using their product was a route easily taken. Mishukov participated as a car audio competitor back in Russiat, and his talent and expertise lie in car audio. "I used to compete a lot back home," he mentions, "and I knew the way it should be done."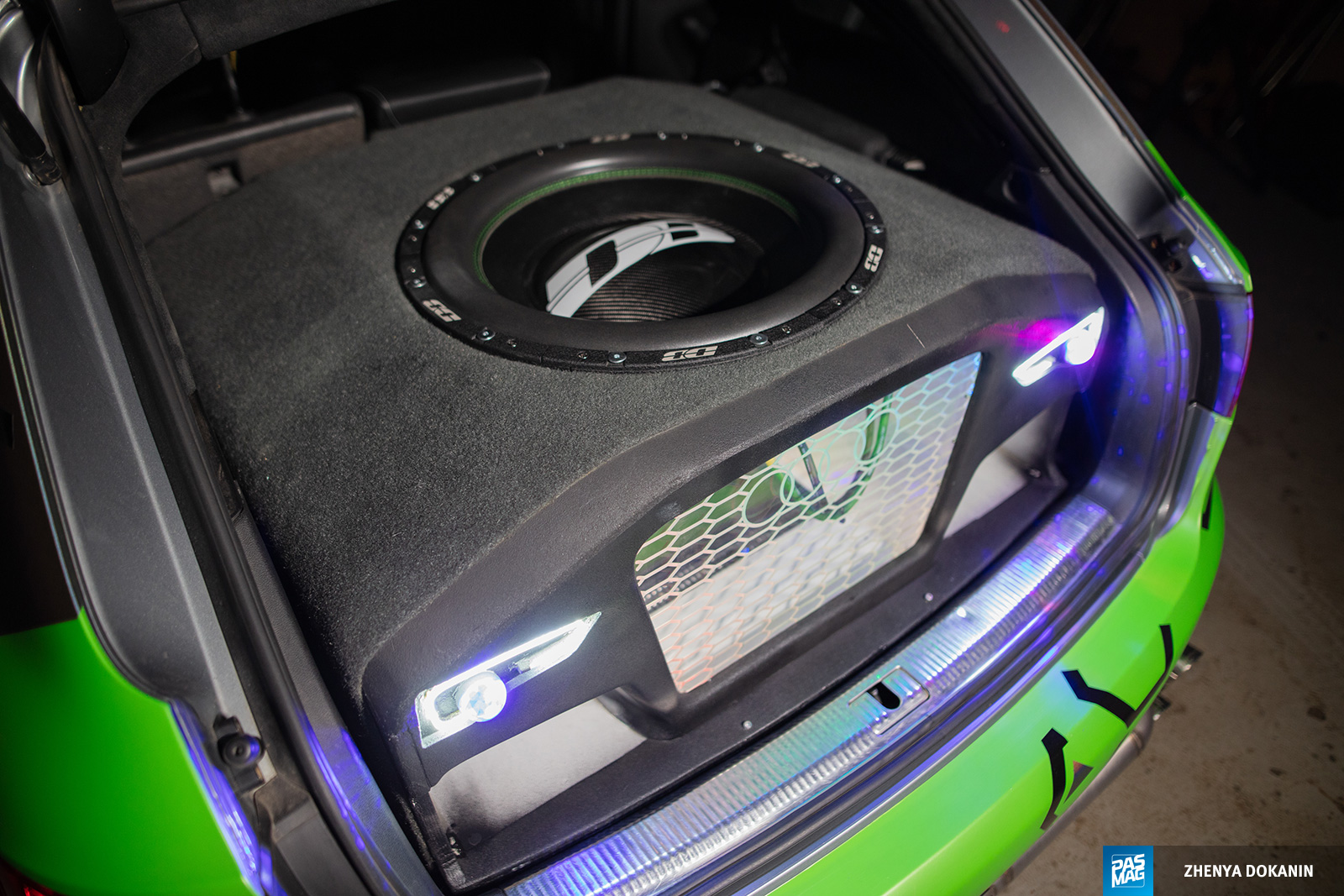 The Air Lift Performance air suspension setup and DeafBonce amplifiers were installed on a custom frame, while each door contained 7 (seven) DeafBonce AP-M61A midrange speakers and 4 (four) DeafBonce T35NEO tweeters. All mids are powered by a DOOMSDAY ARU3000.2 2-channel amplifier, and the tweeters get their amplification from a Machete 80.4 amplifier.

 The first version of the subwoofer box contained 4 (four) 15-inch subwoofers, but it was too large for Mishukov's liking. "That's why I changed the setup to 1 (one) DeafBonce SA521NEO. 21-inch subwoofer," he states, "and it plays great at low-frequency range." The subwoofer is powered by a DeafBonce AAB 11900 12k amplifier, and a 90 amp/h lithium battery is used for power.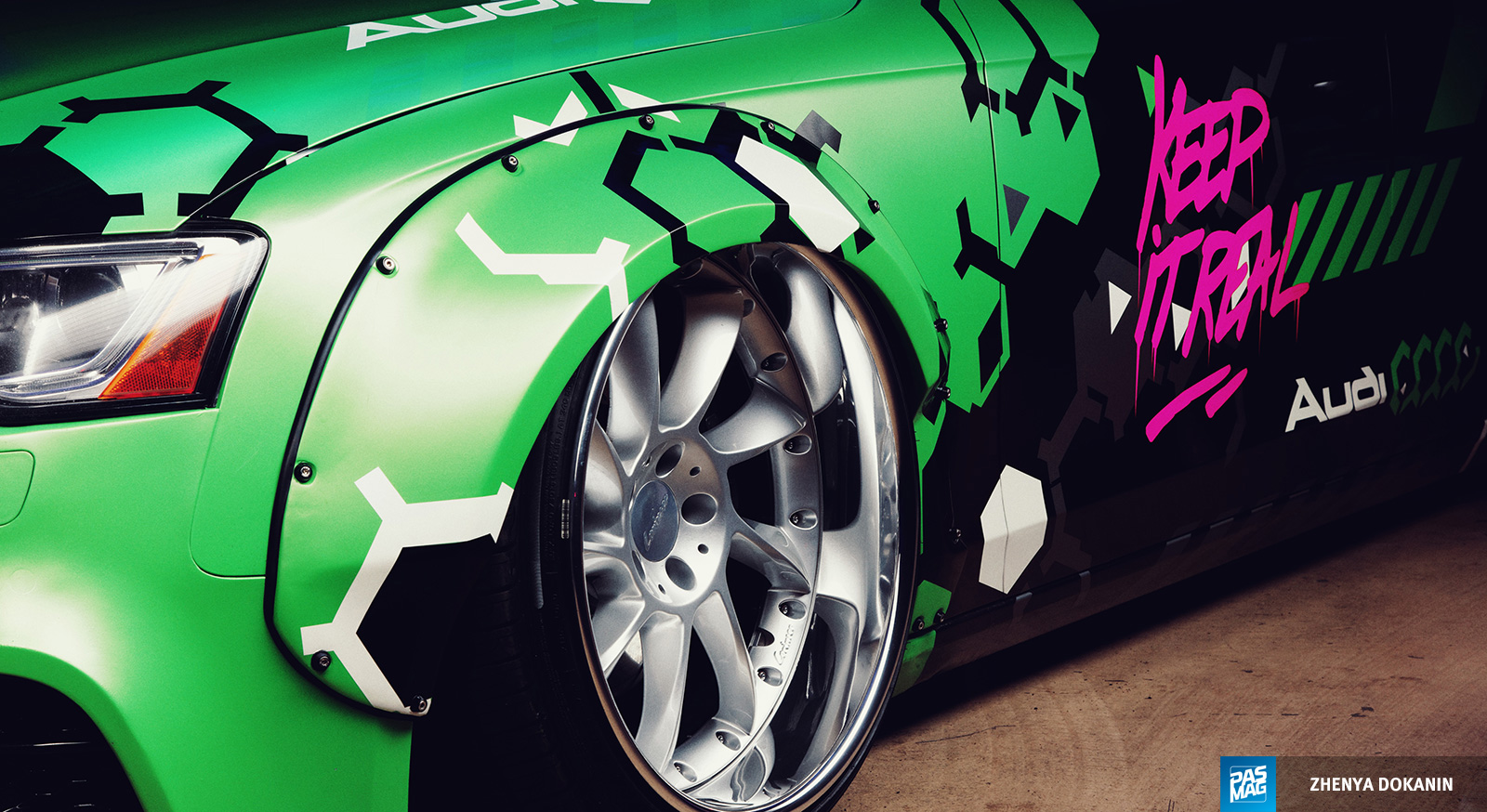 When Mishukov was pleased with his car audio setup, he turned to the exterior to give the A4 avant the total package. "This year, I went with a Xenon Z UK fender flare," he states, "the quality of their components is very nice and fits just perfect." To tie in the aggressive stance, Mishukov found an original set of 2-piece Lorinser LM6 wheels in Russia. "They were in great condition and at a great price!" Shipping took almost 7 months, but when he finally had the wheels, he took them to AugmentWheels to build custom barrels for a 3-piece conversion. As a result, his setup's specs are 20x11.5, wrapped in Nexen 275/30R20 tires. Additionally, the interior couldn't be left ignored. A call to AMTUNING helped Mishukov source splitters and Braum seats.
Time was Mishukov's biggest challenge because he had his hand on all aspects of his A4 Avant build. He has a part time job, and a family, so balancing in between was the hardest part. He was committed to the process, and the result was a dream come true.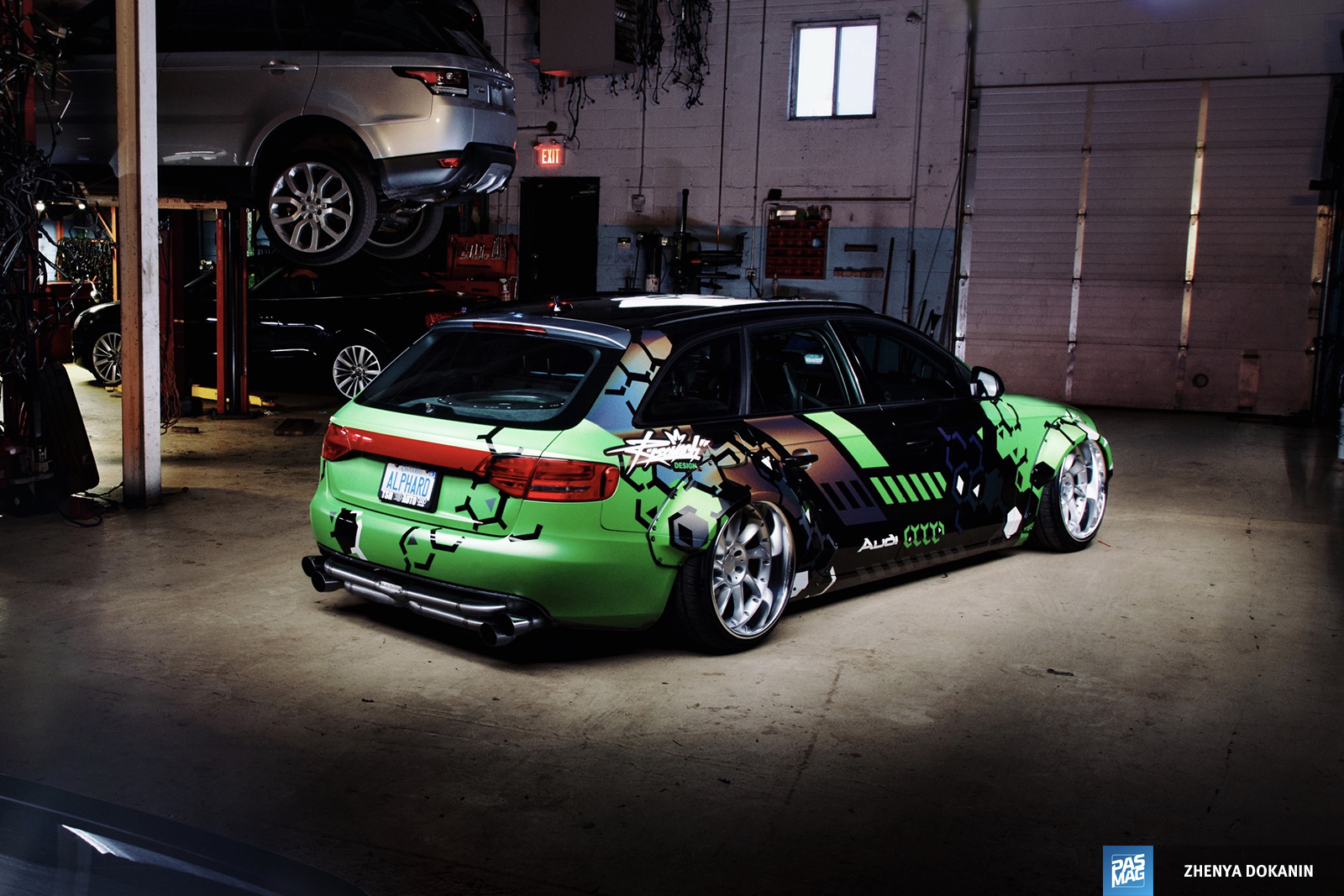 Vasily Mishukov's 2009 Audi A4 Avant is featured in PASMAG #162.
Photography by Zhenya Dokanin (@zhenya_dokanin)
---
ESSENTIALS
Owner: Vasily Mishukov
Location: Bolton, Ontario, Canada
Vehicle: 2009 Audi A4 Avant
Horsepower: 450 whp
Club: Team DeafBonce
SOCIAL
Facebook: Vasily Mishukov
Instagram: @team_deafbonce
ENGINE
CTS Turbo dual pulley
iAbed 82mm throttle body
SVAROG Performance custom throttle body adapter
Custom cold air intake
Merc Racing big heat exchanger
JFonz ECU tune
EXHAUST
CTS Turbo cat-back exhaust
BMS Tuning custom exhaust tips
DRIVETRAIN
JFonz DSG TCU custom tune
WHEELS / TIRES / BRAKES
AugmentWheels x Lorincer custom wheels - 20x11.5
Audi S4 brake calipers
EBC (brake rotors, pads)
CHASSIS / SUSPENSION
Air Lift Performance 3P air suspension system
EXTERIOR
XenonZ UK widebody flares
Audi B8.5 RS5 front end conversion
Risovach Design custom livery
INTERIOR
Braum Racing seats
Custom door panels
Custom separated rear seat w/ center console
AUDIO / MOBILE ELECTRONICS
Audison Bit One head unit
DeafBonce (AP M61A midrange speaker pairs (7), T35Neo tweeter pairs (4), DOOMSDAY ARU3000.2 midrange amplifier, SA521NEO 21-inch subwoofer, AAB 11900 sub amplifier)
Machete 80.4 tweeter amplifier
SPONSORS
DeafBonce
XenonZ UK
AMTUNING
---
PHOTO GALLERY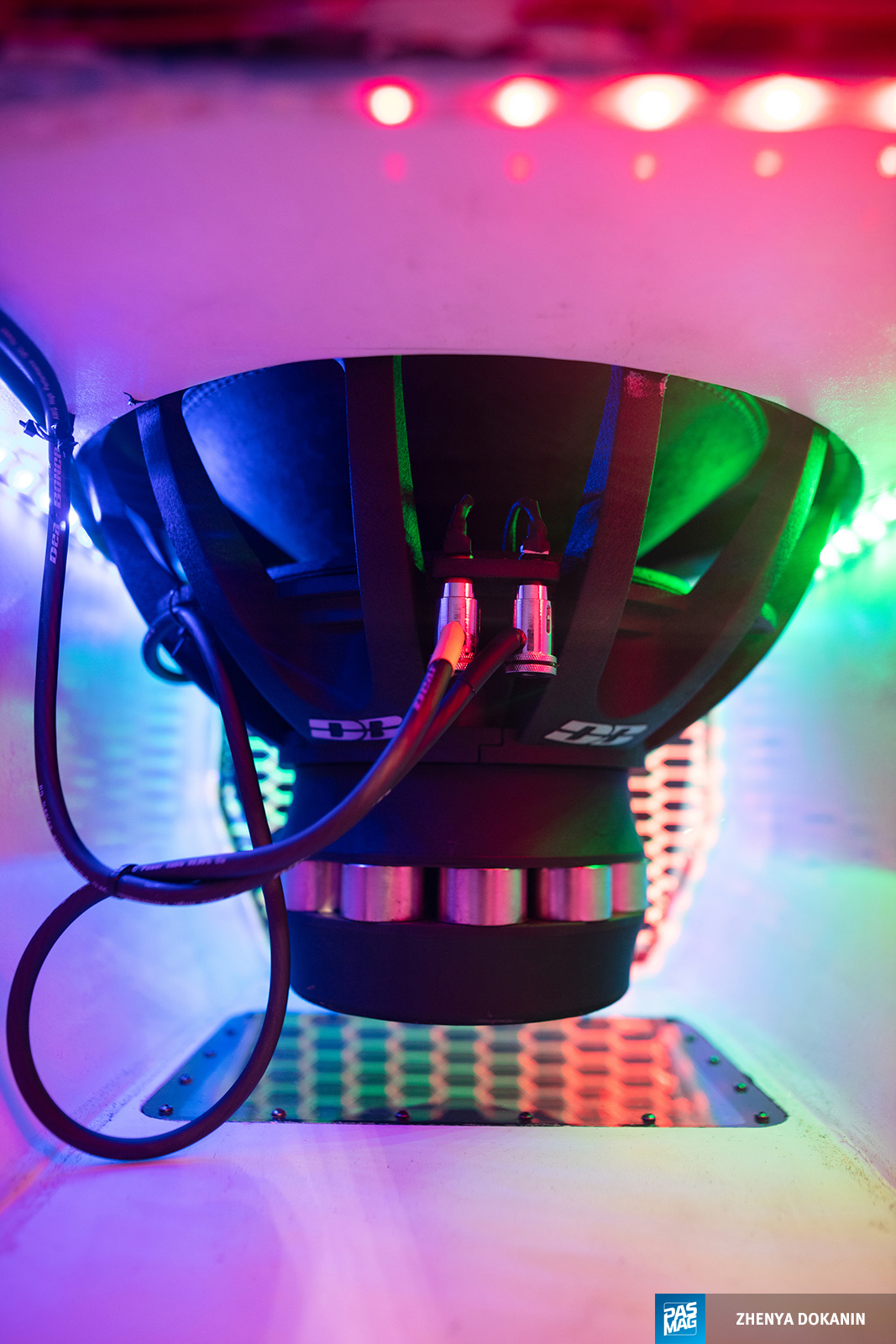 Related Articles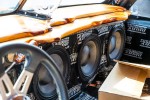 2021 Sundown Audio Show: Hickory, NC
Hickory Motor Speedway hosted the annual Sundown Audio Show for 2021 in Hickory, North Carolina. Competition formats included: dB Drag, IASCA, MECA,...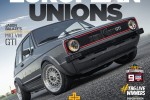 PASMAG #167 (Euro + Car Audio & Technology Upgrade Guide)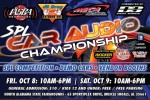 Car Audio Organizations Partner for 2021 Car Audio Championship SPL Style in Muscle Shoals, Alabama
The Car Audio Championship (SPL Style) will take place October 8th and 9th at the North Alabama State Fairgrounds in Muscle Shoals, Alabama, USA. For...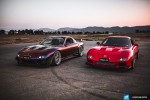 Same, Same; But Different: Andrew Ilbegi and John Ubalde's 1993 Mazda RX-7s
If you focus on doing things right, sometimes there are no wrong answers All too often, we find enthusiasts trapped in the cycle of trends. Builds...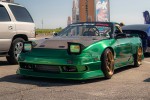 Editor's Choice Winner: Bee Davis 1994 Nissan 240SX
After getting into cars thanks to the Fast & Furious franchise, Bee Davis soon found himself working at Adrenaline Motorsports in St. Louis, and...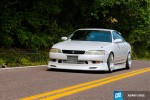 Editor's Choice Winner: Jay Ribble 1993 Toyota Mark II
There's something we can't resist about a clean JZX, especially one that gets driven like Jay Ribble's! On the outside, Ribble's Toyota Mark II is...