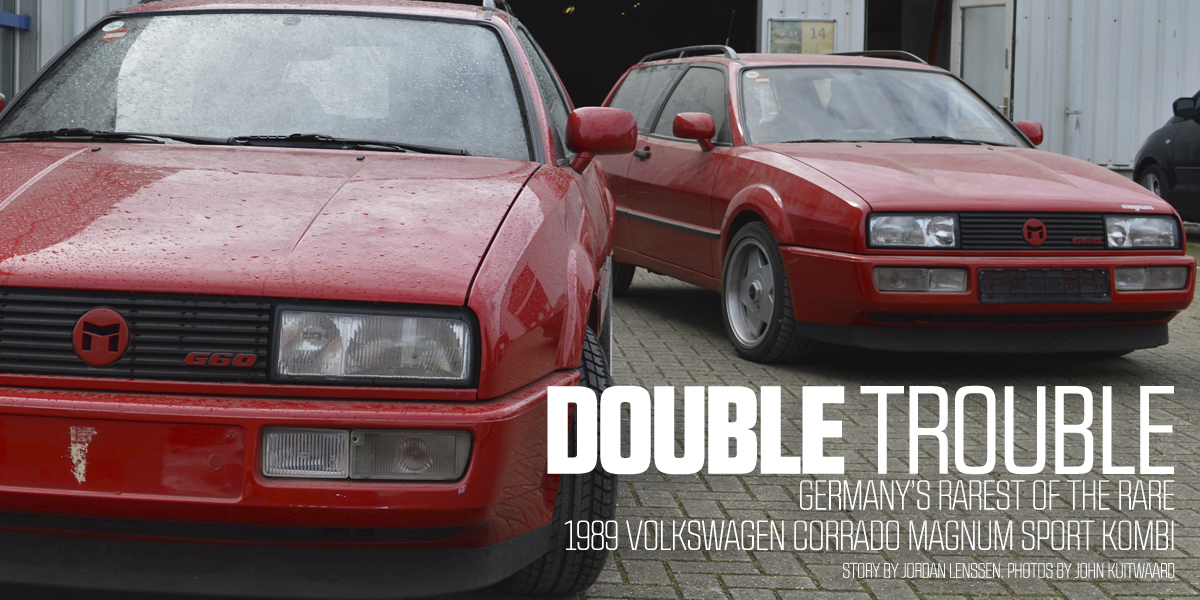 In automotive circles, the rarer the model is, the better. But one-of-a-kinds (or in this case, two one-of-a-kinds)? Those are the Holy Grail – the ultimate. If you're scratching your head at the images before you, you're not alone. Unless you've been scouring VW/Corrado forums, or attended Waterfest's 20th anniversary show last year, chances are you've never heard of these two cars. They are perhaps two of the rarest Volkswagens in existence.
On the inside, they look identical to a Corrado. Outside they look like a wagon, but with a badge up front that's distinctly non-VW. The two cars drawing all this attention are called the "Corrado Magnum Sport Kombi," built by Marold Automobil GmbH (MAG) in February and March of 1989.
The Magnum project was VW's attempt at a larger capacity, shooting-brake version of its sporty Corrado. Production on that car was limited in its own right, but the original plan for the Magnums, according to sources, was to develop as many as 200 models for the European public. When numbers didn't add up, Volkswagen pulled the plug on the project in 1991 and Marold was left with two ultra-rare Corrado concepts and zero plan.
The vehicles were abandoned by Volkswagen and held by Marold, which eventually put the duo up for public sale. It put out ads for the pair at an astounding asking price of 3.2 million Deutschmarks, or over $2.2 million, which included all the paperwork, technical documents, wind tunnel test results, construction documents, German TÜV road safety appraisals and even prototype tools. The cars failed to sell, and disappeared off the map for some time.
That was until John Kuitwaard came across an interesting post in 2007 by VW Vortex forum member "Torsten" that led him to mobile.de.
Being the former VP of the Corrado Club of America (CCA) and owner of a steady stream of Corrados since 1991, when Kuitwaard found out about this unheard-of pair, his interest piqued.
"[Torsten] had posted a link on VW Vortex, but it's funny, I had a friend who also posted saying that I would love to own these cars because he knows how passionate I am about Corrados," he recalls. "I ended up buying them!"
That stroke of luck saved the Magnums from imminent destruction, which could have been just moments away.
"For lack of a better term, [I bought them] from a junkyard in Germany," Kuitwaard muses.
"I slightly believe that the cars were supposed to be dismantled and crushed. I since found out [from an insider at VW] that the VIN numbers on both cars have even been removed from Volkswagen's database."
VW officials we approached had no recollection of the vehicles, despite their obvious history as a pilot project for the brand. Untangling the web has been an extremely difficult task, but that mystique only adds to the Magnums' cool factor.
After purchasing the cars in 2007, the next step for Kuitwaard was getting his newly acquired gems home, which turned out to be much more difficult than he anticipated. The cars received their European TÜV road certification, but because they are prototypes, they weren't U.S. legal.
"[Originally], I applied to have the cars brought into the U.S. under a 'Show and Display' waiver for cars that aren't U.S. Legal. When I finally submitted my application, it was denied because they were seen as Volkswagens and weren't considered 'special enough,'" he says.
The next alternative? Luckily, Kuitwaard has family in the Netherlands who were able to hold onto the cars. In 2014, he celebrated their 25th birthday, that all-encompassing magic number which makes them a "classic" in the automotive world – and more importantly, an easy reason for him to import them to their new home.
As an OEM enthusiast and meticulous caretaker, Kuitwaard's Corrado Magnum Sport Kombis made their show debut last year at Waterfest 20 in factory-finish condition for all eyes to see. His plans for them? "Nothing," he says. It's a fitting tribute to what could have been a beautiful reality for the rare sports car.
OWNER: John Kuitwaard
ENGINE: G60 1.8L supercharged I-4 HORSEPOWER: 160 HP
TORQUE: 166 LB-FT