Photos by Andrew Jennings
---
Formula D's hard charger finding new pace in 2016.
Formula Drift veteran Chelsea DeNofa's career began of humble origins. Like many aspiring US drivers, he got the bug early, even before he was old enough to legally drive. At 15, he attended his first local drift event, and by age 22 decided to invest his full energy into the sport. He won back-to-back XDC pro-am championships in 2010 and 2011, earning a Formula D license. Midway through the 2012 Pro season, a wreck forced him to upgrade to another chassis early, the same 2001 E46 sedan you see here. In 2016 spec, it soldiers on as the BC Racing GT Radial BMW 3-Series, new and improved with plenty of aces up its wide-fender sleeves.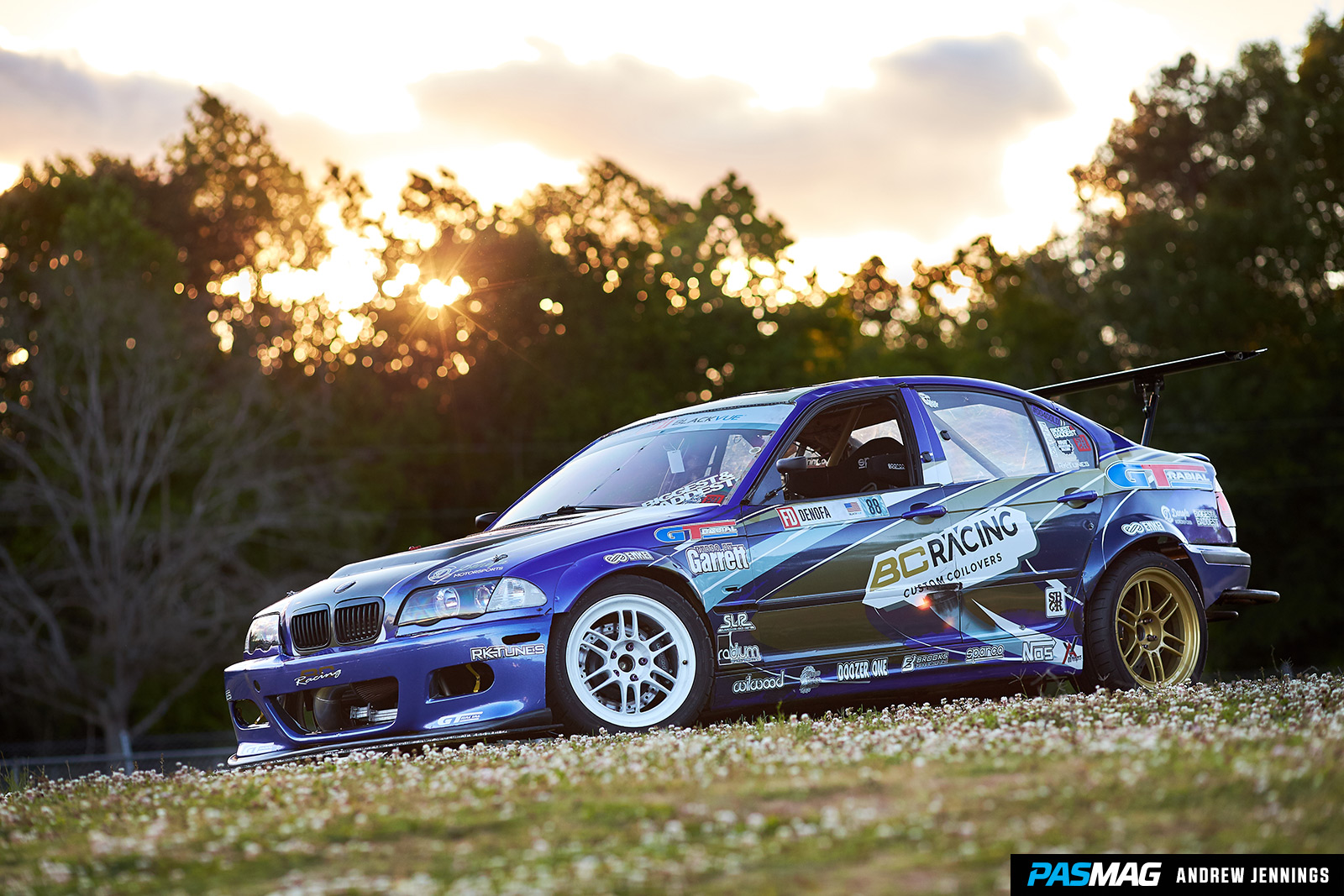 When the time came for the build (or re-build) for this season, he and his Chelsea DeNofa Motorsports team kept things simple. Use what works to make the car lightweight and functional, while avoiding unnecessary extras. The front end is graced with added downforce via a simple PTG front splitter, beneath a standard M3-style fascia. Level7tune fender arch extensions cover off the sides, while Doozer One carbon-kevlar rear quarter panels reduce mass. An Uras vented hood sits over the engine, and a Brooks Motorsports Elite rear wing rounds out the package. The wing is fully adjustable to suit each track layout, and can be fitted with large end plates to help stabilize the car during huge sideways passes. Finally, AV Wraps handled the graphics package to give the car its signature look.
Inside, the office for tandem battles remains practical, sticking to DeNofa's grassroots background. A Sparco Pro-ADV bucket driver's seat with 6-point harness was chosen to hold the driver in place, and meet Formula D's safety regulations. Straight ahead sits his favorite TryHard steering wheel, while stage right features an ASD handbrake setup for engaging the separate rear Wilwood e-brake. Last, but certainly not least, the factory BMW dashboard remains intact, complete with original burl wood inlays. Classy!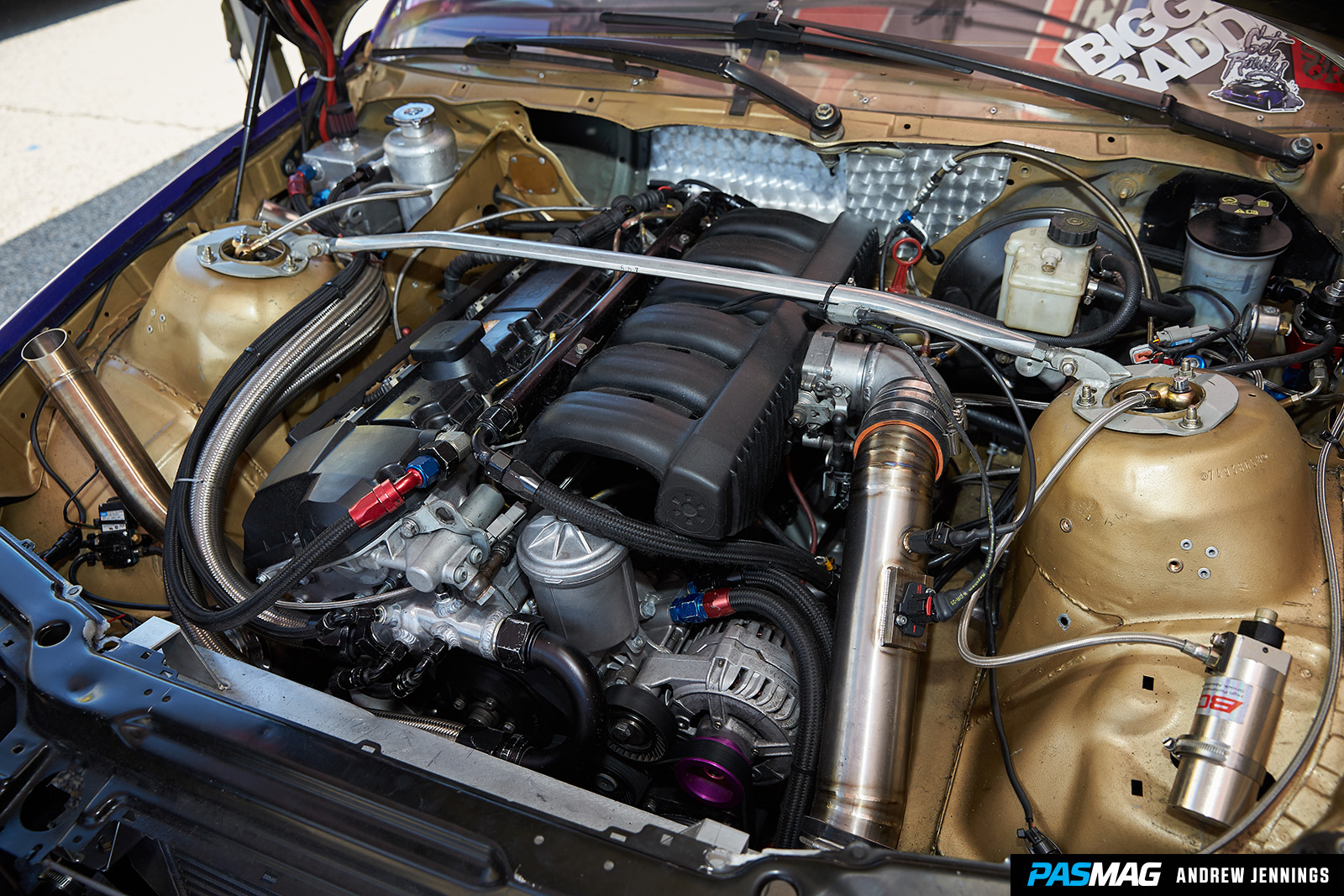 More impressive than the OE dash would have to be what lies ahead of it - the heart of this monster. DeNofa selected an M52-based BMW inline six-cylinder engine, displacing 3.0 liters with an M3's S52 crankshaft. M&B Cylinder Heads tackled the build, swapping in fully forged race parts to lower weight and increase durability all at the same time. Think of it like the jail cell S.H.I.E.L.D. had in the Avengers, just in case the Hulk got a little angry.
Well, the whole idea is for this 3-Series to bring the fury. What better way than by adding some forced induction, especially that of a Turbo by Garrett GTW3886r turbocharger. Inflow starts at a Vibrant Performance air filter and velocity stack, fed down through their signature frontmount intercooler, before making way to a Russel Walker turbo manifold and Ti Con charge pipes and exhaust. Boost pressure is regulated by a GReddy Profec B controller, and the whole unit was precisely mapped by RK-Tunes. As if that wasn't enough, this particular engine is also getting a dual-fuel diet. First up, Ignite Racing's special E90 Ethanol blend is pumped in as the base for the energy shake. Then, a shot of good ol' Nitrous Oxide Systems' finest is sprinkled on at key moments throughout the rpm range, resulting in the perfect protein punch for a day at the smoke factory. The result is a whopping 850 horsepower, and 800 lb-ft of torque.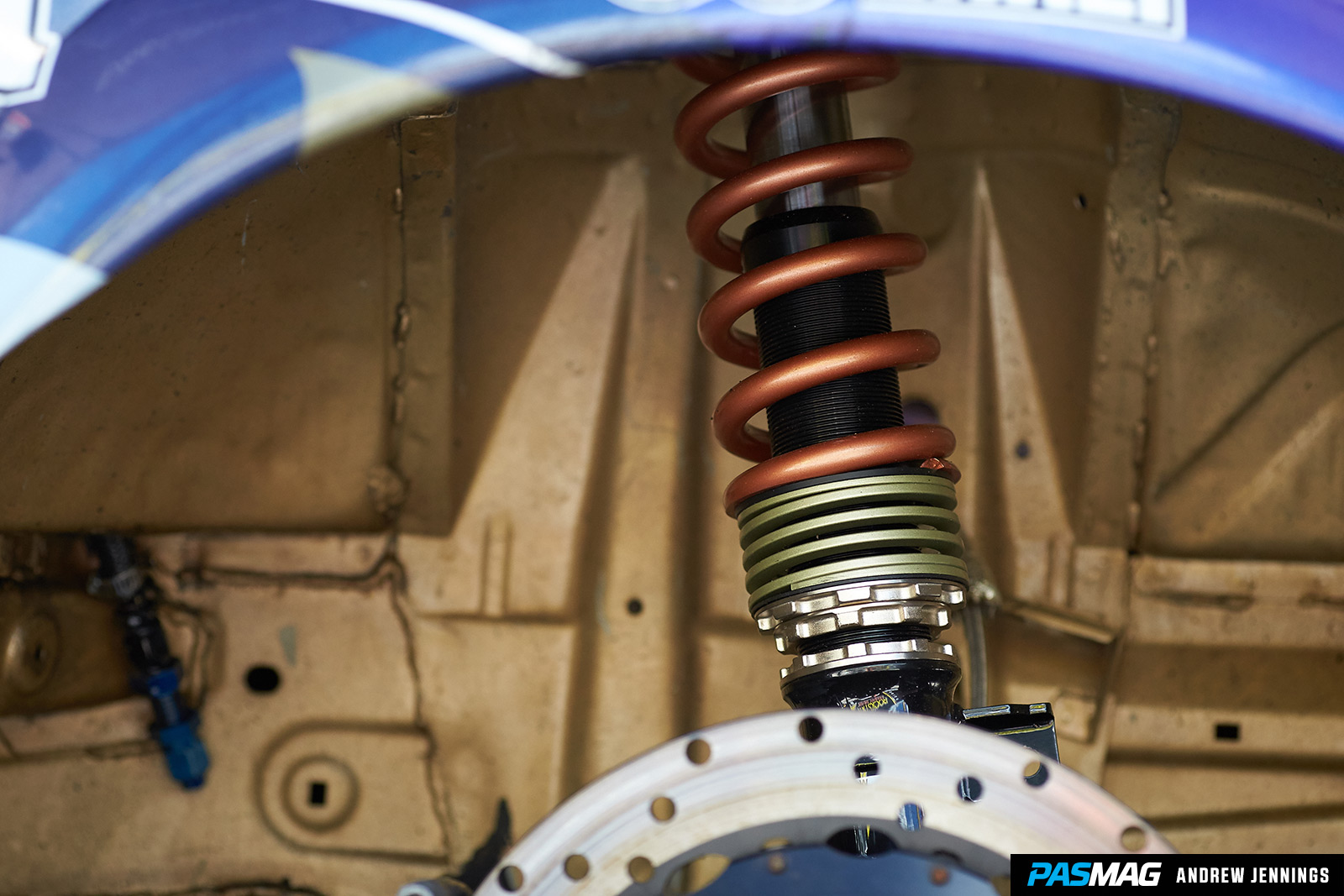 All of that power needed just the right transmission. A four-speed Andrews A431 box does the trick, together with a Clutchmasters twin-disk kit. Power is sent back through a Driftshaft Shop central spinner and axle, where, finally, a Syncro Design Works limited slip differential rounds out the rear end team.
Tons of horsepower can get the car moving, but navigating through the turns is a whole other animal. This is where title sponsor BC Racing came in. The 3-Series was fitted with their finest ZR Type Coilovers and Swift springs, giving the right blend of damping force and bump travel in high-G fly-bys. Normally coilovers are only applied to the four corners, but DeNofa's drift machine sports a pair in what was once the trunk. They attach to the rear basher bars, the pipes that look like something out of a skate park, and are instrumental in allowing him to play bumper bowling with the concrete barriers that line various tracks. The suspension package perfectly suits his aggressive, no-holds-barred style, and aided DeNofa in being named Formula Drift's Hardest Charger in 2014.
Each driver is constantly looking for ways to get more angle. On this Bimmer, an SLR Speed Ultra steering kit allows three times the standard amount of turning. With that much lock, spacers alone weren't enough for clearance, so DeNofa opted to use a staggered Enkei RPF1 wheel setup: 17-inch front, and 18-inch rear. Couple those with GT Radial's finest Champiro SX2 tires and you've got one mean stance. Wilwood brakes totally fill the space left inside of those white/gold Enkeis, providing ample stopping force at a moment's notice. Whiteline sway bars, and Achilles Motorsport control arms/ bushings round out the mechanics. Altogether, it puts DeNofa into a fully connected state, able to pivot and maneuver the car as if part of his own body.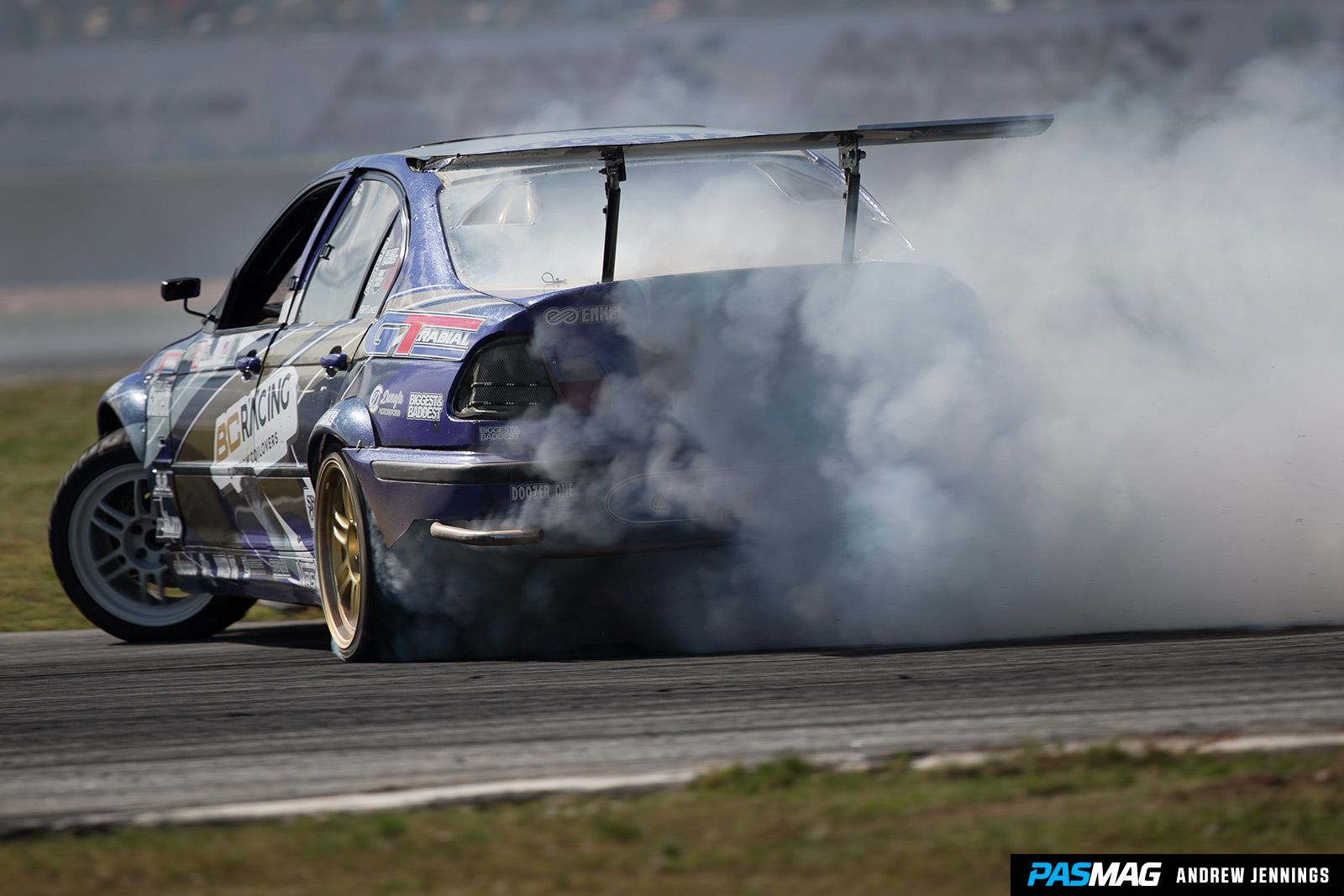 The quest for speed and aggressive slides has been a long and arduous journey. DeNofa's BMW has seen more consecutive seasons than almost any other car on the grid, and continues to get better and better with each passing lap. 2016 is proof positive of that improvement, taking home an overall victory at the first round in Long Beach to kick things off. Where it goes from there, you'll just have to follow along and find out. Fortunately, fan-favorite DeNofa makes that easy with a huge social media presence and killer behind-the-scenes video series titled Say Howdy Get Rowdy. Be sure to tune in, and keep up with their three-episode downloads from each race weekend. Like a spirited prize fighter, his BC Racing GT Radial BMW 3-Series will be along for the show, ready to take a few hits and dish out even more to the competition. #PASMAG