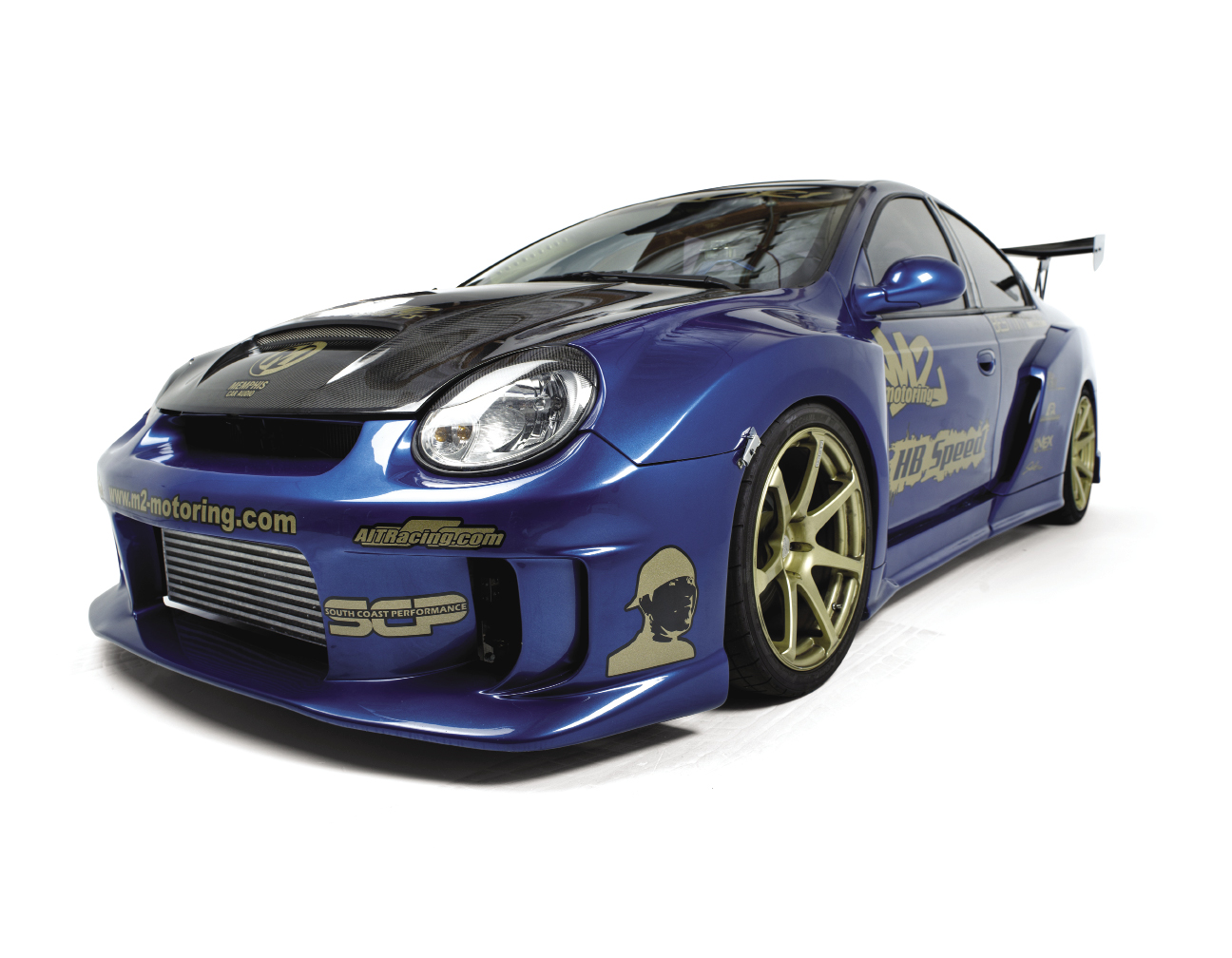 If the enthusiast culture demands it, it will come to market. Since the 1950's, automotive designers have been following the trends put forth by the aftermarket and car customizers. Trends like quad headlights, louvers and hood scoops are all trends the American car companies lifted from the innovators at street level. Dodge, was no stranger to this approach and took one of their lowly commuters and turned it into an import slayer.
After a six year build-up, what we have here is possibly the craziest example of an SRT-4 we've ever featured!
There were already tuners out there who had swapped the Mitsubishi 4G63 turbo mill from DSMs into a few Dodge Neons. The ultimate sleeper already ran a Mitsu engine, the 420A, which was the non-turbo equivalent. Dodge decided they would trump the efforts of aftermerket enthusiasts and come out with a seriously underrated 2.4L turbo and back it with all kinds of big power Mopar upgrades!
Although, it was clear Dodge arrived late to the Sport Compact party, the Dodge SRT-4 is alive and well. After a six year build-up, what we have here is possibly the craziest example of an SRT-4 we've ever featured!
Owner Kenny Lee of Buena Park, CA knew long ago this would be a keeper for him. "When I was first looking at cars to buy, I ended up narrowing my choices down to the Acura RSX Type-S and the Dodge SRT-4," says Lee. "The moment I took a test drive in the SRT-4 at a dealership I was hooked and consequently picked up the car the very same day."
With aspirations of building a Time Attack car, Lee started with the 2.4L world engine. The turbo was upgraded with an ATP Garrett GT3076R regulated
by a TiAL 38mm wastegate. Air is pulled through a custom short ram intake into JMB intercooler piping and an MPx 62mm throttle body attached to a Form & Function manifold. The fueling got a boost with an walbro 255lph pump along with a Aeromotive a1000 fuel pressure regulator, overcome billet rail and a quartet of Deatsch Werks 750cc injectors.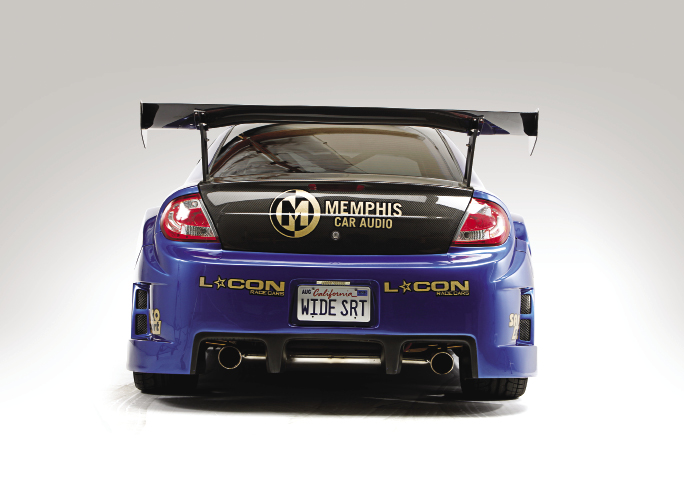 With a Mopar Stage I PCM and A'PEXi S-AFC to trim the fuel, the boost is regulated by an A'PEXi AVC-R. When this SRT-4 was at the dyno, it was just shy of 400 ponies, laying down 392whp with 380lb-ft. The new jam meant the experts at ACT had to step in to beef up the driveline. With an ACT Sprung 6-Puck Clutch, HD pressure plate and ACT Streetlite X-ACT flywheel, Lee isn't going to have
to worry about the driveline anymore.
Lee knew that with the new found power, the suspension and brakes needed to be addressed. He turned to KW Suspension for a custom set of coilovers along with helper springs for a smooth ride. Hotchkis sway bars were added front and rear as were DC Sports strut tower bars. Some GLH custom front control arms and Manny Z rear lateral links were also added. The upgraded brake kit was put together by TCE Performance using Wilwood products. The outside of the car got a boost thanks to trusted team at AIT Racing in SoCal. The AIT Racing widebody kit was fitted up by Auto Explosion. The AIT kit consists of a front bumper, rear bumper, wider fenders and sideskirts. The carbon fiber onboard is from Carbon by Design (B-pillar and trunk) while the hood is by Kaminari and APR Performance GTC-300 wing. Finally the car was shot in Lambo Monterey Blue by Auto Explosion with a matching cage painted by Martini Motorsports.
It was then time to fit up some rollers to the project. Since the car was dramatically wider, some serious wheels were selected in 18x10-inch on all four corners. The Advan T7s are wrapped in matching Yokohama Advan Neova AD07s in 285/35R18. Inside, Lee did not let up on his pursuit of the most outrageous SRT-4 on the planet. The entire interior is surrounded by a custom, color-matched 8-point cage by L-CON.
Read on for Full Specs