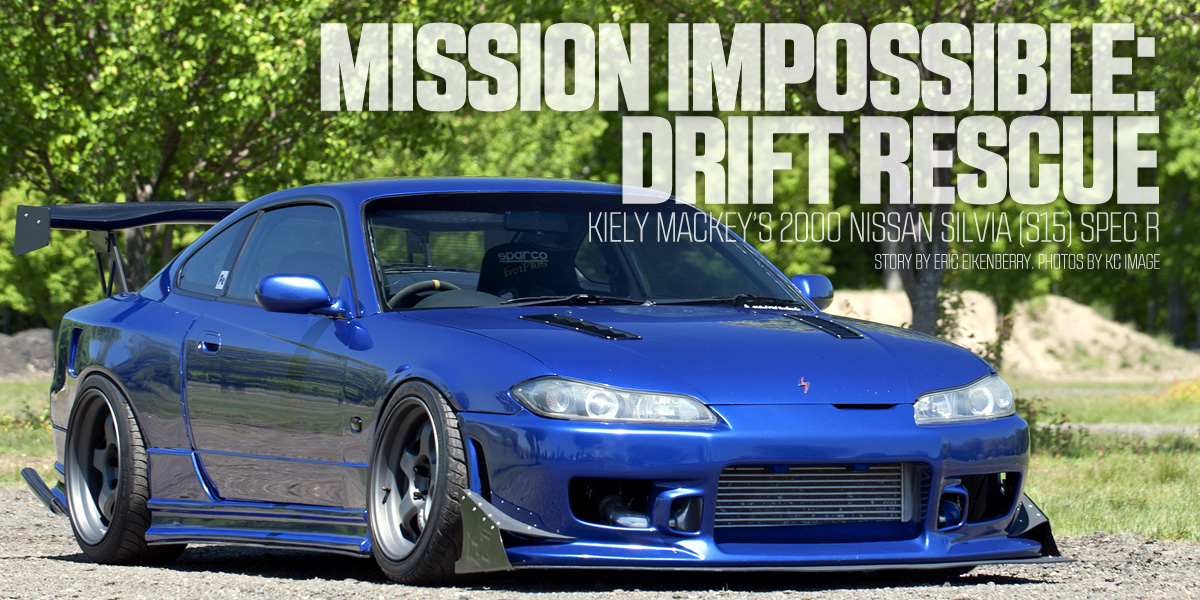 Imagine it: someday in a not-to-distant future, a wily and wizened Tom Cruise leads an elite team of young specialists around the country to seek out and rescue long-lost JDM classics. They use their Google and technical skills to resuscitate these machines to their former glory, racing against Father Time, neglect and rust. When the stakes are virtually impossible they come through in the clutch... Okay, it sounds cheesy, but no worse than any other Mission: Impossible movie, right? But seriously. Kiely Mackey and his splendid S15 cross-bred Silvia Spec-R could have starring roles in this fantastical film. Because 2JZ everything. So, how did this all begin? With family, of course.
"Every aspect of my family is rooted in automobiles," states Mackey. "My father ran a body shop, a trucking company, a used car lot and a wholesale business. When he passed in 2007, it shifted my build/sell/repeat habit into high gear. Maybe I'm trying to build all of my dream cars before I keel over."
In the last four years, Mackey has built and sold an LS1-swapped R32 Skyline - built to ProAm drift spec with a '92 LS400 manual transmission — and a '69 Camaro with a potent LS/T56 "Trans Am" series setup for road racing. He's even owned a 1991 R32 GT-R, which was eventually traded for this gutted S15.
"I found this car sitting behind a Shell garage station," Mackey recalls. "It was stripped and had had its drivetrain installed in a U.S.-spec S14. I traded a rough R32 for the shell and brought the poor car back from the dead."
Back from the dead is an understatement of the highest order. Originally planned for another LS-swap, that plan went out the window when Ben and Billy Freed of Freed Engineering offered him a deal on a 2JZ VVTI motor. The die was cast.
"Someone bought my LS engine and Freed sold me a cheap 2J," Mackey says. "The rest was a blur of spending and building."
Mackey has some strong words for people who say you can't build a drift car like this on a tight budget.
"I built this car on a shoestring budget," he scolds. "I earn $500 a week at a restoration shop and do not have a shop or garage of my own. I stayed up most nights doing side work for friends to earn the money to build this car or simply to rent a place to do some building in. Anyone can build a solid drift car, even on a highschool budget," he continues. "Stop making excuses, stop buying the wrong parts and start studying, saving and building all that you can with friends and on your own!"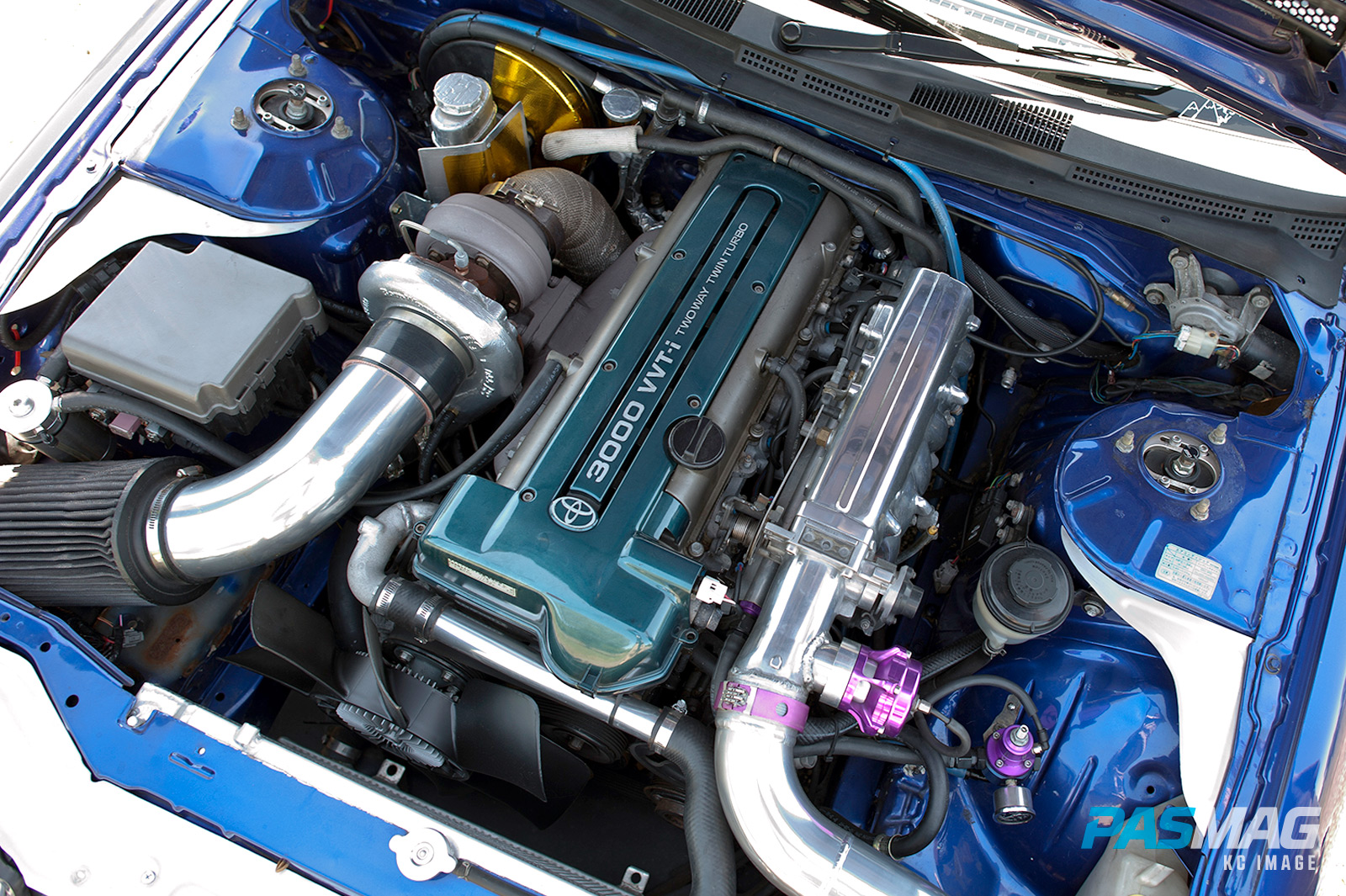 What does this list of "right" parts include? Oh, where to begin? An AEM V2 engine management system meant for a four-cylinder Honda B18 has been modified to work with the six-cylinder VVTI Toyota mill. A Borg Warner S366 twin-scroll turbocharger, Tial 50-mm blow-off valve and 44-mm wastegate, Walbro E85-rated fuel pump and MagnaFuel rail and pressure regulator, Injector Dynamics IDI 1000 injectors, a GReddy "R" intercooler, and a whole bunch of fabrication work in the tubes, wiring, mounts and transmission tunnel all bear mention. There's absolutely no easy path to stuff a 2JZ into a Silvia and mate it to a six-speed 370Z transmission. Here are a few of the issues he faced:
"The ECU wouldn't talk to the dash and the VVTI wouldn't work," Mackey begins. "The trans did not fit the tunnel, the turbo hit the tower, the diff flange hit the K member, the trans adapter needed milling down to fit in the tunnel, the VVTI intake manifold didn't work with my throttle body. The list goes on — all of it was fun though!"
A 350Z rear differential housing featuring a two-way locking OS Giken limited-slip was custom-mounted, and required 350Z-to-300Z axle shafts and a longer driveshaft with 350Z yokes on it. A Maverick Motorsports 12-pound adapter flywheel converted the 2JZ crank to the Z1 Motorsports Stage 2 370Z clutch.
It's at this point we're thinking it might have been easier to simply have started with a 370Z and just install the 2JZ into it.
Mackey credits Freed Engineering for making all the parts "play nicely together," and the tuning, which laid down a stout 621 horsepower and 570 lb-ft of torque from the otherwise stock 2JZ internals. That's enough power for anyone to look like Keiichi Tsuchiya behind the wheel.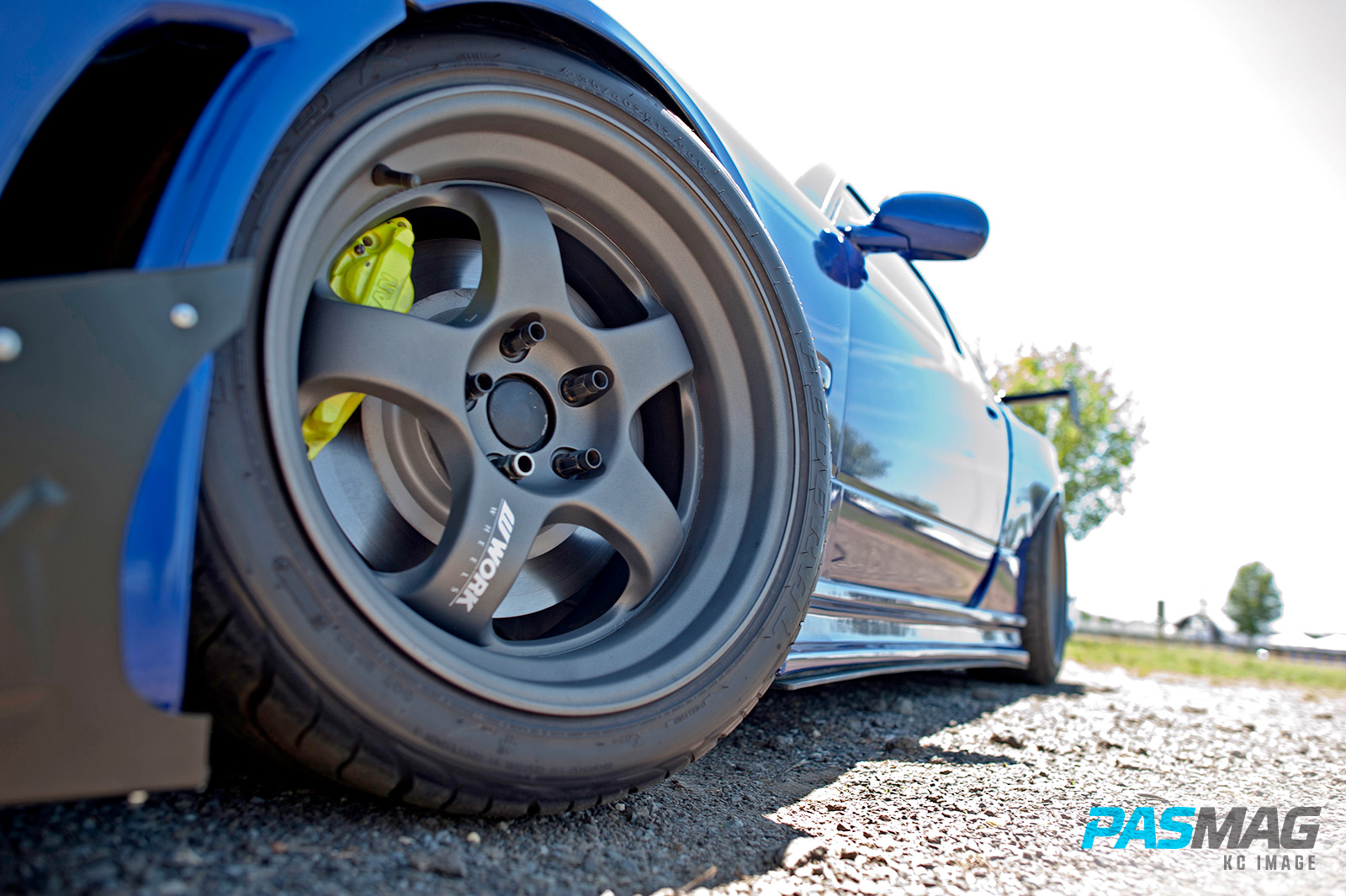 The OEM Spec-R anti-roll bars remain, but ISIS parts have been swapped into the rear for the upper control, traction and tension rods. PBM rack centrics and Maverick offset rack spacers help with the drift-friendly alignment needs. BC Racing coilovers with Swift springs set the chassis low over the Work Meister S1 two-piece wheels, sized 17-inches in front and 18 in the rear. The front brakes are the ever popular 300ZX four-pot calipers on 12.75-inch Brembo rotors, while the rear setup uses four separate two-piston clampers, an ISIS hydraulic e-brake assembly, Ford Mustang Cobra rear rotors and a Maverick hydraulic adapter.
Mackey's D1GP influence can clearly be inferred from the outward appearance.
"I fell in love with the look of Japanese Evome time attack cars and pretty much anything seen on the Narita Dogfight blog," he says. "That is why I hung all of the crazy aero stuff on the car. I spent nights on end Googling and saving pics of those parts and tried my best to replicate them in my friend's garage with hand tools."
Mackey's training at his day job paid off in the seamless way the mix of the C-west front bumper, the Dmax Type 2 rear bumper, side skirts and two-inch rear over-fenders work with the striking electric blue metallic water-based paint to recreate a grid-ready D1GP appearance. The APR GT300 rear wing looks terrific with all the custom made add-ons Mackey created. On a final note, sure to further inflame the Nissan faithful, the hood vents come from a 2014 Mustang. Take that, purists.
This is truly a unique car from stem to sterm, from the rubber to the roof. There's a good deal of solid engineering mixed right in with the whimsical and sometimes downright mad-science-level American ingenuity happening here, and we love it. Most likely, you'll never see this car in an action flick, outside of a high-speed, drift-inducing Scandanavian one. It's probably for the best though; Tom Cruise wrecks everything he drives on film. Wrecking a Silvia this nice would be truly criminal.
ESSENTIALS
2000 Nissan Silvia (S15) Spec R
OWNER: Kiely Mackey
LOCATION: Southern Carolina
BUILT BY: Kiely Mackey, Freed Engineering
ENGINE: Turbocharged Toyota 3.0L V6 (2JZ-GTE)
HORSEPOWER: 621 hp
TORQUE: 570 lb-ft
ENGINE MODIFICATIONS
Borg Warner S366 .91 AR twin-scroll turbocharger
GReddy "R" intercooler
Tial (50-mm blow-off valve, 44-mm wastegate)
K&N air filter
MagnaFUEL (fuel rail, fuel pressure regulator)
Walbro 450 LPH E85 fuel pump
AEM V2 VVTI controller
IDI 1000 fuel injectors
NGK spark plugs
EXHAUST
HKS Hi-Power 3.5-in. muffler
Treadstone cast iron header
Custom 3.5-in. V-band (up-pipe, down-pipe)
DRIVETRAIN
Z1 Motorsports Stage 2 clutch for Nissan 370Z
Maverick Motorsports 12-lb. adapter flywheel
OS Giken 2-way differential
Nissan (370Z transmission w/ 5-in. shortened shift tripod, 350Z rear differential)
Custom 350Z-to-300ZX axles
Custom driveshaft w/ 350Z yokes
WHEELS /TIRES / BRAKES
Work Meister S1 2-pc. wheels – 17x9 +0 (f), 18x10 +5 (r)
Federal RSR tires – 235/40 R17 (f), 265/35 R18 (r)
Nissan 300ZX brake calipers – 4-piston (f), 2-piston (r), 2-piston (e-brake)
Brembo blank rotors (f) Ford 1999 Mustang Cobra rotors w/ milled centric ring (r)
EBC Yellowstuff brake pads for e-brake caliper
CHASSIS / SUSPENSION
BC Racing BR coilovers
Swift springs
Energy Suspension front control arm bushings
ISIS (V2 rear upper control arms, tension rods, traction rods, toe rods)
Enjuku Racing (rod relocation spacers)
PBM rack centrics
Maverick offset rack spacers
EXTERIOR
CWest front bumper
Dmax Type 2 (rear bumper, side skirts, 50-mm rear overfenders, "50/50" taillights)
APR GT300 rear wing
Custom (stations, end plates, front splitter, canards, air channels, side skirt add-ons)
Shine Auto rear strakes
Ford 2014 Mustang hood vents
INTERIOR
Bead-rolled air bag cover, center console cover by Jesse at Charm City Metal Designs
Hurst shift knob from 1969 Chevrolet Camaro
Sparco (350-mm deep steering wheel, EVO XL seats)
AEM EUGO gauges
ISIS hydraulic e-brake handle
MOBILE ELECTRONICS
Kenwood double-DIN head unit
Optima Yellowtop battery