Photography by Mike Chu
---
By definition, the term 'hybrid' means "anything derived from heterogeneous source, or composed of elements of different or incongruous kinds" (thanks Dictionary.com!) Though the literal definition is sounds somewhat ambiguous, hybrid is a little more specific in tuner-speak. On the technical end, the term can be used to describe a vehicle that has received an engine transplant or even a motor that's been pieced together from others. However, on the show circuit, Hybrid is synonymous with one of the most famous car crews in sport compact history. Team Hybrid has been representing Southern California tuning for as long as I can remember and team founder James Lin's squad has evolved along with the scene. This particular Lexus GS300 is one of the team's jewels and his owned by Irvine, CA's very own Kirby Wang.
Purchased brand new back in 1998, Wang has seemingly been VIP before the now-popular trend hit North American shores a few years ago. Newly redesigned at the time, the car's curvy body lines were much more appealing than anything BMW or Mercedes Benz had to offer. Eager to become one of the platform's pioneers, Wang was quick to begin modifying the hefty sedan before anyone else got their hands on it.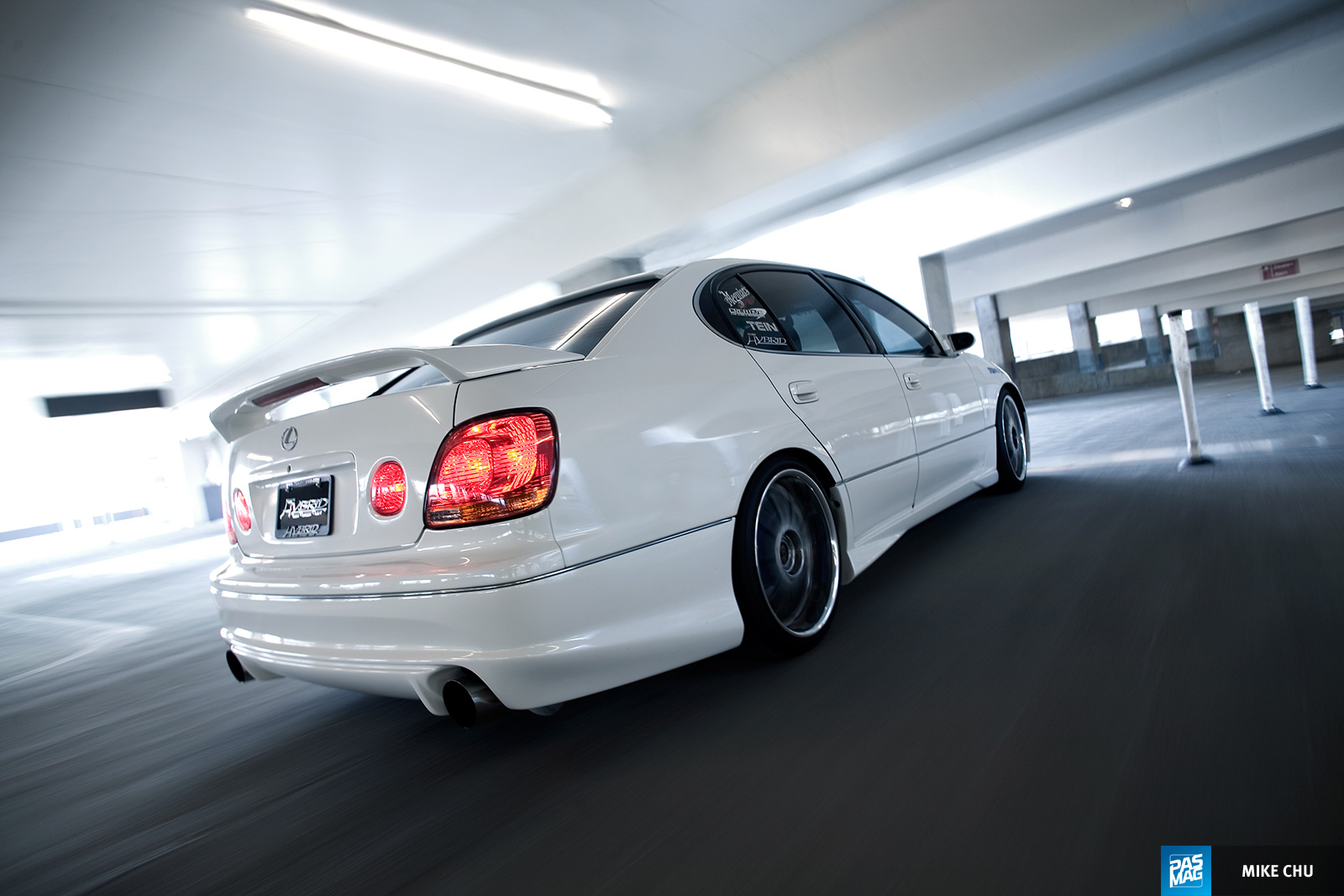 As with all new Japanese platforms, Wang build-up didn't have much of a blueprint and had to keep his eye on the overseas aftermarket for the latest products. "Everything on the car was from Japan and has many first stateside items," he recalls. A closer look at the exterior shows us that he wasn't kidding, as the GS has been fitted with a Wise Sports bumper and Blitz grill in front, with Veilside side skirts and rear bumper surrounding the rest of the vehicle. The car's Veilside racing mirrors are also a rare find and the car was updated with a set of 2004 Lexus GS430 taillights and fog lights. The automotive artists at 2020 added the car's custom Diamond Pearl White paintjob.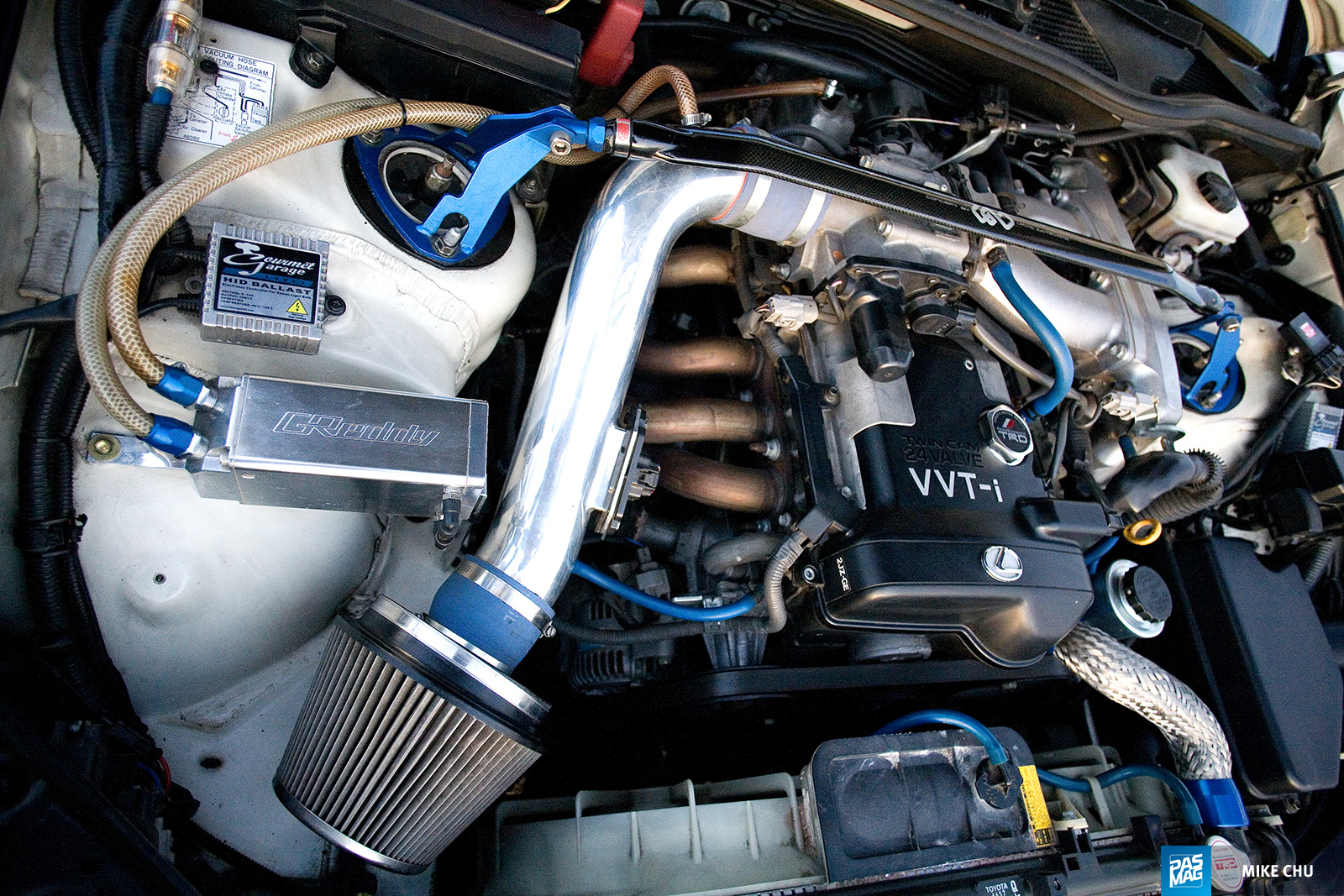 Motivated by a 3.0L inline-six that produces a factory-rated 225hp, the GS300 had decent power going to the rear wheels. However, Wang decided that the car needed a few more ponies, so he installed an RS Akimoto intake, Blitz filter and GReddy cat-back exhaust to improve the engine's breathing. A set of HKS adjustable cam gears helps dial-in precise cam timing, while an APEXi SAFC fine-tunes the Lexus' air and fuel maps. For good measure, a RMM limited-slip differential provides Wang with some added control.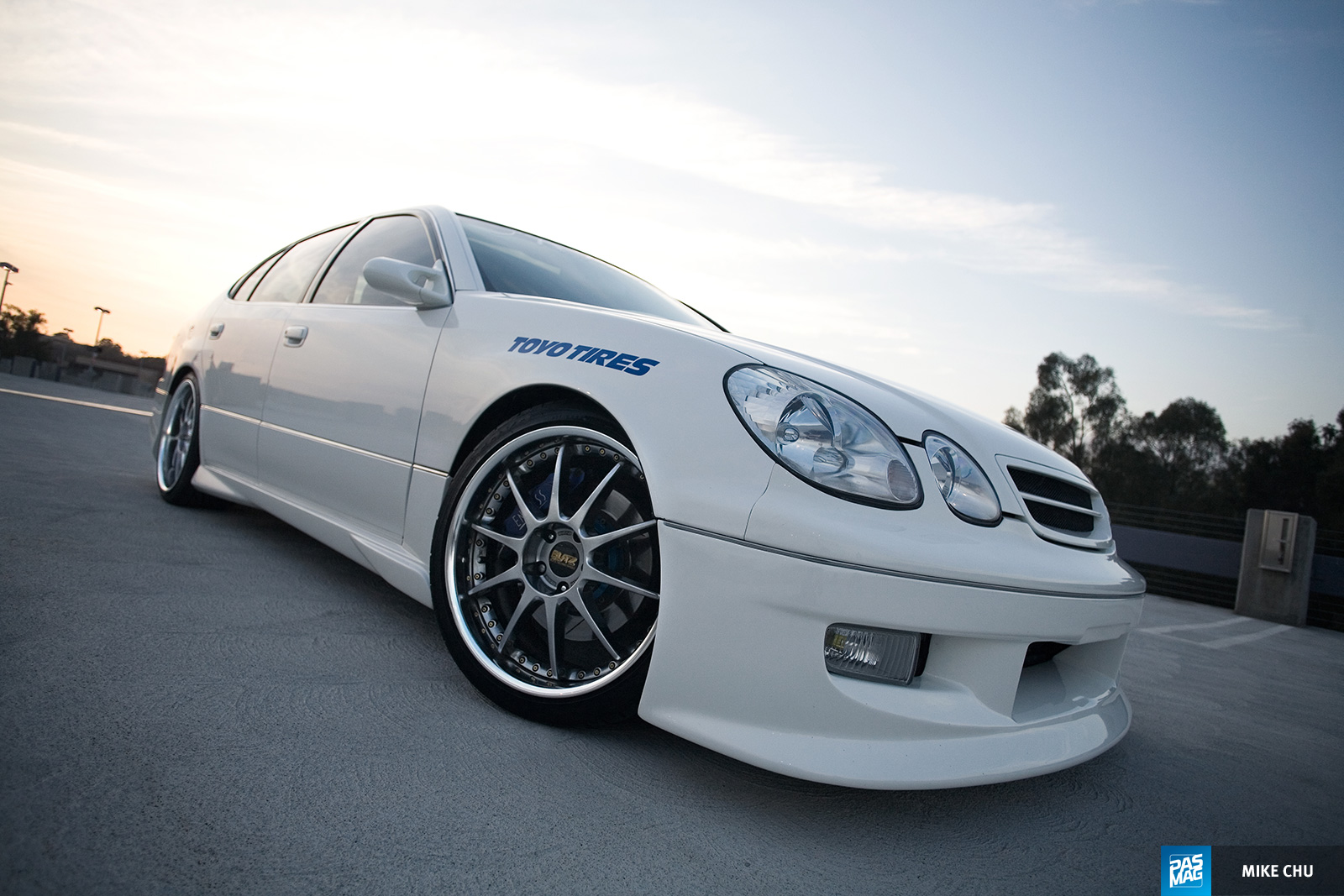 Stance is paramount when judging a VIP platform like the Lexus GS, so Wang made sure he had his bases covered by installing a set of adjustable TEIN HA coil-overs. Wanting to retain the reliability of the traditional damper / spring setup, the 16-way adjustable units were slipped into the wheel wells. Further stability for the chassis comes from a collection of bars and braces, including a UGO carbon fibre strut bar, TRD front lower brace and matching sway bars.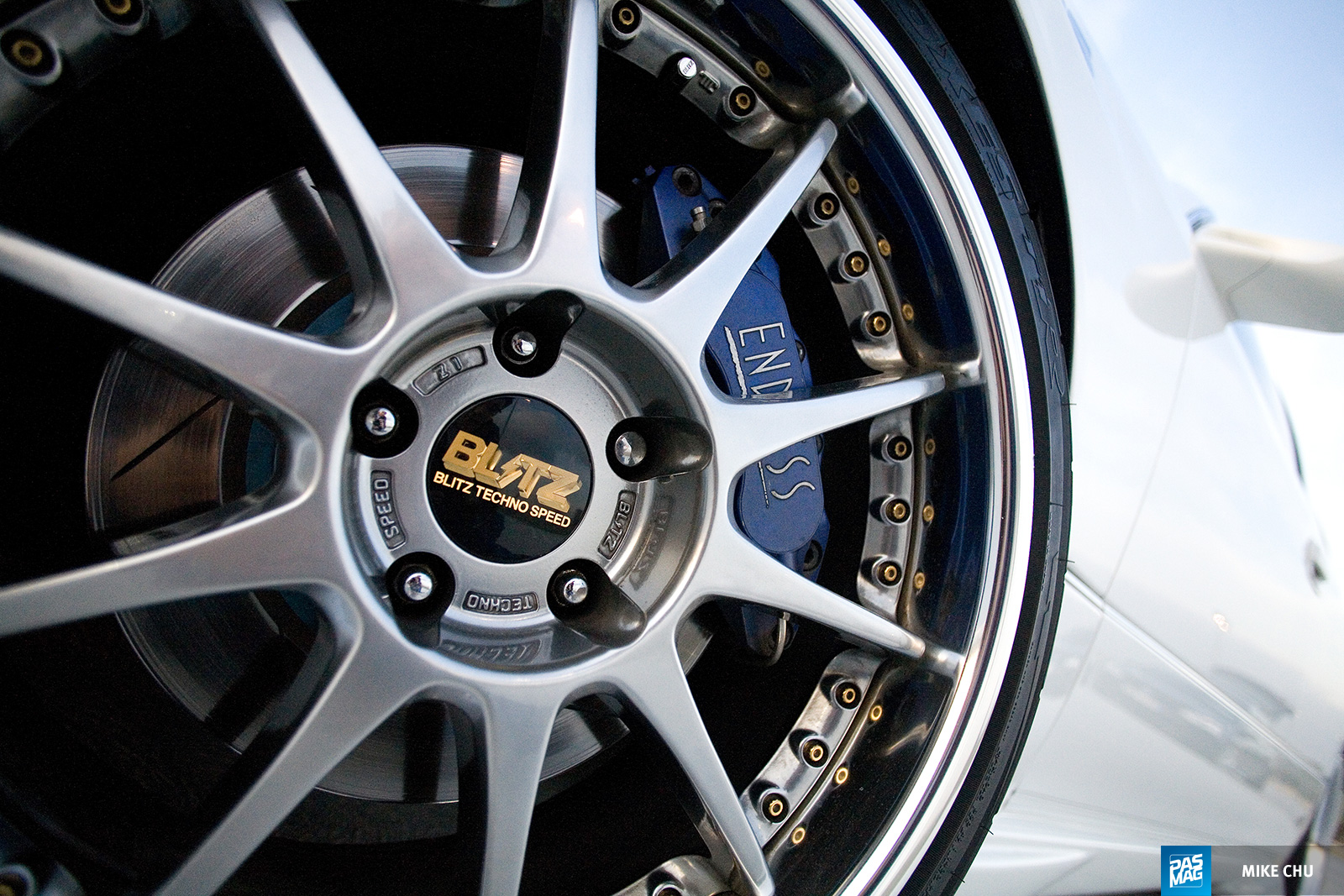 Wang's footwear comes in the form of a set of classic Blitz Technospeed wheels measuring 19 inches in diameter. Finished in Blitz Silver, these multi-piece rollers are wrapped in Toyo T1-S tires for a Polident-type tight grip on the road. Bringing the machine to a halt is the responsibility of the massive Endless big brake kit. Boasting massive six-piston calipers and slotted rotors in front, paired with upgraded rotors and pads in the rear, Wang's sedan behaves much more like a go-kart than a 3,600lb behemoth.
In his effort to retain Lexus' plush and luxurious interior, Wang kept his additions limited and subtle. The JDM Greywood five-piece set was the first in the US, while the VeilSide racing pedals and Razo carbon fibre shift knob give the cabin a little performance feel.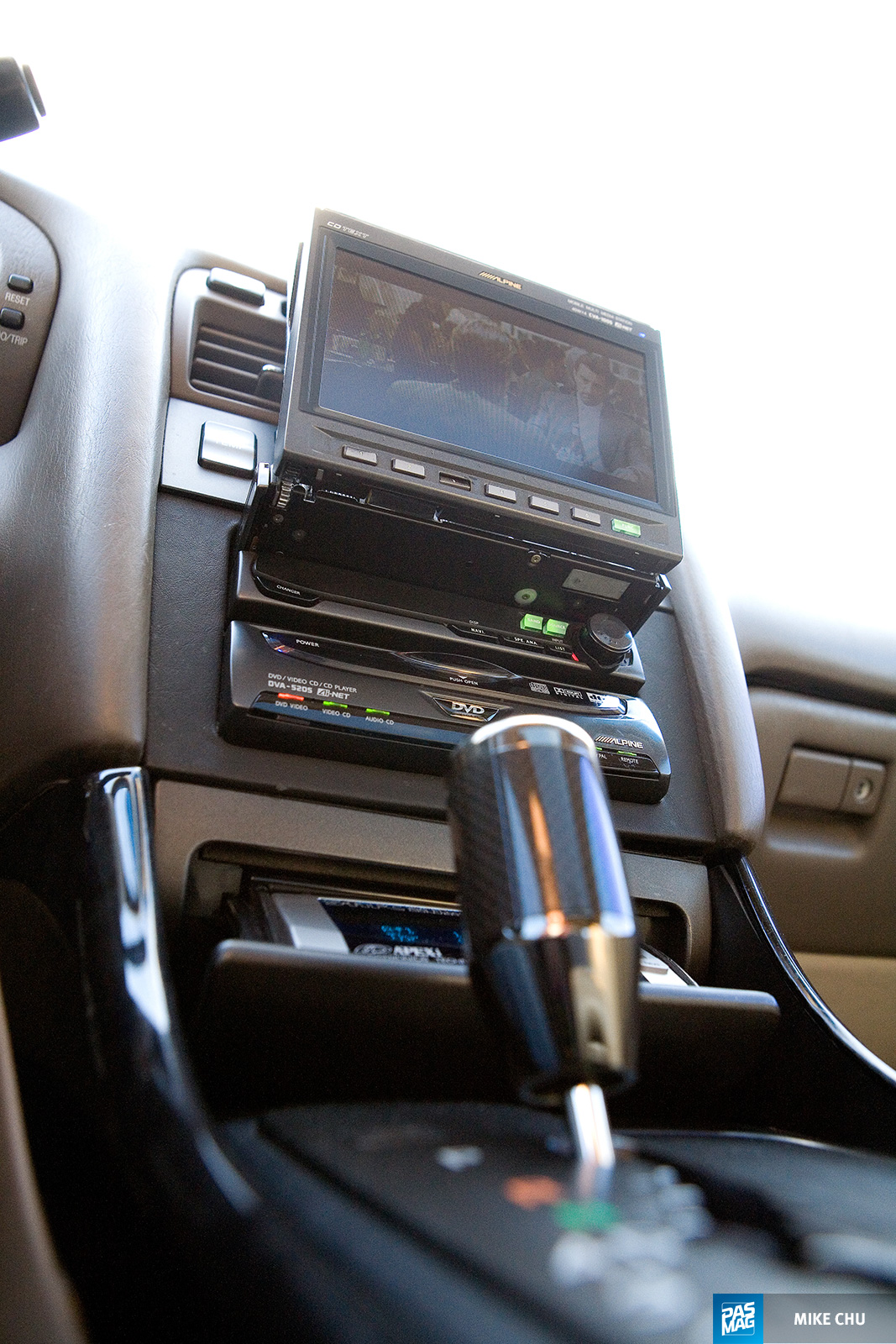 The crew at Creative Car Sound was contacted to help Wang piece together a suitable multimedia system. Having worked on many of his Team Hybrid teammates' award-winning projects before, these guys knew exactly what to prescribe the ailing Lexus. Using an Alpine CVA-1005 head unit as the system's control centre, the signal is carried to a pair of PPI amplifiers in the trunk. Using a PPI 4800 to push the twin Eclipse Aluminum 12-inch subwoofers and PPI 2600 for the MB Quart Q-Series components in the cabin, Wang's setup has more acoustic power than Guile's sonic boom.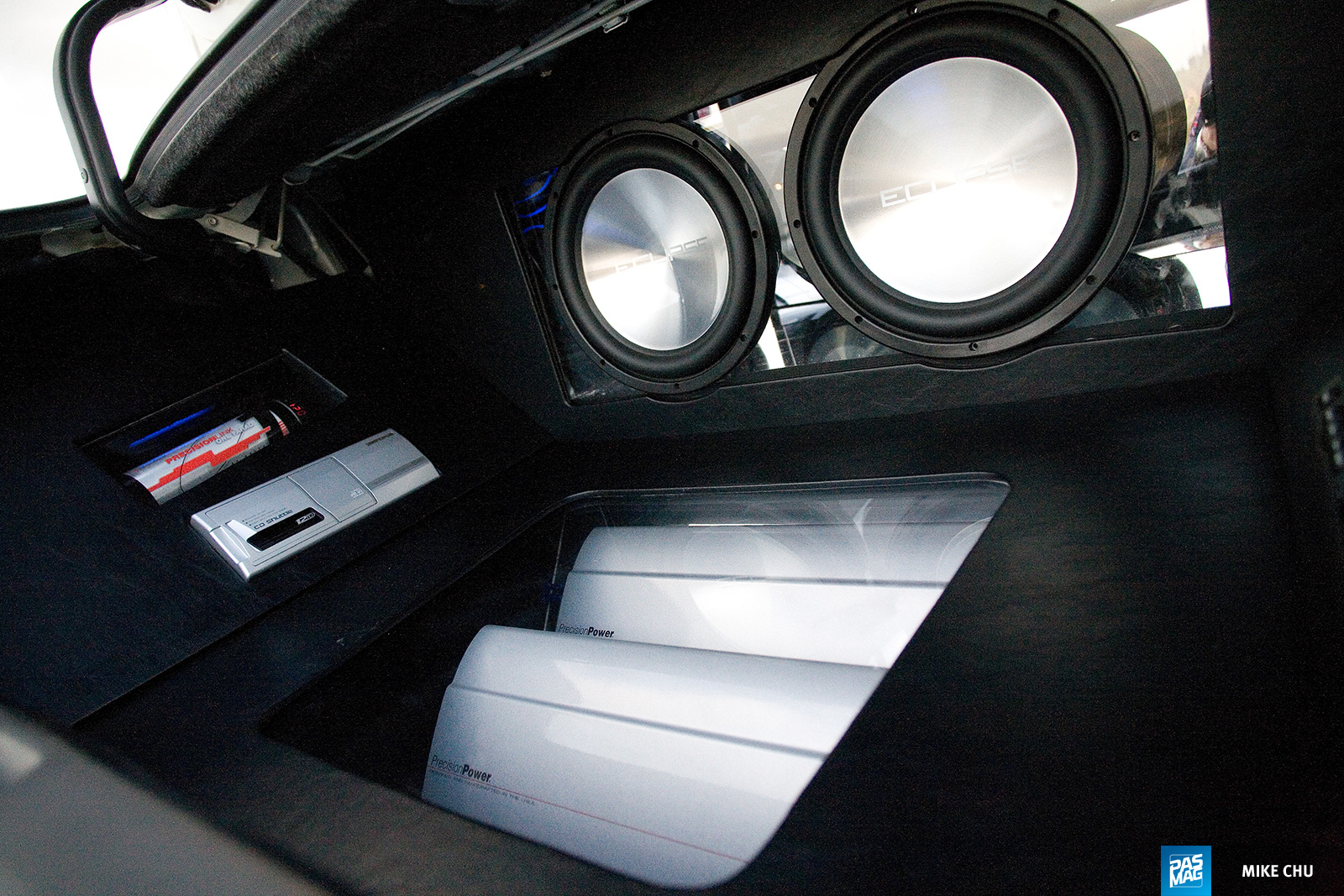 Complementing the head unit's display is a pair of Alpine TME 6.5-inch LCD monitors mounted in the headrests. Video can be selected from a variety of source units, including the in-dash Alpine DVA-5205 DVD player, Sony PS2 or Alpine VPE VCR (for all you old-schoolers). An Optima Blue Top battery ensures the system never falls short on power.
Wang's Lexus GS300 build-up was a three-year process that created a sizable $30,000 dent in his wallet. However, he had plenty of fun putting it together and would like to thank everyone involved, including Toyo Tires, Endless USA, DME Engineering, Blitz, VeilSide, Meguiar's, Creative Car Sound and Autowerks. Of course, a special shout out goes to James Lin and the entire Team Hybrid family for their constant support. Wang's pioneering GS300 still makes some appearances on the local show circuit, displayed alongside other project vehicles he's completed in recent years.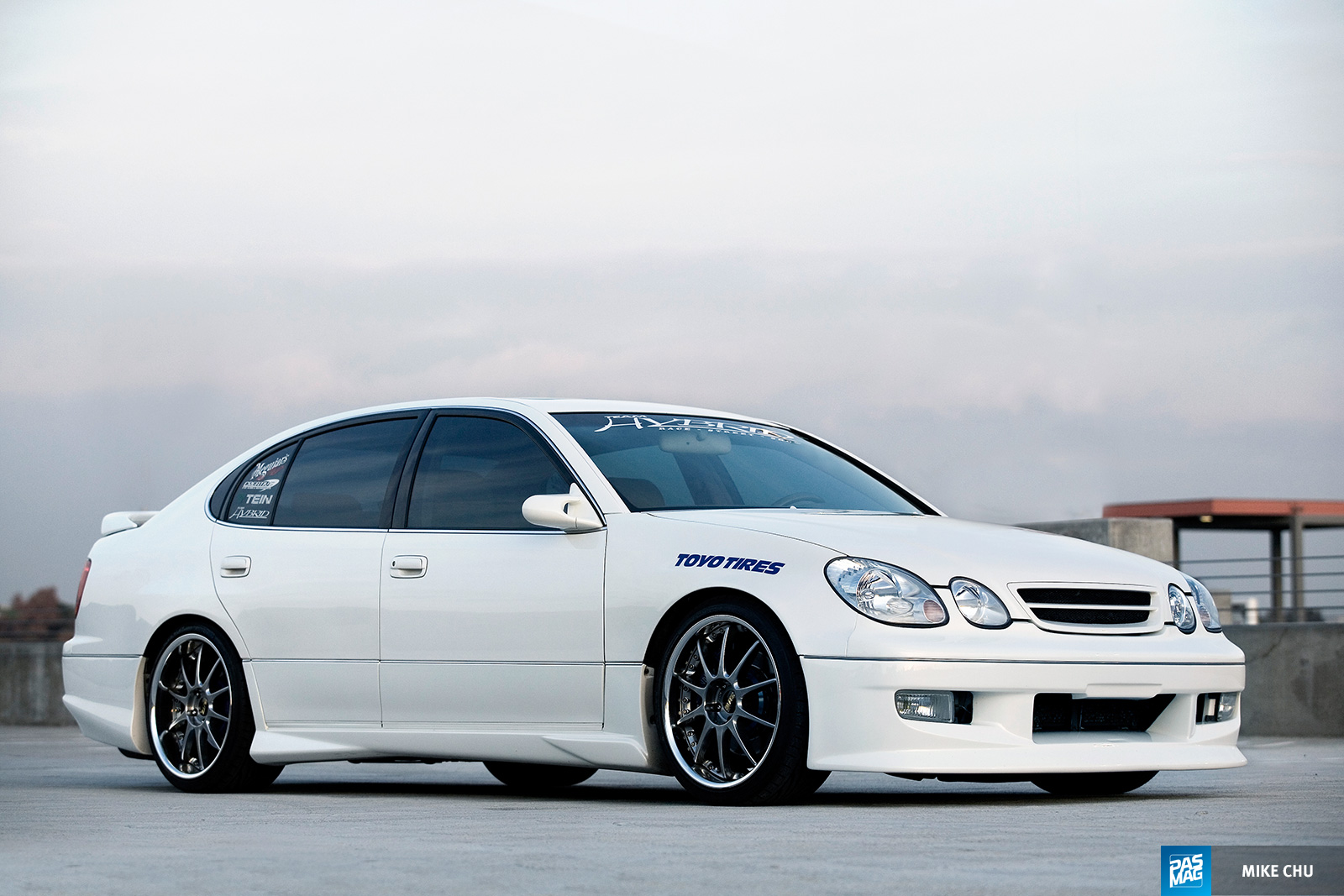 ---
ESSENTIALS
Owner: Kirby Wang
Location: Irvine, CA
Vehicle: 1998 Lexus GS300
ENGINE & PERFORMANCE
RS Akimoto Intake
Blitz air filter
HKS adjustable cam gears
GReddy cat-back exhaust
GReddy oil catch can
TRD radiator cap
TRD oil cap
APEXi SAFC
RMM (Rhys Millen Motorsports) LSD
EXTERIOR
Wise Sports front bumper
Blitz front grill
VeilSide rear bumper
VeilSide side skirts
VeilSide racing mirrors
L-Sportline roof spoiler
RMM rear spoiler
Lexus GS430 (MY 2004) taillights
Lexus GS430 yellow foglights
Custom Diamond Pearl White paintjob by 2020
WHEELS & TIRES
Blitz Technospeed (Blitz Silver) and Toyo T1-S tires - 19 x 9 inches, 245/35-19 (f), 19 x 10 inches, 275/30-19 (r)
SUSPENSION & BRAKES
Tein HA adjustable coil-overs
UGO carbon fibre strut bar
TRD front lower chassis brace
TRD front sway bar
TRD rear sway bar
Endless six-piston big brake kit (front)
Endless brake pads (front and rear)
Endless slotted front rotors
Endless rear rotors
INTERIOR
JDM Greywood set (five-piece)
VeilSide racing pedals
Razo carbon fibre shift knob
AUDIO / MULTIMEDIA
Alpine CVA-1005 head unit
Alpine DVA-5205
Alpine VPE VCR
Alpine 12-disc CD changer
Sony PlayStation2
PPI 4800 amplifier
PPI 2600 amplifier
MB Quart Q-Series component speakers
Eclipse Aluminum 12-inch subwoofers (2)
PPI digital capacitors
Alpine TME 6.5-inch LCD monitors (headrests)
Optima Blue Top battery
Custom system design and installation by Creative
PHOTO GALLERY