Photos by Lee Vermont
---
Lee Vermont has been a contributing photographer for PASMAG for many years, so it only makes sense that he is a car guy like the rest of us. Spending so much time behind the lens has given Vermont a keen eye for style, as well as plenty of inspiration for his own builds. That sense of style is evident in his own 2011 Infiniti G37.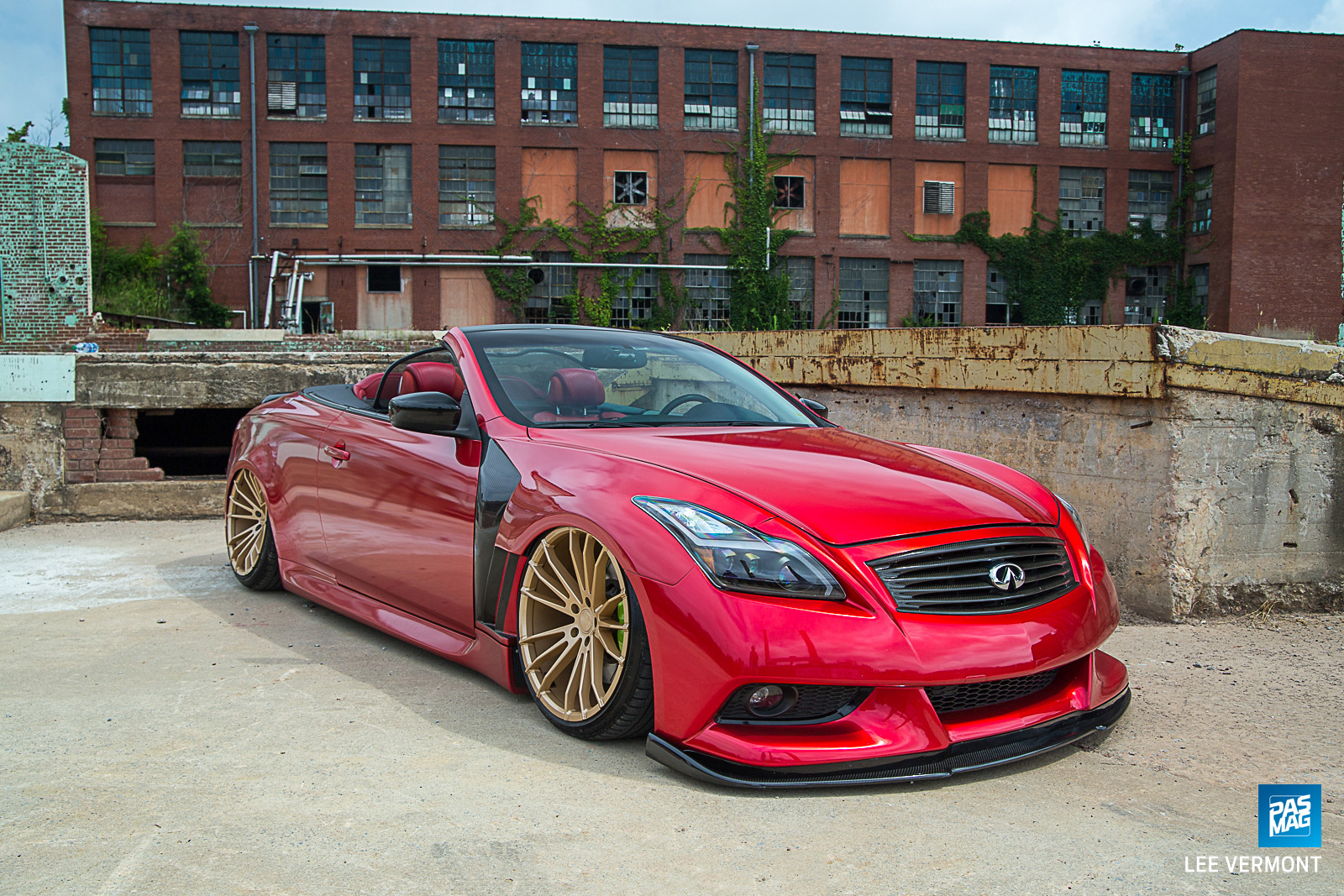 Vermont's 2011 Infiniti G37 convertible build is a story of rebuilding from tragedy. Before the car you see here, Vermont had owned and modified a 2009 Infiniti G37 convertible previously. That car had taken him to shows, won awards, and seen many cruises before being taken from him by a reckless driver. Determined to rise from the ashes, Vermont bought his 2011 Infiniti G37 in February of 2018.
Luckily, many parts from the wrecked G37 were salvageable, and were carried over from the previous build. With plenty of new parts ordered in, as well as some time spent in the shop, the build was kept mostly under wraps during the process. In April of 2018, the car made its debut, stunning audiences where it showed up.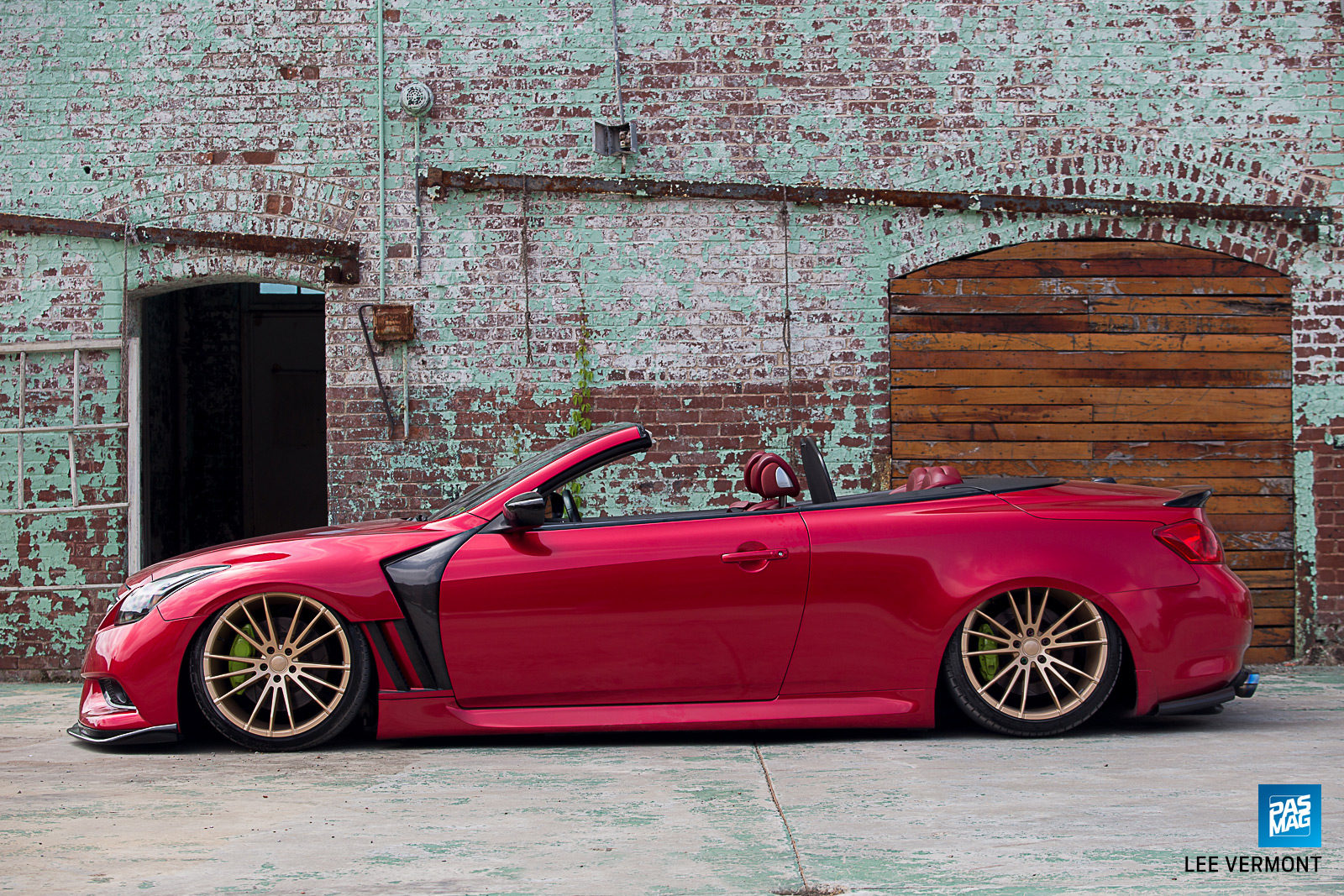 "One aspect of modifying the the G is that there are not many options," he writes, "and eventually they all look similar." Vermont employed the help of key partners in order to rebuild his dream as uniquely as possible. Superstar Customs took care of body work, caliper painting, and installing aftermarket parts such as the Air Lift Performance air suspension system, and the trunk install with some design help from Markland Designs.
Some creativity was required in order to give the car a bespoke look. Outcast Garage sourced a 350Z TS style diffuser, and Successful Automotive hooked him up with the first ever M-fendz vented carbon fiber fenders for the G37 convertible. Z1 Motorsports took care of some engine and performance bits, like the Motordyne ART pipes and a modified upper plenum. Status Elite's carbon fiber covers are just the icing on the engine bay.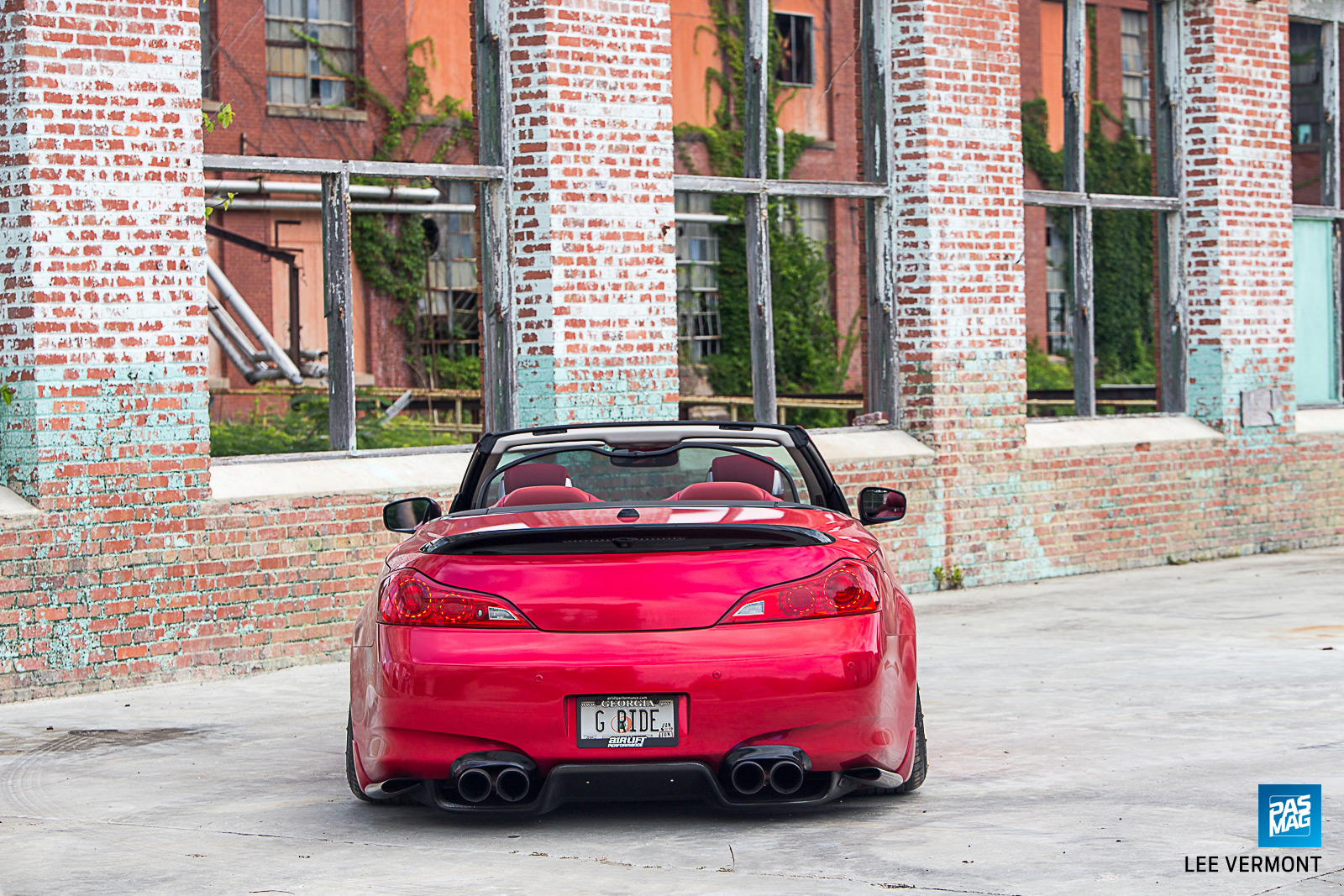 With a set of 20-inch Concept One CSM01 wheels in a rose gold finish, the blood red wrap gives the car a color scheme that really pops. With GT-R style headlights, custom taillights from Diode Dynamics, and a full red leather interior with carbon fiber accents, the car truly checks all the boxes.