Project cars, what are they? For most enthusiasts the adventure begins with the vehicle selection and quickly moves forward with the addition of bolt-on goodies. The end goal is, of course, to win a shiny trophy, some prize money and bragging rights. What if the tables had turned and it was a car company wanting to showcase the tuning capabilities of their newest model at the largest show in the world, SEMA?
Throughout the years, builders and demo vehicles have come and gone setting trends for the masses. AEM (best known for their intake systems and engine management systems) is one such company that has made things possible. Having paired with Subaru North America for several years in the past, they were once again approached to build this unique one-off Subaru STI and utilize Subaru Performance Tuning parts.
The car began like any other factory-spec project, bland and boring. With the help of Cusco, Crawford Performance, Sparco, Mackin Industries, Modern Image, Eibach, Clarion, Ings+ and, ultimately, AEM this once mild mannered rally-inspired Subaru began its transformation into a daily driven track warrior.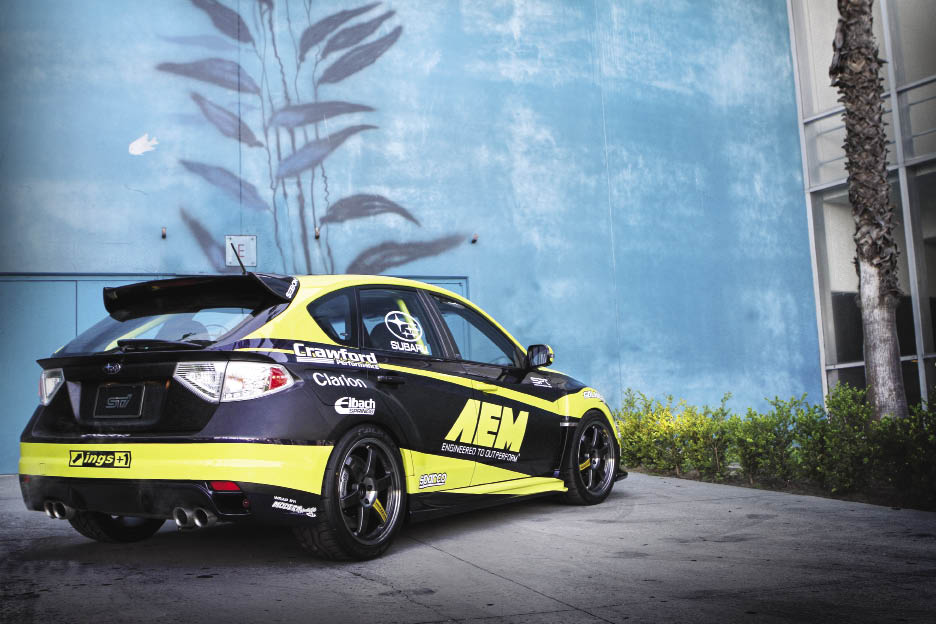 The exterior design is thanks to a four-piece Ings+ N-Spec aero kit that was fabricated and shipped from Japan within one week to stay on deadline. Further aesthetic and aerodynamic upgrades includes a Seibon carbon fiber hood and a one-off graphics package designed by Matthew Law and installed by Modern Image, a complete 24-hour mission. From afar, the hot hatch draws attention with its unique bright yellow and blue-purple exterior while still not losing its unique design characteristics which all Subaru fans love.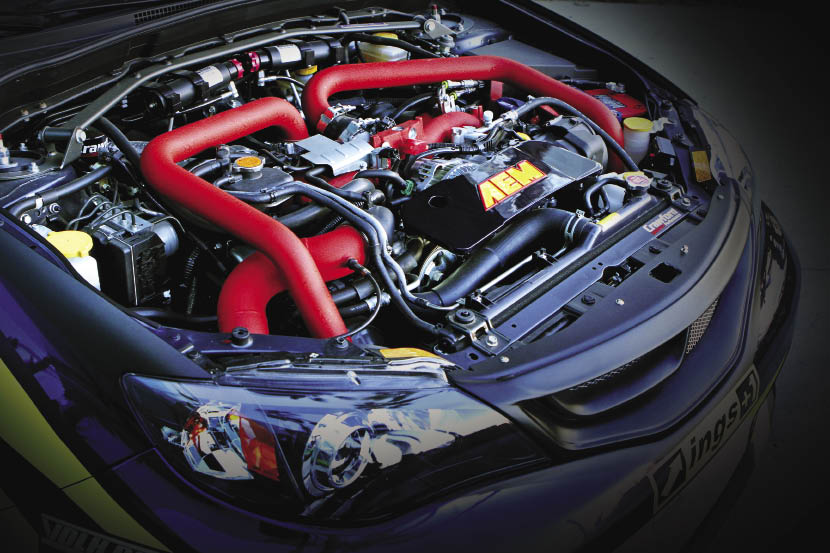 With the outside complete, the builders at AEM opened up their catalogue and selected pieces that would pair with the engine upgrades from Crawford Performance. As electronics are a big part of AEM's success, the use of their EMS (engine management system) was a no brainer along with a boost controller, wideband UEGO system, gauges and methanol / water injection kit. Quirt Crawford and William Knose of Crawford Performance installed all the components and tuned the freshened up STi for higher boost levels.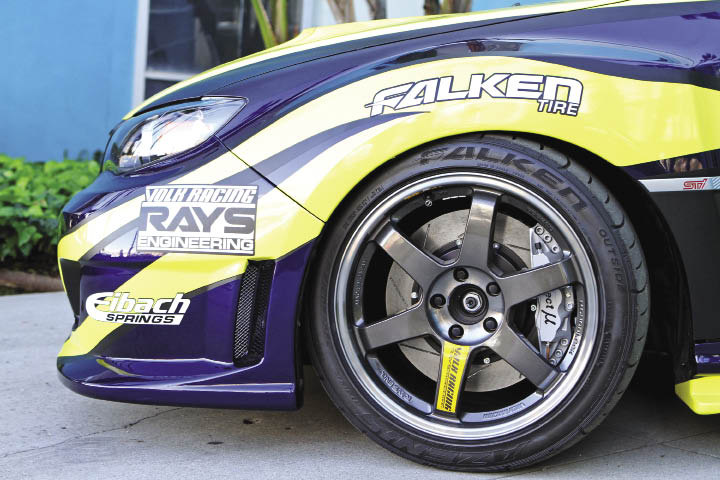 Now that the Subaru has a healthier heart, the focus was shifted to its footwork and chassis strengthening. A set of Volk Racing wheels wrapped in Falken RT-615K rubber provide the much needed grip while a custom StopTech / Project Mu big brake kit was pieced together from Mackin Industries for better stopping power. Shortly after, the team at Cusco USA stepped up with an array of suspension links, chassis braces and the must-have roll cage for track attacks. Adam Matthews of Eibach made the STI stance possible with a set of 2-way adjustable coilovers.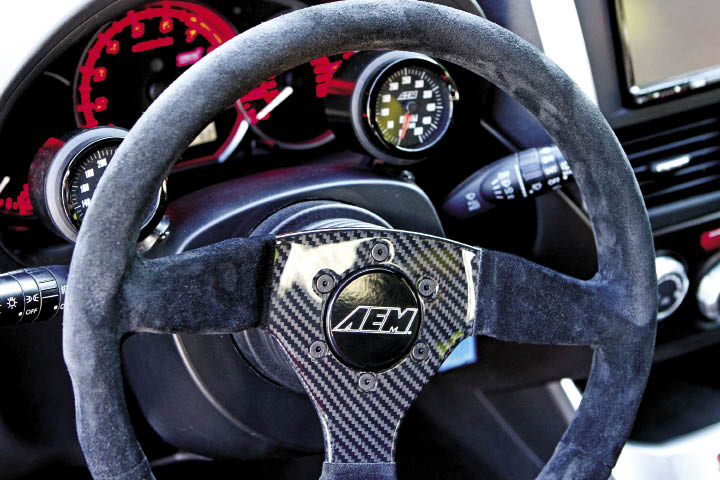 The cockpit of this SEMA project was left to Sparco USA - they are the long-time experts after all. Up front, a pair of Sparco Milano race buckets and race-spec seat belts keeps both driver and passenger in place, while a Sparco Carbon 385 steering wheel and hub allow for race-ready driving inputs. As mentioned previously, AEM provided the gauges for monitoring engine vitals and Clarion stepped up with a unique audio setup that not only sounds great, but also is matted to the roll cage in the trunk area. Clever!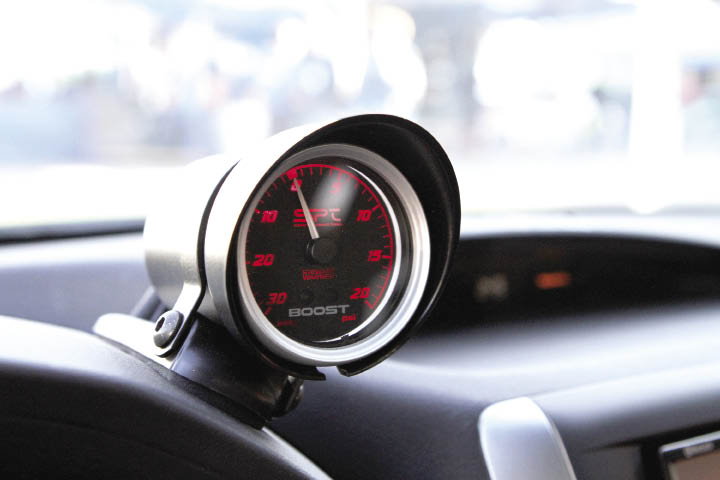 As the project began wrapping up and nerves set in the week before the SEMA debut, it was time for Subaru Performance Tuning (SPT) to add the final touches. Direct from the catalogue and available as OE parts, the builders at AEM went on a shopping spree. Some pieces were selected for their performance enhancement like the cat-back exhaust system, boost gauge, turbo heat shield and short throw shifter. Others were chosen solely for dress-up, like a billet aluminum oil cap, carbon fiber B-pillar trim, carbon fiber side sill inserts, valve stem caps, carbon fiber trunk trim, radiator cap, and Euro-style front plate.
After hours of planning, sweat and intensive labour, Subaru North America's SEMA debut vehicle was complete. The mad scientists at AEM had banded together with fellow top aftermarket suppliers to make this daily driven track warrior go from a paper concept to reality. Showcasing the very best in aftermarket goods for the STI and, in turn, Subaru Performance Tuning OE parts, this STI is a true one-off and has earned bragging rights from its competitors.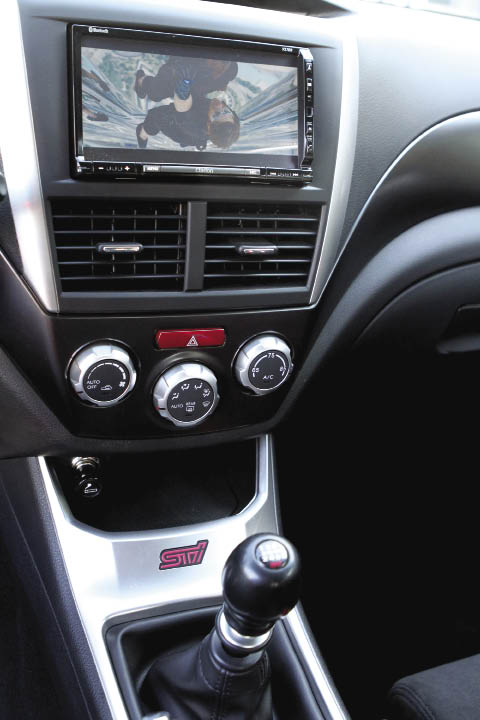 Photos by Jacob Leveton
---
ESSENTIALS
Owner: AEM / Clarion USA
Location: Hawthorne, CA. USA
Vehicle: 2008 Subaru STi
Horsepower: 352hp
ENGINE
AEM Intake Kit
AEM Boost Controller
AEM EMS
AEM X-Wifi Wideband UEGO System
AEM Water Injection (2)
AEM Charge Piping for Intercooler
AEM Powder Coat Charge Piping
Crawford Performance Custom Tune
Crawford Performance Front Mount Intercooler
Crawford Performance Air/Oil Separator
Mackin Industries Downpipe
SPT Catback Exhaust
SPT Billet Baterry Tie Down
SPT Turbo Heat Shield
SPT Billet Aluminum Oil Cap
SPT Valve Stem Caps
STI Radiator Cap
Vivid Racing Blow off Valve
DRIVETRAIN
WHEES, TIRES, BRAKES

Volk Racing Wheels
Falken RT-615K Tires
Mackin Industries Project Mu Brake Components/Rotors and Pads
Stop Tech/Project Mu Big Brake Kit Front and Rear
SUSPENSION
Cusco REAR TRAILING ROD PILLOW
Cusco REAR LATERAL LINK
Cusco PILLOW UPPER MOUNT FRONT - ADJ
Cusco Lower Arm Bar
Cusco STRUT BAR OS - REAR
Cusco POWER BRACE FRONT MEMBER
Cusco POWER BRACE FLOOR CENTER
Cusco POWER BRACE FLOOR REAR
Cusco POWER BRACE REAR MEMBER SIDE
Cusco POWER BRACE REAR MEMBER
POWER BRACE RE AR TRUNK (GH8/GRB REAR END)
SPT Lower Chasis Brace
SPT Front Strut Tower Brace
Eibach Coil Over Suspension
Eibach Sway Bar Kit
EXTERIOR
SPT Carbon Fiber Trunk Trim
STI Euro-Style Front Plate, S/S
Carbon Fiber Hood
Ings+1 N-Spec 3P Aero Body Kit, Bumper(Front and Rear) Side Skirts
Ings+1 Front Canards (Carbon)
Ings+1 Front Grille (FRP))
SPT Carbon Front B-Pillar Trim)
SPT Carbon Fiber Side Sill Insert Kit
AEM Water Methanol Flow Guage
INTERIOR
AEM Water Temp, Fuel PSI, Oil Temp, Trans Temp, Volt Guages
Cusco Roll Cage
Sparco Milano Street/Sport seats (Adjustable) x 2
Sparco Seat Base
Sparco Seat Rails & Tracks
Sparco Carbon 385 Steering Wheel
Sparco Steering Wheel Hub
Sparco Seat Belts
SPT Boost Gauge
STI Short Throw Shifter
STI Duracon Shift Knob
STI Pedals
AUDIO
Clarion VX709 2-Din Multimedia Station
Clarion XH7110 mono Power amplifier
Clarion speakers and subwoofers
---
PHOTO GALLERY