The last time we came across an M2 Motoring creation, we drooled all over its camo-covered Scion xB and affectionately dubbed it the 'Bento Box.' The project had a unique Japan-meets-US flavour, as if someone were to drench a fresh roll of sushi with homemade barbeque sauce. The theme was refreshing and we couldn't wait to see what other vehicles M2 Motoring owner Michael Ma could masterfully remix.
Enter Patrick Estudillo, a West Covina, CA-resident and Ma's long-time friend. Having recently treated himself to a 2006 BMW M3 as a medical school graduation present, the new doctor was quick to call on Ma to help re-live his glory days as a tuner. The two SoCal brethren had successfully collaborated on an award-winning Lexus SC400 project years before, until Estudillo was forced to sell it to fund his post-grad studies. Now, having paid his dues, he was invigorated thanks to an exciting new career and his powerful new Bimmer.
Once limited to Japanese platforms, M2 Motoring has since diversified its expertise to all types of vehicles over the past few years. There are very few people out there that can help turn your daily commuter into a rolling attention-getter quite like Ma and his crew. It's not like this Aspen White E46 wasn't a great car already, but Estudillo knew that the car had the potential for much more.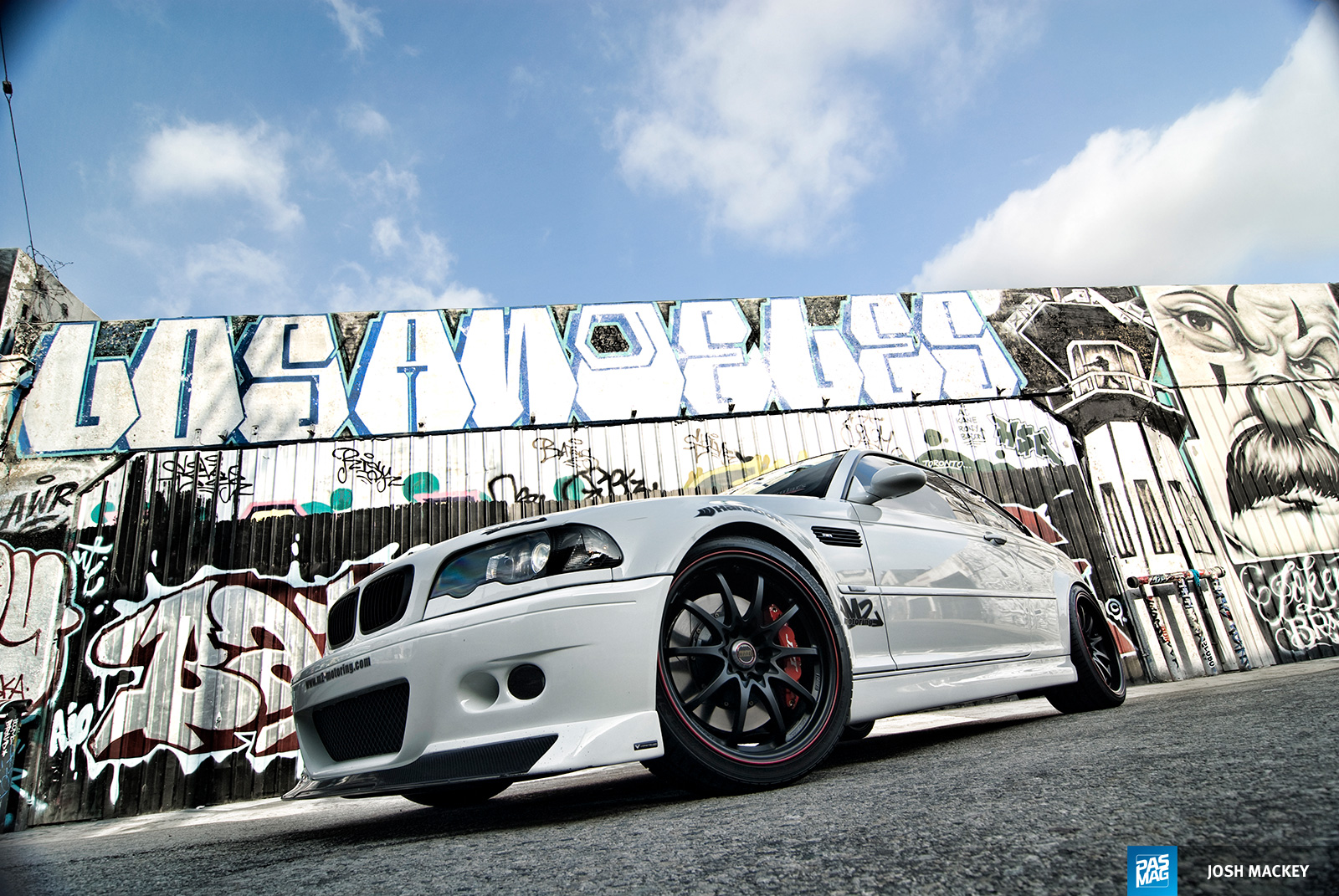 By 'more' I don't mean the slick exterior add-ons, like the understated Euro M3 front bumper or VRS GTS 3 front lip. Even the VRS GTR hood, lightened CSL trunk lid and carbon fibre diffuser are great additions, but don't quite provide the 'more' that Dr. Estudillo was craving. To scratch that particular itch, the duo delved deep into the heart of the M3.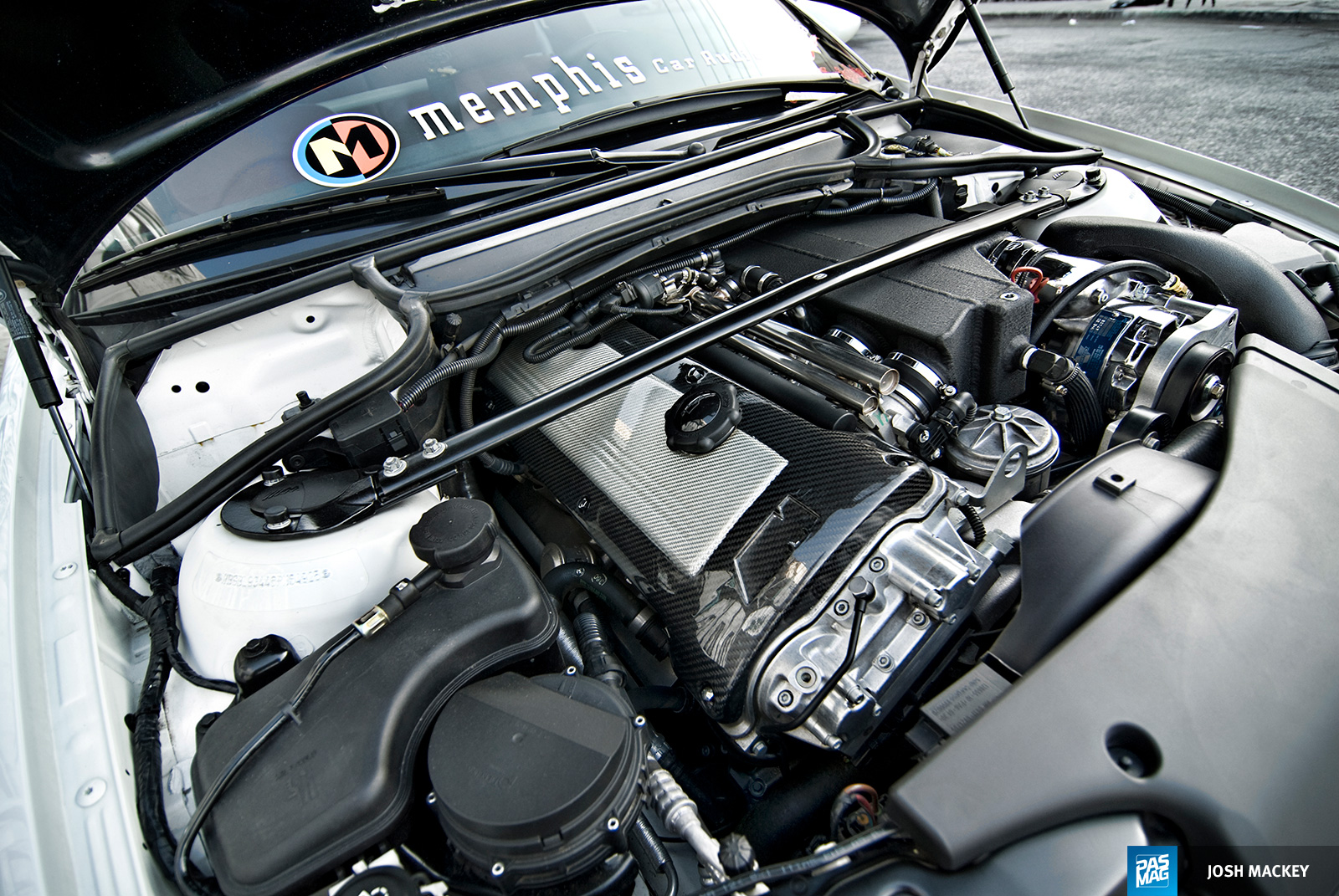 Pop the carbon fibre bonnet and you'll find that Estudillo and Ma paired BMW's famed 333hp inline-6 with VF Engineering's Stage 2 supercharger system. Log on to the Anaheim, CA-based operation's website and you'll notice that this particular upgrade is good to provide 570hp – an ungodly amount for the already finely-tuned German coupe. The VF kit, which features a Vortech V2 SC polished supercharger, 8.5psi pulley and charge-cooler manifold, is a proven major power-adder and works with the GIAC Stage 2 software to catapult this M3's performance numbers into elite supercar territory.
Always one to cover every detail, Estudillo worked with VF Engineering to fabricate a number of custom pieces for his setup, including molded polypropylene ducting, supercharger intake and CNC'ed oil fittings. Expulsion duties are handled by a JIC Cross Competition full quad-tip exhaust mated to Ki's Racing titanium section 1 pipes.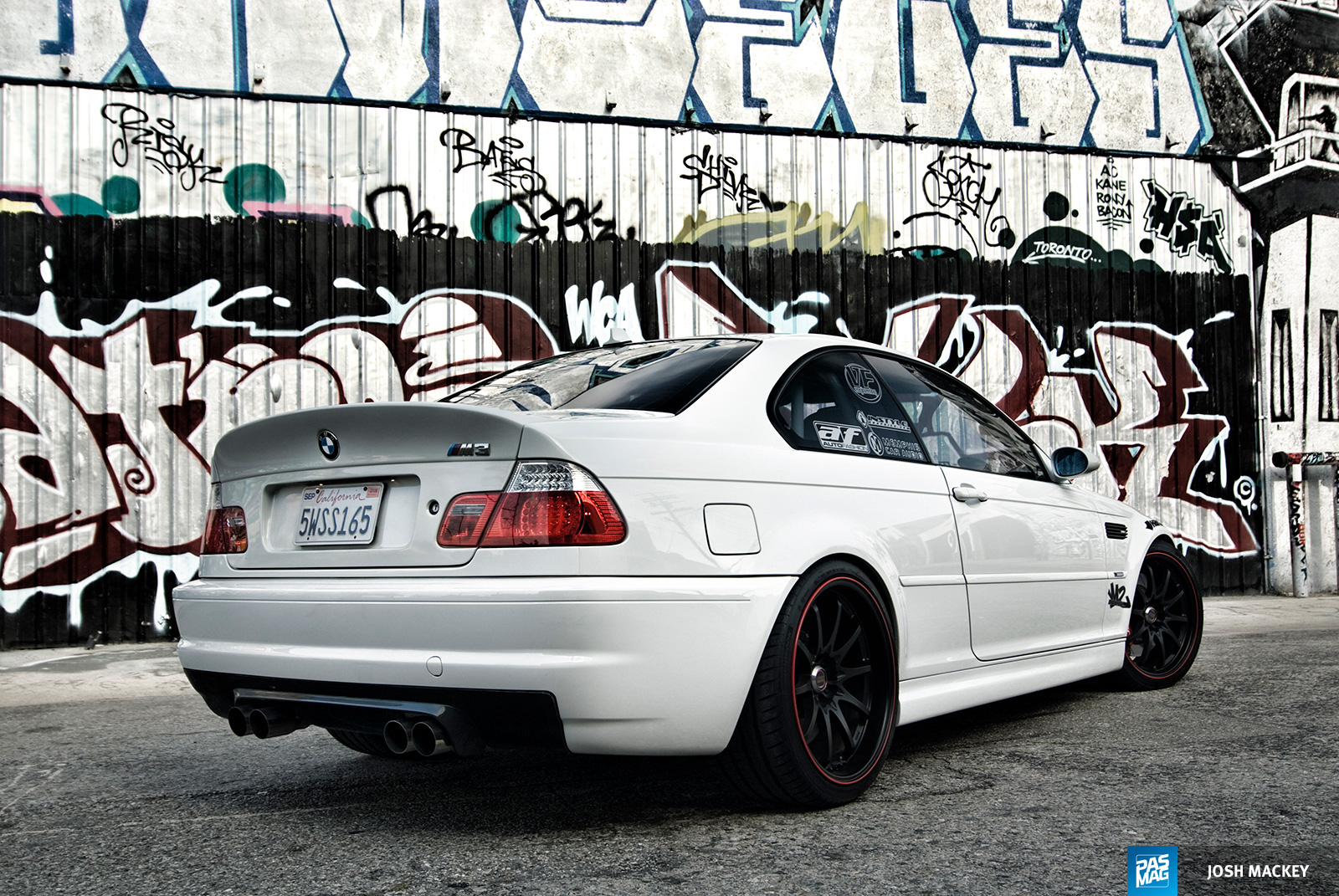 To harness the M3's supercharged horsepower, Estudillo opted to equip the coupe with a set of JIC Cross Competition coilovers. Renowned more for its suspension products for Japanese platforms, JIC's Cross product line has been building a strong reputation in the Euro camp over the past couple of years. Mounted on camber plates and rear shock mounts, the suspension can be dialed-in to exact specifications. Coupled with the massive JBT big brake upgrades in the front (6-piston caliper, 355mm) and rear (4-piston caliper, 355mm rotor), this M3's extreme control over the road is downright abusive – considered more 'fondling' than 'handling.'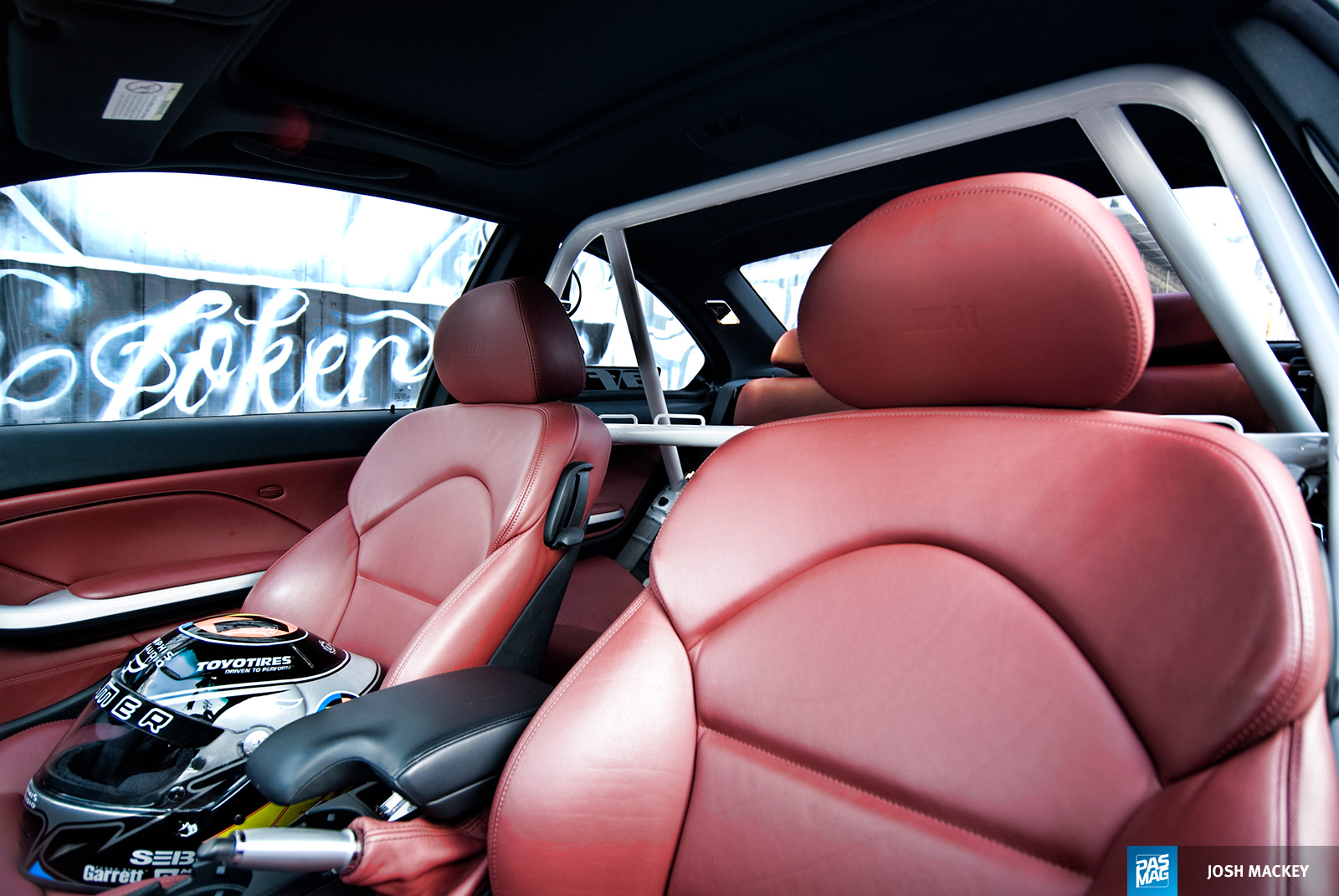 Continuing with the vehicle's German / US / Japanese cocktail, a set of 19-inch Volk Racing CE28N Time Attack Edition wheels fill in the fender wells. Sporting a matte black finish that's synonymous with racing, these extremely lightweight wheels use Hankook Ventus S1 Evo tires to provide traction.
Inside, Estudillo's workspace has been kept intact, not wanting to give up the creature comforts that a $50,000 price tag provides. However, he contacted the guys at Oink Fabrications in Huntington Beach, CA to build a custom 4-point bolt-in roll cage with removable harness bar to provide the chassis with some rigidity. It was powder-coated white to 'blend' in with the cabin, but unfortunately it still draws attention away from other cabin accents like the Bimmian aluminum e-brake handle, pedal set, Hamann shift knob and custom Imola Red stitching.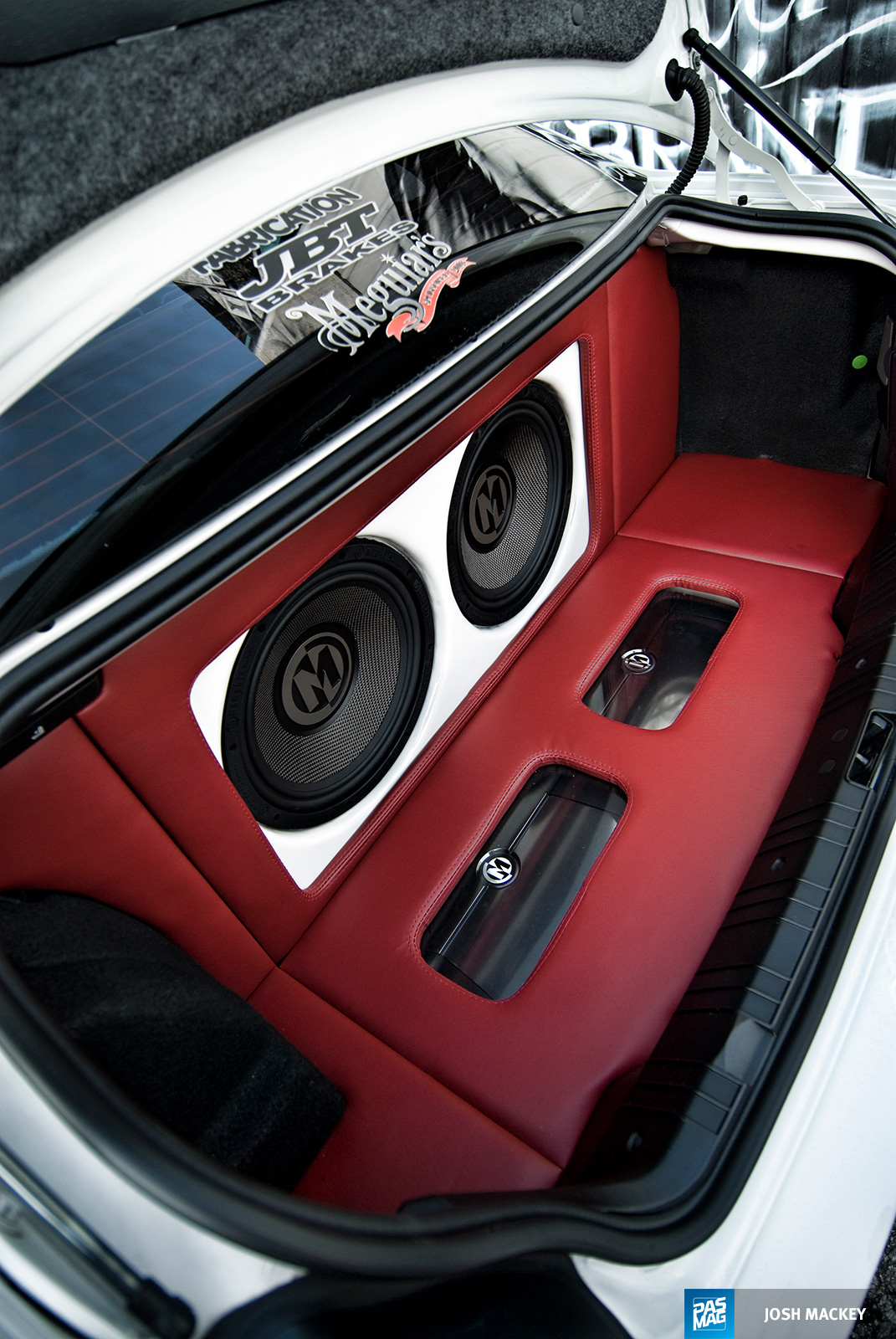 For the final touch, Estudillo made the trip down the coast to visit the boys at AutoFashion in San Diego, CA. Teaming with Memphis Car Audio, the AF crew designed a system that features a pair of Memphis Audio M-Class 12-inch subwoofers and matching M-Class amplifiers. The woofers reside in a custom fiberglass enclosure, which painted Alpine White and wrapped in Imola Red leather to mimic the car's colour scheme. The mids and highs are reproduced by a pair of Memphis Audio component sets located in the cabin.
Unlike the painstaking years it takes to complete med school, Estudillo and Ma finished the M3 project in a mere six months – spending a healthy $40,000 in the process. Thanks go out to all that supported the project, especially M2 Motoring, AutoFashion, Oink Fabrications, VF Engineering, Memphis Car Audio, JBT Brakes and Hankook. Estudillo plans to compete at shows (as his demanding schedule permits), but is currently enjoying driving his blown E46 on the streets on a regular basis. Check him and his fellow Sexy Knights team members at shows in the Southern California area reppin' the shows like they should be.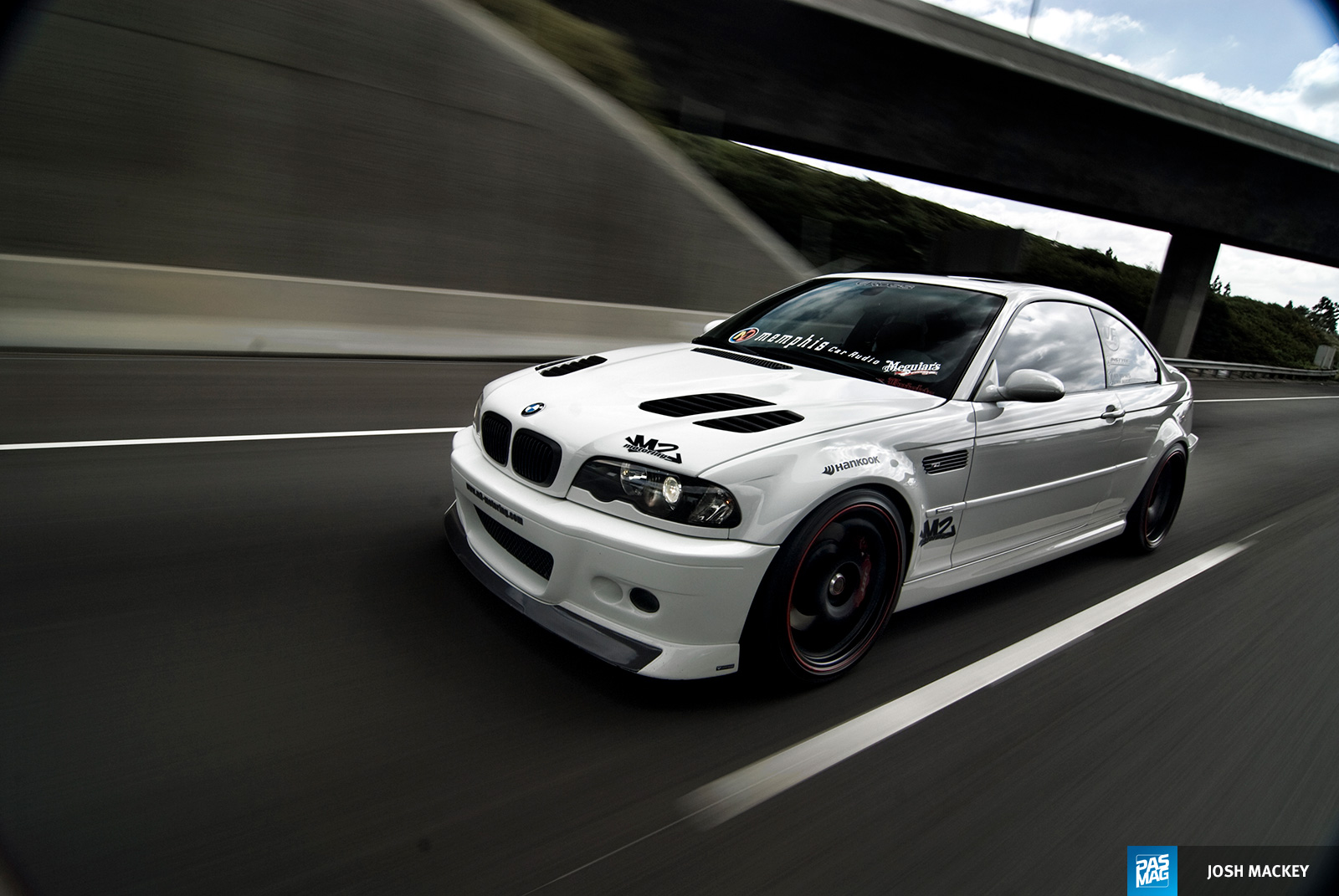 Photography by Josh Mackey
---
ESSENTIALS
Owner: Patrick Estudillo
Location: West Covina, CA
Vehicle: 2006 BMW M3
ENGINE MODIFICATIONS
VF-Engineering Stage 2 Supercharger system
GIAC custom-tuned stage 2 software
Top speed governor removed
Vortech V2 Super Quite SC trim polished supercharger
Replacement OEM serpentine belt
Replacement serpentine belt tensioner
Replacement 8.0-8.5 psi supercharger pulley
Replacement chargecooler manifold
Bosch water pump with VF water reservoir system
VF-CNC machined 6061 aluminum bracket system
OEM BMW idler pulleys
Replacement fuel pressure regulator
Stage 2/3 OEM High flow spray pattern matched fuel injectors
VF-Custom molded polypropylene ducting
VF-Custom tuned supercharger intake
High-flow overrun bypass valve system
Custom crank case ventilation system
Four-ply silicon couplers with OEM screw clamps
VF-CNC oil fittings with high pressure OEM oil lines
MAF upgrade conversion
K&N induction filter with cold air intake
JIC Cross Competition quad-tip SUS exhaust
JIC Cross Competition section 2 SUS mid-pipe
Ki's Racing Titanium section 1 pipes
Custom Rogue aluminum Oil cap with senders
VRS custom black carbon fibre engine cover with silver carbon fibre centre insert
WHEELS, TIRES, BRAKES
Volk Racing CE28N Time Attack Edition wheels and Hankook Ventus S1 Evo Tires
Front: 19 x 8.5-inch, 245/35/R19
Rear: 19 x 10.5-inch, 285/30/R19
SUSPENSION
JIC Cross Competition coil-overs
JIC Cross camber plates
JIC Cross rear shock mounts
JBT front and rear big brake kit
JBT six-piston front calipers
JBT two-piece 355mm slotted rotors front
JBT four-piston rear calipers
JBT two-piece 355mm slotted rotors rear
Stainless Steel brake lines
Hawk brake pads
EXTERIOR
OEM Euro M3 Front bumper
Front reflectors deleted
VRS GTS 3 Front lip
Hamann brake ducts custom molded to front bumper
VRS single-sided CF GTR hood painted AW with CF vents exposed
VRS CSL trunk lid
VRS CSL rear diffuser in full carbon fibre
Depo smoked corner lenses
Black matte front kidney grilles
Black matte side grilles
Custom 3000k Fog light bulbs
INTERIOR
Hamann aluminum shift knob
LeatherZ Imola red w/ black stitch shift boot
LeatherZ Imola red w/black stitch emergency brake boot
Bimmian aluminum e-brake handle
Bimmian aluminum pedal set incl. dead pedal
Defi BF series boost gauge
Defi BF series oil pressure gauge
Defi control module
Full custom bolt-on four-point roll cage with removable harness bar by Oink Fabrications
Roll cage custom powder-coated white
AUDIO / MULTIMEDIA
Custom trunk setup by Autofashion
Memphis Audio Component speaker set
Memphis Audio M-Class 12-inch subwoofers (2)
Memphis Audio M-Class amplifiers (2)
Custom Fiberglass subwoofer enclosure painted alpine white, wrapped in Imola red leather
Custom Plexiglas Amp rack wrapped in Imola red leather
White LED lights to illuminate amp rack and subs
All gray trunk lining dyed black
Trunk wrapped in red leather
PHOTO GALLERY