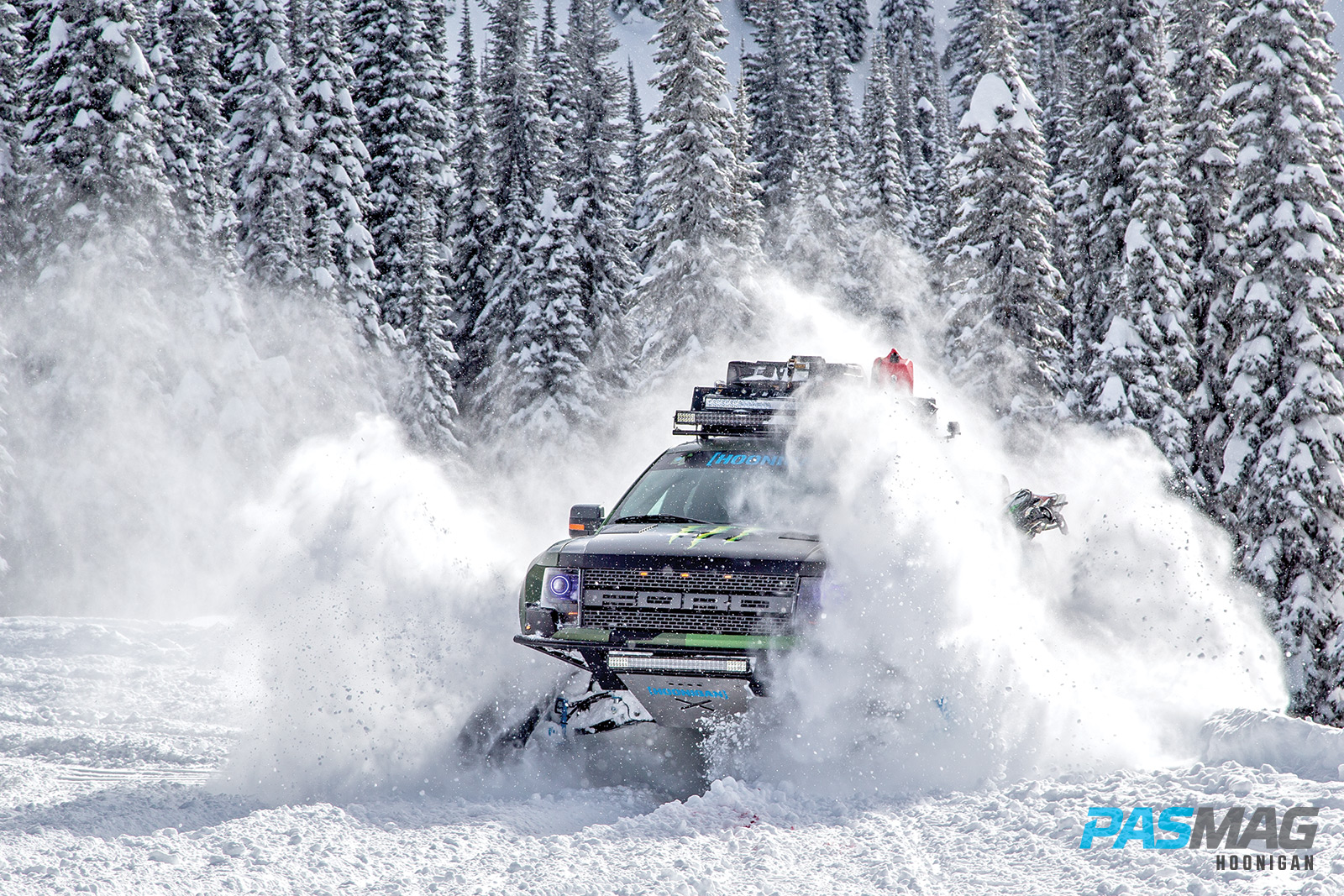 Written by Micky Slinger / Photography by Hoonigan
If there is one person out there who is game for just about anything, Ken Block makes the cut. This adrenaline junkie is well known around the world for doing the sickest skids this side of everywhere. If you don't know who Ken Block is, I'll give you a second to catch up on his viral video portfolio. Time's up.
What most people aren't aware of is that before the drifting and sliding madman he is today, Ken Block totally had a crush on snowboarding. He still does. One of Block's first videos is a shoot for a DC Shoes snowboard bit. To spice things up and make it more than just some guys on boards with edgy punk music, Block thought it would be a rad idea to incorporate his Subaru rally car into the mix. He wasn't wrong. The video of him jumping off of snow ramps and towing his pro-boarder buddies took off, and so began his journey to Internet infamy.
Block's latest online endeavor is totally different from his past ones. He's not drifting the autodrome or skidding around Universal Studios. He's back where he started, playing in the snow. Except now, instead of shredding powder in a Subie, this time he's slaying the mountain in his new RaptorTRAX.
What is a RaptorTRAX? It's not a velociraptor that runs on train tracks; it's actually more awesome than that. Block has taken a Ford SVT Raptor, supercharged it, given it the Hoonigan touch, and slapped on a set of Mattracks, which are like tank treads for the snow that can fit on your ride. How did this all come about?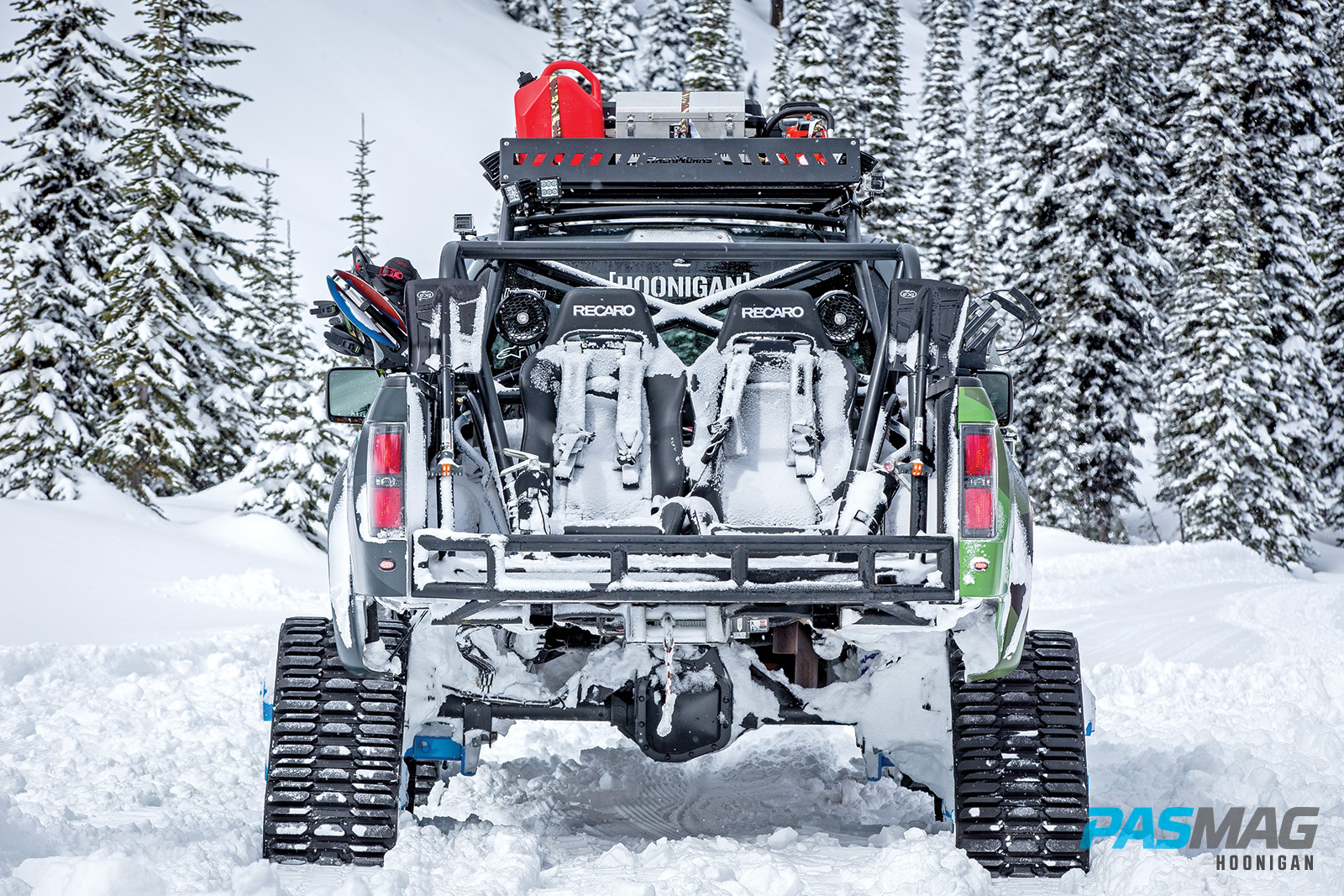 "Well, one of my passions is snowboarding, so I wanted to come up with a dope project that would combine my desires to shred powder with a cool vehicle concept," Block explains. "I'm a huge Raptor fan and I happened to have a set of Mattracks lying around. One thing led to another, and the next thing I know, I've got the RaptorTRAX sitting out in my shop garage!"
Easy as that. Well, sort of. The donor Raptor came courtesy of Ford, as it was a past SEMA project. Block then sat down with his army of awesome wizards at Hoonigan Racing Division and came up with a killer concept. The concept, truck, and Mattracks were sent out to the Raptor pros at Special Vehicle Concepts (SVC) in SoCal, and they put this burly beast together.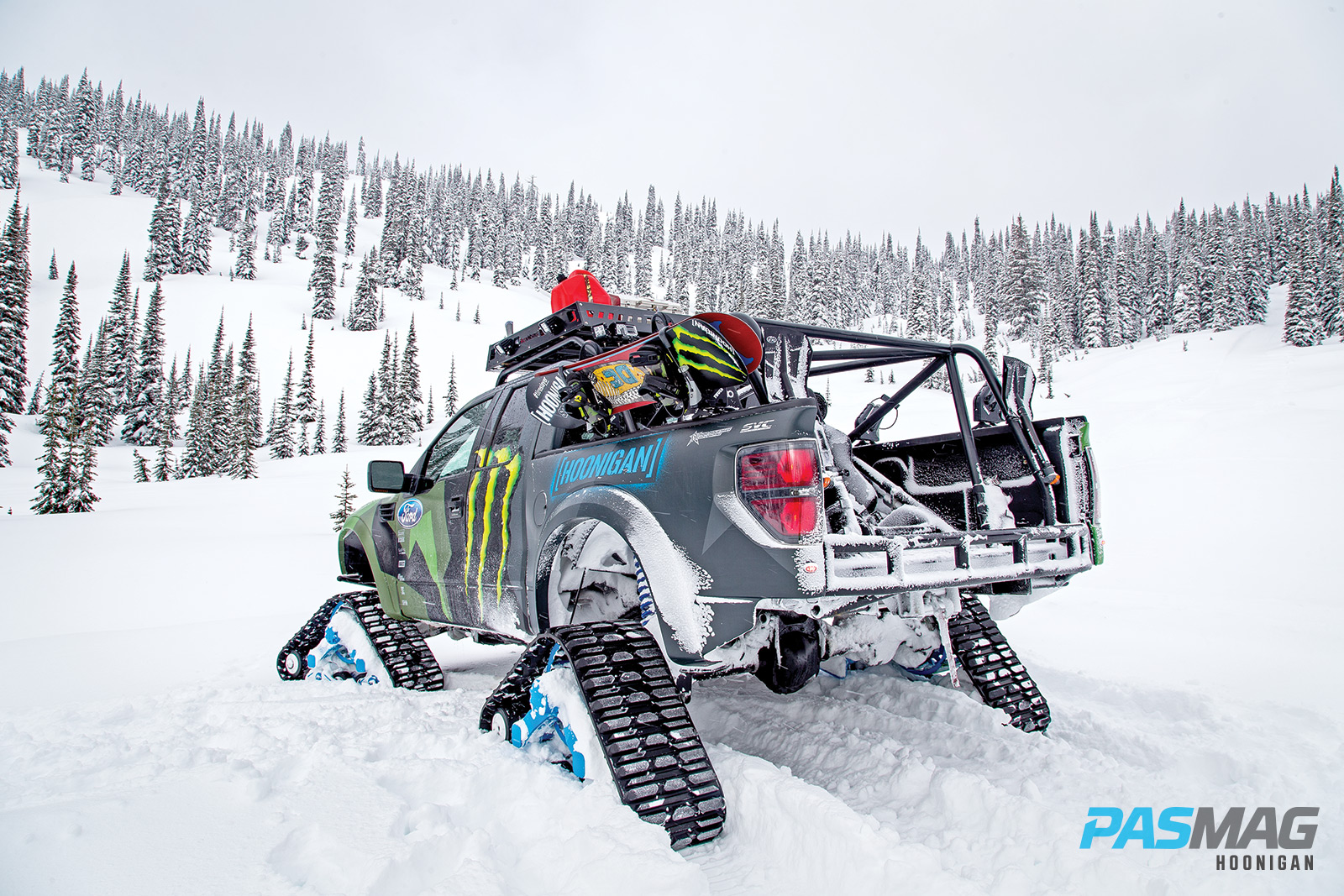 "When I first saw it roll into the workshop I freaked out a little bit," says Block. "To have an idea in your head and then have that turned into a rendering, which then becomes a tangible object that you're sitting behind the wheel of is an incredible feeling. I was really stoked when I finally saw it in person!"
As cool as the RaptorTRAX is, it's also a bit of a chubster. It turns out that adding massive treads to your truck causes some weight issues. Who knew? To make up for the new tank legs, King came through with Pre-runner dampers and custom-valved bump stops designed specifically for the RaptorTRAX. SVC also worked some magic while stitching this thing together, and provided upper and lower control arms and modified long bars. The 6.2-liter V8 in the Raptor isn't anything to sneeze at, but to be on the safe (and awesome) side, a Whipple supercharger was added to bring the RaptorTRAX up to 600 horsepower and haul some mass.
On the inside, it's about comfort and safety. Wouldn't you want to ride in comfort and peace of mind while demolishing fresh powder? A full rollcage from SVC provides some rigid protection and is then wrapped in suede, just like the headliner, because tres-chic rollcages are totally in right now. A set of five-point harnesses drape over some Recaro Sportser bucket seats, which really add to the tranquility for Block.
"My Recaro buckets helped make the cockpit not only comfortable, but way safer as well, since there's always that off chance that the truck goes off the wrong side of a mountain face." Block says it like it's no big deal.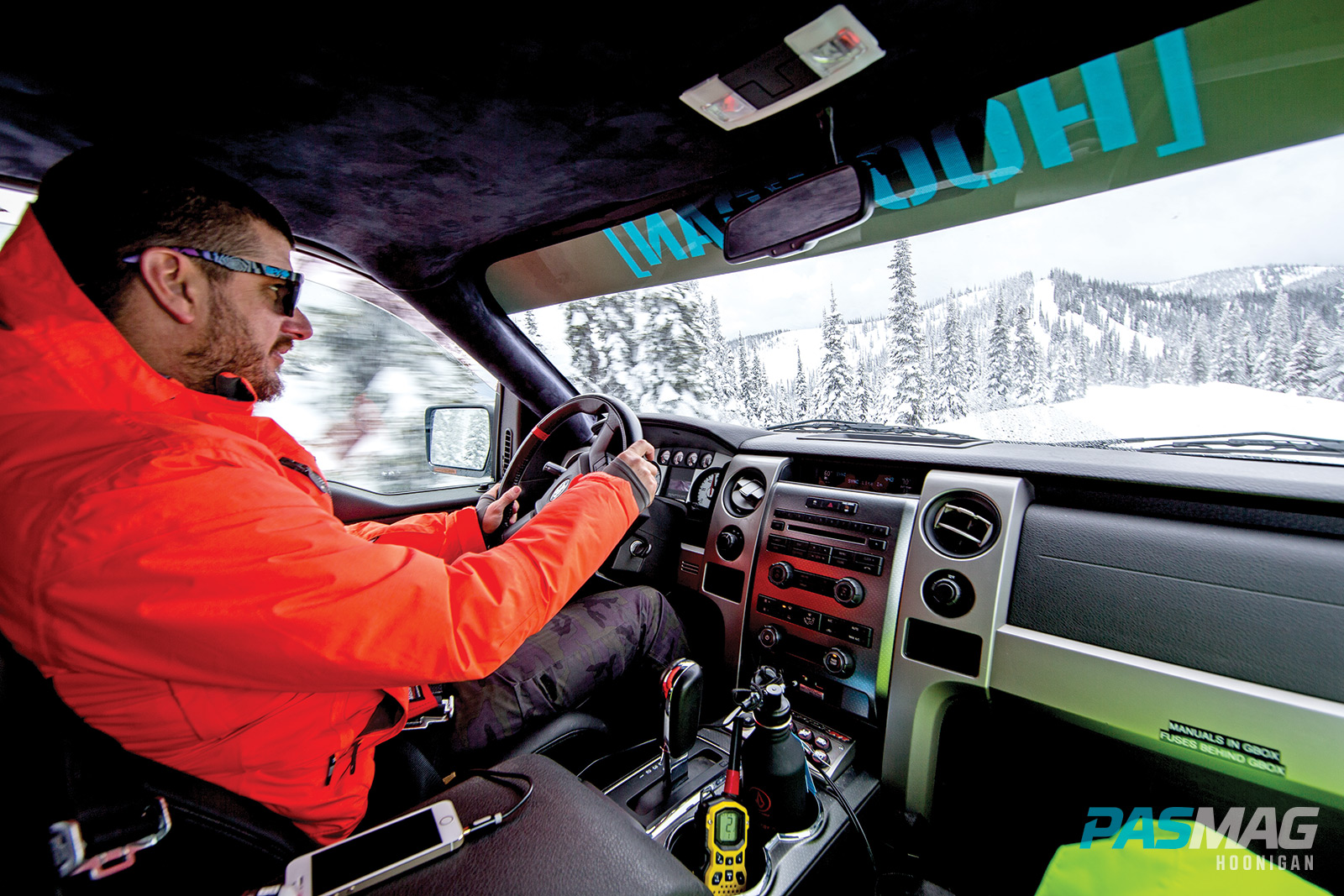 The Mattracks do pull a lot of attention, but the rest of the truck is pretty badass. A custom Hoonigan camo wrap clings to the Raptor body and some Glassworks Unlimited wide front fenders make the truck look a little more menacing, while adding some room for those gigantic treads to do their work. The SVC front bumper and skid plate combination is a winning one and gives the RaptorTRAX even more of a tank vibe. Fifty- and 30-inch light bars from Rigid Industries take up residence on the roof and front bumper, respectively. There are even some rear-facing spotlights for Block's buddies, who can strap into the bed-mounted waterproof Recaros while getting some late night shreddage in. One thing is for sure: this beast gets some use.
"So far, I've run it in Aspen during the X Games and up at Baldface Lodge in Nelson, B.C.," Block says. "Hopefully this coming winter I can get out and run it at home in Park City."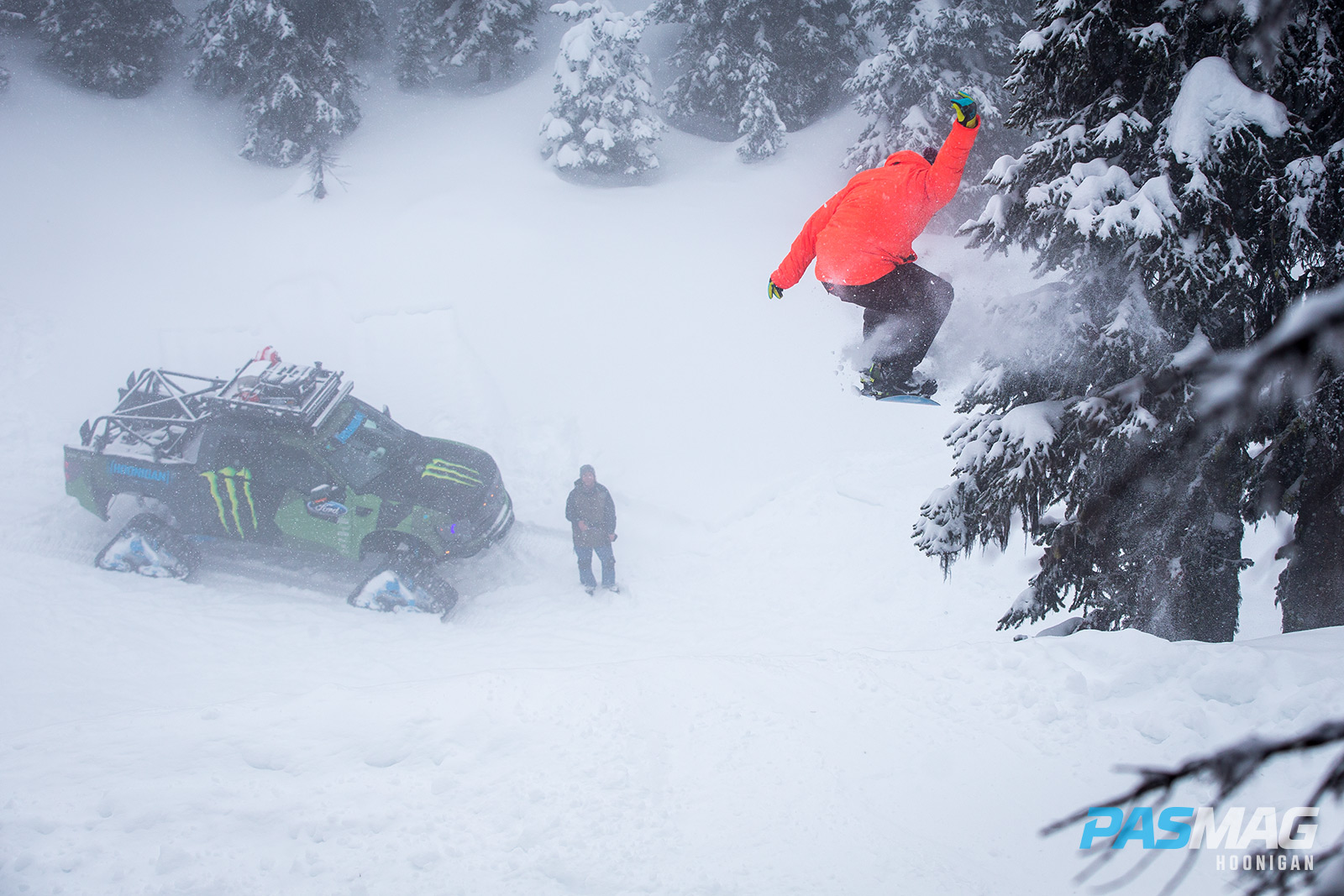 That's why Block calls Park City, Utah home; he can walk out his door and be on the slopes, and it's just a short drive from more than half-a-dozen sweet resorts. Just a PSA to all of you skiers and boarders in Park City – if you hear reports of a beastly figure devastating the slopes, it's not the abominable snowman, it's just your friendly neighborhood Ken Block.
ESSENTIALS // Ford F-150 SVT RaptorTRAX // Built By: Hoonigan Racing Division // Engine: Ford 379 CID 6.2L V8 // Horsepower: 600 hp
ENGINE MODIFICATIONS // Whipple supercharger
DRIVETRAIN // 4.10 ratio gear set
CHASSIS/SUSPENSION // King (Pre-runner dampers, custom-valved bump stops) // SVC (upper control arms, lower control arms, modified long bars, full roll cage)
WHEELS / TIRES / BRAKES // Mattracks M1A1 track system
EXTERIOR // Glassworks Unlimited wide front fenders // SVC (front bumper, skid plate) // Rigid Industries (50-in. roof-mounted light bar, 30-in. bumper-mounted light bar, rear facing spot lights) // Yakima Explorer roof basket // Recaro bed-mounted waterproof seats (2) // Warn winch
INTERIOR // Recaro Sportster leather/suede seats (2) // Suede (headliner, rollcage covering) // 5-point harnesses