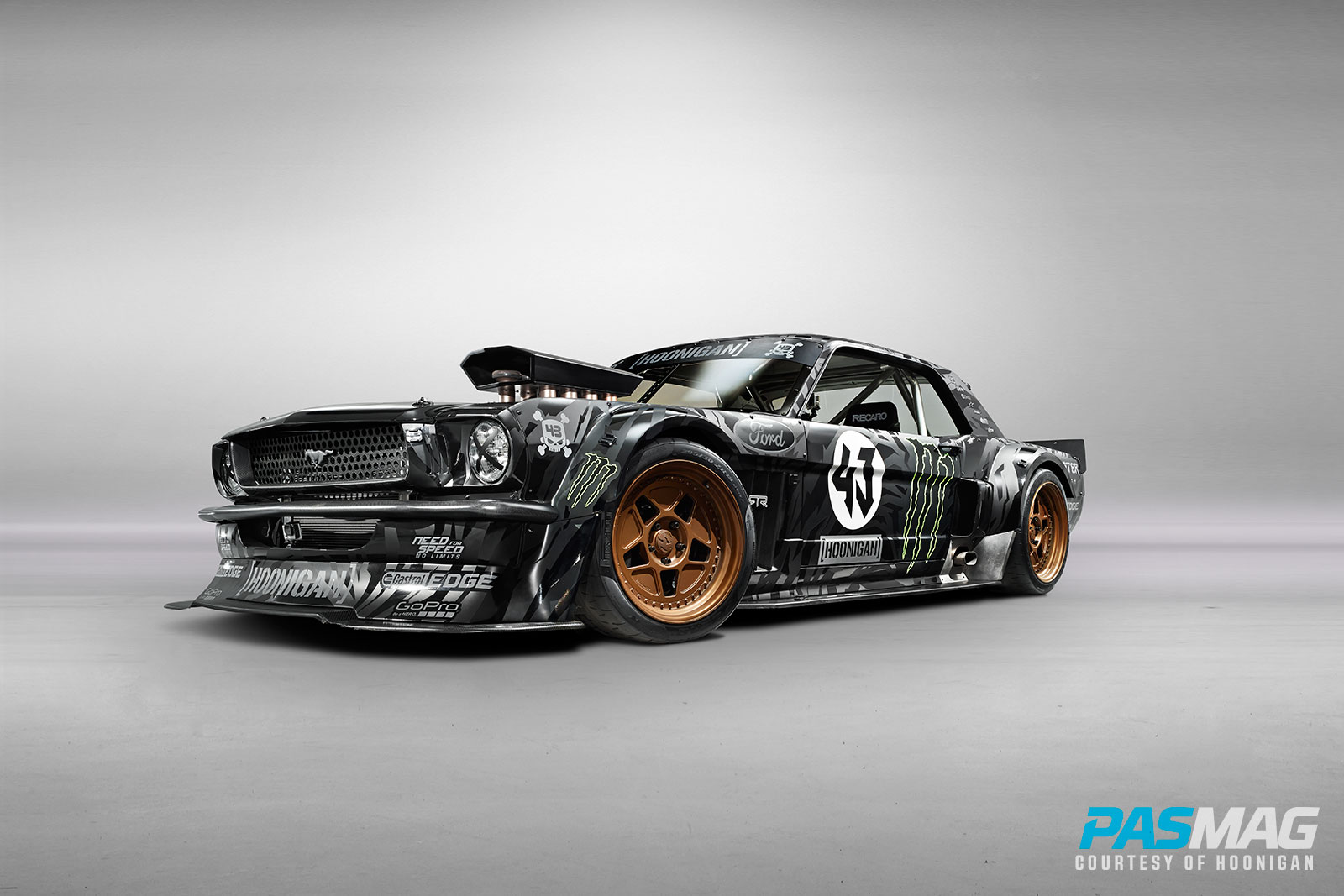 Written by Micky Slinger | Photos by Mike Blabac, Larry Chen, Pierre Wikberg, Ron Zaras
November 17, 2014 was a fateful day for everyone on this planet. Everything just stopped. People arguing on car forums shut up. Gossipers dropped mags flaunting Kim Kardashian's greasy butt. People everywhere clammed up, sat down, and watched what seemed like a maniacal Steve McQueen in a cyborg Mustang take on the streets of L.A. and make them his own. Gymkhana Seven was here. While Kardashian set out to break the Internet with her ass, Ken Block brought it all together with engineering dreams, a mythical creature and gobs of tire smoke.
| | |
| --- | --- |
| | |
As soon as silence ensued, it dissipated quickly afterward. Instead of disagreeing on the right use of memes though, there were burning questions that needed to be answered. "How is that Mustang 4WD?" "How much of it is actually '65 Mustang?" "Why is the engine moved so far back?" "When is Gymkhana Eight going to be released?" It turns out that you opened the right book because we have all those questions – and more – answered right here. Except for that last one. Really, dude? Too soon.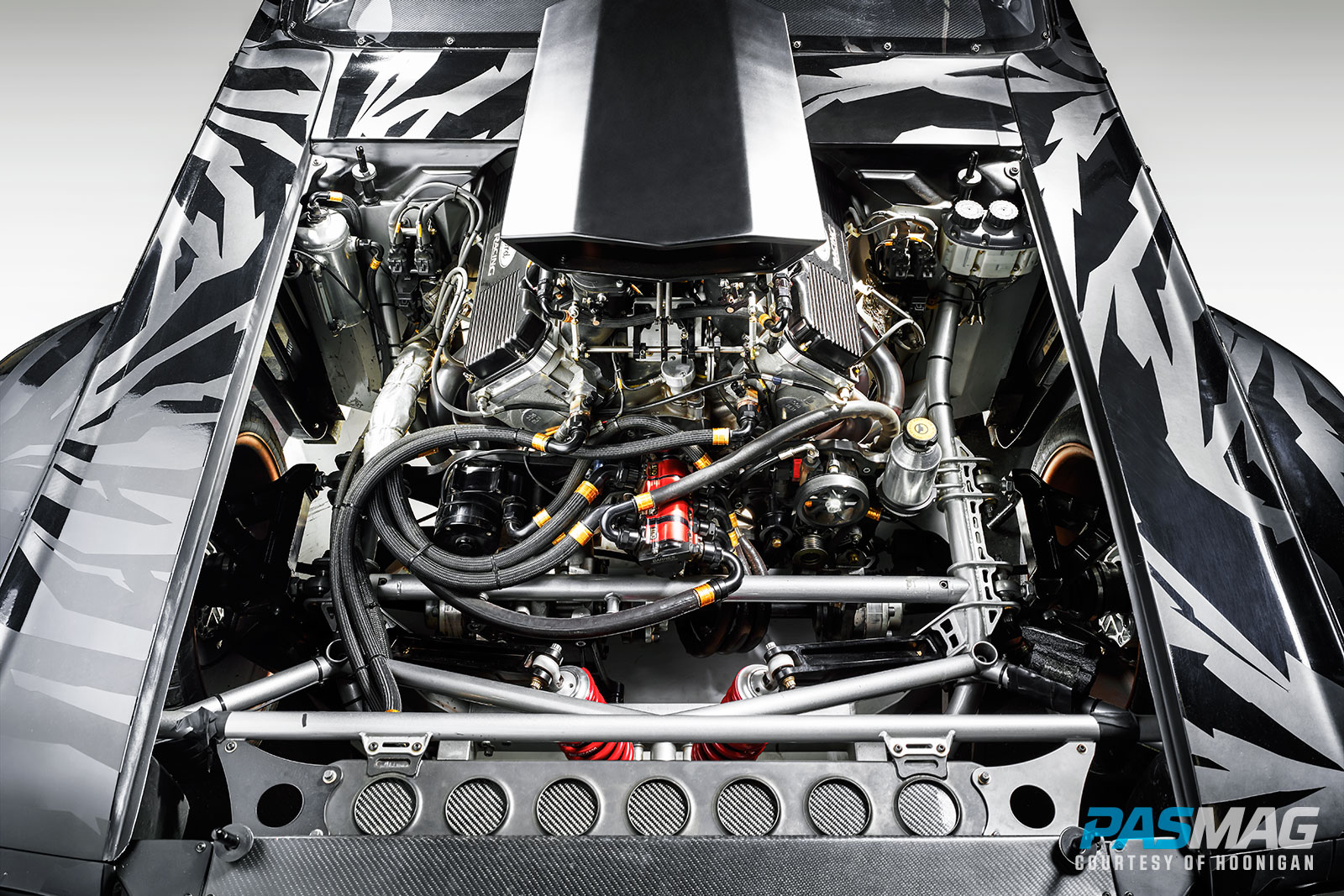 Let's start the dissection, shall we? Once you've sneaked a peek under the hood, you should start hyperventilating by way of pure excitement because of just how beautiful it is under there. Meaty wires and manifold pipes snake themselves up to the ITB'd Roush Yates V8, which pushes 845 horses. This heart does not flutter, it shakes like a tremor and bellows like a pissed off Unicorn. What? You don't know. They could totally sound like that.
Once the effect of that ginormous engine has worn off, you'll then notice that it's pretty much pushed up against the glass. That V8 is at its limits within that bay and cannot be moved farther back – at all. It's just not a thing. Derek Dauncey, the Team Director of Hoonigan Racing Division let me pick his brain about the Hoonicorn's majesty and told us why having the engine pressed against Block's knees was so necessary.
"We benefitted from a better weight balance, which is really important for a car that's 16-feet long, so it can turn quickly at low speeds," says Dauncey. "We did not want a big fight with understeering, and the front-to-rear balance worked out really well there."
If you have a keen eye, you may also see that the differential and driveshafts are in front of the engine. While this is an impressive feat, it wasn't just to garner dropped jaws; there was literally nowhere else it could go.
"With the SADEV four-wheel drive transmission, it was difficult to get the large front differential in a location with enough clearance to clear the engine pulleys, belts and oil and water pipes, and still allow a workable angle for the driveshafts to not neck out on bumps or full drop," Dauncey says.
The SADEV transmission is a pretty big deal. The French company supplies drivetrains and transmissions to teams in World Rallycross and Rally Raid competition (Ken Block included), and not much else can compare, so it's a no-brainer that they have been Hoonigan Racing's technical partner since Gymkhana Four (The Hollywood Megamercial).
In a mid-season upgrade on Ken's Fiesta this year, he switched to SADEV's new SC-90-24/170 four-wheel drive transaxle unit. The Hoonigans were so impressed by the stellar unit that they opted for the same one to drive their four-legged Mustang. After SADEV likely nodded like a bunch of bobble heads, the entire unit was laid out for the Hoonicorn, and modified to handle the V8 power.
"We changed the specification of the gears due to the instant torque from the normally-aspirated engine," Dauncey says. "A two-piece bell housing was produced to mate the transmission to the engine. It was important to be able to change the clutch assembly quickly overnight, as it is under extreme loads. The clutch was changed twice during filming."
The front and rear diffs are SADEV SP-03 units (the same ones used on Ken's Fiesta), which are driven by made-to-measure propshafts for the monstrous Mustang.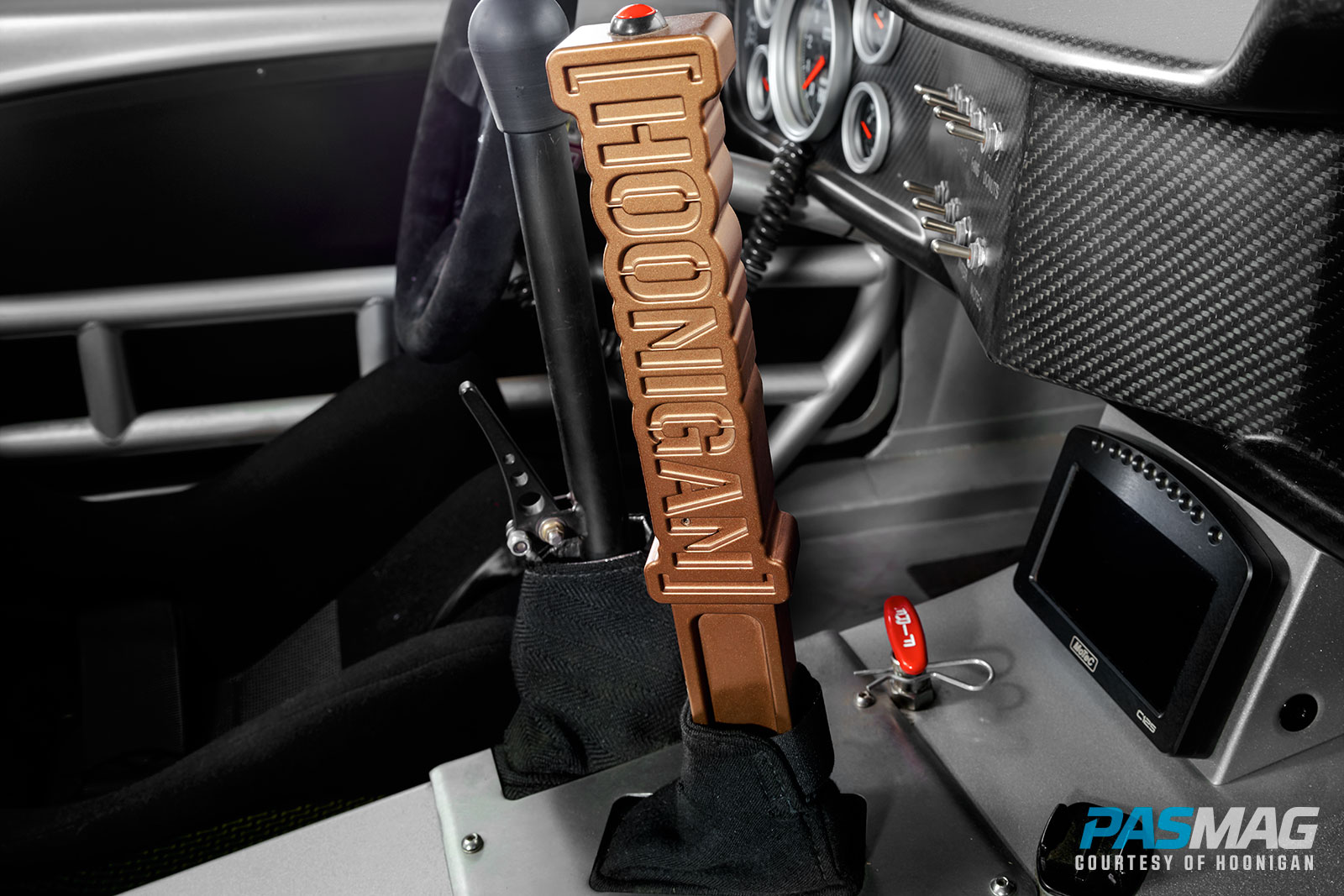 While all that SADEV magic is fine and dandy, the coolest thing the Frenchmen engineered has to be the drift stick. Yes, the handbrake is awesome in its bold "HOONIGAN" font and matte bronze goodness and all, but what happens when it's pulled is actually amazing.
"We need to be able to lock the rear wheels to be able to perform tight hairpin turns," explains Dauncey. "There is a disconnect unit, which requires a set hydraulic pressure to release the propshafts and driveline. When the system operates, the front wheels turn freely and the rear wheels are locked. When the handbrake is released, the four-wheel drive is reintroduced right away."
Those of you who are race fans will obviously be salivating over the in-board suspension. The fact that it's done up in double wishbones all around might make you a little too excited. It's a combined effort that makes the ride and handling as unique as the Hoonicorn itself.
"We have always run a slightly stiffer spring on the rear with the Fiesta," says Dauncey. "The Hoonicorn follows a similar path, but still requires an amount of weight transfer forward under braking to make sure it has positive turn-in, and then allow for oversteer with the use of the throttle."
"The wishbones are fully adjustable on all three points via rose joints," Dauncey continues. "We wanted everything to be bespoke on the car and manufacturing our own wishbone designs allowed us to make sure we had full control of the uprights and their movement, as it is critical to control the geometry and angle of the driveshafts when running 845 horsepower."
Even the tires on the Hoonicorn are custom built to spec. Block and crew tested out Pirelli's new Trofeo R tires, which actually provided too much grip for hooning. Pirelli took this info and made a harder set of tires with stiffer sidewalls. The compound is even specially formulated to produce more tire smoke. To put a cherry on top, the custom Hoonicorn Trofeos are stamped with Ken's name and a specification code, both of which are likely burnt off 0.2 seconds after they're mounted.
After all of these engineering and fabrication marvels, you're probably still wondering, "Why a '65 Mustang?" Simple: Ken Block thinks they're awesome and wanted to make one look like a Mad Max car and drift it around the streets of L.A. It was always the plan.
"When we start a project, Ken always seems to know what the end product will look like, hence why he wanted the Mustang as the base," says Dauncey. "The low roof and wide stance offered a great base to the build and allowed us to make use of the car's wide track to fit the driveline in, and still allow the 10.5-inch wide Fifteen52 wheels."
Truth be told, the unsuspecting '65 Mustang was actually an Ebay find, which was fondly nicknamed "The Unicorn" right before it was torn apart and rebuilt into a killing machine. The listing probably said something along the lines of, "Looking for a home where it will be cared for and nurtured." Oops.
After the body was dropped onto the custom box-tube chassis and each panel was hand-beaten to take the beastly shape, "Just how much of the original is left?" you may be asking.
"The roof and roof pillars," Dauncey says bluntly. "Not much else, really. It's a completely new build."
Although this build carried the parody of Kardashian's #BreakTheInternet hashtag, the #HandbrakeTheInternet 'Stang didn't really break anything, aside from some tire belts and a few Mustang purist's hearts. Mr. Block just got everyone on the interwebs to shut up and listen, and that's pretty close to world peace. Who knew all it would take was a chain-smoking mythical Hoonicorn?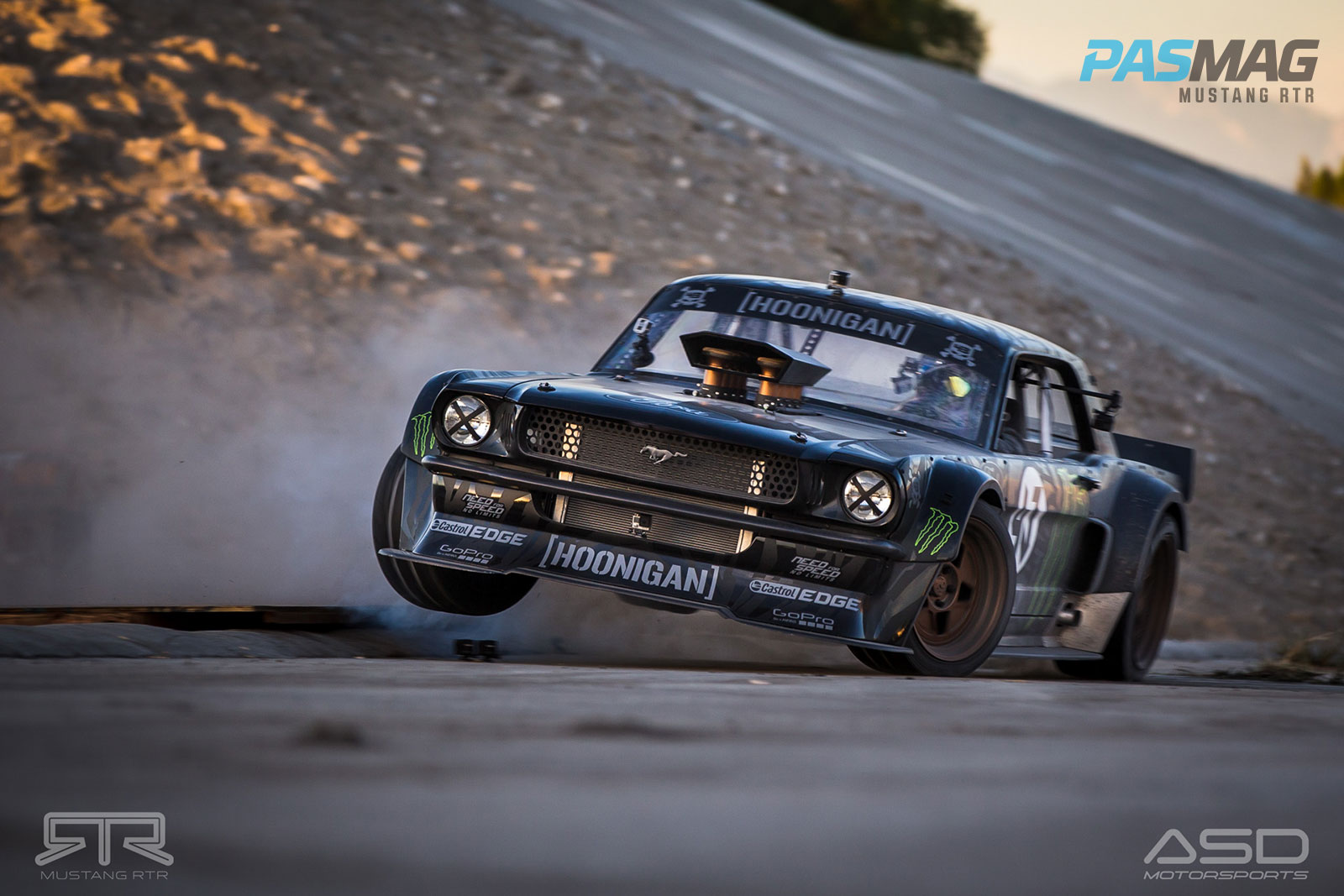 ESSENTIALS // Hoonicorn RTR // Driver: Ken Block // Built By: ASD Motorsports, Mustang RTR, Hoonigan Racing // Engine: Ford / Roush Yates 6.7L V8 // Horsepower: 845 HP // Torque: 720 lb-ft
ENGINE MODIFICATIONS // Individual throttle bodies // Motec (M130 engine management, sensors, PDM30 distribution module) // RaceGrade (wiring, sensors)
EXHAUST SYSTEM // ASD Motorsports custom dual side-exit exhaust system
DRIVETRAIN // SADEV (SC90-24/170 6-speed 4WD transmission w/ custom gearing, hydraulic e-brake system, SP-03 differentials (f/r)) // Quarter Master 7.25-in. triple-plate clutch
SUSPENSION // ASD Motorsports custom (in-board cantilever JRi dampers, double wishbones, suspension mounts) // Eibach springs
WHEELS / TIRES / BRAKES // Fifteen52 R40 wheels – 18x10.5 (f/r) // Pirelli Trofeo R tires, custom Ken Block compound – 295/30 R18 (f/r) // ASD Motorsports brakes – custom rotor hats, thin brake calipers
EXTERIOR // 1965 Ford Mustang widebody designed by Ken Block, RTR & Hoonigan Racing // ASD Motorsports custom box tube chassis // RTR carbon fiber body panels
INTERIOR // ASD Motorsports custom (roll-cage, door bars) // Recaro racing seats // Hoonigan custom handbrake handle // Auto Meter/Hoonigan custom gauges // Sparco 5-point harnesses // Motec C125 color display logger // Tilton 600-Series floor-mount pedals