Photos by Auktane
---
Fit like an Italian Suit.
It takes a special breed of an enthusiast to take an AMG Mercedes to the fringes of import-tuner styling. Luckily for us, Roland Gotingco is just that type.
Gotingco's background in automotive tweaking and tuning started at a young age, and only became more well-rounded as years went by. "I started off mini-trucking," recalls Gotingco, thinking back to his first vehicle. "When I turned 16, my parents bought me a 1986 Toyota long bed truck. I started modding that right away. It was actually a wilder build than this car is now." We would have loved to see that truck then, as the Mercedes CLK55 AMG he's built is as wild as they come.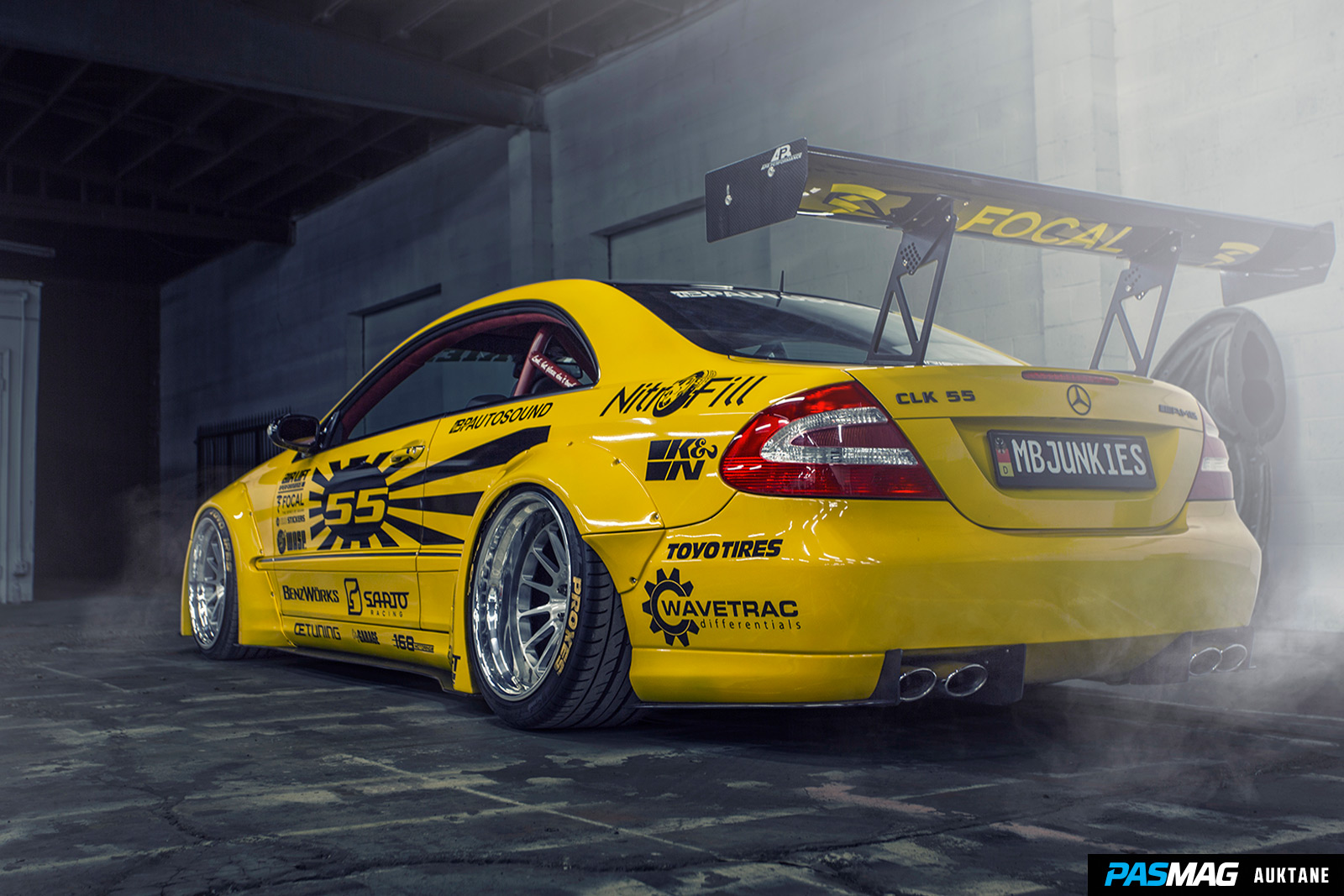 Gotingco's affinity for wild off-the-wall builds runs deep, beginning long before he could drive, and even before his first mini-truck. "The older brother of one of my best friends at the time was a car guy. He and his best friend were into mini-trucks and VWs. They had these really wild builds, which always got published in a bunch of magazines. I loved their cars so much," he reminisces. "I'm pretty sure this is what got me hooked. I remember asking my dad to drive me to car shows like VW jamboree and truck jamboree. Seeing all these modified cars always had me wanting to do it too."
The road to his Mercedes build started with something else in mind, but a chance discovery would set Gotingco's sights on the CLK55 AMG for good. "I really wanted to start working on something new and I was looking around for a CLS55 AMG. This was around the time that Rocket Bunny kits started to get popular," says Gotingco. "Then Sarto Racing came out with this kit for the CLK. I loved the look of it so much, I changed my mind completely and started looking for a CLK AMG. It took me about four months to find the right one."
The kit mentioned above is the result of a collaborative effort between Kei Miura of Rocket Bunny and Masaaki Yoshimori of Sarto Racing, a company that started in 2013 with the goal of building specially tailored ("Sarto" means tailor in Italian) automotive projects. Their most notable project, which garnered them a fair bit of attention, was the creation of their widebody kit for the E36 BMW 3-series, which was also made in tandem (or Pandem, if you will) with Miura. At the 2014 Tokyo Auto Salon, the CLK55 kit was debuted, and that's when Gotingco was hooked.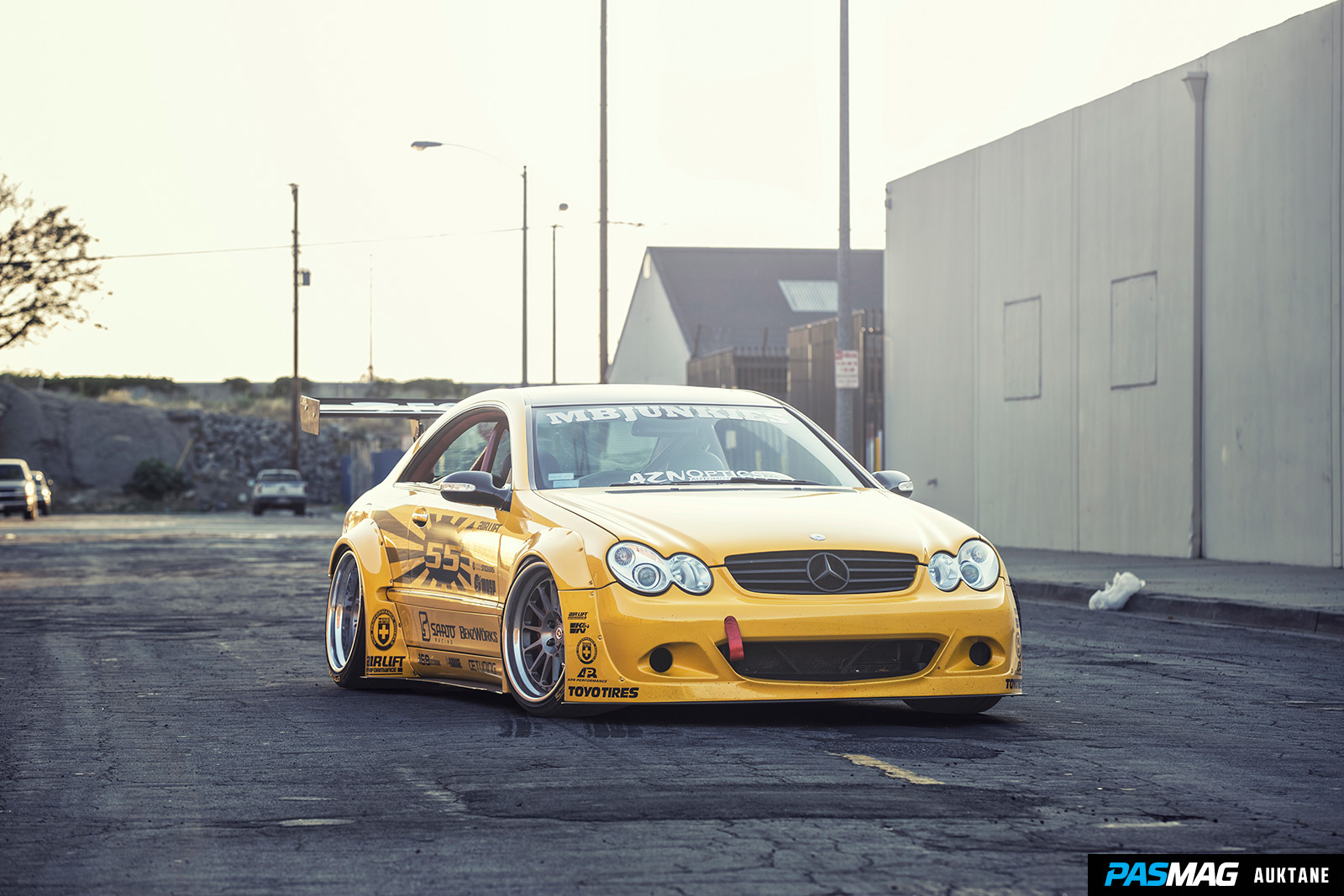 Falling in love with a kit's looks is easy enough, but being one of the first customers of a brand new kit poses its fair share of challenges when putting everything together. Gotingco explains some of his initial hurdles to us in detail. "The main challenge was the suspension. When I was building this, it was practically brand new here in the U.S. - I had nobody to turn to for answers. The way the body kit is designed, the fender arches at the bottom curve underneath the wheel. In other words, if the car is not low enough, the body kit will rub on the bottom side of the tire." After doing some experimenting, Gotingco learned that the car's ride height needed a significant drop, so he partnered with Megan Racing to have a custom suspension setup fabricated. Problem solved, right? Almost.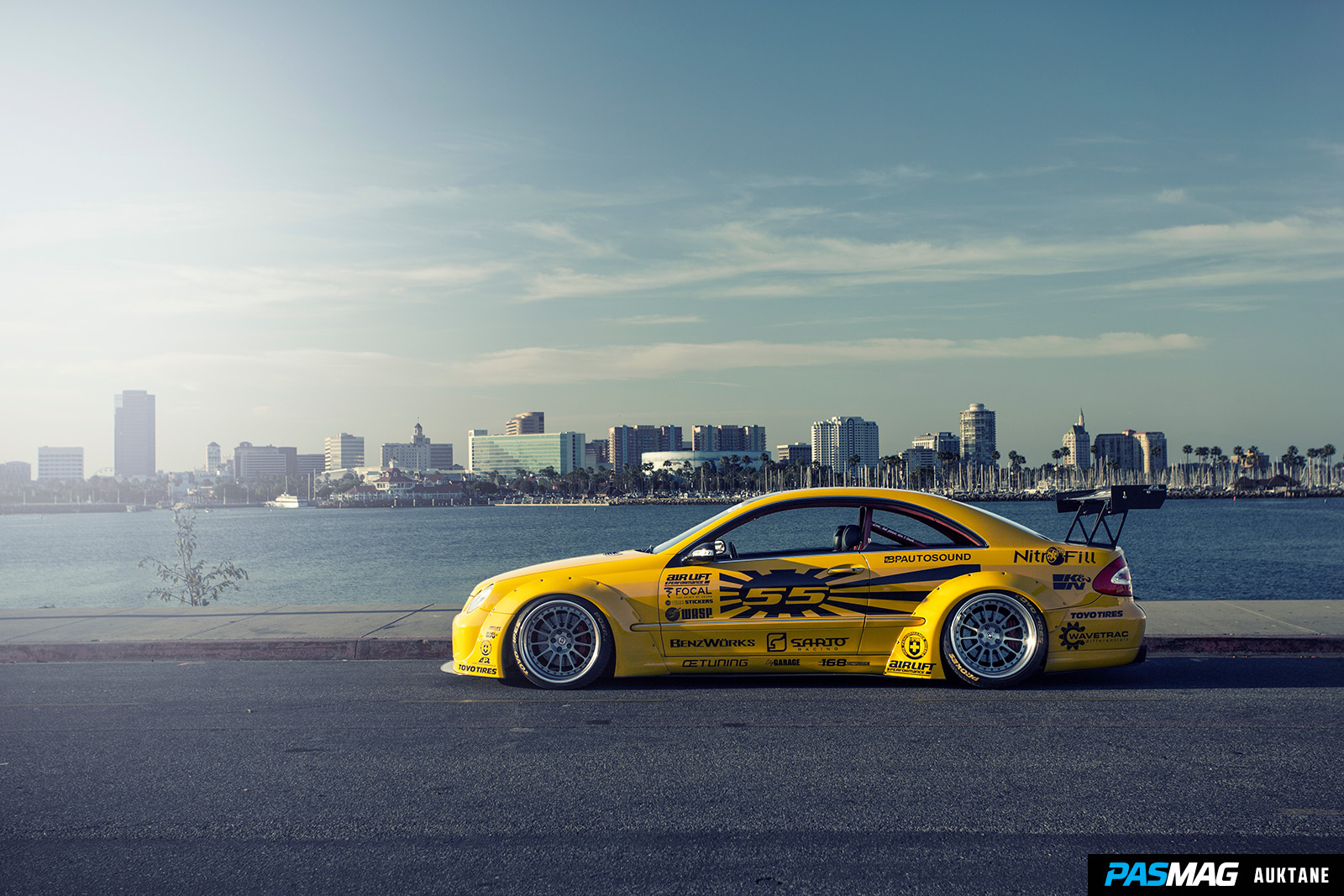 "[The Megan Racing setup] lowered the car enough to where the height was perfect and the wheel sat exactly where it should within the wheel well. The only problem was the ride height was way too low. It would have been fine if it was a dedicated track car, but it wasn't. I couldn't get in and out of my driveway," he laughs. "The only solution was an air setup. I was lucky enough to partner with Airlift Performance and use their Autopilot V2 Digital Air Management system. But since nobody made a bolt-on front air strut, we had to fabricate something using the Megan strut and universal airbag to fit." A few tweaks, some experimentation and two valuable partnerships later, and the CLK's suspension needs had been figured out, leaving the car at an aggressive yet functional ride height.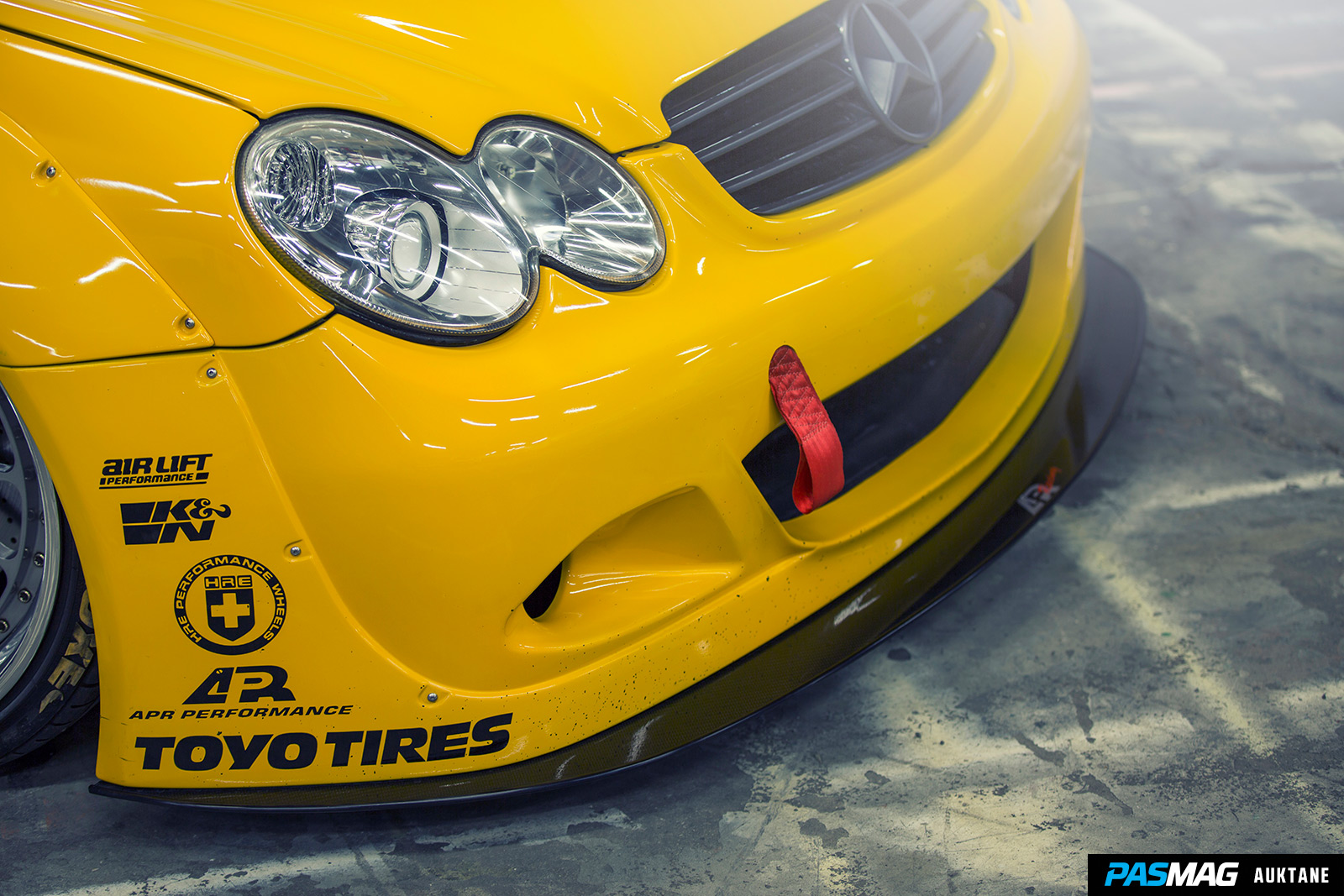 While the body kit is certainly the main attraction of this Mercedes (that, and its bright yellow paint, of course), Gotingco has been more enthralled with his integrated Focal sound system as of late. "The enclosure build itself is so clean and meshes well with the rear seat delete. It also sounds amazing all the time. I can roll down my windows on the freeway, turn the volume up and it's still crystal clear," he says, emphasizing the fact that his build is about more than just show-status. "I'm from SoCal so I like to just roll down the windows, cruise and drive, whether it's Pacific Coast Highway or the canyons. When doing this, you gotta have your music. I built the system not just for show. I think Focal are some of the top components out there - I really love how it sounds."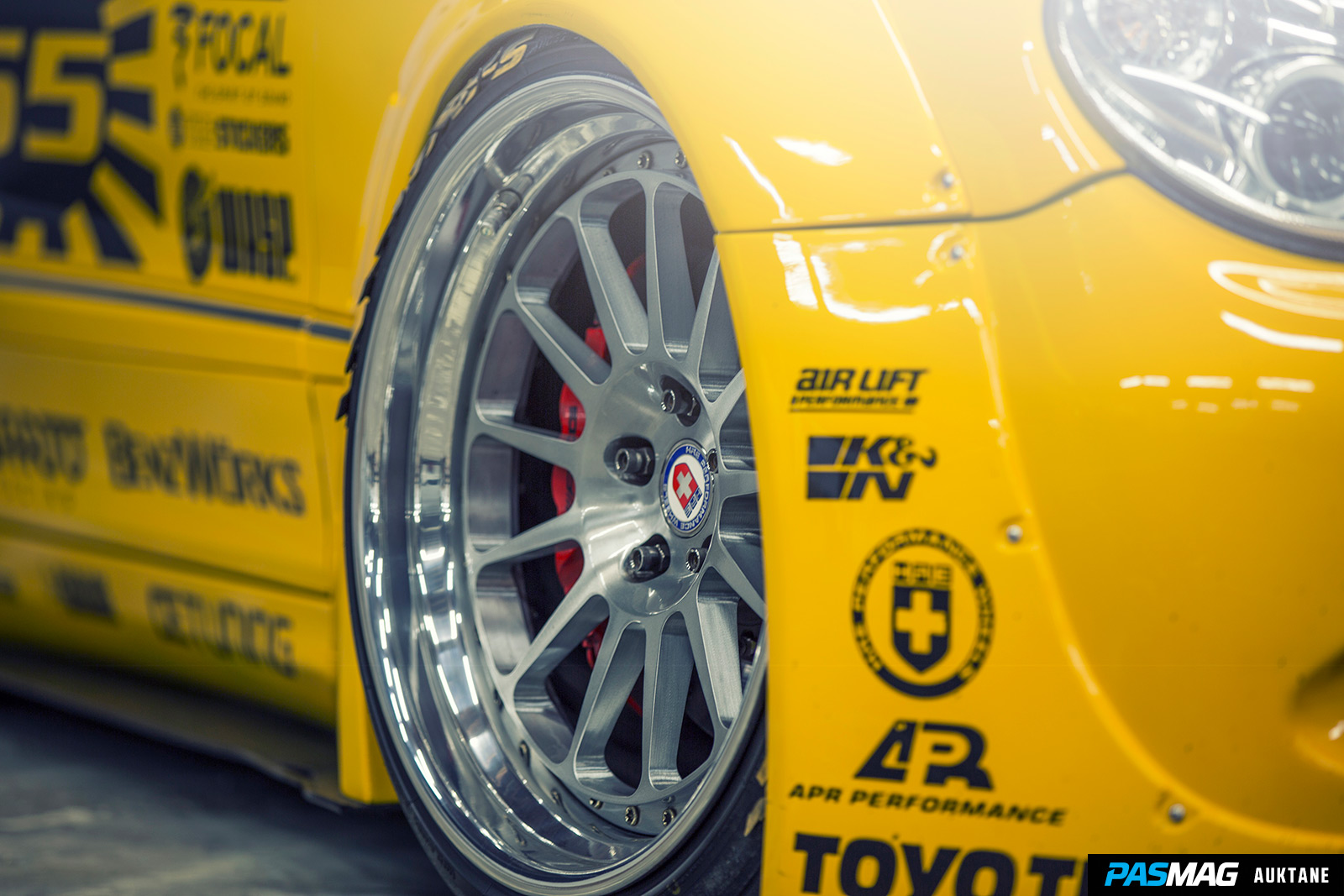 At ground level, the Merc is outfitted with a 19-inch set of HRE's Performance Classic Series 303 wheels, an excellent multi-spoke fit for the body kit, which fills out the bold fender flares nicely and adds a luxury-performance look to match. The exterior look is finished off with the help of APR Performance's splitters on all sides, as well as a GT wing to solidify that aggressive style. Judging by the parts used, it's safe to assume that Gotingco sees the value in sticking with high quality parts for a high quality build. He confirms that in writing. "Like most people, I try to use proven, top of the line brands. I think every product I have gone with shows that," he explains. "I wanted this build to be one of the top quality builds. When looking at the brands I used, I think I accomplished this in not only form, but function as well. "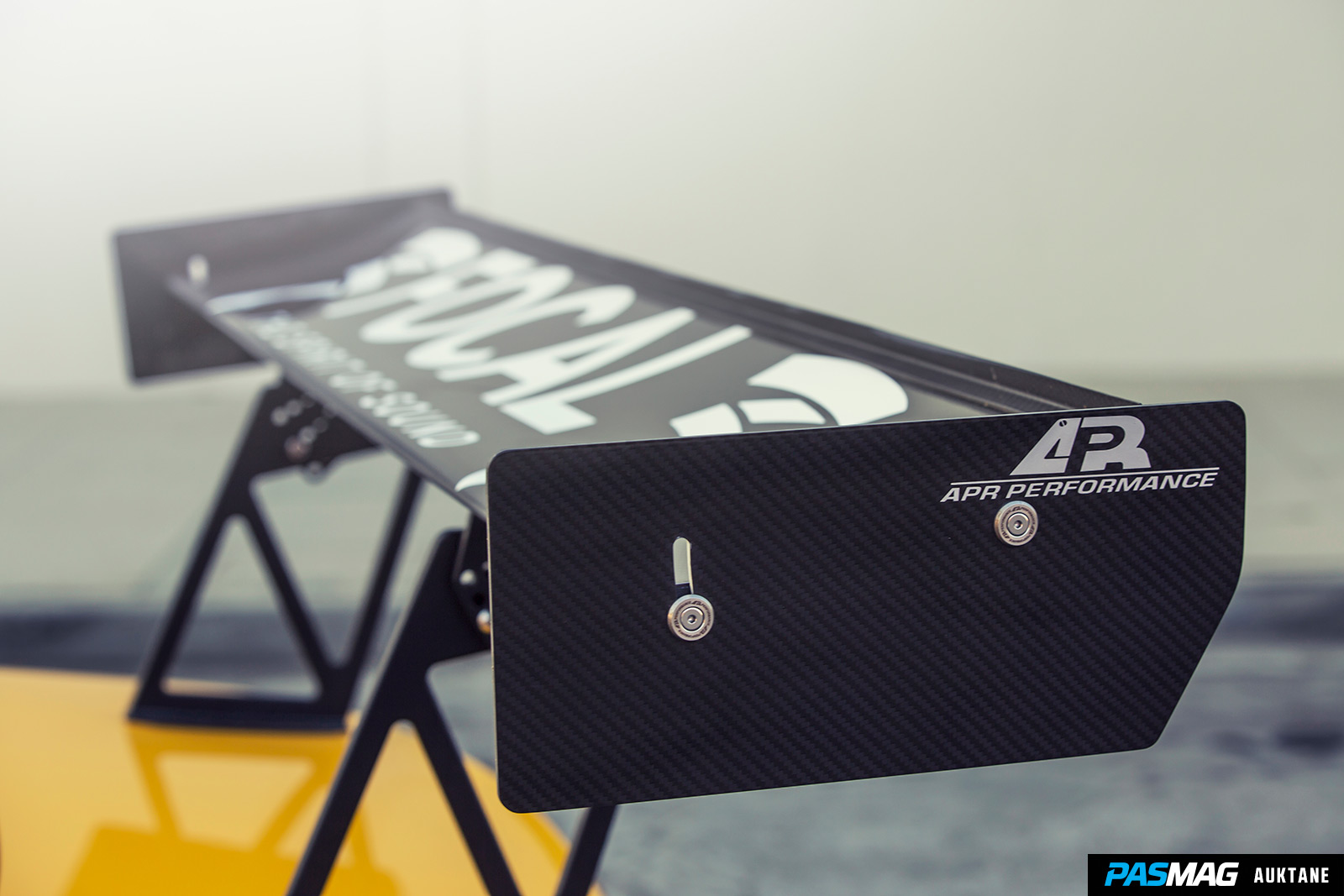 From seeing Yoshimori's original kit, to adding his own personalized touches and eclectic styling, Gotingco has taken his CLK55 AMG to an entirely different level of style. He sheds some light on his overarching influences for us. "When I first saw Masaaki's CLK from Sarto Racing, I really wanted to do something like that. I thought it was an amazing build and just stunning to see. I really wanted to emulate the wow factor his car immediately showed. I also wanted to throw in my personal tastes. I really like the look of DTM cars, which I hope comes through in this car."
It's always refreshing to see someone build a car for themselves, as opposed to building for internet fame or show points, and doing it to such a degree as this. Style innovations like combining JDM and DTM styling cues on a newer model Mercedes are exactly the kinds of outside-thebox blasphemous ideas that keep the inspiration alive for many car enthusiasts. "It's not 100 percent track, not 100 percent show, just 100 percent fun," quips Gotingco, striking a chord with daily driven project car owners everywhere. "I guess it's like the saying goes: Jack of all trades, but master of none." Gotingco laughs. I can't help but join him in laughter. What a wild ride. #PASMAG