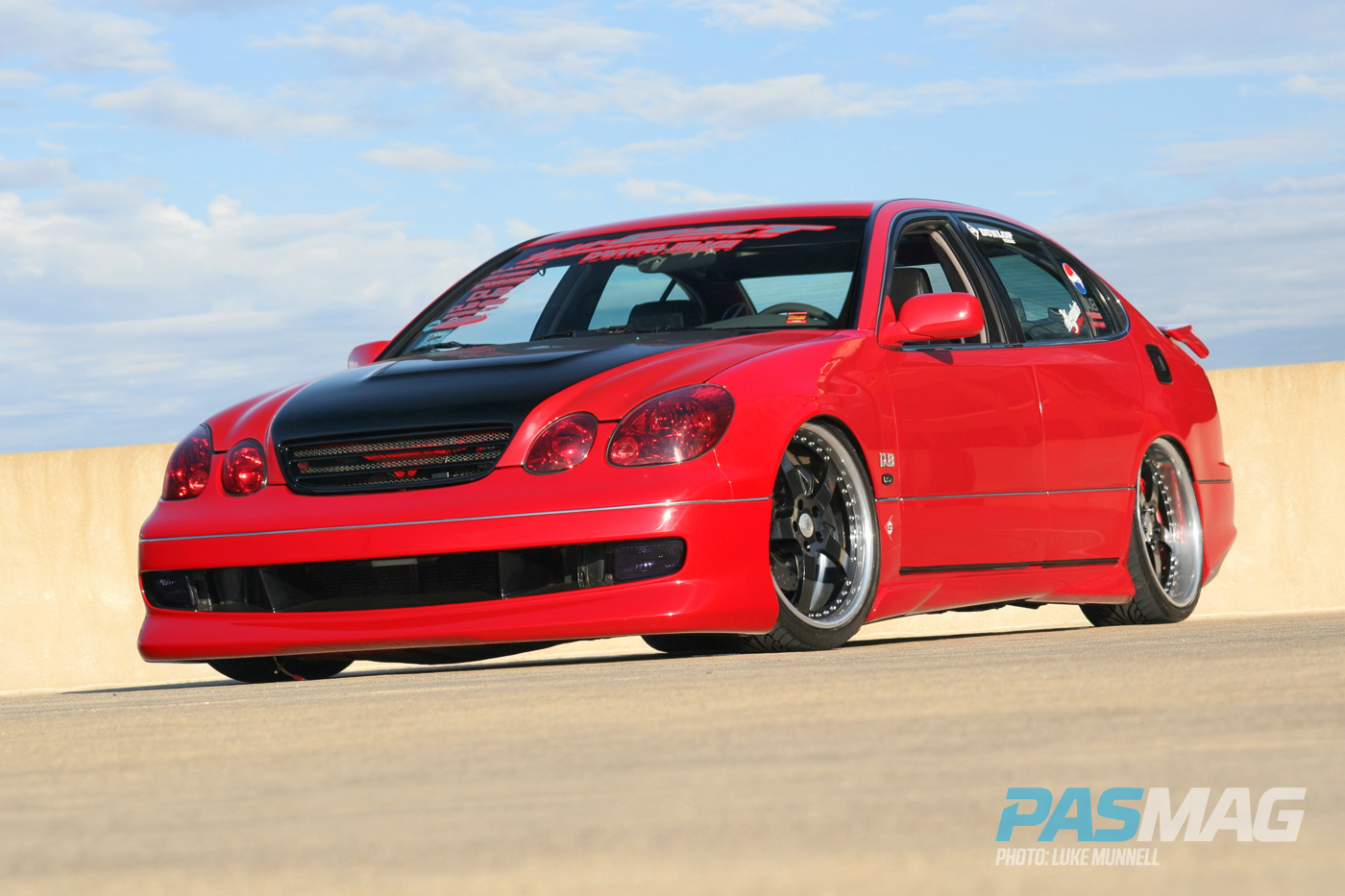 Text by Michael Semira. Photos by Luke Munnell
As a personal fan of Lexus' GS-series, I'm always on the look-out for one that blows me away. Especially with the sudden rise of Japanese VIP-style tuning, immaculate specimens of Toyota's beefy four-door are popping up all over North America. Several companies have embraced the scene in a big way, building entire campaigns around the big-body sedans that are icons of the exploding and exclusive VIP tuner lifestyle.
Paul Tolson is the proud owner of this impressive Lexus GS400, and confessed to knowing little of what true tuner culture was all about until this project-build. Unlike most enthusiasts in the scene, the Streamwood, IL native had never heard of a Hot Import Nights event or even known the quasi-significance that Paul Walker and Vin Diesel have had on our enthusiast community. Actually, the 40-year old Tolson had absolutely no affinity for customized cars until he walked into his local Lexus dealership and first laid eyes on an L-Tuned GS400. In a loose sense, Tolson was a "40 Year Old Virgin" to the tuner scene and quickly became very experienced in the art of complete car customization.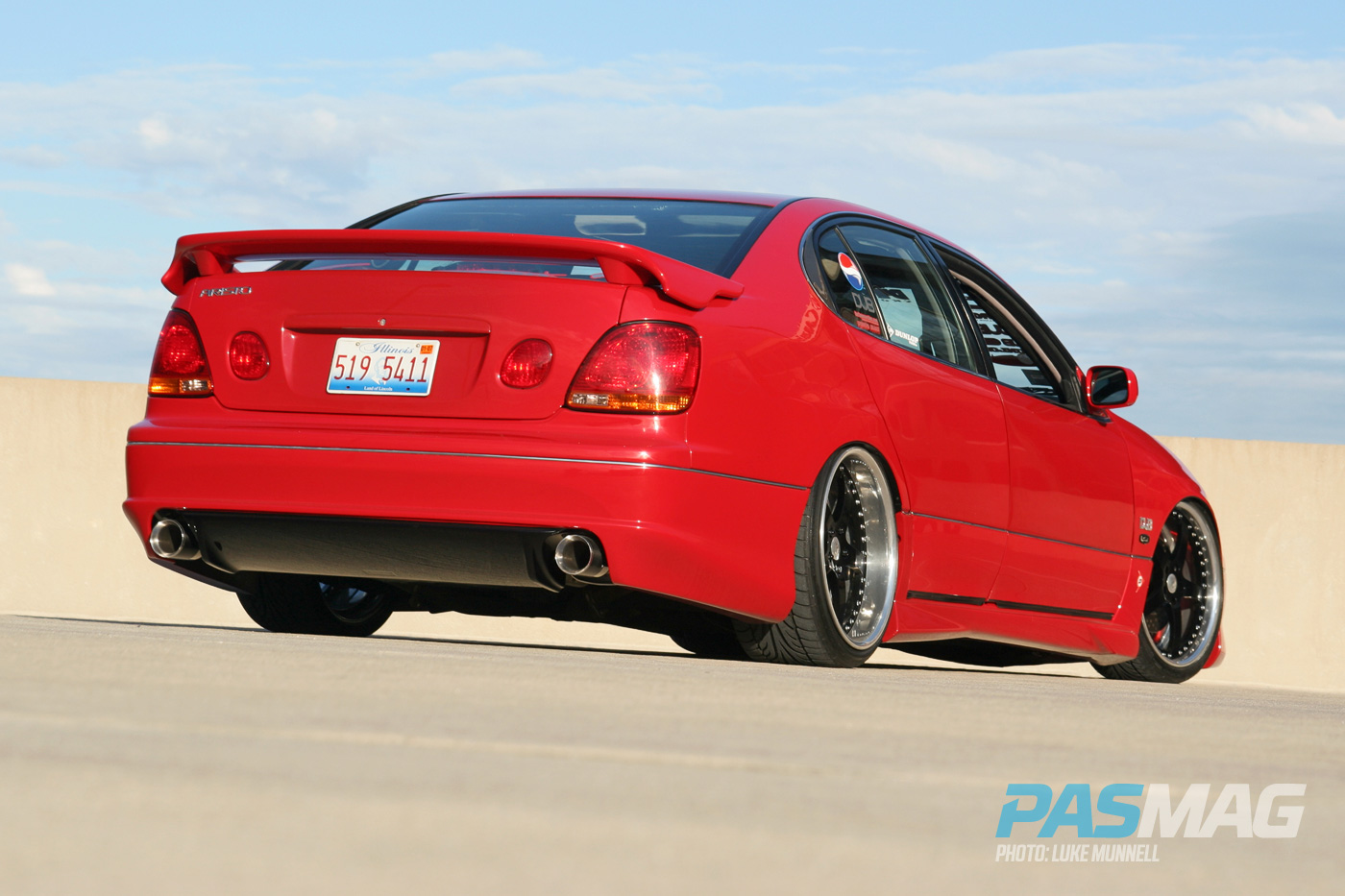 It all changed when Tolson attended his first HIN event and saw what the lifestyle was all about. "I went to my first show and was hit by the competitive bug – HARD," says Tolson. "When you get the tuning bug, you just want to constantly improve your car by all means necessary. You look for a few supportive sponsors and end up putting every spare penny and moment of time into your car. I was (and still am) hooked," confesses Tolson.
A quick glance at the NCCA Leader Board (www.nationalcustomcarassociation.com) and you'll find that Tolson's name sits close to the top. After walking through his first HIN event, Tolson decided to dive straight into the custom car scene and put his beloved 1998 Lexus GS400 through an uncontrollable spree of impressive modifications, stopping only to pick up the Best Lexus and Best of Show trophies at the many events he's attended.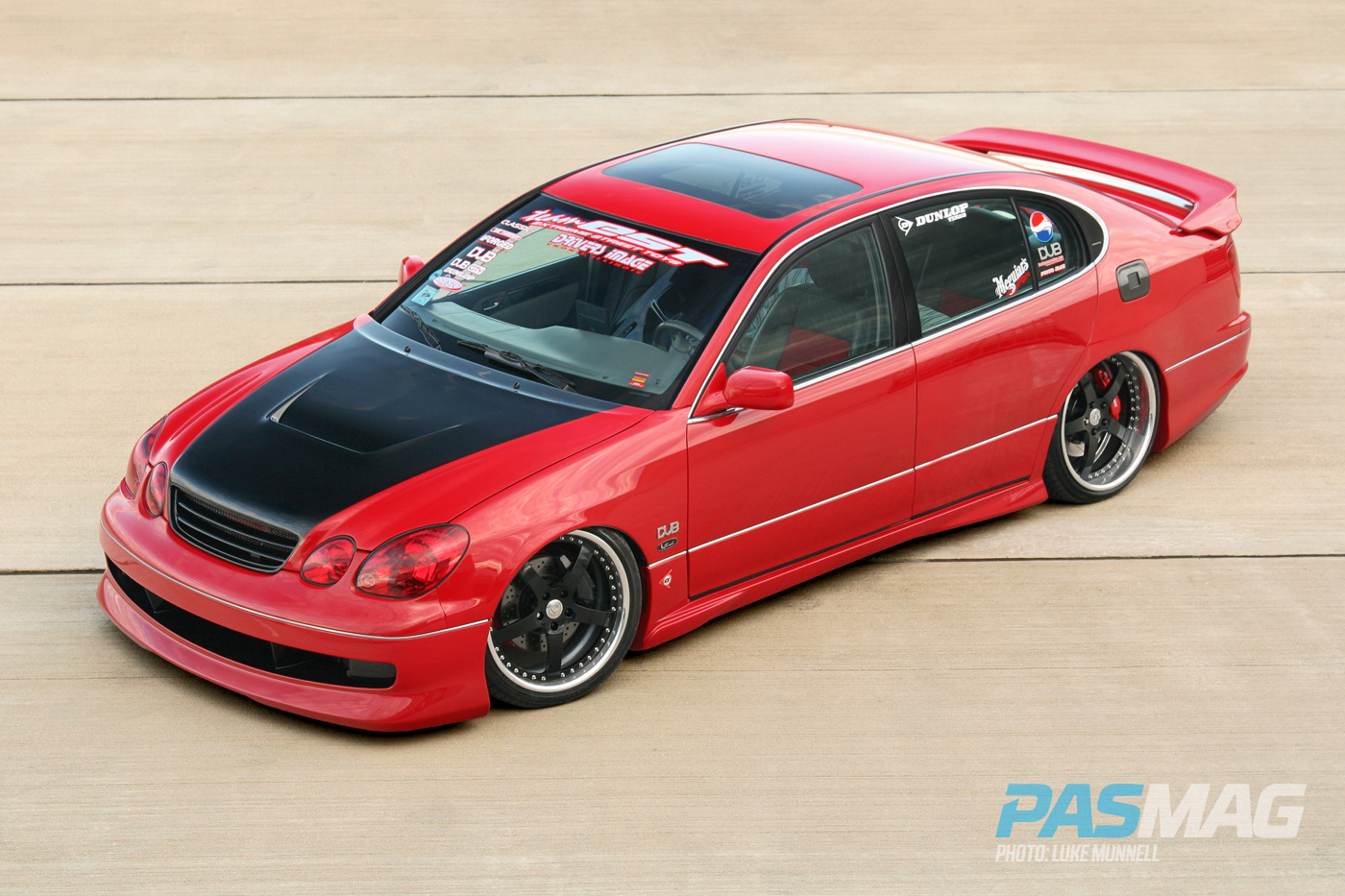 During his search for VeilSide's six-piece body kit that now adorns his GS400, Tolson linked up with a shop owner that gave him a spot in the shop's car crew. The shop owner recognized the genuine passion that was driving Tolson's build and felt he would be a perfect fit for their crew. With a vested interest in the GS400 project, extra care and planning went into the build-up, as Tolson wouldn't stop until he grabbed a spot of the national spotlight.
With the gorgeous VeilSide kit installed to accent the GS's smooth body lines, Tolson opted to use Lamborghini Rosso Red paint (a rare 1997 European Market release) to add an ultra exclusive feel. The door and trunk handles were professionally erased, as the vehicle is now equipped with remote door poppers and a trunk actuator for total hands-free operation. JDM Toyota Aristo carbon fiber rear window accents and sought after L-Tuned badges were added, along with a pair of 2003 rear taillights to complete the exterior mods.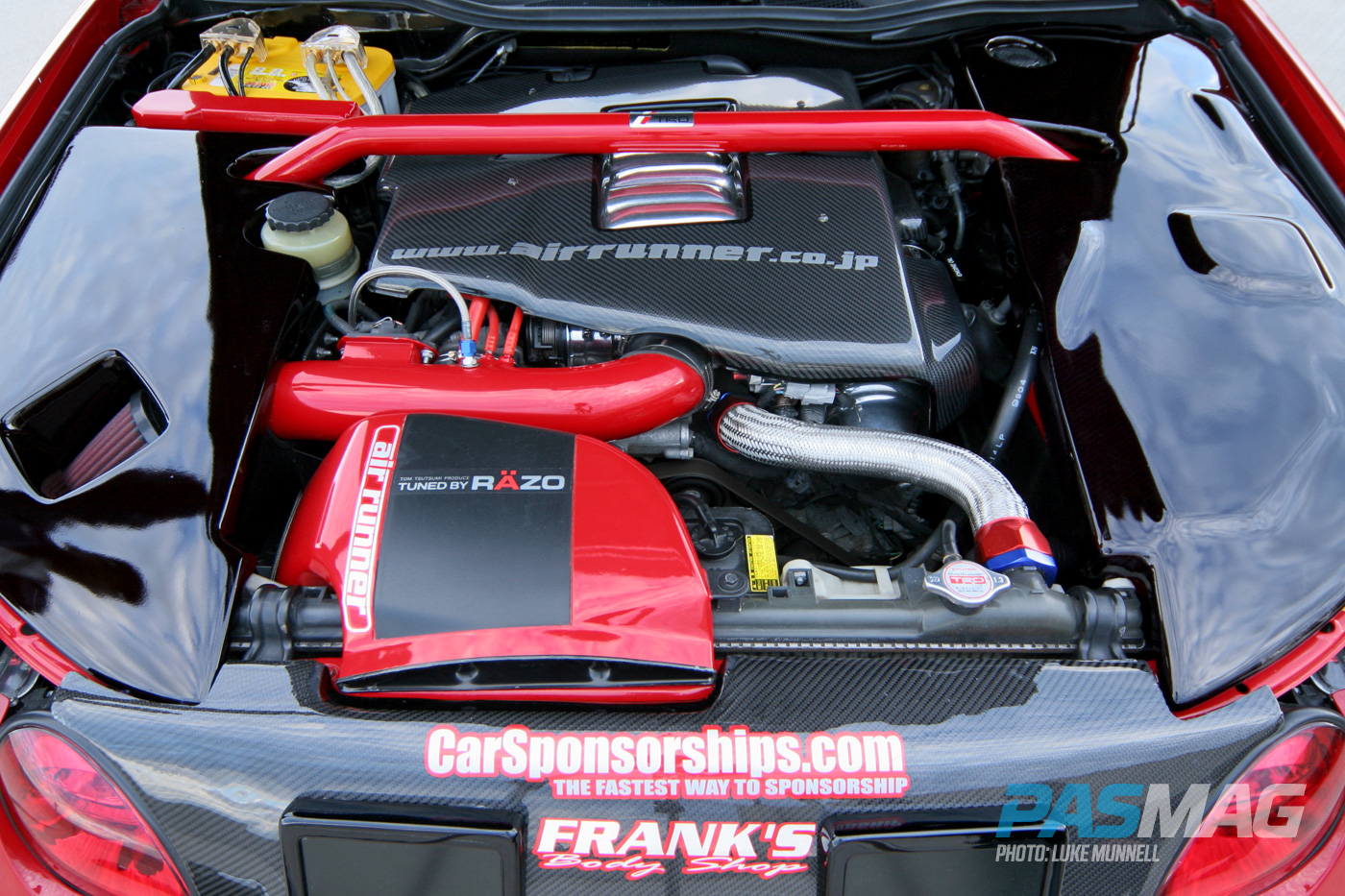 Motivating the rear wheels is the powerful 4.0L motor rated at 300hp and 325lb/ft of serious torque. These were seemingly unheard of power numbers at the time of the vehicle's release, but Tolson's undying thirst for performance compelled him to port-and-polish the head for improved airflow within the motor.
A Rod Millen intake was bolted on to pull in ambient air, while a set of S & S headers help expel the combusted gases through an L-Tuned exhaust. To help keep engine temperature in check, a Fluidyne radiator was plumbed into the setup, while a Venom VCN2000 nitrous system (complete with PDA) was installed to provide easy horsepower on demand. Finally, a re-mapped ECM from L-Tuned was plugged in to give the GS400 added horsepower.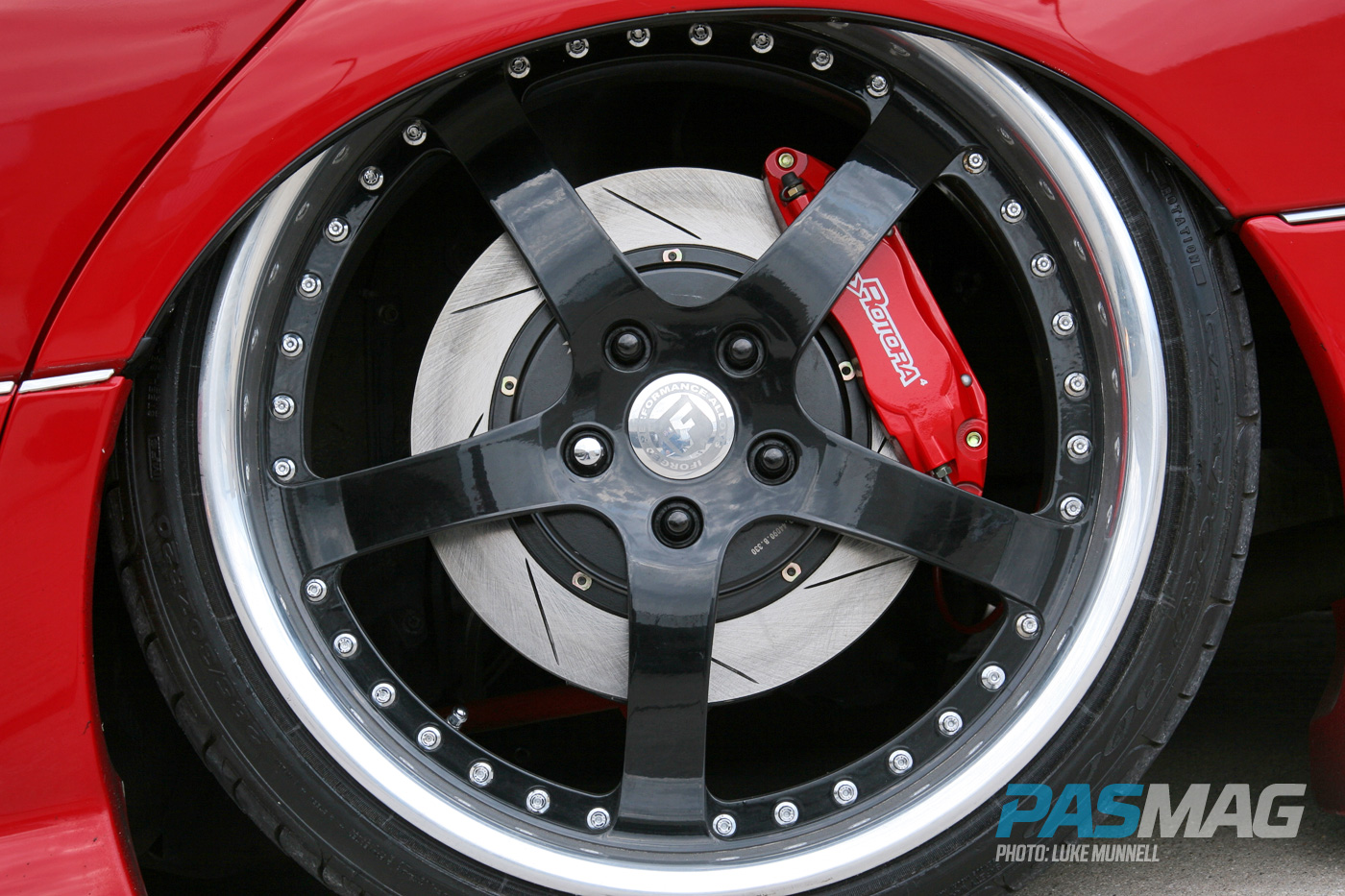 Soaking in the bumps of the Chicago, IL roadways is an Air Runner suspension from ACC. Tremendously popular in Japan, this air ride system can be found on countless high-end Japanese sedans on either side of the Pacific. The Air Runner system allows Tolson the flexibility to adjust the GS400's ride height, from raised for day-to-day use to slammed for shows and quintessential hard-parking. And with an immaculate set of three-piece 20-inch wheels from iForged tightly wrapped in Dunlop SP9000 rubber, it's easy to see why Tolson often receives maximum points from show judges.
Tipping the scales at a hefty 3,700lbs in stock trim, the GS400 is no lightweight contender. Furthermore, the Tolson edition tips the scales closer to a heavyweight 4,000lbs, a sure sign that an upgrade to the factory brakes was in order. Enter the big brake kits from Rod Millen (front) and Rotora (rear), both sporting heavy-duty four-pot calipers and pizza-sized rotors. The GS400 can now easily be kept from harm's way with its improved braking system.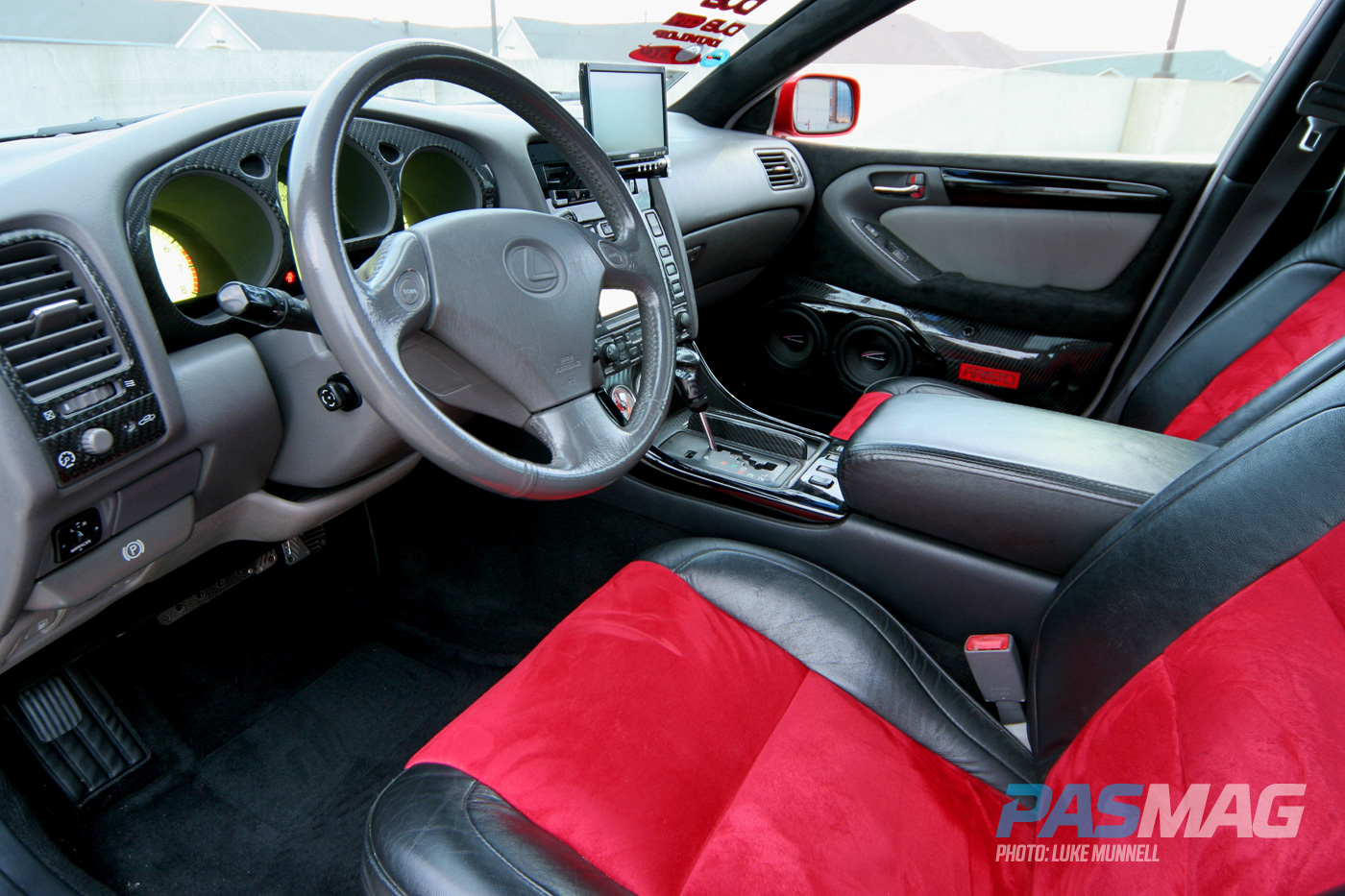 With Tolson looking to earn big points at every competition, his attention shifted to dressing the GS400's interior and building an eye-popping multimedia system. The factory-issued upholstery was quickly tossed aside, making way for a more plush black leather / red suede combination. Custom black carpeting and floor mats were also added, as was the carbon fiber dash, headliner and door panels.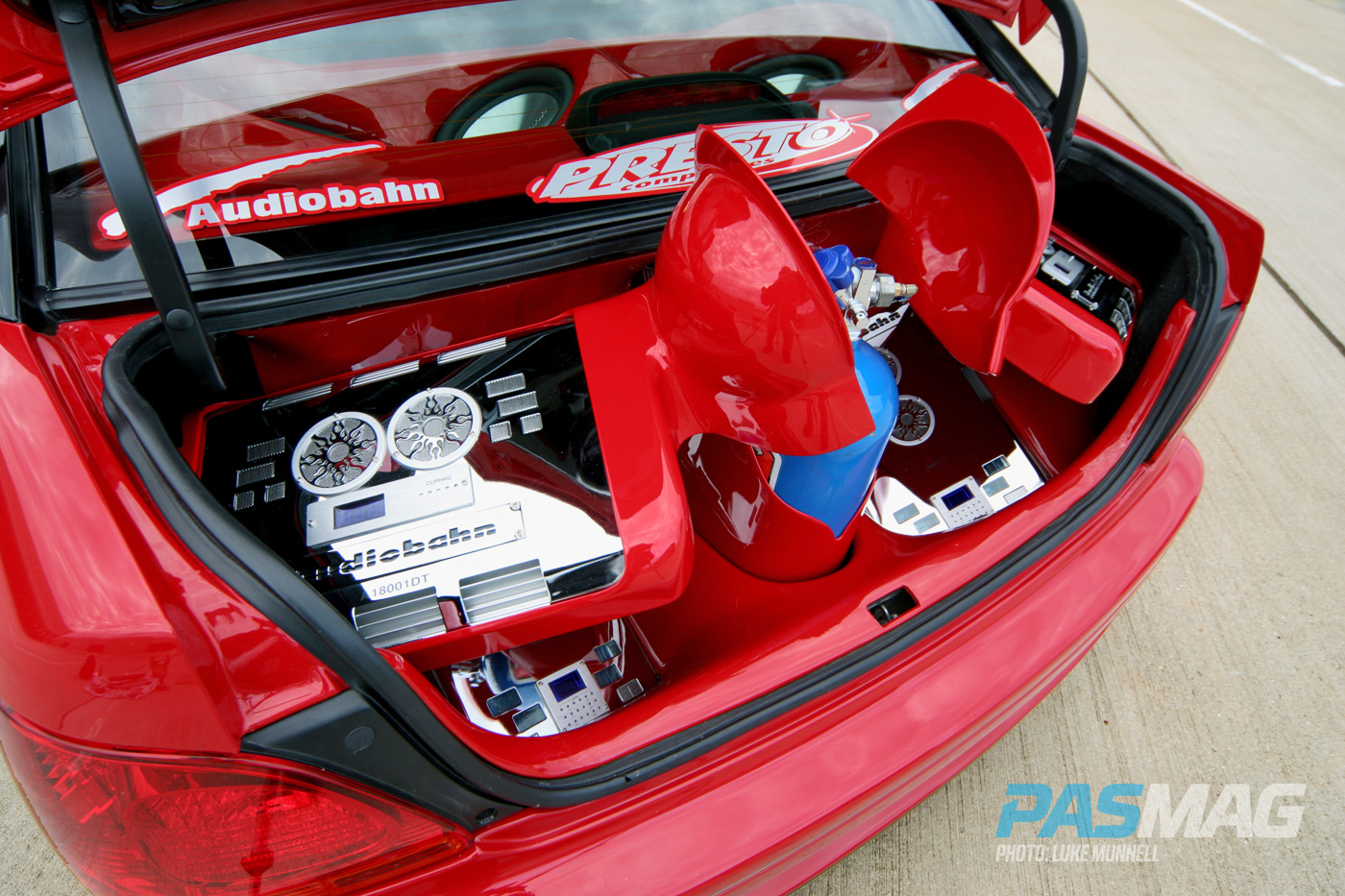 Mobile entertainment comes in the form of a full Audiobahn sound system, with visuals provided by a gang of Accele LCD monitors. Four amplifiers provide the juice needed to power his 14-speaker system, with the four subwoofers housed in the rear deck producing the bulk of the heart-stopping acoustics. A total of 11 Accele monitors are spread throughout the vehicle, with the most notable ones installed in the front grill (behind the VeilSide grill) and a 2.5-inch unit on the gas lid.
Tolson's Lexus GS400 is in a constant state of change, as he's kept a close eye on what new modifications will improve his chances at hopefully taking home the NCCA crown. The project, which is roughly 30 months in the making, is now one of the hottest Lexus sedans in the country and is the flagship of Tolson's newly-formed Team EST (Extreme Street Toys) crew. Many thanks go out to all of his supporters, including McGrath Lexus, Sound Performance, Meguiar's, Venom, iForged Wheels, Just Tires, Audiobahn, Hot Wheels, The Sound Advantage, Accele, Extreme Graphics, Dunlop, Air Runner Suspension, Innovative, Rotora, Carsponsorships.com, Colorstorm, Frank's Body Shop and Lexus Central. Paul Tolson also wanted to send out a very special dedication to Aubrey Tolson, his mother. With over 60 trophies under his belt and counting, Tolson is a perfect example of today's hardcore enthusiast – which is a far cry from the car show 'virgin' he used to be.
Get Social with Paul Tolson on Facebook.