The Windy City isn't usually known for its tuner community. Though Chicago is home to a large enthusiast base and a number of reputable shops, its Midwestern geography and harsh winters keep most finely-tuned vehicles on the shelf for almost a third of the year. However, that didn't stop Joey Feng from bringing in the most sought-after vehicle in North America, as he purchased this 1999 Nissan Skyline GT-R R34 to help promote his Top Speed Auto Accessories operation.
Originally purchased by a family friend from Motorex, the Gardena, CA-based operation that helped legalize the importation of Nissan Skylines ever since the late 1990s, this vehicle is a true GT-R specimen – not a conversion. And there's no better vehicle that can draw more attention than the legendary R34, especially if it's been dressed up with a handful of aftermarket parts like Feng's.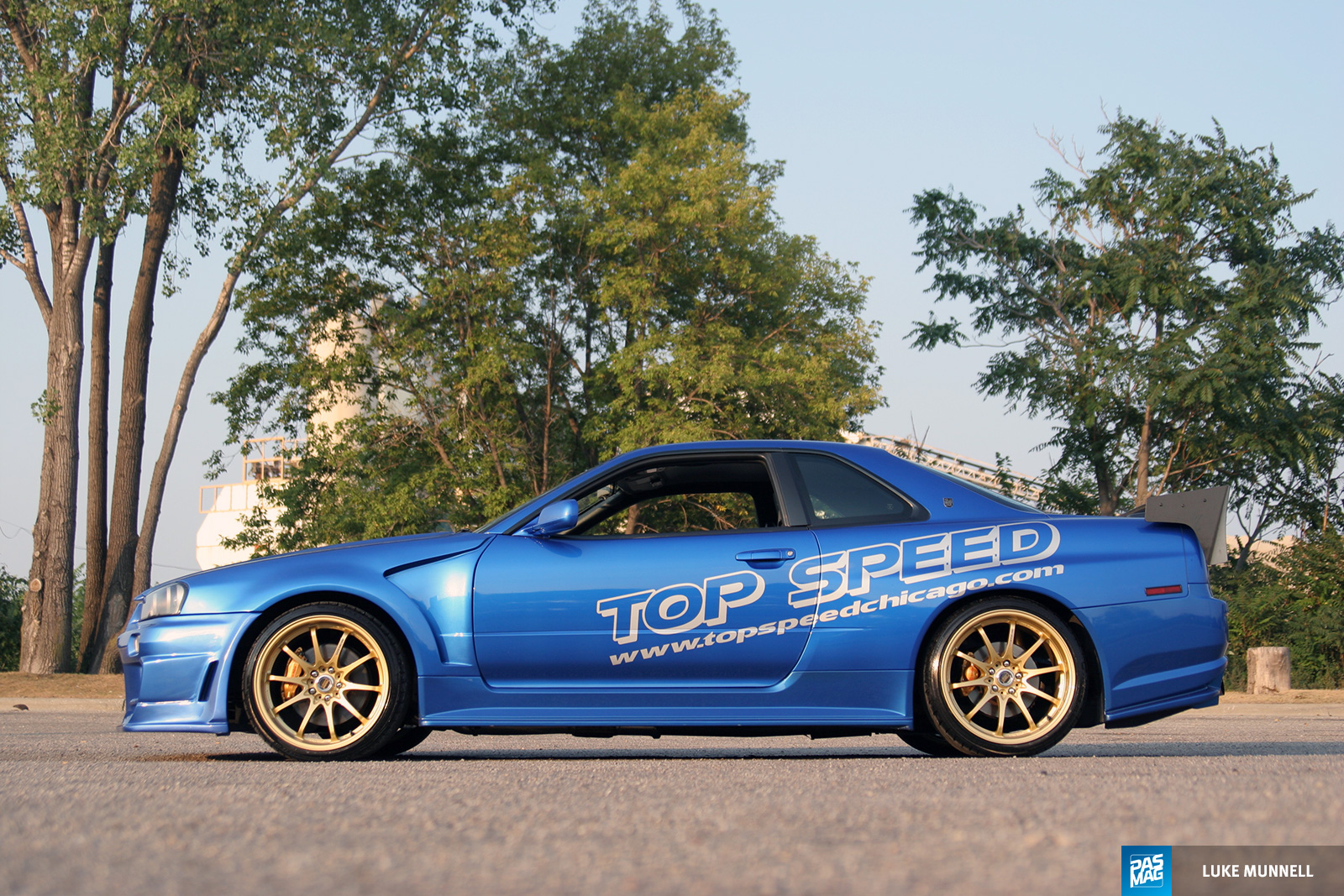 Feng's Top Speed Auto Skyline is the recipient of a Do Luck body kit, which comes complete with both front and rear bumpers, as well as a pair of side skirts. To make room for wider wheels and help cool off the brakes up front, Feng shelled out for a pair of Do-Luck's aero fenders that sport a stylish carbon / Kevlar insert. All personal opinions aside, the Do-Luck aero package is hands-down the sexiest kit available for the R34, and works with the full carbon rear spoiler to actually help improve the car's aero dynamics. Of course if the car's six-figure price tag isn't enough to deter people from getting their very own Skyline, Feng can be sure that the Do-Luck's $5,000 MSRP for its goodies will almost guarantee that no other R34 will look similar to his.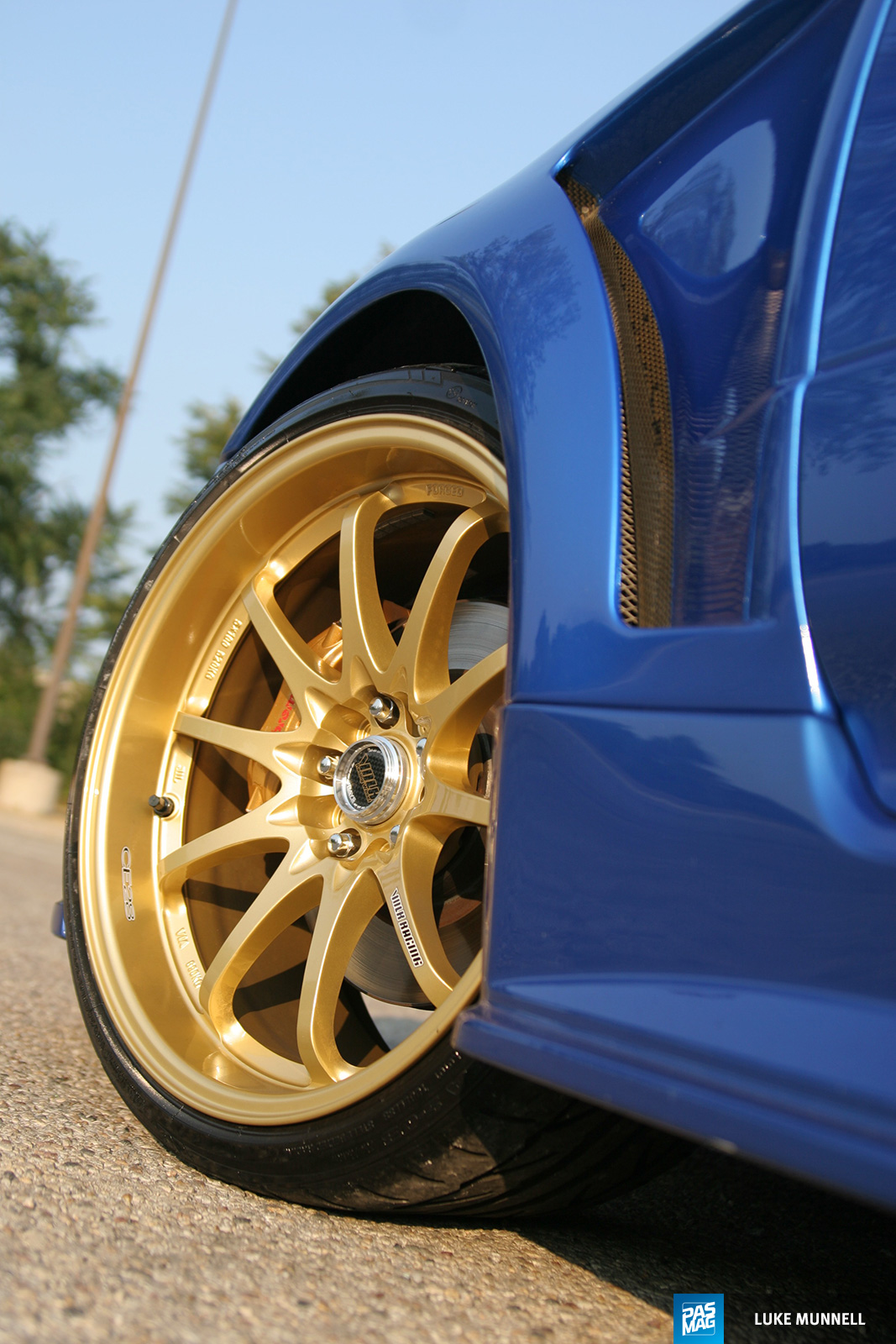 A classic set of Volk Racing CE28 wheels finished in Gold are as hot as a slick pair of limited edition Nike SBs. These monoblock forged wheels measure 18 inches in diameter and feature amazing strength, yet remain lightweight enough to be considered as race wheels. The sticky Bridgestone Potenza S-03 tires found at each corner provide Feng with a sure grip on the road, and work with the massive factory-provided Brembo brakes to keep this turbocharged beast under control. A set of CS coil-overs from TEIN enable the GT-R to absorb the bumps of the Chicago streets, but can easily be adjusted for a weekend track day.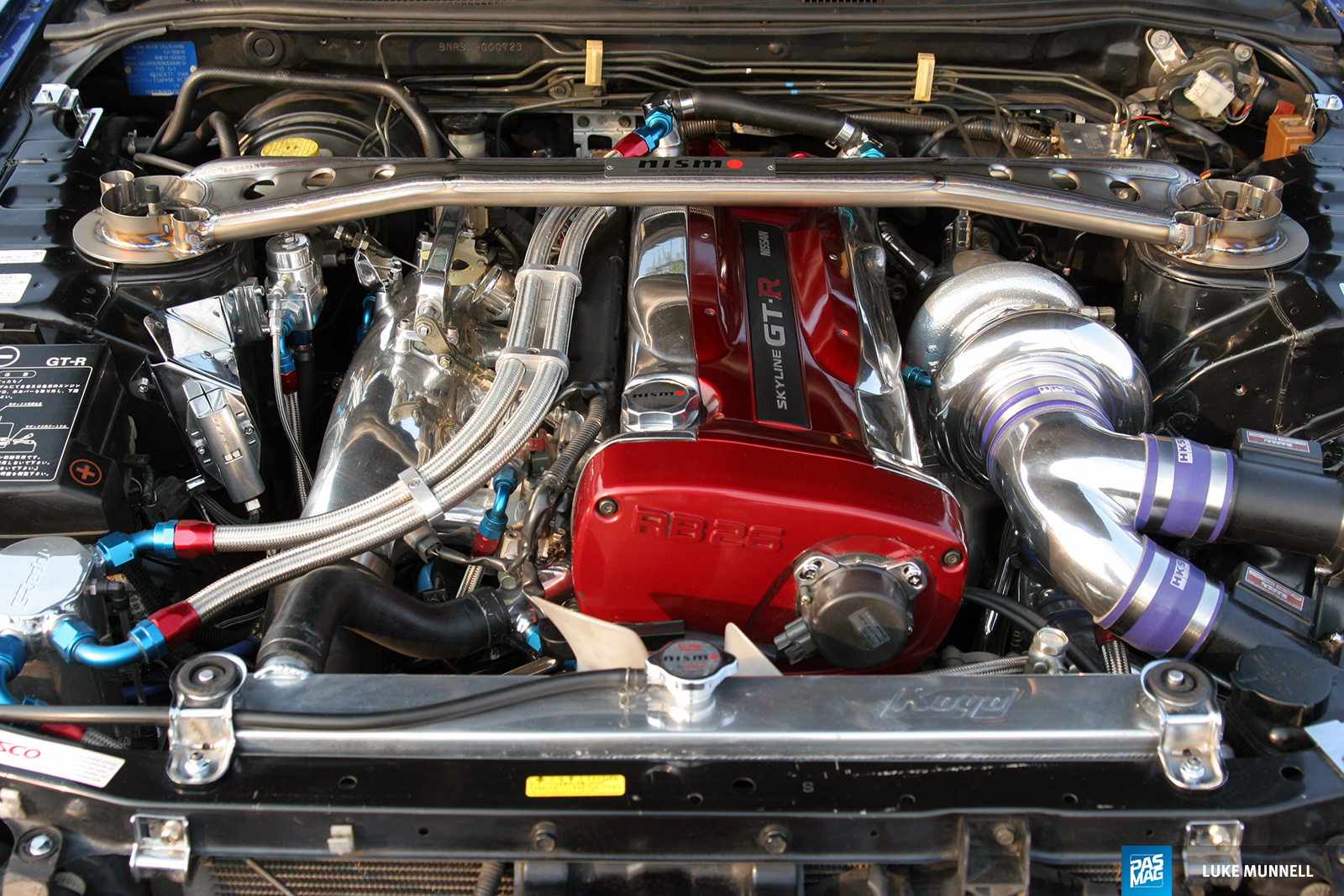 Motivating all four wheels is the famous Nissan 2.6L twin-turbocharged powerplant. Delivered from the factory with a claimed 280hp (experts contest that actual output is well over 300hp), tuners from all over the world have been able to extract over 1,000hp from all three generations of the Skyline. Feng didn't want to be left out, so he sifted through the HKS, A'PEXi, Blitz, GReddy and Nismo catalogues to hand-pick his upgrades. To ensure that the motor could handle his big boost plans, Feng dropped in a set of low-compression pistons from JE. HKS products litter the engine bay, as the Nissan factory twins were removed in favour of an HKS single turbo upgrade, and twin intake filters pull in the ambient air. A Blitz front-mount intercooler adds a much needed chill to the system, while an HKS down-pipe and exhaust expel the combusted mixture into the atmosphere.
Much like Barney Gumble at Moe's Tavern, Feng's Skyline downs fuel like it was Duff's beer. But to keep this RB satiated, the factory fuel system was tossed aside in favour of set of HKS fuel injectors and fuel rail.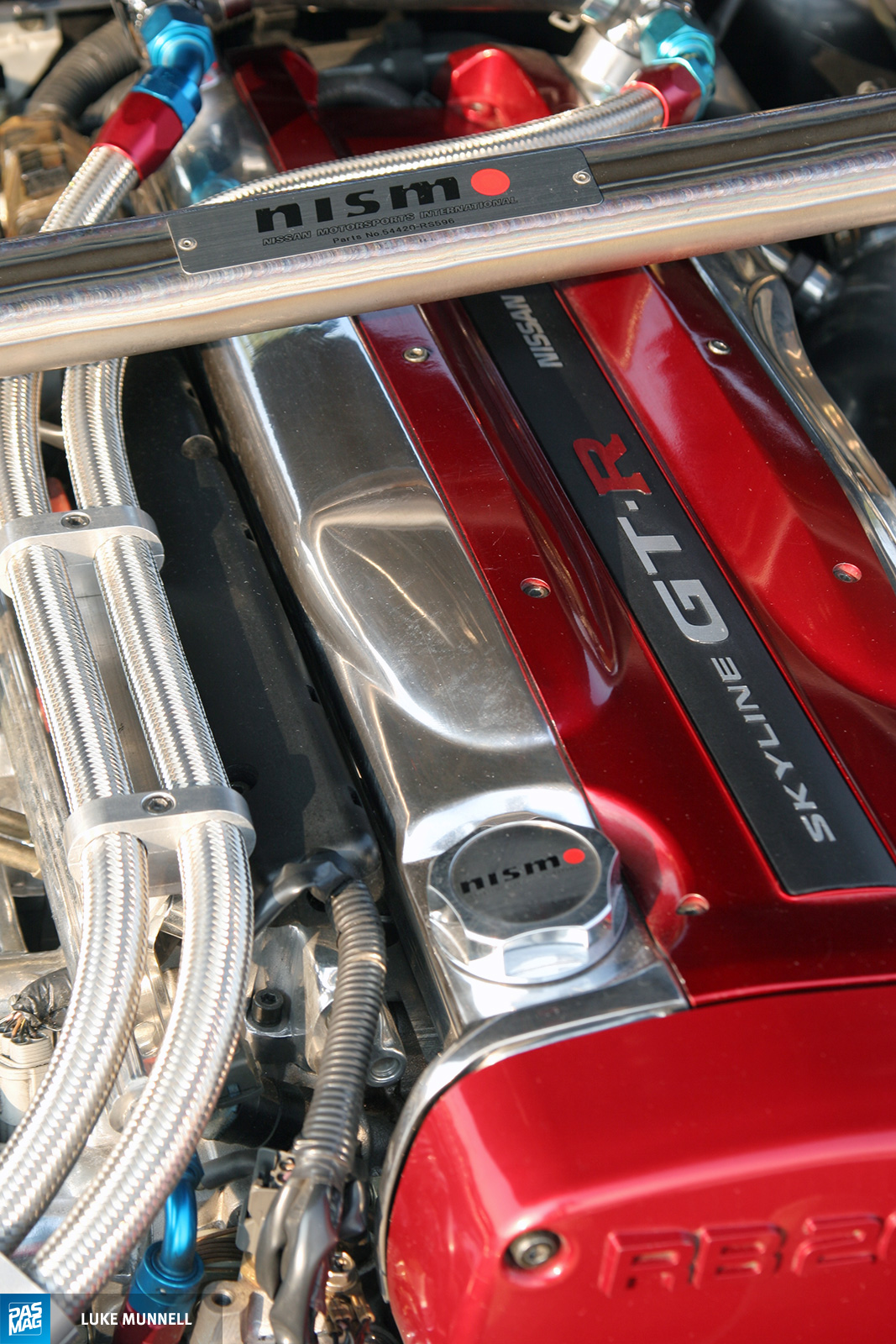 If sporting a fire-breathing RB26DET under the hood wasn't enough, Feng added sine cool Nismo bling with an oil cap, radiator cap and titanium strut bar to minimize front-end flex. With an all-business Exedy triple-plate clutch harnessing all this power and Sound Performance tuning the Power FC engine management system, Feng says his R34 is putting 500 screaming ponies to the ground in a 'conservative tune.'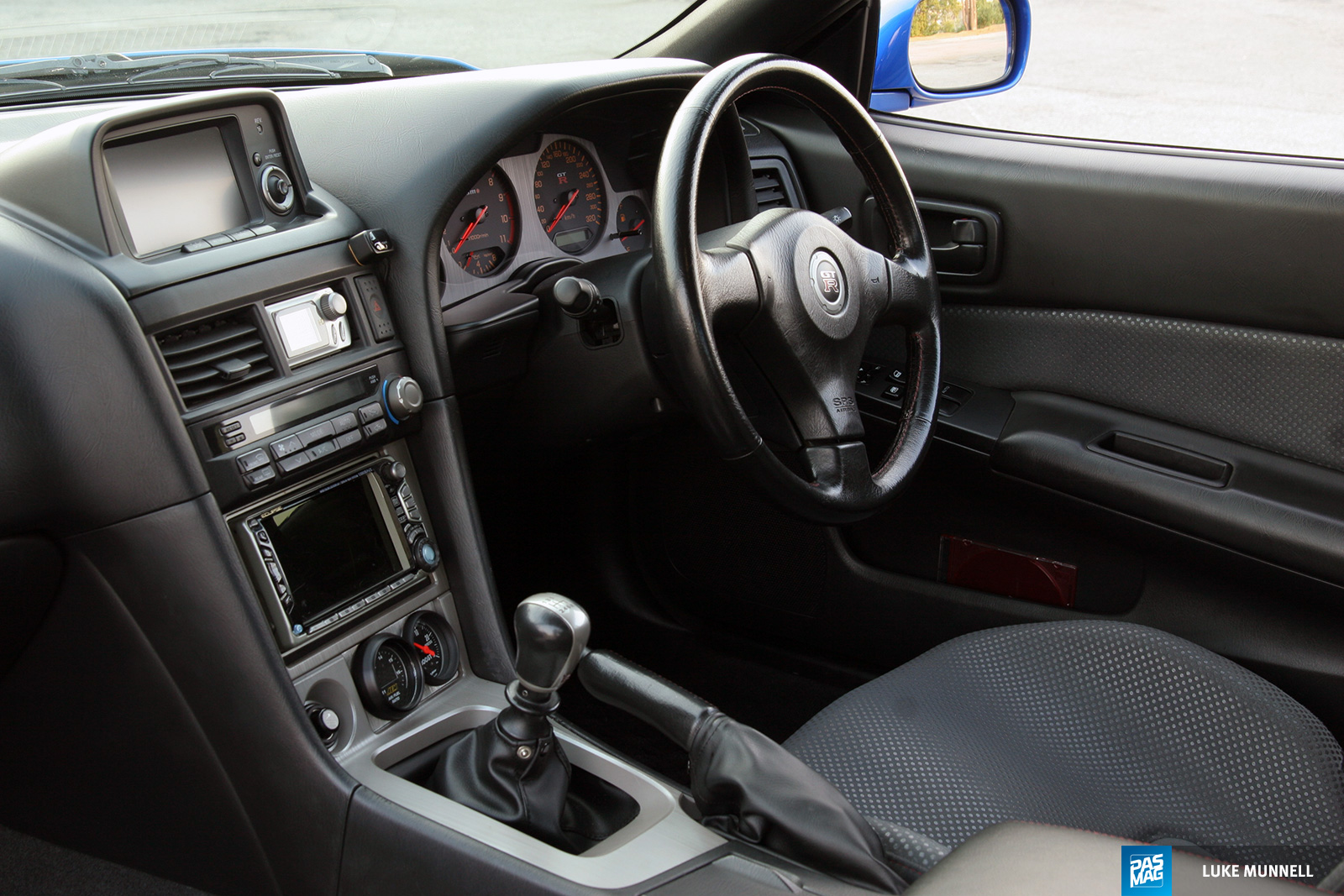 Feng kept the modifications to the interior to a minimum, as the Nismo MPH gauge cluster conveys all of the Skyline's vitals. If watching people's jaw drop as he passes by gets too boring, Feng installed an Eclipse double-DIN head unit for mobile entertainment. Together with a PPI amplifier and JL Audio subwoofer located in the trunk, it gives him a great alternative to the symphony of turbo spool and exhaust produced by the R34.
Feng has been doing his best to attend events in the Midwest and along the East Coast, as I've personally spotted this beast at both HIN Atlantic City and Indianapolis. Future modifications for the Skyline remain up in the air, as this car is as close to the perfect street weapon as we've ever seen. Congratulations to Joey Feng and the entire Top Speed Auto Accessories team for putting together an awesome machine and we can't to run into them at the next event.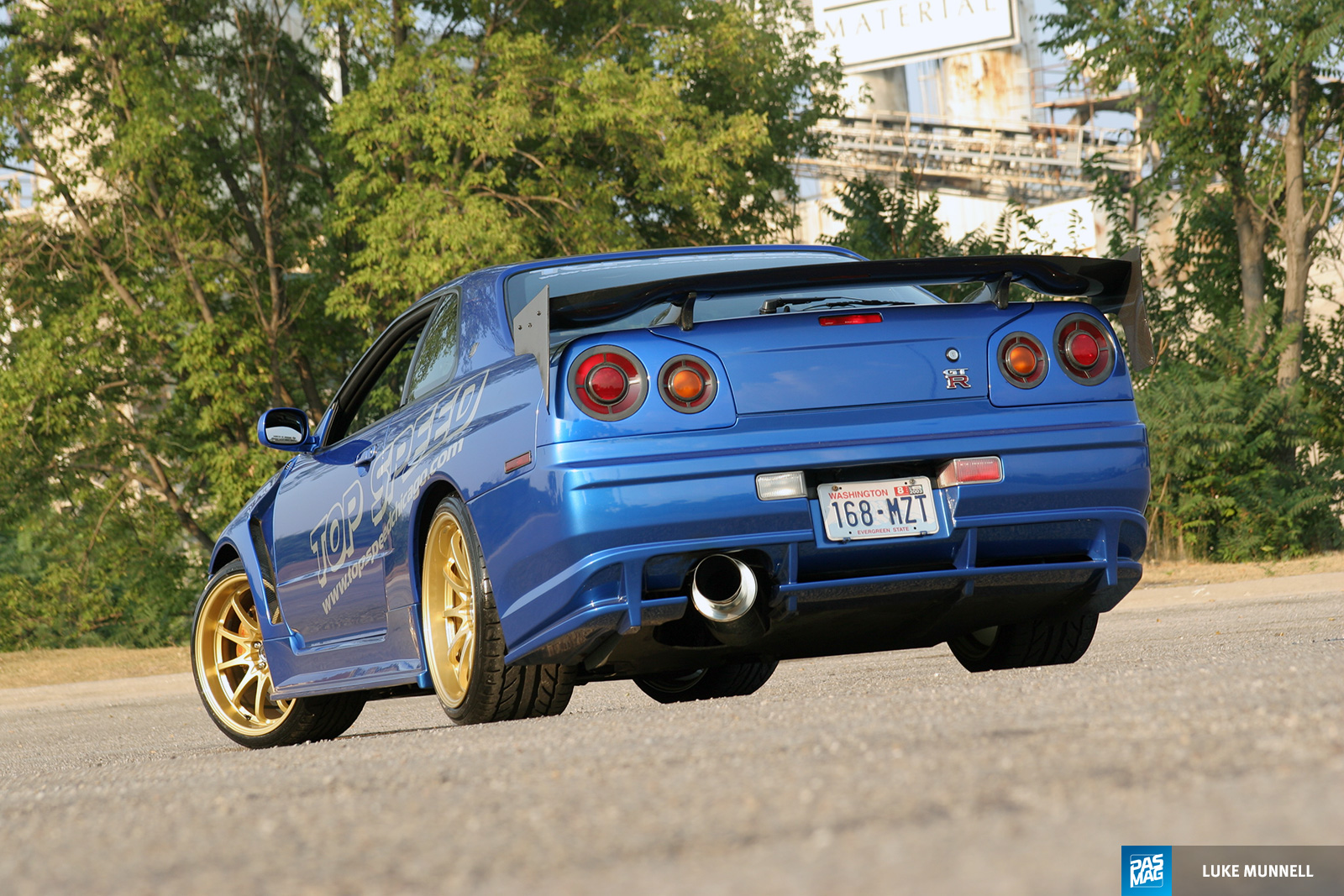 Photography by Luke Munnell (@lukemunnell)
---
PHOTO GALLERY