Seeing a dream come to life is one of the most fulfilling things that can happen to a person. From the moment Aaron Leavitt saw early-2000s footage of Team Burst of Osaka, Japan, sliding around, that was the dream for him. Specifically, Naoki Nakamura's pink Silvia struck a chord, and since then, an S13 of his own has been the goal.
Leavitt's S-chassis experience quickly evolved from aspirational Forza builds to an IRL 240SX hatch in 2007. After some tinkering and seat time, it was decided to swap the KA for a 1JZ, with a 2JZ bottom following shortly after that for a stellar 1.5JZ build under the hood. In 2018 though, it was time to part out the hatch for the greater good: an S13 Silvia straight from the motherland.
"I bought the car from an auction in Japan and my good friend, Shakeeb Ebrahimi, who lives in Japan, shipped it to his shop and checked it out for me and then drove it two hours to the Yokohama docks to ship to the States," Leavitt recalls, chuckling. "Once it landed here, I drove it home from the port. It was a fun experience not knowing what you're going to get or if you will make it home!"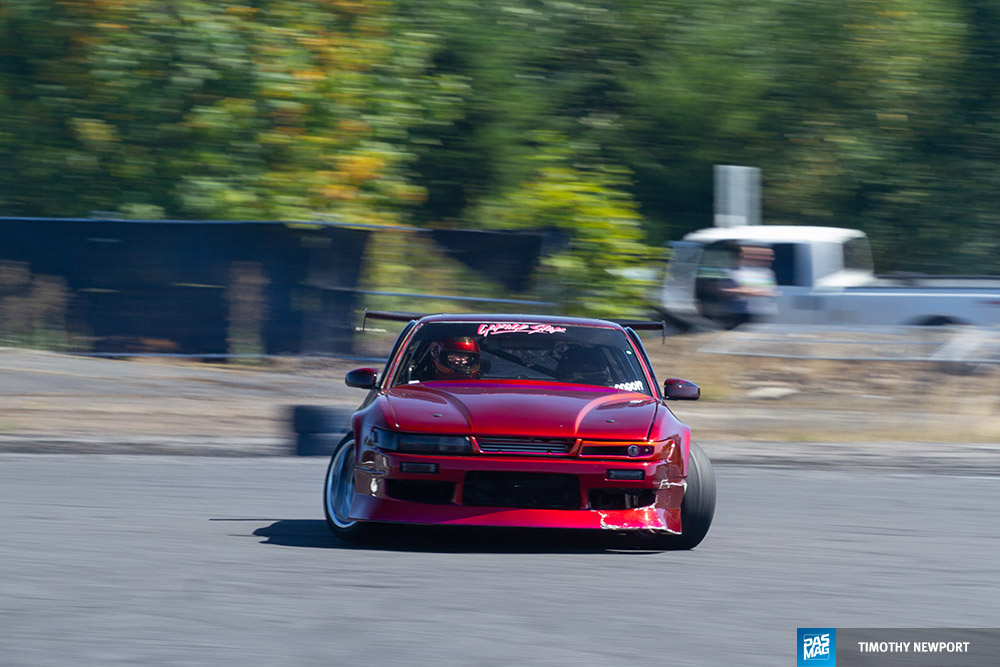 In its current state, the Silvia's built SR20, swapped Z32 transmission, and welded 4.6 differential are tested every other week at the track, and then driven home as a registered street car. There's no way that his dream car would become a missile, especially belonging to the Animal Style drift team, so Leavitt took it upon himself to paint the car in a candy three-stage gradient, from red to tangerine to magenta. It's Origin Labo aesthetics are finished off in Animal Style's signature decal style, reminiscent of the drifters that frequent Meihan Sportsland in Japan.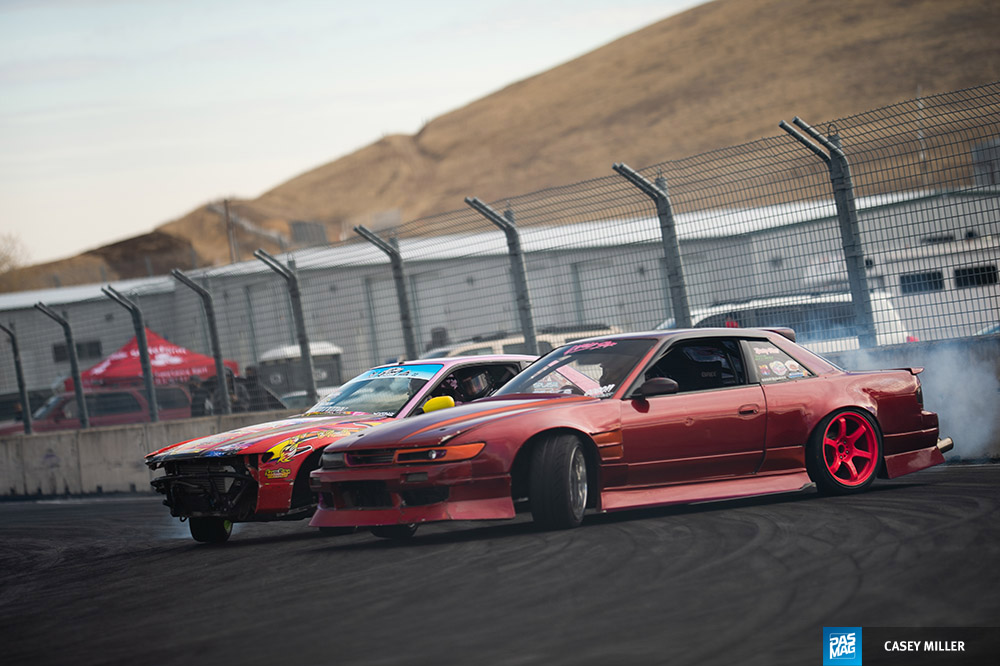 "My favorite part of my current chassis is the fact that it takes me back to the roots of it all: a simple build for today's standards, but able to drive it nearly weekly at the track and progress my driving," Leavitt says of his creation. "It all goes back to the first cars I ever watched drifting as a kid in the early 2000s."
Not only can dreams come true, but with the right spirit behind them, they can look and perform super rad as well.
Aaron Leavitt's 1992 Nissan Silvia was featured in PASMAG #165. CLICK HERE to order.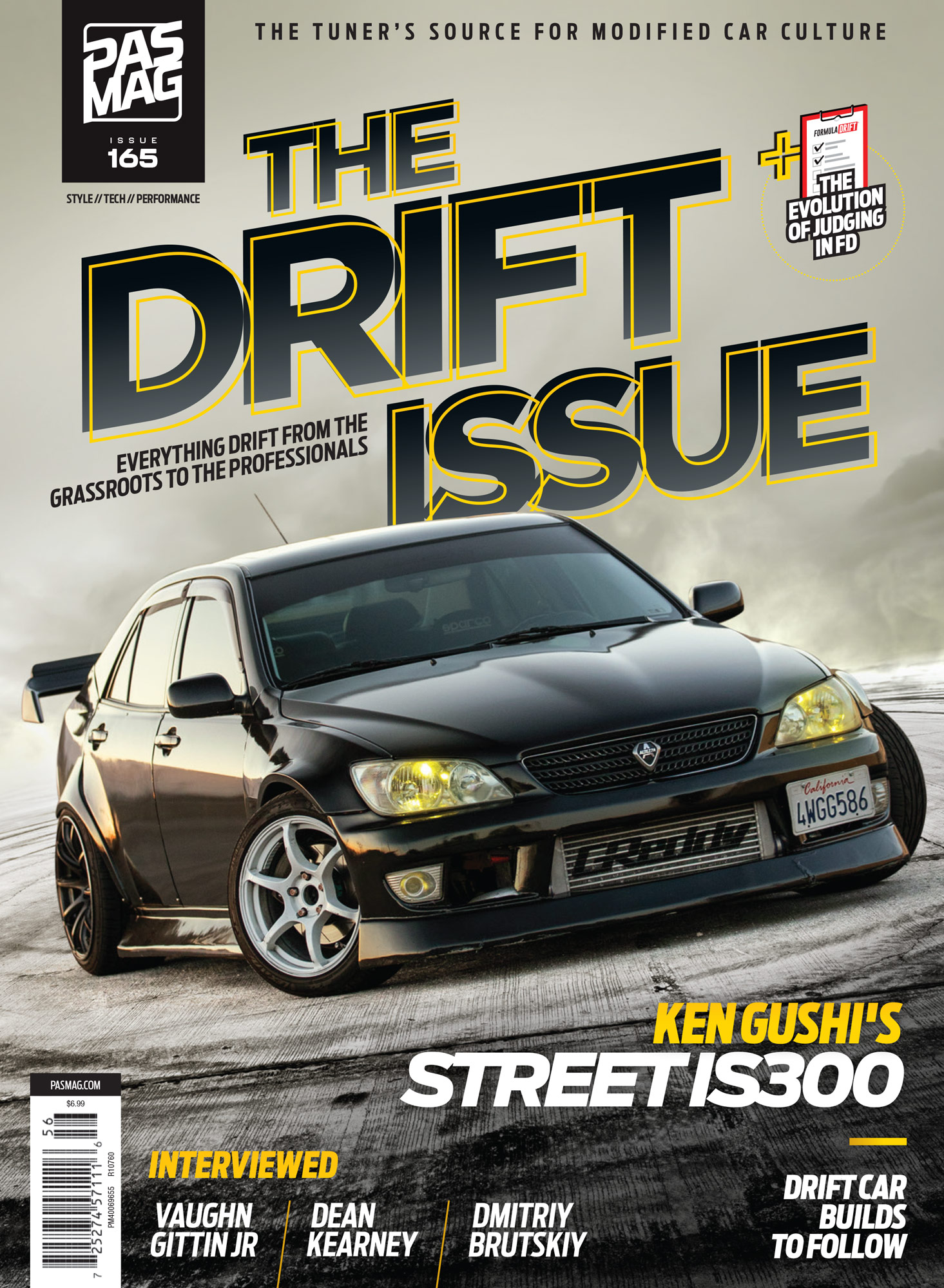 Photography by Casey Miller (@casserito), Timothy Newport (@tnewport_photo)
---
ESSENTIALS
Owner: Aaron Leavitt
Vehicle: 1992 Nissan Silvia
Location: Seattle, Washington, USA
Engine: Nissan SR20DET 2.0L Turbocharged I4
Horsepower: 300 whp
Torque: 265 lb-ft
Team: Animal Style
SOCIAL
Facebook: /aaronleavitt91
Instagram: @sidewayshatch
ENGINE
Wiseco pistons
BC titanium valve retainers
ACL bearings
ARP head studs
A'PEXi copper-treated head gasket
Garrett GTX2863r turbocharger
Tomei 740cc injectors
HKS intake
Nissan S14 valve cover conversion
Power By Max high-mount intercooler
EXHAUST
HPI equal-length manifold
Power By Max Cobra down-pipe
Custom 3-inch straight-pipe exhaust
DRIVETRAIN
Nissan (Z32 transmission, Z33 axles)
Xcessive Manufacturing transmission swap kit
Competition Clutch (clutch, flywheel)
4.6 welded differential
TF Works shortened stub axles
WHEELS / TIRES / BRAKES
Work VS-KF wheels - 17x9 -20 (f), 18x10.5 -15 (r)
Falken RT600 tires - 235/40/17 (f)
Kenda Kaiser KR20 tires - 265/35/18 (r)
Nissan S14 Silvia 4-piston front calipers
Project Mu D1-spec rear brake pads
CHASSIS / SUSPENSION
Stance XR1 coilovers
Swift springs (9K/5K)
Heatmaker/Naoki Nakamura B-knuckles
Nissan S14 240sx (lower control arms, outer tie rods)
Maxima inner tie rods w/ slip-on spacers
Voodoo13 tension rods
Circuit Sports rear suspension links
EXTERIOR
Origin Labo (Aggressive body kit, Type 2 wing, GT wing, roof wing, Type 2 hood, Combat headlight)
ChargeSpeed grille
Nissan Z33 side-view mirrors
AeroWolf mirror visors
DMax tinted tail lights
INTERIOR
Thrash Racing 330-mm steering wheel
Street Kreature E-brake boot
Flower shift knob
Cusco D1 roll cage
Recaro bucket seat
DMax checkered floor mats
Silvia cup holders
AUDIO
JVC touchscreen head unit
Pioneer speakers
SPONSORS
AeroWolf
DMagic
FlashVideoMagazine
GarageStar
Heatmaker
LCMGarage
Origin Lab USA
P3 Labs
Rarespecwheels
B-Knuckle
Street Kreature
Stance Suspension
Super D USA
Thrash Racing
TF Works
---
PHOTO GALLERY