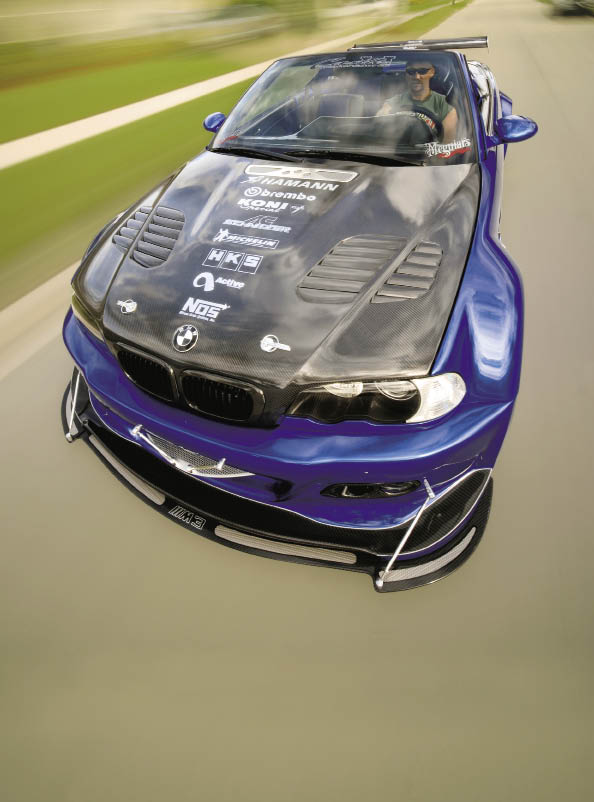 Written by Mike Semira | Photos by Donny Mak
There's no denying that our annual European Tuning Issue is the most anticipated cover of the year, as this special issue continues to bring the heat over the past three years. From Canada's hottest VW (2004), to Vancouver's finest Bimmer (2005) and DTC's sleek Audi A4 (2006), our editors have never failed to spotlight the best of the Euro enthusiast community. But unlike last year, when we had a number of vehicles to choose from, this year's candidate was selected well in advance. Just one look at James Wheeler's 2002 BMW M3 and it was love at first sight, as his widebody E46 oozed the kind of automotive machismo perfect for our cover.
Hailing from sunny Ft. Lauderdale, FL, the man known as "Crazy" James Wheeler has been terrorizing the East Coast show circuit with his drop-top M3 since 2002. As the President of Awe Productions, a video game company that has produced titles featuring Sponge Bob Squarepants, Spiderman and Shrek, Wheeler is no stranger to channeling his creativity. Purchased brand new in November 2001, this M3 has undergone numerous incarnations before our recent photo shoot.
I first spotted the BMW on the Hot Import Nights (HIN) circuit back in 2006, where it caught my immediate attention. Though the show's night-club atmosphere isn't the best way to dissect a car, Wheeler's BMW showed me more in the low-light conditions than Paris Hilton in a NightVision recording. Illuminated by a variety of blue neon lights, it was obvious that this drop-top speedster's dimensions were wide thanks to the unique Flossman GTR widebody kit. The 'Wheel-Man' is quick to point out that this isn't just any Flossman GTR widebody kit either (as if the rare German-made kit is run-of-the-mill), since it's been heavily modified for his specific application.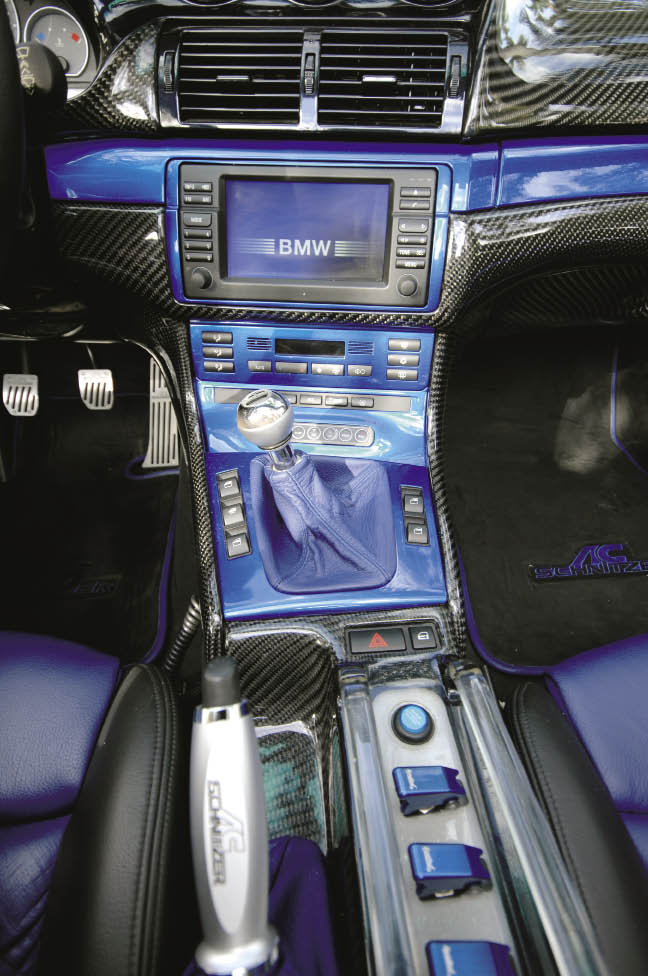 Stretched out an additional two inches in front and four inches in the rear, this larger-than-life M3 has become the poster child for Sir-Mix-A-Lot's "I Like Big Butts" anthem. The door handles, door moulds and antenna have been smoothed over, while the rear lighting assembly has been updated with 2004-spec LED taillights and a Euro clear third brake light.
The madness doesn't stop there, as Wheeler treated the M3 to carbon fibre accents the likes of which no one has ever seen. One-off racing diffusers and their coinciding support struts were added to the front, sides and rear to improve the vehicle's aerodynamics. Wheeler had the fully functional Vorsteiner carbon fibre vented hood slightly tweaked for his E46, while the rear wing is another custom piece and features a 10-inch LCD monitor embedded in the centre portion. Topping off the M3's carbon fibre diet is the AC Schnitzer exhaust diffuser in the rear and Hamann fog light inserts up front.
The BMW's custom paint work is another reason Wheeler picks up awards at every event he attends thanks to several coats of House of Kolor's Kandy Blue and 10 layers of clear coat. The silver pinstriping is also a great accent to the drop-top, along with custom BMW badging and pair of remote folding side mirrors that feature four-inch LCD monitors and NightVision cameras.
According to Wheeler, the M3's new-found chubbiness actually came out of necessity, as the Floridian was intent on rolling on 325mm wide rubber. Like everything else on this car, tires this are incredibly difficult to come by, but Michelin came to the rescue with a set of Pilot Sport PS2s. Measuring 255 / 30-20 up front and 325 / 25-20 in the rear, Wheeler's M3 has almost a combined four feet of sticky vulcanized rubber giving him a firm grip on the road. The Michelins have been wrapped around a set of custom HRE 545R wheels sized 20 x 9 inches in front and a mind-blowing 20 x 12 inches in the rear. These are the Bimmer's third set of exclusive rollers, as Wheeler knows he's always got to keep his sneakers fresh to get respect.
The open-face design of the HRE 545Rs allow for the Brembo Gran Turismo brake upgrade to shine through. Featuring race-ready four-piston calipers and insane 14-inch cross-drilled rotors, these big brakes have been dipped in Kandy Blue paint to match.
Some serious elbow grease went into polishing pieces of the suspension to match the finish ot the custom HREs. Underbody bling consists of the control arms and steering tie rods, as well as shiny bushing brackets and swing arms. Active Autowerke, a BMW specialist out of Miami, FL, supported Crazy James' project with rear toe bushings and a rear camber arm kit, allowing him to precisely dial-in the right geometry. Posing harder than LL Cool J in a fuzzy Kangol, the M3's b-boy stance is achieved thanks to a custom coil / damper combo, featuring a Ground Control coil-over assembly, Eibach springs and Koni Shocks that sport the car's signature Kandy Blue hue.
I noticed a twinkle in Wheeler's eye when he popped the latch on the lightweight hood. Equipped by BMW's M laboratories with a 333hp 3.2L powerplant, Wheeler teamed with the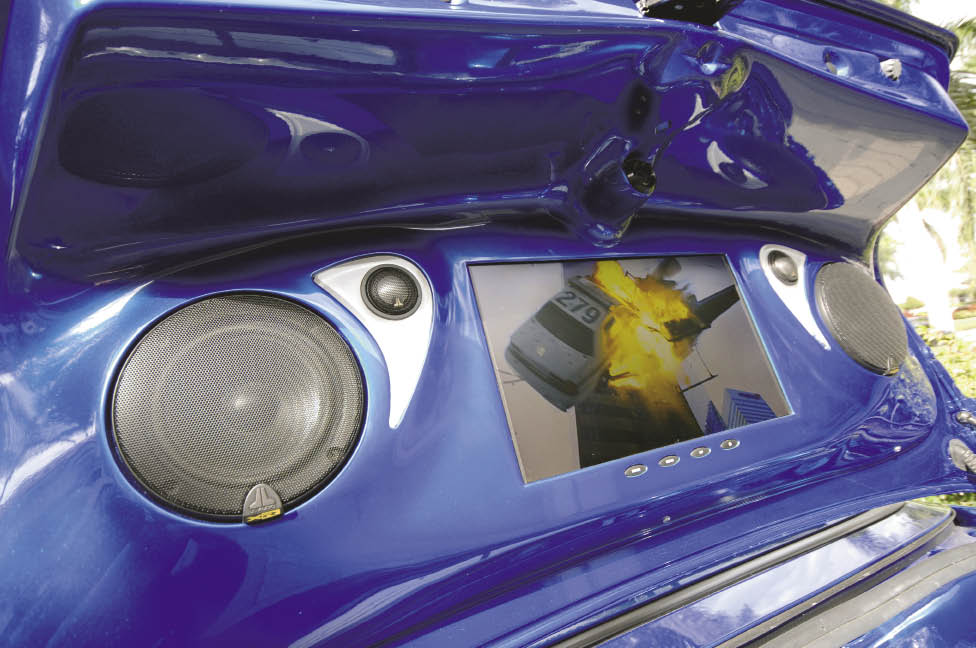 speed brokers at Active Autowerke to pair the shop's supercharger system with the inline-six. The polished C38-71 Rotrex Supercharger (set at 7.5psi) is the obvious gem of the bolt-on system, with Wheeler opting to use Active Autowerke's air-to-air intercooler and water / alcohol injection kit in his setup as well.
A K&N intake leads the incoming charge through an Active Autowerke by-pass valve and polished intake manifold. Combustion is handled by the Denso Iridium plug / Active Autowerke Stage II injector combo, while expunging duties are taken care of by an Active Autowerke header and Supersprint exhaust system. The motor, which features a high 11.5 : 1 compression, runs cool and calm thanks to an Active Autowerke oil cooler, while custom-tuned software ensures that the setup runs smooth as stock. Combined with a Nitrous Express N-tercooler setup featuring six 'Sneaky Pete' bottles and an UUC lightweight flywheel and M5 clutch transferring power to the rear axles, Wheeler boasts that his setup sends 525 screaming ponies to the ground.
Wheeler sat me in the driver seat so that I can picture what it would be like driving his M3 down the I-95. But before I got in, he double-checked my Nikes to make sure they were clean, as he didn't want me to track any dirt on the car's new suede floor and customized AC Schnitzer floor mats. He pointed out that the blue / black scheme was executed to perfection, even down to the re-skinned M5 seats.
Wheeler's carbon fibre fetish spilled over from the exterior, as the dash, glove box and A-pillars are all custom-made from the lightweight woven material. A quick glance to the side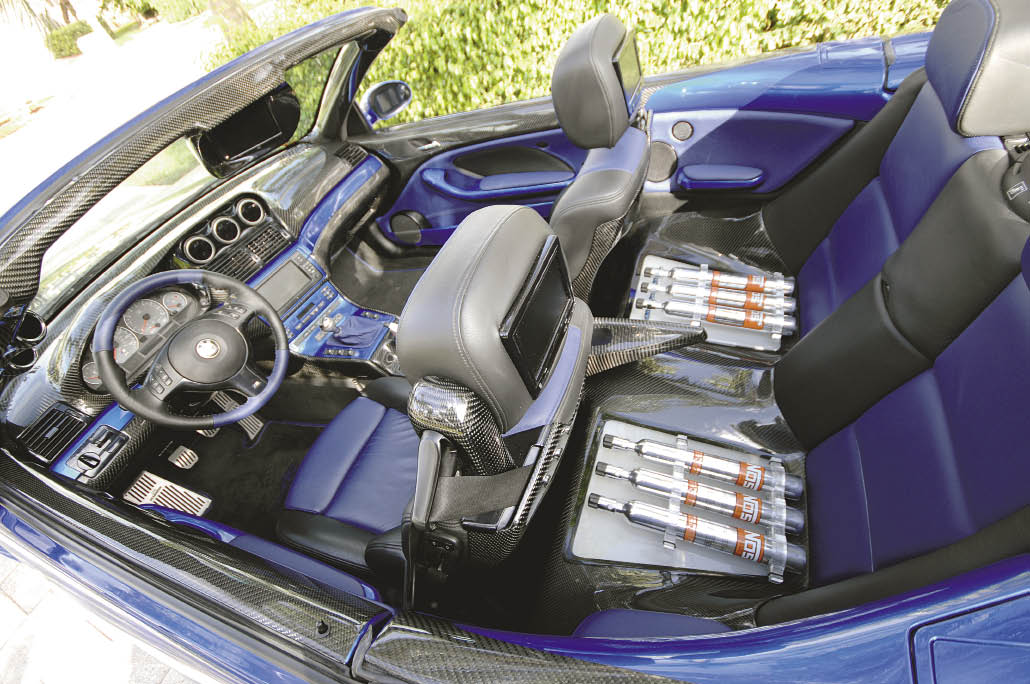 and behind me showed off that the convertible hatch, door / side panels and rear seat enclosure were made of the aerospace-grade material as well. I noticed that the factory M3 shift knob, e-brake handle and pedal set were also missing in action, but the AC Schnitzer goodies were more-than-adequate substitutes.
One look at the M3's multimedia system and it was evident that Wheeler likes to treat his eyes and ears with the best of the best. The wide open trunk showed off his motorized Plexiglas enclosure, which is home to a pair of JL Audio 8W7 8-inch subwoofers. Powered by a JL audio 500 / 1 mono-block amplifier, these woofers are capable of producing a pounding like Ron Jeremy in his hey-day. The trunk area is also home to a JL Audio 300 / 4 amplifier that supplies juice to the set of JL Audio Evolution XR650-CSi speakers mounted in the lid. The 6.5-inch speakers flank an Icon-TV 15-inch LCD, which no doubt acts as an awesome display for the Sony PS2.
A total of eight Alpine speakers provide the in-cabin acoustics, with two pairs of SPR-176A 6.5-inch speakers in front and two sets of SPR-136A 5.25-inch speakers in the rear. Though I didn't see them, Wheeler assured me that two Rockford Fosgate T3002 amplifiers hidden from view took care of all eight speakers. Surprisingly, the entire system is run via BMW's factory head unit (which features GPS Navigation), thanks to JL Audio's handy Clean Sweep integration unit.
Visuals come from a variety of sources, growing in size from the aforementioned BMW head unit in front, pair of Alpine TME-M750 6.5-inch LCD monitors mounted in the headrests,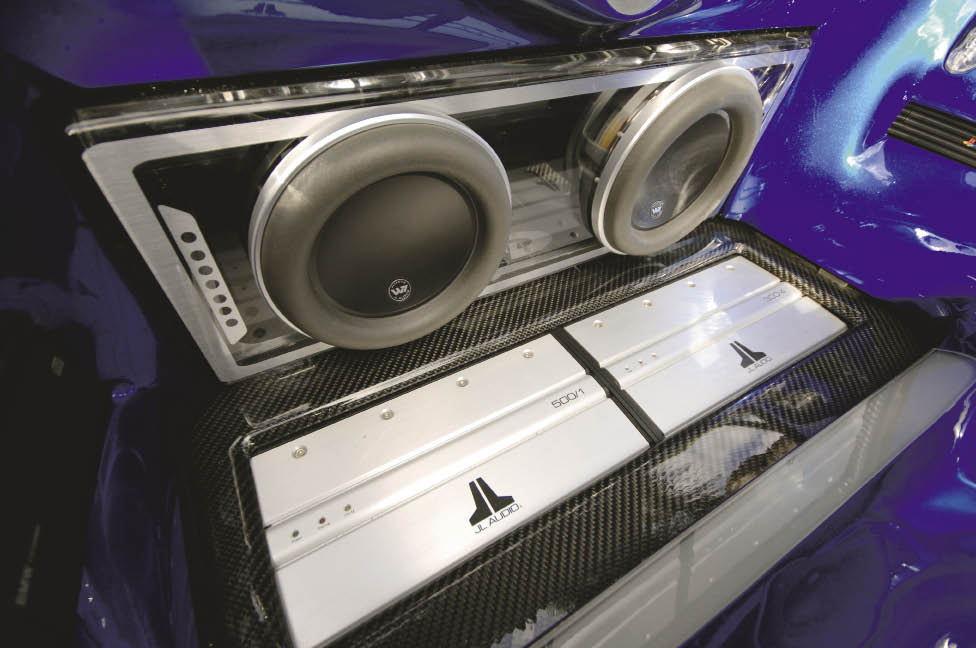 and 15-inch Icon-TV in the trunk. Supplemental source units include an additional Sony PS2 unit in the glove compartment and Alpine 6-disc changer located in the trunk. Wheeler made special mention that this is the M3's second system, as the previous version was retired after a few seasons.
By the end of our tour, Wheeler rolled home from HIN Miami with four more trophies to add to his collection, including Best BMW, Best Sound Presentation (Second Place), Best Lighting Display (Third Place) and Best of Show Elite (Third Place). He definitely made out better than me, as all I came back from South Beach with were empty pockets and a credit card bill that rivals the defense budget. This process has become routine for Wheeler, as the three-page list of awards he faxed to our office would indicate. Special thanks go out to his supportive sponsors Meguiar's, Michelin, JL Audio, HRE Wheels, Eisenhaus and Vorsteiner, as well as shops like Accessory World Customs, Team V Autowerks, Castle Motorsports, Active Autowerke, Southern Upholstery and Speed Shop that helped make his M3 an award-winner. Keep an eye out for the Wheel-Man this season, as he's got a full event schedule planned and hopefully some new-found storage space for the trophies he'll pick up along the way.

ESSENTIALS
Owner: James Wheeler
Location: Ft. Lauderdale, FL
Vehicle: 2002 BMW M3
ENGINE MODIFICATIONS
Active Autowerke Polished C38-71 Rotrex Supercharger @ 7.5 PSI
Nitrous "Ntercooler" Kit w/ (6) Sneaky Pete Nitrous Bottles
Active Autowerke Air to Air Intercooler
Active Autowerke Custom Supercharger Software w/ Stage II injectors
Active Autowerke Polished Intake Manifold & By-Pass Valve
Active Autowerke Water Alcohol Injection Kit
Active Autowerke Headers & All Stainless Exhaust with 80mm tips
Active Autowerke Oil Cooler & Mass Air Meter Housing
75mm Pulley - 11.5 Compression
Denso Iridium Spark Plugs
Ignition Solution Coils
K&N Air Filter
Custom Carbon Fibre Air Intake & Engine Bay Covers
Supersprint Front Exhaust Pipe (No Cats)
Supersprint Center Exhaust Pipe
UUC Motorwerks Tranny Mounts
UUC Lightweight Flywheel
M5 Clutch
Active Autowerke Stage 2 Short Shifter
Active Autowerke Polished Oil Cap
WHEELS / SUSPENSION
Custom Polished HRE 545R 20-inch Wheels (20 x 9 front; 20 x 12 rear)
Michelin Pilot Sport PS2s (255/30ZR20 front; 325/25ZR20 rear)
Custom House of Kolor Kandy Blue Brembo Gran Turismo 14-inch Big Brake System
Polished Control Arms & Bushing Brackets
Polished Steering Tie Rods & Arms
AC Schnitzer Polished Racing Strut Brace
Active Autowerke Rear Toe Bushings
Active Autowerke Rear Camber Arm Kit
Ground Control Coilover Kit
Eibach Springs
Koni Shocks
EXTERIOR
Custom House of Kolor Kandy Blue Paint Exterior / Interior w/ 10 Coats of Clear
Custom Silver Pin Striping
Custom Flossman GTR Widebody
Custom Remote Folding Side Mirrors w/ (2) 4-inch Monitors / "Night Vision" Cameras
Custom Carbon Fibre Front / Side / Rear Racing Diffusers w/ Struts
Custom Carbon Fibre Rear Racing Wing w/ 10-inch TV Monitor
Custom Carbon Fibre Vorsteiner Hood - Kidney Grill
Custom Polished Jack Stand
Relocated Gas Entry System
2004 LED Taillight Conversion
Shaved Door Handles
Shaved Door Moulds
Shaved Antenna
AC Schnitzer Rear Exhaust Diffuser
Hamann Custom Carbon Fibre Fog Light Inserts
Euro Folding Side Mirrors
Custom BMW Badges
PIAA Super Silicone Wiper Blades
Euro Clear 3rd Brake Light
GAUGES / LIGHTING
Custom Gauge Cluster with Blue lighting instead of Amber
Defi-Link Control Unit II (Moulded into Center Console)
Defi-Link Meter BF White Gauges (Moulded into Dashboard)
(60) Streetglow Neon Blue Tubes w/ remote operation
Varad S/200 Series Engine Bay Lighting
(10) Blue & White 85W Strobes
(5) Custom Ignited LED Switches
Ignited Nitrous Purge Button
Umnitza Blue Angel Eyes Xenon LED Bulbs
PIAA Xtreme White Plus Fog Lights
iLights Control Module
INTERIOR
Custom Carbon Fibre Dashboard - Glove Box
Custom Carbon Fibre trim panels
Custom Carbon Fibre Convertible Hatch
Custom Carbon Fibre Rear Seat Enclosure for NOS "Ntercooler" w/ remote Dual Purge System
Custom Stitched 2-Tone Steering Wheel - Shift Boot - E-Brake Boot
AC Schnitzer Polished Shift Knob - E-Brake Handle - Racing Pedals
I.C.E.
Custom Carbon Fibre Rear View Mirror / Monitor with (2) "Night Vision" Cameras w/ remote operation
(2) JL Audio 8W7 Subs In Custom Motorized Plexiglas Enclosure w/ remote operation (Trunk)
JL Audio "Clean Sweep"
(2) JL Audio Amps
* "Slash" 500 / 1 (Subs)
* "Slash" 300 / 4 (Mids / Highs)
(4) JL Audio "Evolution" XR650-CSi Speakers (Trunk Lid)
(2) Rockford Fosgate Amps - T3002 300 / 2 (Hidden)
Alpine Type-R Speakers (Interior)
* (4) Front SPR-176A 6.5s
*(4) Rear SPR-136A 5.25s
(2) Alpine TME-M750 6.5-inch TVs in Headrests, Alpine 6 CD Changer,
Alpine SEC-150R Alarm w/ remote
Top / Perimeter Sensor
Icon-TV 15-inch Widescreen (Trunk)
(2) Sony PS2s - Predator 2 Chameleon Wireless Controllers
K40 Radar / Laser Detector with Jammers TV on NAV BMW NAV System
Optima Yellow Top Battery
Dynamat Acoustic Insulation