The Monstrous Product of Vivid Imagination.
That is your automotive dream? To go faster than anyone else? To go lower, or make sparks fly from your undercarriage? To win trophies at shows, or garner massive amounts of Internet praise? Whatever the case, we sincerely hope you follow it with the same level of devotion that Las Vegas resident Yoshi Nebril has in pursuit of his dream.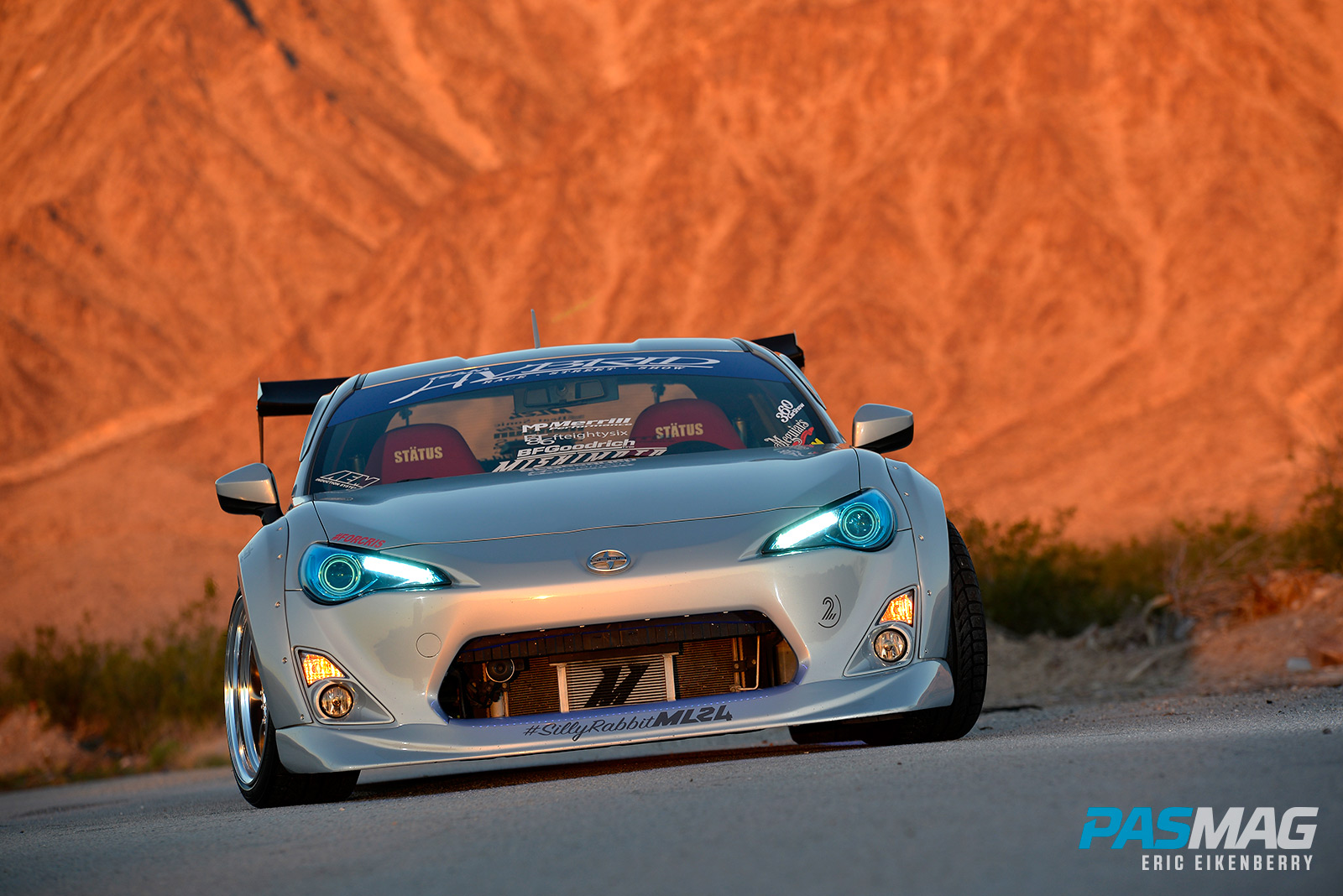 For Yoshi, it's taken a perfect storm of influences coming together to help him create "Project Kaiju," an effectively modified 2013 Scion FR-S Series 10 limited edition coupe. He has combined societal and parental conditioning with his own vivid imagination, and paired it with a healthy dose of Hollywood magic to envision a new monster.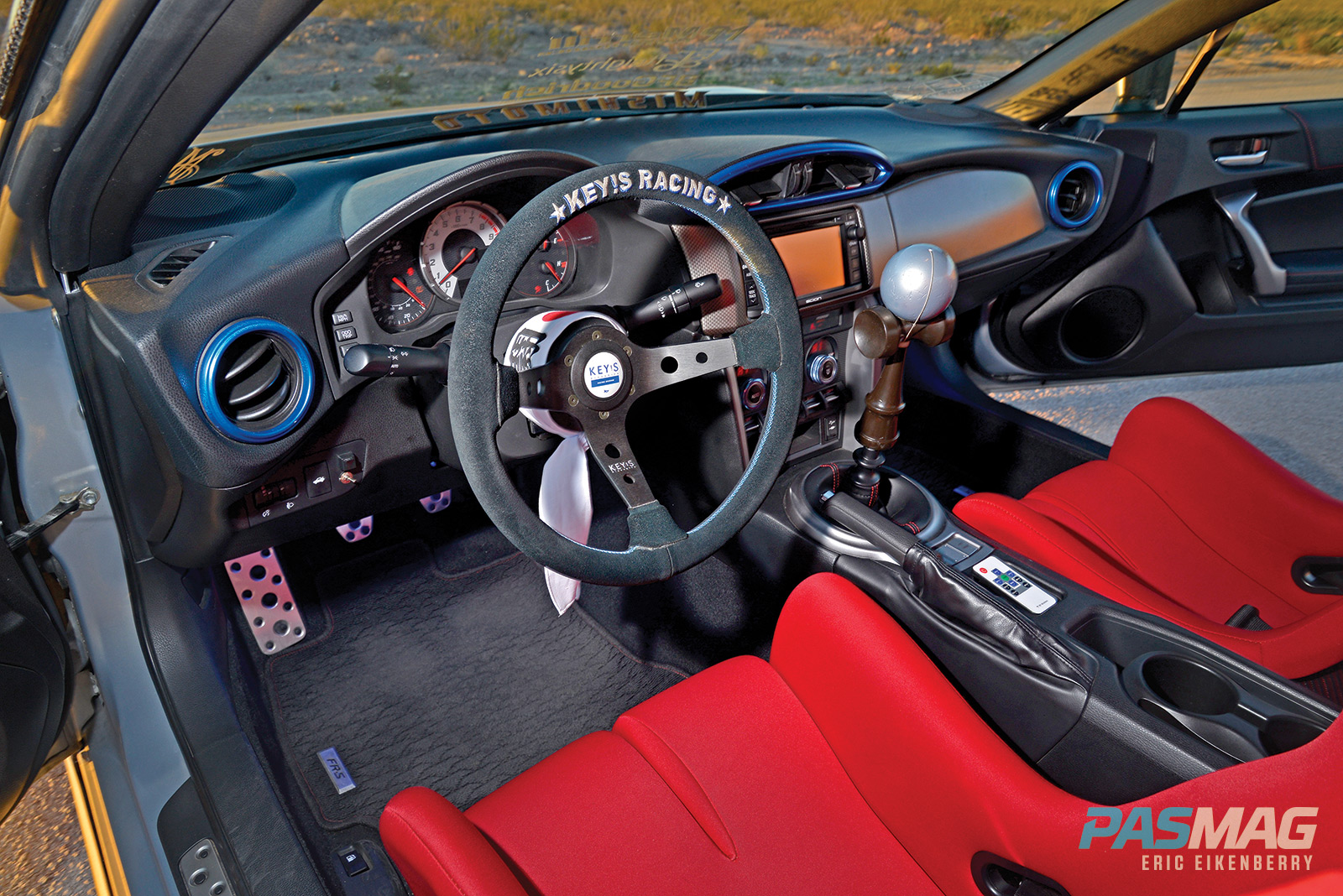 "I wanted to build a monster of a car," he explains. "I wish I could have called it Godzilla, but that name was taken by a Nissan Skyline. With some thought and a couple of hours surfing online, I stumbled upon Kaiju, which in Japanese refers to a strange beast or unknown amphibious creature."
"Godzilla, King Kong, Mothra and the Loch Ness Monster are all examples of a Kaiju, but it's the movie Pacific Rim that helped me figure out what kind of Kaiju my car is. It's a Category 5 (hence the KAIJU5 vanity plate), and is derived from a hammerhead shark. The movie monster is dark grey with blue eyes and blue features," Yoshi points out. "It holds a wide stance and high tail. The rest is history."
"All monsters are bad (at least that's how we think of them), but Kaiju to me has a bit of a different meaning. To me, the car is a Kaiju, and a reflection of the spirit of the builder. It's the builder with the monstrous spirit the car actually reflects."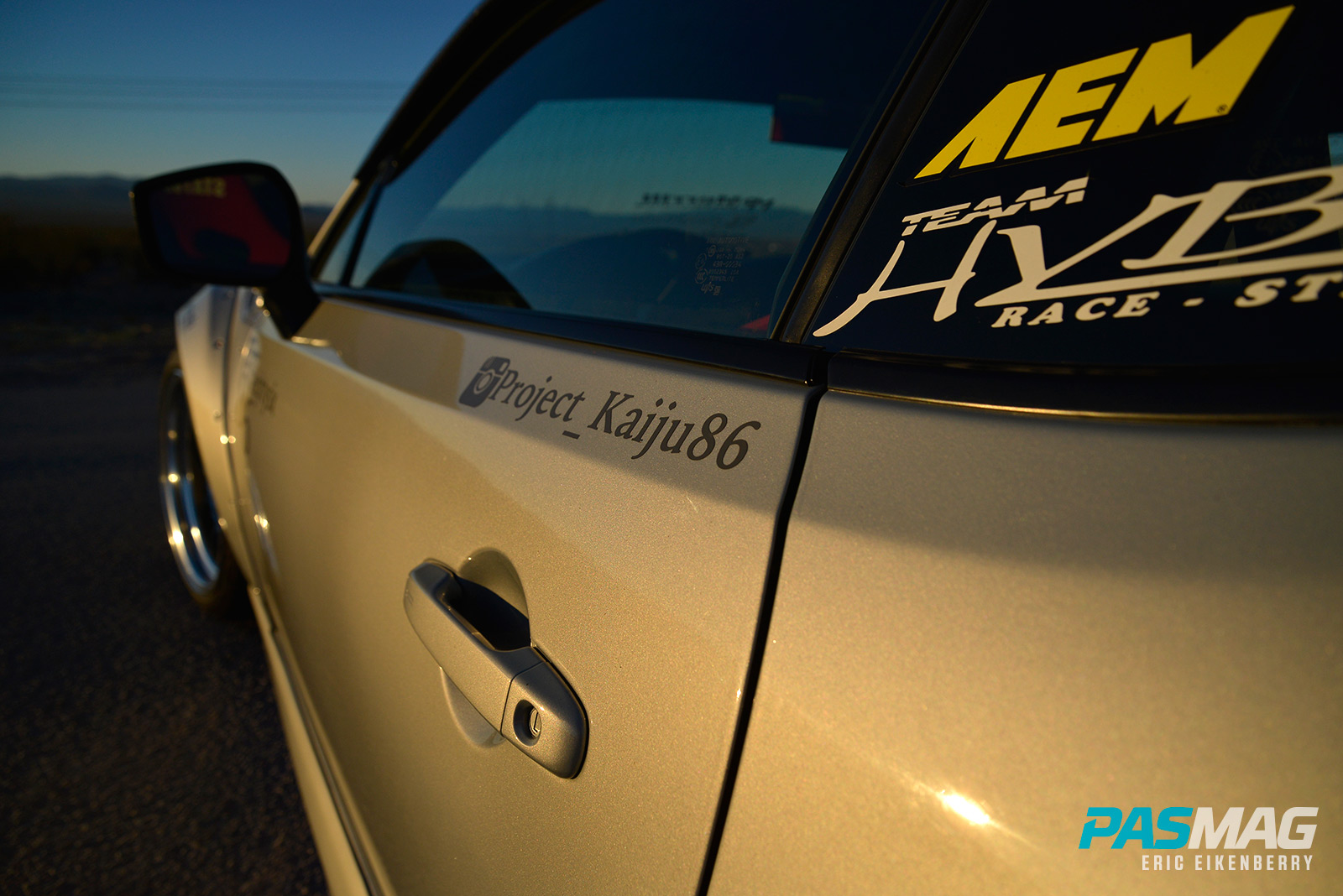 While Pacific Rim director Guillermo del Toro's fictional creatures from another dimension may have lent concept and shape to Yoshi's project, it was another hybrid of sorts that assisted his dream: Team Hybrid.
Yoshi joined the well-known team in August 2012, and through constant exposure to his teammates Jacob Sabian, Brian Camacho, Archie Concon and James Lin, he saw firsthand some of the team's best builds on the West Coast. These experiences and interactions helped light a fire in him that had been smoldering for years. You see, Yoshi's father, years earlier, had built everything from Datsuns and BMWs to an Acura Integra GSR and several Civics, all while keeping busy as a single parent. Yoshi, himself has three children and, with the help of his wife Tisha, he's been able to follow in his father's footsteps.
His FR-S (#1,612 of 2,500 produced) has become fractionally more rare with the addition of a nine-piece ML24 widebody kit from designer Matthew Law, based in the Toronto, Canada area. With his 2D drawing skills and 3D modeling and prototyping, Law is on the cutting edge of body kit technology and we can't wait to see what he comes up with next after viewing this beauty in person at SEMA.
Yoshi, meanwhile, drives this car to and from work everyday – and everywhere else for that matter – and we're amazed he has not demolished the front lip or side skirts on the rough streets of Vegas. Granted, the Megan Racing EZ Street coilovers are not set ridiculously low, but the oversized Work Meister wheels – with their -10 front and -15 rear off sets – make it appear as if the front fenders are scraping the rubber off the tire when it turns. Yoshi assures us that it works just fine and, love it or hate it, the big wing has returned with a vengeance. Punctuated by the muscular rear fenders, the Rays carbon fiber factory GT rear wing is a standout at standing out. It's tall, wide and, most importantly, fits with the aggressive lines of the car. We love it! The camera loves it! Show judges love it, too.
Now, we could go on and on about all of the individual parts on the car (check out the specs if you want to know all the nitty-gritty details) but, we'd rather delve into the concept and execution a bit more. The original concept is where so many promising builds go dramatically wrong. But not in this case.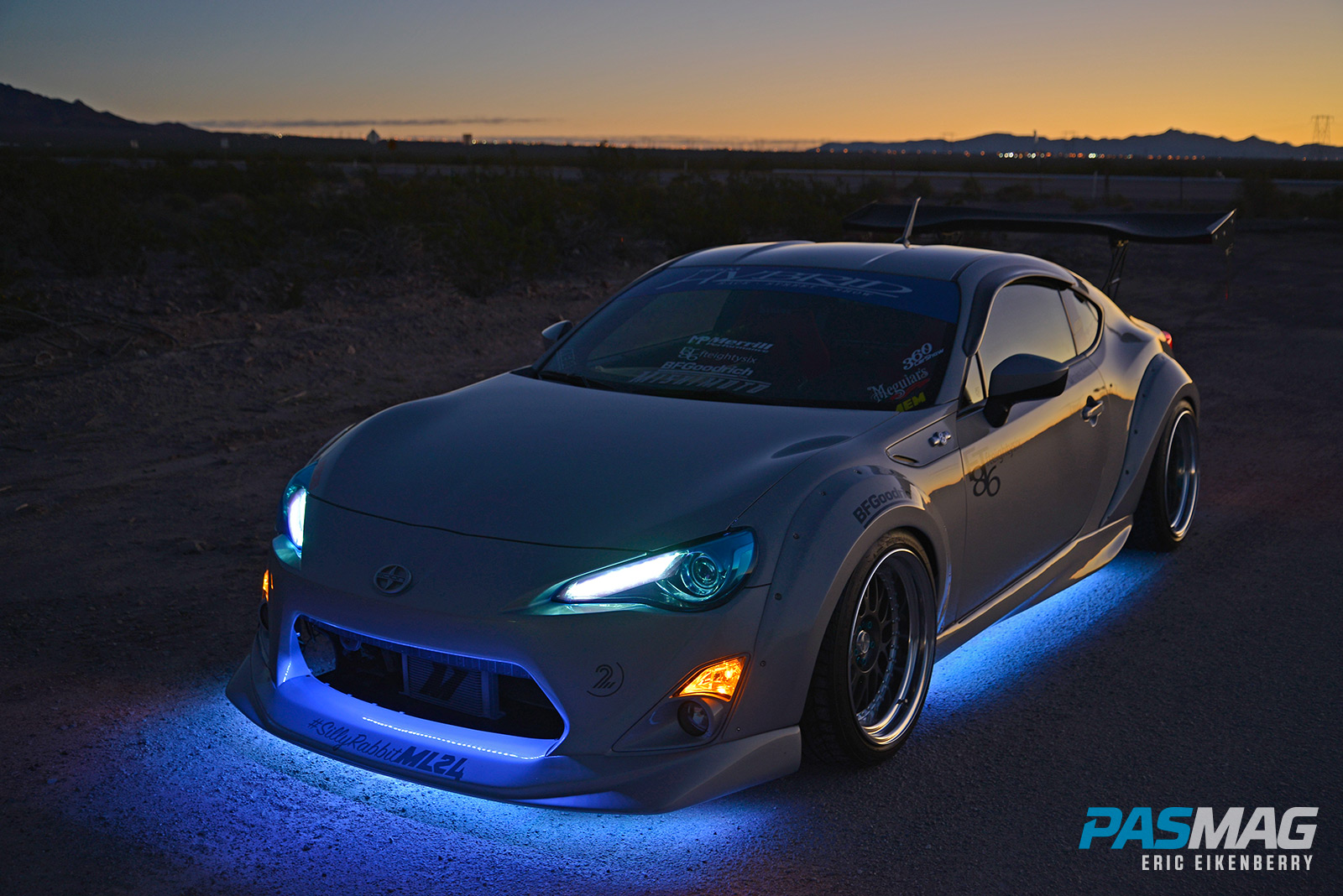 Cars with aftermarket parts hung haphazardly on them that win no awards at shows are a dime a dozen. What they lack is cohesive integrity, which can only come after coming up with an idea that's uniquely your own, then dominating it. People will argue about body kit designs, horsepower dyno numbers and overlook the importance of having an all-encompassing, guiding idea which makes you lose sleep at night over the stress of picking just the right equipment.
Yoshi had a glimmer of an idea, and he's successfully nursed it to fruition by focusing on the concept, developing it like he's raising children, and then unleashing it upon an unsuspecting world at the right moment. The blue Kaiju won Best of Show at the first event he attended (86Bash in Arizona) and has been invited to various car shows as a featured attraction. The trophies have been pouring in. Even Scion has had Yoshi and his car out to its Los Angeles headquarters to get an up-close look at this blue Kaiju.
Yoshi isn't a parts-hanger, and the blue lighting all around the car is a perfect example of bucking trends. Some might say that under-car glow went out with Paul Walker's explosive DSM Eclipse in the first Fast & Furious movie, but here it's been used with subtle care around the car to enhance the viewer's feeling that this car is somehow alive. The back-lit Series 10 badges further enhance this effect, and little touches like the blue tinted headlamps and Beat-Sonic antenna on the roof add to the foreign menace.
If the goal has been to create a monster that reflects his own internal beast, we feel Yoshi's off to a flying start with his FR-S. Of the future mods he currently has planned, stuffing a Corvette LS crate motor into an immaculate engine bay is perhaps the most important when it comes to backing up its bark with some proper teeth. And, with eight individual throttle bodies poking out from the hood like flared nostrils, the LS powerplant would continue the Kaiju theme by endowing the lightweight Scion with beastly power to match its optics.
"The sky is the limit, but I fear I'll never be finished with the build because there's always room for improvement," says Yoshi, who's also working toward the inevitable big brake upgrade. "Naturally, they'll have to be blue like the ones from Endless, which are not cheap. The interior also needs more work to get it where I want," he says.
Our automobiles are not just possessions, they are extensions of our personalities. They speak about our ability to dream, to imagine and to create. Like in the fictional Pacific Rim universe, someone is always trying to build the perfect beast. Yoshi has envisioned his as a monster; and he is dedicated to his Kaiju and the spirit it embodies. So who will build a "Jaeger" to save us all now?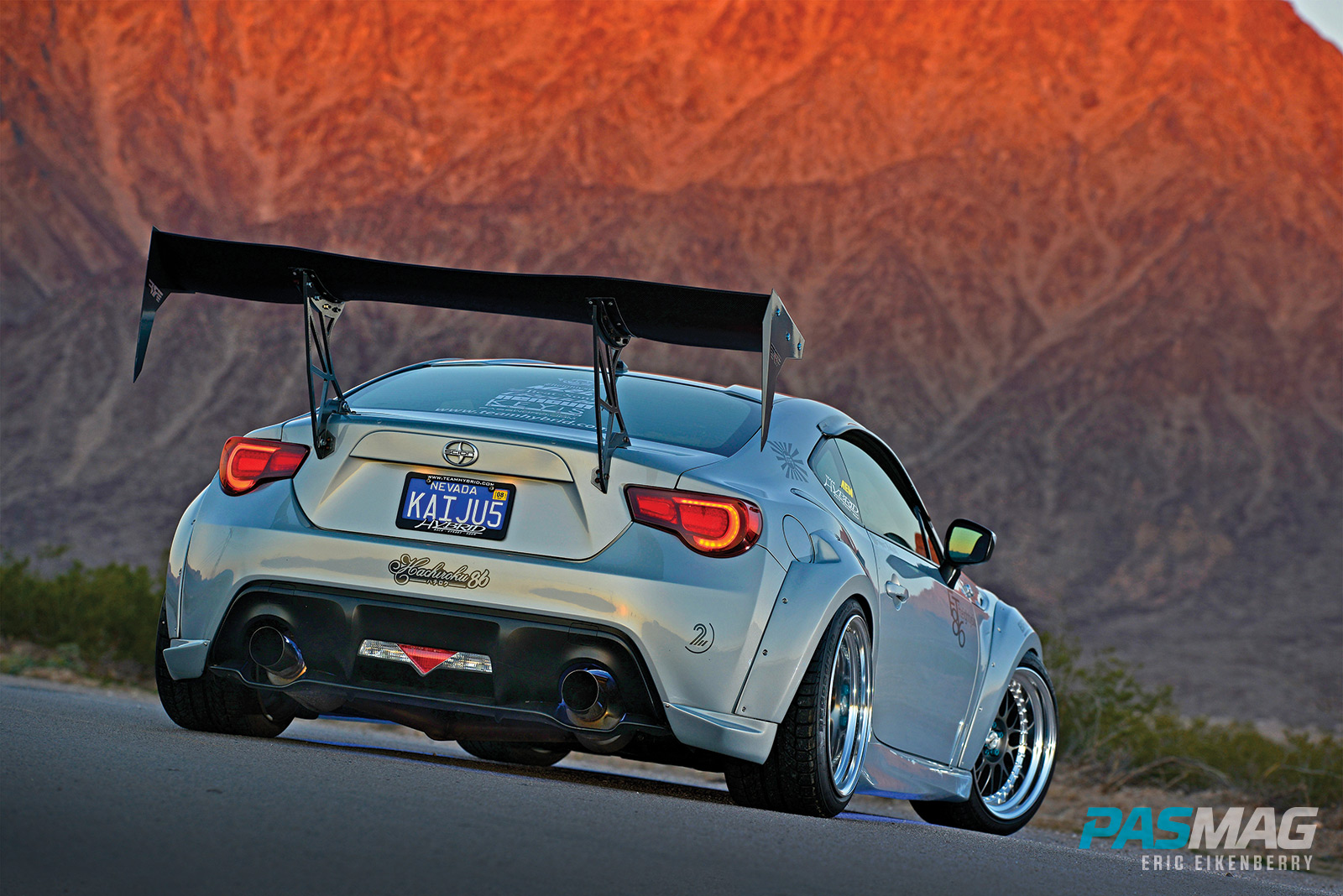 Photography by Eric Eikenberry
---
ESSENTIALS
OWNER: Yoshi Nebril
VEHICLE: 2013 Scion FR-S 10 Series
LOCATION: Las Vegas, NV
ENGINE: Toyota/Subaru FA20 2.0L H-4
CLUB AFFILIATION: Team Hybrid
INSTAGRAM: @Project_Kaiju86
ENGINE
Mishimoto (oil cooler, radiator hoses)
AEM intake system
EXHAUST
GReddy Evo 3 cat-back exhaust system
MXP front pipe
CHASSIS / SUSPENSION
Megan Racing EZ Street coilovers
Camber bolts
AEM front strut bar
WHEELS / TIRES / BRAKES
WORK (Meister M1 3-pc. wheels – 18x9.5 -10 (f), 18x11 -15 (r), RS-R blue lug nuts)
BFGoodrich g-Force Sport COMP-2 tires – 235/40 R18 (f), 265/35 R18 (r)
R1 Concepts (custom painted calipers, cross-drilled & slotted rotors)
EXTERIOR
CIA Customs Scion Ignition Silver paint job
ML24 9-pc. widebody kit
Tom's taillights
BeatSonic Blaid antenna
OE-style rear diffuser
Rays Factory custom GT wing w/ 5150 carbon wrap & powder-coat
J-Blood carbon fiber window visors
Custom painted fog light bezels
RGB multi-color LED lights
INTERIOR
YoSpeed "86" center console plate
Custom (blue vent bezels, blue climate knobs)
Status GTX red carbon fiber seats
Merrill Performance custom harness bar
Takata 4-point racing harness
Kendama Tribute custom shift knob
MOBILE ELECTRONICS
Pioneer double-DIN head unit
Sony Xplod amplifier
RE Audio 10-inch subwoofer
CIA Customs custom ported subwoofer enclosure
SPONSORS
Mishimoto
BFGoodrich
Meguiar's
K&N
ML24
CIA Customs LV
---
PHOTO GALLERY