Photography by Rob Robson
---
Dialing in the stance on your car is a lot like tailoring a suit. You want to look good, so you pick something expensive. But just a nice suit isn't enough – you have to accessorize to pull off the new look; add on and accent to make your suit look how you want it to. Now, let's say you haven't been eating well recently and that suit is a little snug. To get it to work, you're going to have to suck in that gut.
In automotive terms: the suit is your wheels, the accessories are your suspension components, and stretching your tires to clear your fenders is like sucking it in to clear your waistband.
PASMAG's very own Richard Robles, our Client Services Director, has been involved with cars and modification for most of his life. His main love is VIP and as such, only drives Infiniti vehicles. In his garage now, he currently has a retired (but maybe making a comeback) bagged VIP Q45, a QX56 family hauler, and his most recent addition, the G37x S sedan you see here. When Rich said he was getting back in the game with his G37, we were all pretty excited, including some of our partners, so we went all out.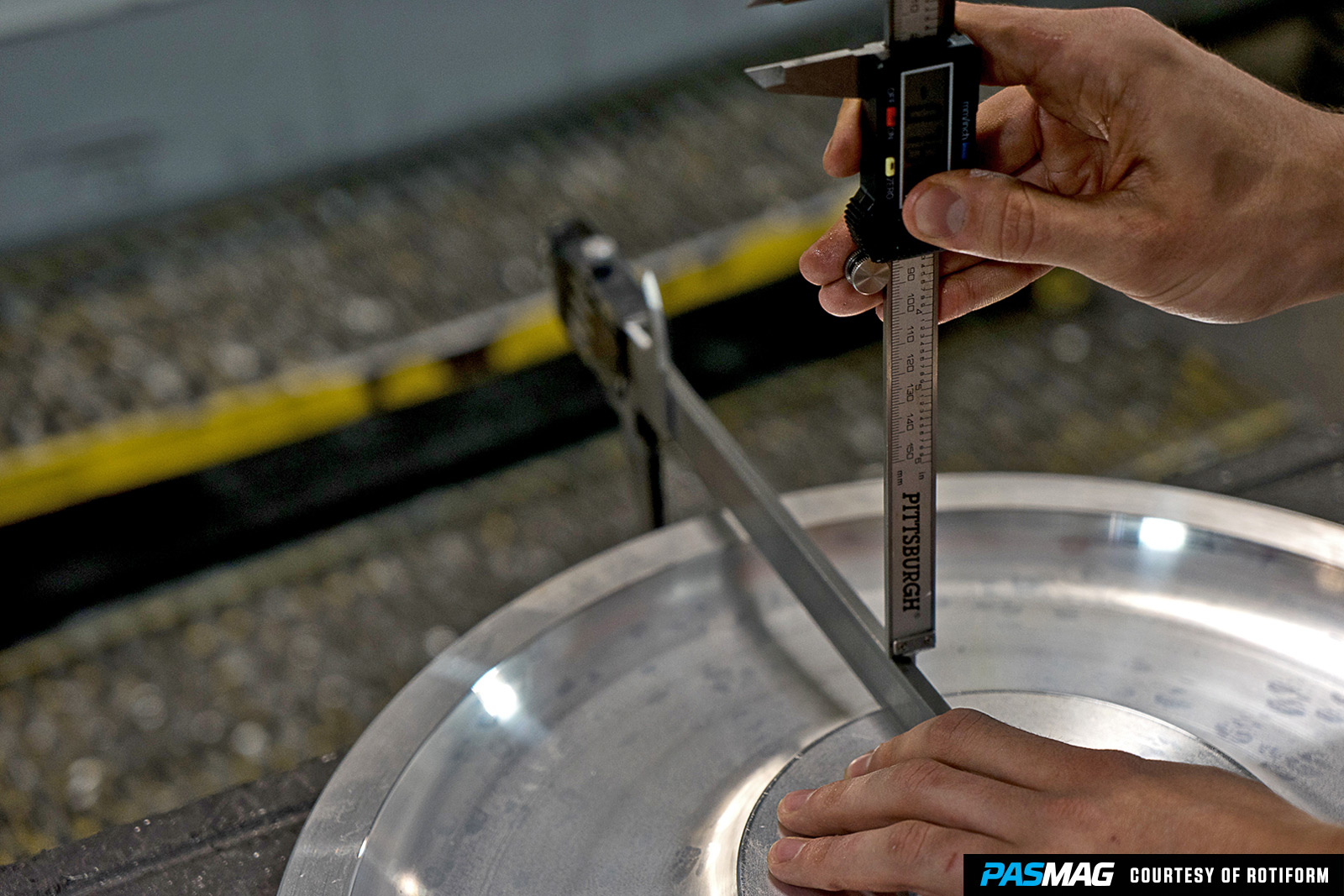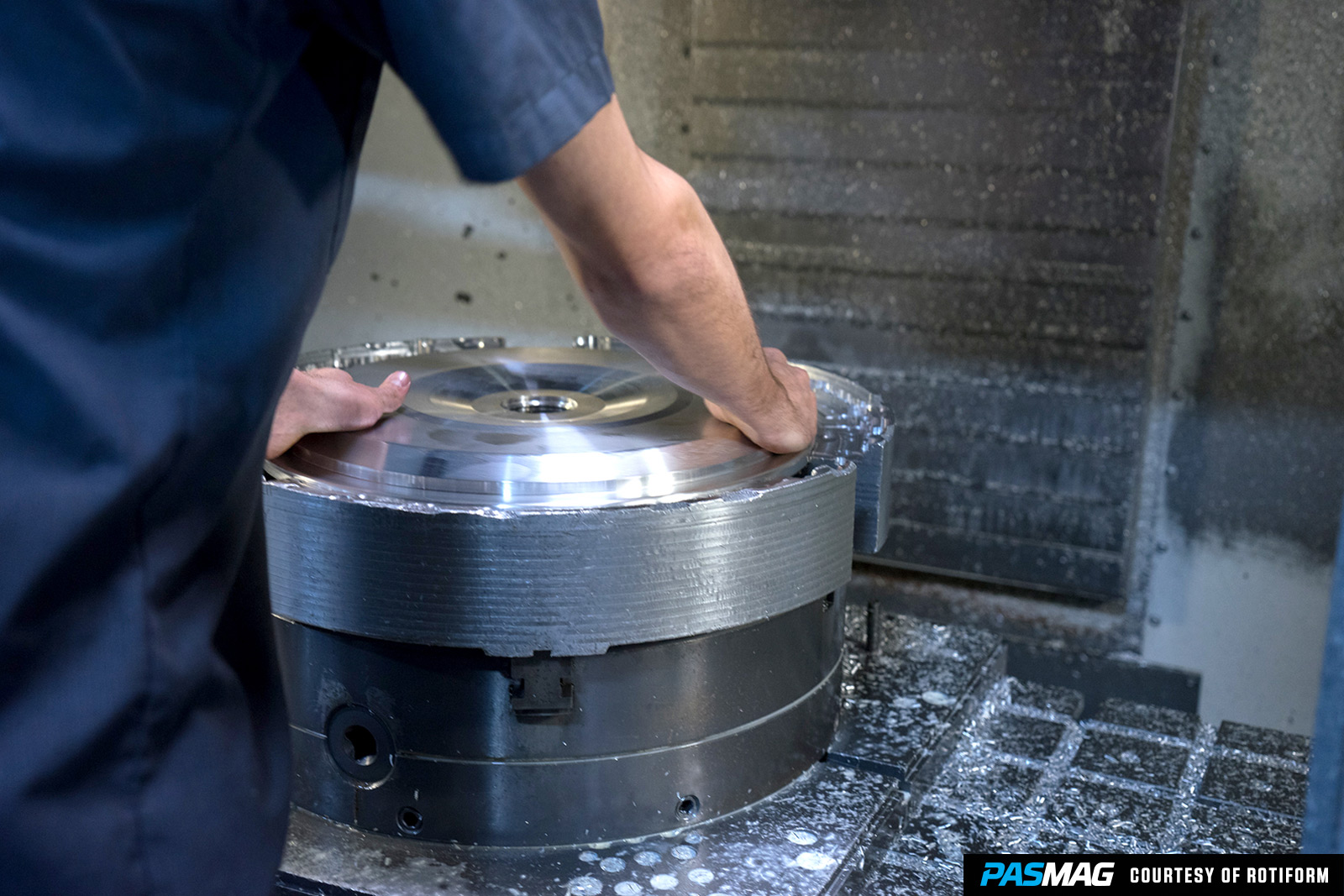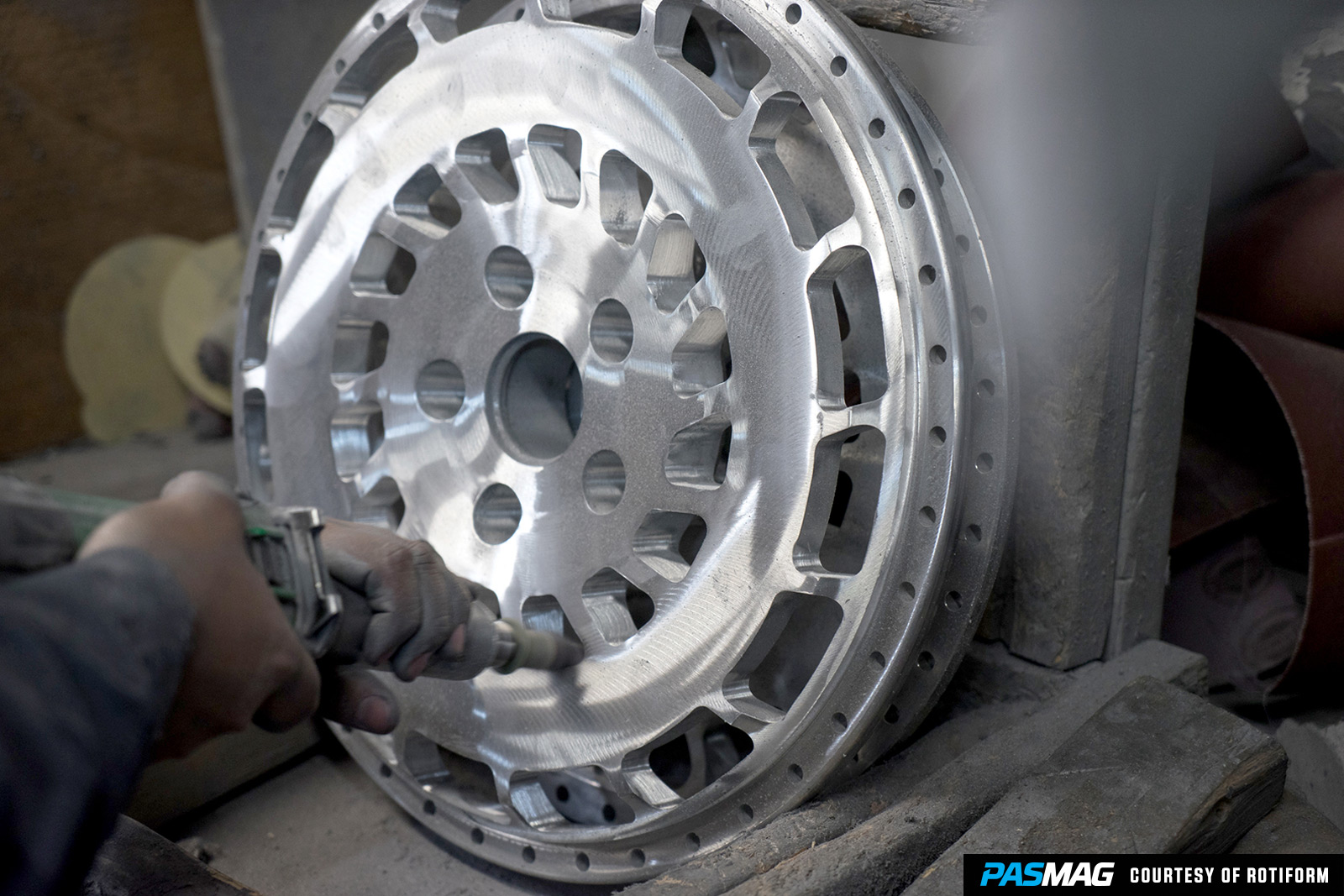 ROTIFORM CCV THREE-PIECE FORGED WHEELS
Custom forged wheels are a must these days if you're looking to achieve a certain look that will perfectly match your car. Since the practice has become more accessible in recent years, there's an outpouring of companies that offer wheels forged and constructed to the customer's needs, but Rotiform stands out above the others for offering a myriad of designs in conjunction with what could be the most custom options on the market right now.
While the vast selection can be intimidating to some, Rich had no problem deciding which Rotiforms he'd like sitting on his ride. He settled on the throwback-styled CCV, which takes heavy influence from wheels of the '80s equipped with turbo fans. After speaking with Brian Henderson, the owner of Rotiform, over the phone, the two decided on three-piece construction that measures in at 19x9.5 with a +22 offset in the "matte anthracite" finish with gold hardware, on all corners. The wheels also have staggered lips, with two-inches in the front and three in the back.
WHY NOT GO FOR A STAGGERED FITMENT?
Since the G37 is an "x" model, that means it's equipped with Nissan's ATTESA E-TS all-wheel-drive system. Owners of cars equipped with AWD have to be very careful when they're choosing aftermarket wheel options and stick to a square setup because of the complex system. With the AWD system splitting torque between the front and the rear wheels, a variant in the rolling diameter of the wheels can cause some pretty expensive problems to the transmission and AWD system. Most AWD vehicles come from the factory on a square wheel setup. Some high performance models do run staggered setups as OEM equipment, but use tires that keep the same rolling diameter, or keep it as close as possible as to not cause an issue. The tolerance in rolling diameter is low (usually about fi ve percent, but less than one percent on the G37x), but if you really want to run staggered, make sure you do your research beforehand.
TOYO PROXES T1 SPORT TIRES
The Infiniti G37x S is a perfect blend of luxury and performance, so why not stick with that formula for the tires? Toyo's Proxes T1 Sport tires takes the performance benefits from the Proxes line and infuses that with some of Toyo's luxury offerings. Wider outer blocks and center ribs improve stability, handling and braking, which we ruined just a pinch. To fit the tire under the fender, while also making the rim lip flush with the fender required a slight stretch. That's why we went with 245/40 R19 sizing. Considering that a nice fit for a 9.5-inch width is about a 255 tire, the 245 was just enough to get under the fender without sacrificing too much of the tire's functionality. Remember kids: stretching tires can cause contact patch issues as well as reduced tire integrity, so make sure you're not overdoing it. If you're going to be dumb, at least be smart about it.
BC RACING BR SERIES COILOVERS
Getting the wheels and tires on the car is one thing, but getting it down is another, so we called on BC Racing to see what they had cooking. Fortunately, they offer a BR Series G37x application and it was highly rated by other owners, so we pulled the trigger.
The BR Series is the most accessible coilover in the BC range and is meant for street driving over actual track days, but that doesn't mean it skimps on anything. This coilover is fully featured with a mono-tube shock design, 30-way damping adjustability and front camber adjustment. The height adjustment mechanism is also separate of the piston stroke, which allows you to go lower while retaining decent ride comfort.
BC also offers custom solutions if you're tackling something special. We didn't have the time to wait for the custom turnaround, so we settled on the regular 10-kg front spring rate and 8-kg rear, which worked out great. One of the custom options we toyed with the idea of was the "extreme low" option, but we ended up with plenty of low with the off-the-shelf kit. Extreme low must be some serious business.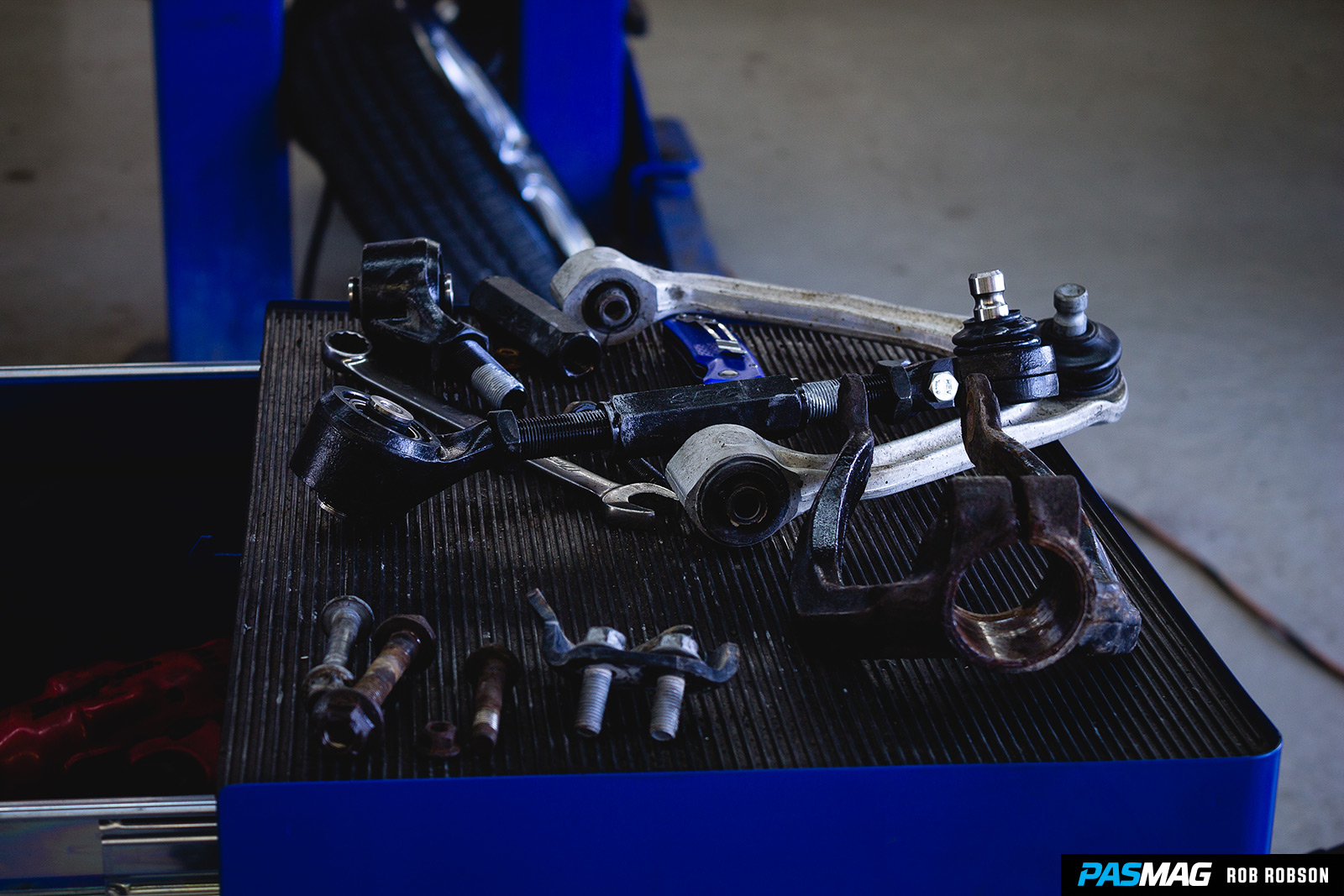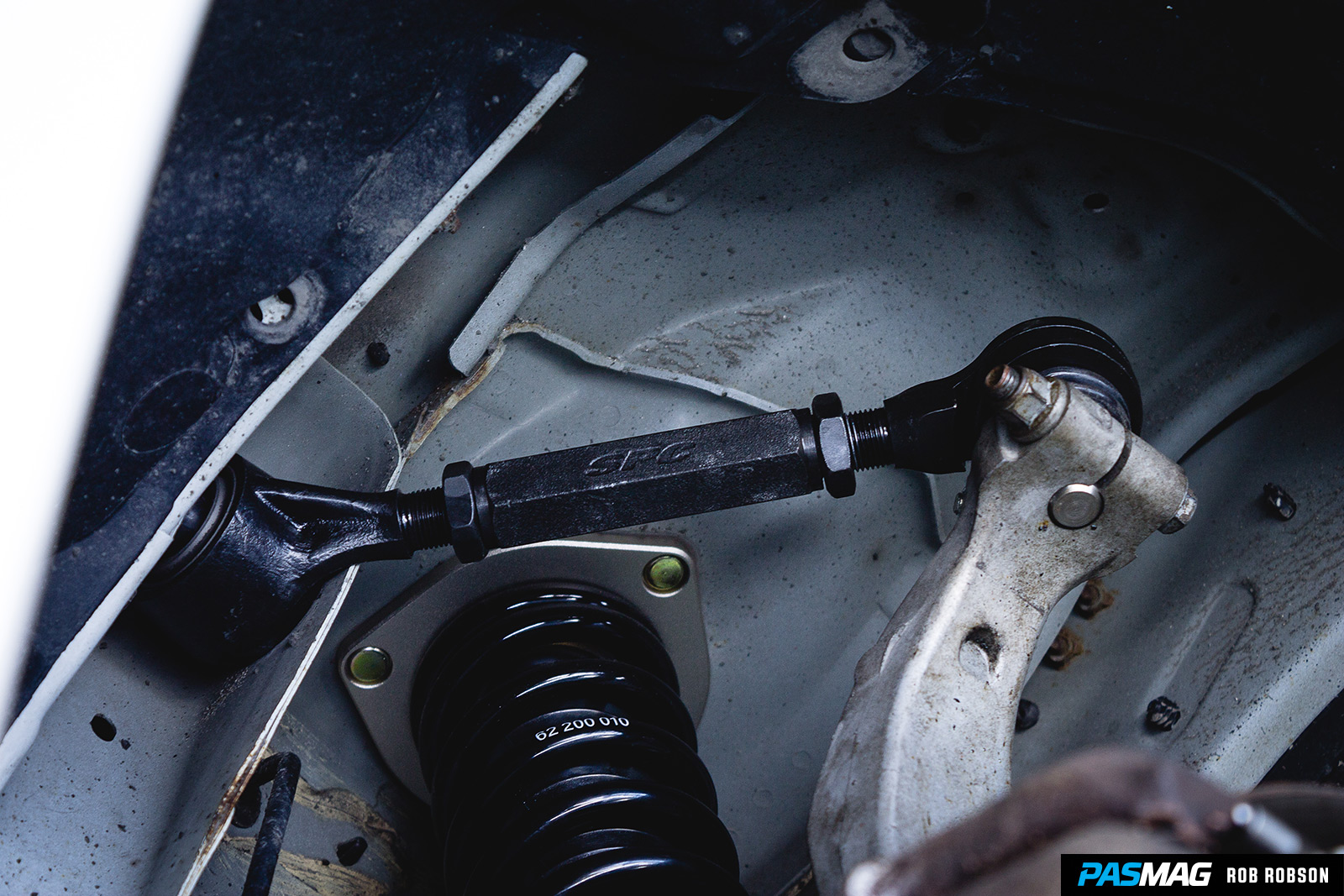 SPC ADJUSTABLE FRONT UPPER CONTROL ARMS, REAR CAMBER ARMS, TOE CAMS & LOCKING PLATES
Of course, all that low with the aggressive wheel and tire setup would be meaningless unless we could manipulate it to fi t where we wanted it. That's where SPC's suspension components come into play.
Up front, we used SPC's Adjustable front upper control arms, which can also be used on the G35, 350Z and 370Z. These arms allowed us positive and negative three-degrees of camber and caster adjustment, all while matching the OEM design, which eliminates fender interference – bonus!
In the rear, it's a team effort. SPC's adjustable rear lower control arms, camber lockout plates and extended range toe cams give a combined effort that allows positive and negative three degrees of camber and two degrees of toe adjustment. The arms employ SPC's xAxis sealed fl ex joints, which act like monoballs, but utilize non-metal bushings to last longer over OEM. Upgrades all around!
PROJECT KICS LEGGDURA RACING TWO-PIECE SHELL TYPE LOCK LUG NUTS
You've got to go all out, right? To match the gold hardware on the wheels, we sourced some gold Project KICS Leggdura two-piece lug nuts. Their "shell type" design is pretty revolutionary for anyone who likes to run colored lugs. Each lug is made up of two pieces, with four plain black lugs and one lock being secured to the wheel by the usual means, but then the colored "shell" is screwed on top to finish it all off. So, your wheels are secure and your lugs always look as good as the day you bought them. This was a no-brainer.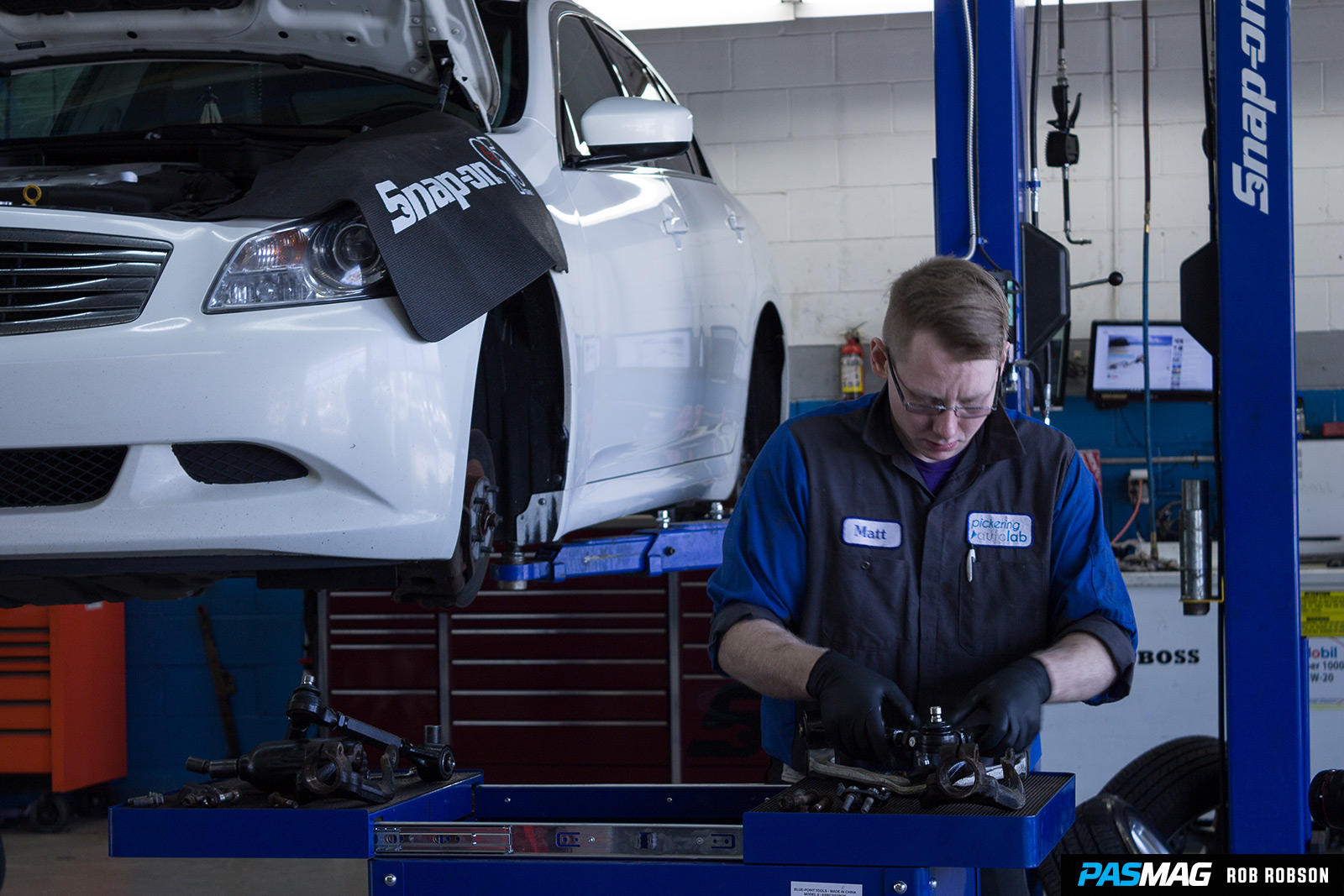 PUTTING IT ALL TOGETHER
The moment of truth. Gathering all the product you've researched tirelessly and crossing your fingers that it all works together to produce the look you've been chasing. So, will Rotiform, Toyo, BC Racing, SPC and Project KICS work out and look good? The answer is hell yes. Especially with the capable hands at Pickering Auto Lab helping us piece this G37 together.
We brought the car into the shop and got it up on the hoist, where Matthew Brunette-Mzik, our personal workhorse for the day, got to work taking off the OEM wheels, suspension and arms. Meanwhile, our other tech, Saif Sanwal, got to work mounting the tires to the wheels.
With our tire stretch not being too drastic, Saif only needed to use one Cheetah tire bead sealer. No fl ames needed this time, folks. He also spraypainted the wheel weights black, which, in our minds, makes them more legit. The wheels and tires were then balanced and set aside.
Meanwhile, superhero Matt had installed the front and rear suspension components, making note of their OEM counterparts for measurement's sake. The coilovers were then installed and adjusted for the first time. Then it was time for the first time with the wheels on the car and they suit it perfectly.
Once all the wheels were bolted up, the car was dropped and the question was asked, "Hey, Rich. How does that look?" "Lower," was uttered in response. So, up it went again, more measurements were made and it came down looking awesome. Could it go lower? Yes. And it would, as the springs settled under the weight of the car. In fact, after taking the G for a quick boot and then getting it set up on the alignment machine, there was already a noticeable difference.
As the car was a good three inches lower over stock, it was a bit of a challenge getting the G on the ramps for the 3D laser alignment machine. We did it eventually with some extra help from some good old wooden ramps. Once up, it was time to adjust all the SPC goodies and get everything dialed in.
Rich had initially stated that he didn't want to go over negative three degrees of camber, but that soon went out the window when it came to finding the balance between fitment and drivability. The front ended up receiving negative 3.5 degrees of camber, while the rear squatted out at 4.8.
Once off the alignment machine, the car had sagged again, leaving the wheel lip a few millimeters from the fender. Perfect. Exactly how we wanted it. We then applied a few stickers and screwed on the shell pieces of the Project KICS lugs and it was time for the end of the day shoot!
PASMAG would like to thank our partners Rotiform, Toyo, BC Racing, SPC, Mackin, Pickering Auto Lab and Brad Newton from My37.com for their help in making this build possible. Stay tuned to PASMAG's social channels for video coverage of the build! #PASMAG
Contributor: Rob Robson