This year on April Fools' Day, our social feeds are a little more mellow than previous years, but there are still plenty of gems out there, including the one from ARC Audio.
MODESTA, California; April 1, 2020 - With the popularity of the Netflix documentary, Tiger King: Murder, Mayhem and Madness, ARC Audio is introducing a Limited Edition Tiger King X2 Series amplifier!
Innovation and creativity are special engineering traits often losing out to marketing and price in car amplifier design. However, when they are placed at the top of the priority list of design points and matched with raw power, quality, reliability, overall performance and sonic purity, the result is some- thing that leaves most any listener in a new level of awe with sonic bliss.
For over 20 years, ARC Audio has been an industry leader of go to products for audiophiles, enthusiasts' and serious competitors worldwide, but that Hi-end reputation has never stopped us from delivering raw power and performance that any level of listener can enjoy while creating that personalized musical experience in their vehicle.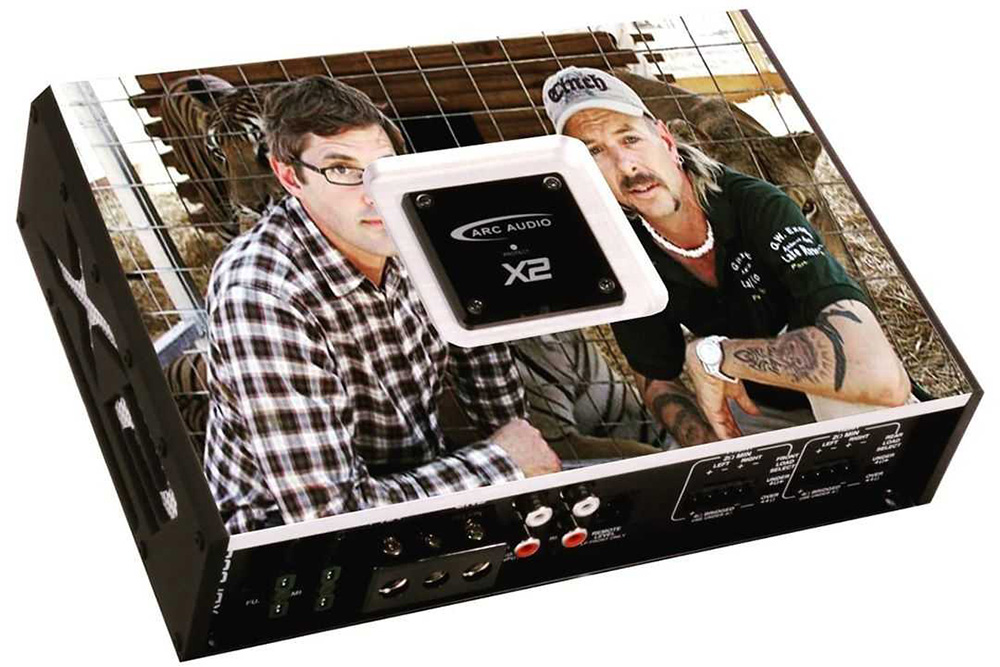 If you have been or currently are an owner of the XDi V2 series amplifiers, then hold on to your seats. The new X2 amplifier series is the newest and updated version of this proven high efficiency Class-D amplifier technology giving you the most dynamic and sonically accurate performance available on the market.
When power is at the top of your system demands and Bass is the focus of your musical tastes, then the X2 2500.1 should be at the top of your wish list. Boasting an obscene 2500 watts of power this amp is the answer to all of your low-frequency power needs.
Coming in as part of the New 2018 X2 Series of amplifiers the X2 2500.1 holds its physical composure with an elegant silver brushed-aluminum extruded aluminum chassis and universal mounting application 360-degree rotatable acrylic logo back and display in the center. The X2 2500.1 is specifically designed for subwoofer applications and is frequency limited from 20Hz - 230Hz
Internally Bridged Amplifier (Single Channel)
Microprocessor Class-D Design
Designed And Engineered By Robert Zeff
High-Frequency Power Supply Design For Improved Signal Transparency And Overall Sound Quality
Remote Bass Boost Control (Included)
Extruded Aluminum CNC Chassis Design (Level 2 X2 Cosmetics)
Frequency Limited Subwoofer Amplifier Design
Start-Stop Vehicle Compatible
Signal Sense and DC Detect
Single Side Connection Design
Nickel Plated RCA Terminals
Quick Disconnect Speaker Terminal Plugs
Audiophile Class-D Output Filter Networks
Detailed Microprocessor Controlled Protection
Large, High-Frequency Switching Power Supplies
RCA Inputs Are Compatible With Speaker-Level Inputs
Fault Codes Storage Of The Last Protection Code Detected
High Signal To Noise Ratio Without Compromising Power Output
Fully Balanced Input Stage Significantly Increases Flexibility
Ultra Low ESR, High-Capacity Power Supply Storage Capacitors
Flexible Mounting Orientation For Vertical Or Horizontal Installations
Next Generation High-Speed Class-D Technology Powering All X2 Amplifiers
Bridged Mode Auto Detect Turn-On Works With Most Chip Based OEM Headunits.
Precision Filtering Isolates The Power Supply Reducing Unwanted Interference In Radio Reception
Block Type Terminal Connections
For more information, visit www.arcaudio.com,