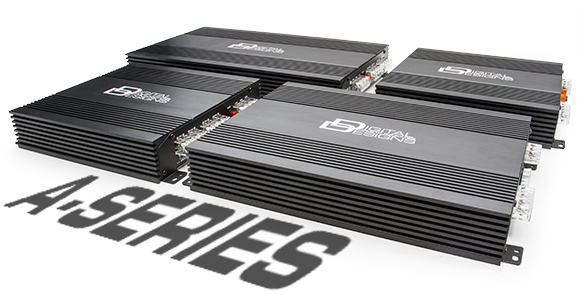 DD Audio would like to formally introduce you to our newest series of amplifiers, the A Series. The A Series amplifiers offer highly reliable feature rich designs generally found only in high end amplifiers, but at entry level prices. This makes the A Series one of the best values in car audio. All A Series amplifiers feature; MOSFET power supplies, Class AB topology, LPF/HPF crossovers, variable bass boost, and soft turn-on 5-way protection.The line consists of four amplifiers a monoblock (AM-1), a two channel (A2), and two four channel amps (A4,A5) allowing installers to cover virtually any application.
AM-1: 450W x 1CH at 2 Ohm
The AM-1 provides the sound quality of Class AB topology in a subwoofer specific design, and with 450W of power at 2 Ohm, it has plenty of power to efficiently drive the low end of a daily driver system.
A2: 180W x 2CH at 2 Ohm
The A2 is a very versatile 2 channel amp that is great for driving a LE-M loaded enclosure in bridged mode, or single/ multiple sets of DD components in stereo configuration.
A4: 180W x 2CH at 2 Ohm
The A4 is a go to amp for anything from simply upgrading your factory power to pushing single to multiple sets of the CXS or CS speakers.
A5: 130W x 4CH at 2 Ohm
Lastly, the A5 gives you the flexibility of a four channel amp with the power to run a full system mids, highs, and sub in triamp mode.
Click here for detailed information on the A Series Amplifiers.