Over the past decade, the automotive manufacturing industry has embraced a technological revolution. This revolution was initiated primarily from the ever-increasing costs of commodities such as copper, which is a key component in automotive wiring. In an effort to reduce the production costs of vehicles the manufacturers turned to technology. Today's vehicles are now packed with a full array of computers, microprocessors, electronics and mechanical sensors that all communicate with each other through various data networks embedded within the vehicle.
We begin this discussion on how to choose a remote starter system referencing this revolution for two reasons.
First, gone are the days where one system is the answer for every consumer and the consumer can no longer base their purchasing decision purely based on price alone; and, secondly, the aftermarket industry is embracing this revolution and building some very exciting products that now offer an amazing amount of control over the various functions of a modern vehicle. Installers no longer have to hard wire high-current circuits to control various functions of a vehicle, they just have to install and program the operation of these functions as data is now used to communicate the operation of these functions.
Choosing the best system for each client begins by having a clear understanding of how they are going to be using the remote system.
What vehicle will this be installed in? What type of range would you like – is 2,000 feet good enough or would you like to control your car from Florida? You will definitely want to be able to lock and unlock your car, but perhaps you'd be interested in being able to control any other functions such as heated seats, rear or all window defrosters, power windows up and or down, power lift gate or even pop the lid to your gas tank? Would you be interested in knowing if someone is breaking into your vehicle? Lifestyle questions such as these demonstrate to the customer that there are many more options than just simple starting and stopping a vehicle. and it offers new opportunities for generating profit by providing the end user more value and enjoyment from the products that they are purchasing.
The offerings of remote control systems from the aftermarket industry are growing daily. Factory remote, one-way remote, two-way remote or smartphone and virtually every vehicle will require a bypass module to communicate with the various data systems.
So, 'what is the best remote system?' is no longer a simple question.
The best advice we can give to anyone who is interested in making this type of purchase is to visit a reputable facility with a wide variety of remote systems and bypass modules and be prepared for an open discussion. A good facility will take the time to communicate the various products and be able to relate the various features and benefits to you. The facility's sales and installation staff should work as a team to find the perfect solution for each individual client. Also, don't be afraid to ask to speak with the installation staff personally as they can often answer many of the tough questions. And, don't be afraid to ask for their personal opinion or recommendation. They are experts after all.
---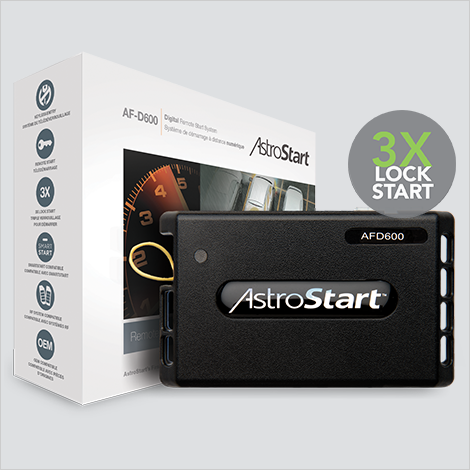 AstroStart AF D600 DIGITAL Remote Start System
Full security functionality also available using optional alarm package. Digital remote starter functions. Featuring multi bus and advanced OBD2 connectivity for Directed SmartStart. External relay pack control. (Relay pack MC501 not included). Compatible with all AstroStart Elite Series RF systems. Directed SmartStart compatible with OBD CAN. Web configurable. 3X Lock start functionality. Manual transmission compatible. www.astrostart.com
---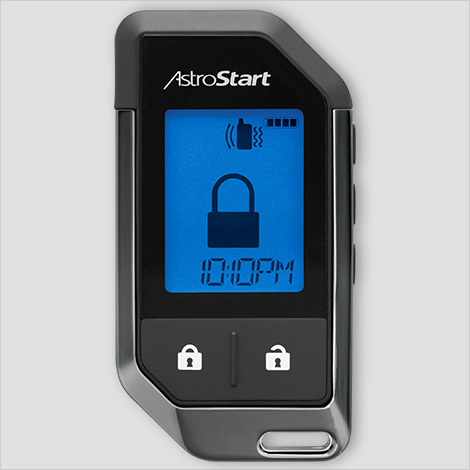 AstroStart Elite Series DIGITAL 2-Way LCD RF System
Multi-vehicle operation. SST range up to one mile. Rechargeable battery with micro USB charger port. Status indicated via alphanumeric and iconic LCD display. User programmable transmitter language (English/French/Spanish). 5-button transmitter. LCD scrolling text display. www.astrostart.com
---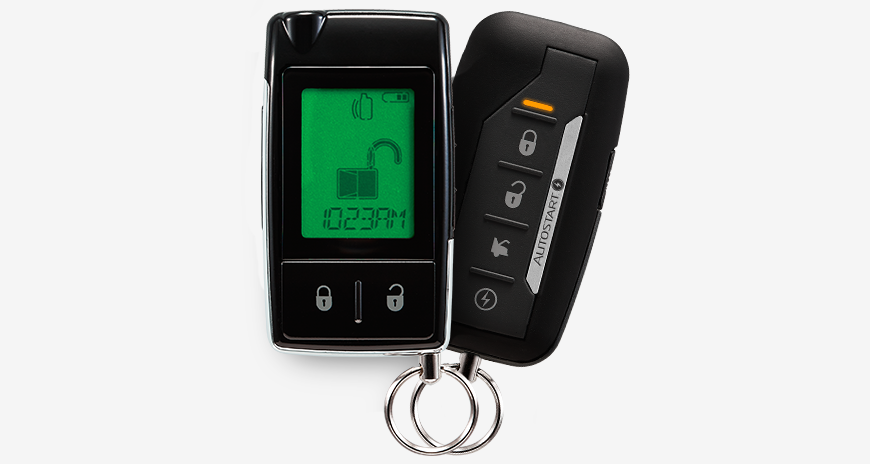 Autostart 2-Way LCD Remote Start System
2-way 5-button SST LCD transmitter with micro USB charger port. 1-way 5-button companion transmitter. Dual Stage electronic shock sensor. Multi-vehicle operation. Built-in rechargeable battery. Status indicated via alphanumeric and iconic LCD display. Miniature 110db 6-tone siren. Two auxiliary outputs. User programmable transmitter language (English/French/Spanish). LCD scrolling text display. Real Time alarm notification. http://autostart.ca
---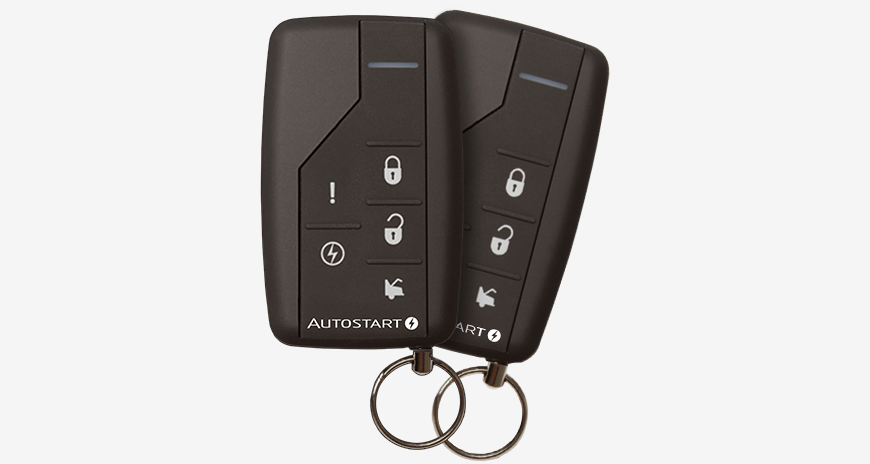 Autostart 1-Way Remote Start System
Two 1-way 5-button Super Slim transmitters. Monopole antenna with bright-blue status LED. Multi-vehicle operation. Dual Stage electronic shock sensor. Miniature 110db 6-tone siren. Two auxiliary outputs. http://autostart.ca
---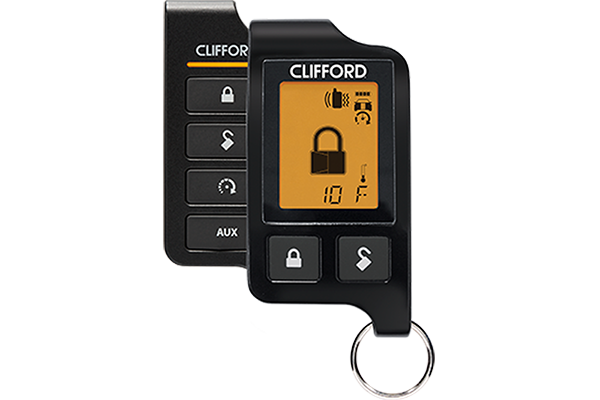 Clifford 4706X LCD 2-Way Remote Start System
Clifford 2-Way remote is the 3rd generation of our LCD, complete with SST with up to One Mile Range, the new Priority icons and text seen on a 20% larger liquid-crystal display, an onboard lithium-ion rechargeable battery with micro-USB recharging – all in the slimmest display remote on the market. www.clifford.com
---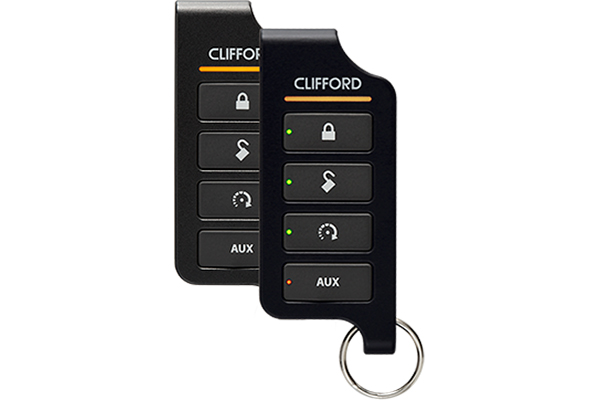 Clifford 4806X LED 2-Way Remote Start System
Clifford's elegant new LED transceivers mark a giant leap forward in 21st century vehicle security and remote start, and an evolutionary milestone for the keychain remote. These slender & sophisticated 2-Way remote controls feature a clean sleek ergonomic industrial design, made to fit the user's hand comfortably, enabling effortless and intuitive single-handed operation as LEDs confirm your commands. www.clifford.com
---
Code Alarm CA4554 2-Way Transmitter
This convenient two-way mini one button remote start is a step up from the CA4554 system and includes (1) two-way 433MHz 1-button metal remote control, glass mount antenna with built-in LED light and valet switch, start confirmation parking light flash. www.voxxelectronics.com
---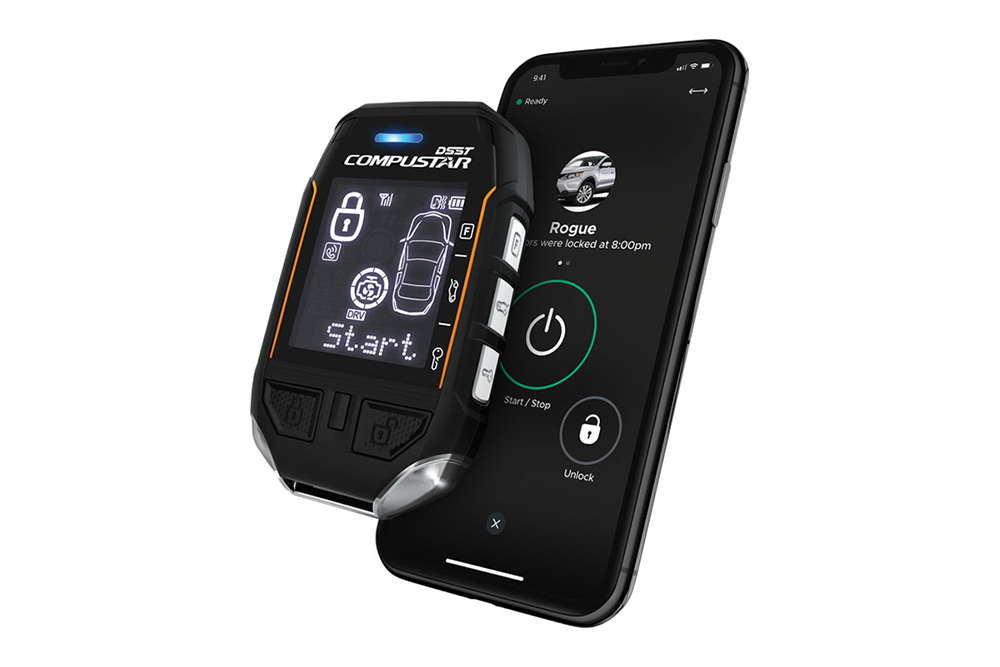 Compustar PRO T12 with LTE
The most advanced remote start and security solution on the planet! 2-way remote upgrade kit for adding 3-miles of range and LTE connectivity to any Compustar remote start and/or security system. Includes a 2-way, IPX-7 waterproof remote with interactive LCD capable of up to 3-miles of range. Backed by industry-leading 3-year PRO warranty. Now bundled with an X1-LTE module for smartphone connectivity with DroneMobile! Free 30-day trial upon activation. www.compustar.com
---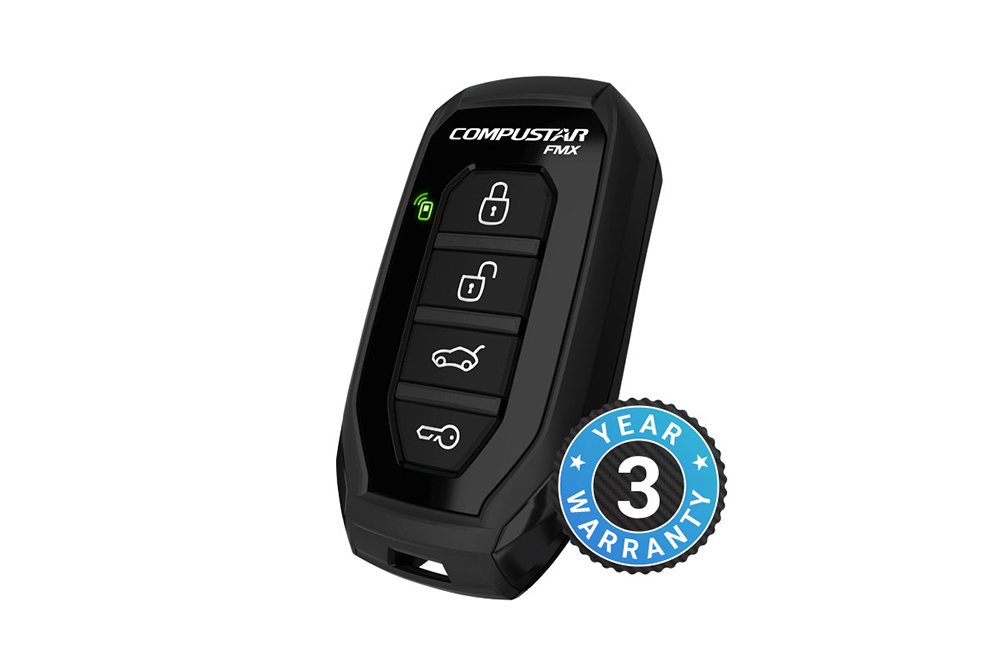 Compustar PRO G15 (1-Way)
3000-ft max range, water-resistant remote kit. Includes two 1-way remotes. Backed by 3-Year PRO Warranty. Works with all Compustar remote start and security systems. www.compustar.com
---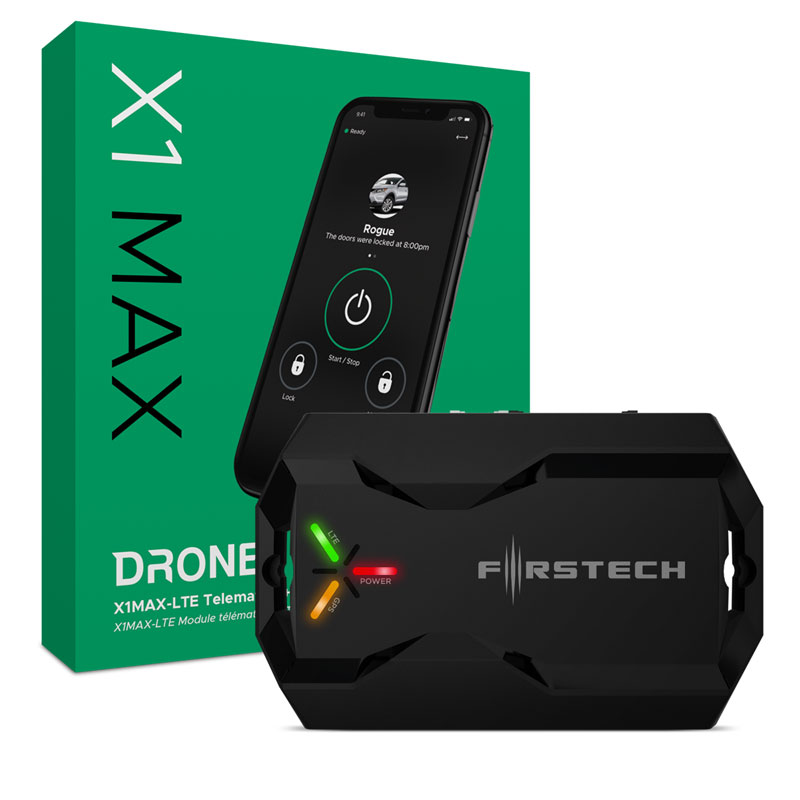 DroneMobile X1-MAX Module
Add DroneMobile smartphone control and GPS tracking to a compatible remote start and security system. Built-in backup battery for added security. Powered by AT&T LTE for industry-leading coverage and reliability. For U.S. customers only. Free 30-Day Premium Trial included. www.dronemobile.com
---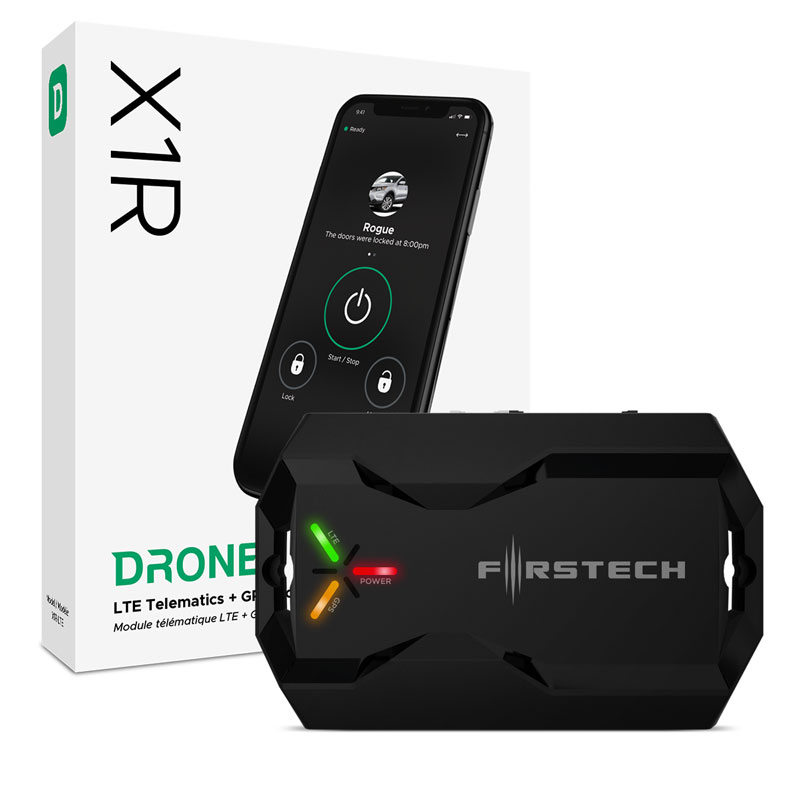 DroneMobile X1R Module
Add DroneMobile smartphone control and GPS tracking to a compatible remote start and security system. Powered by LTE with 3G fallback with cross-carrier coverage from Rogers, Telus, and Bell. For Canadian customers only. Free 30-Day Premium Trial included. www.dronemobile.com
---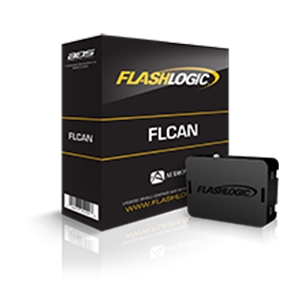 Flashlogic FLCAN
Flashlogic's flagship web-programmable 'all-in-one' CAN interface. Supports data immobilizer bypass and doorlock integration for over 3400 vehicles 1997 to date including exclusive KLON firmware applications. Features single-wire connection to Audiovox and related remote start, vehicle security and convenience products equipped with a 'DBI' serial port. www.flashlogic.com
---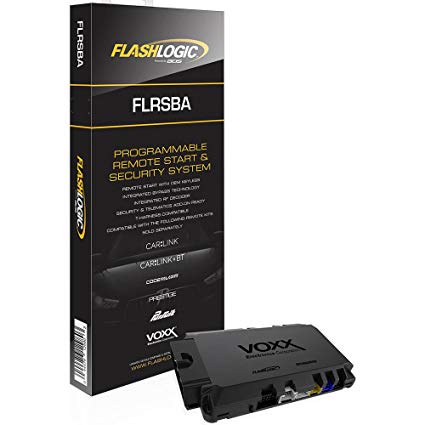 Flashlogic FLRSBA
The FLRSBA is the ultimate remote start solution designed to maximize the use of the original key fob, transmitter or smart key. Simply press the Lock button 3 times to remote start and stop the engine. Instantly upgrade your FLRSBA system with long range RF extender kits or smartphone control with Carlink sold separately. www.flashlogic.com
---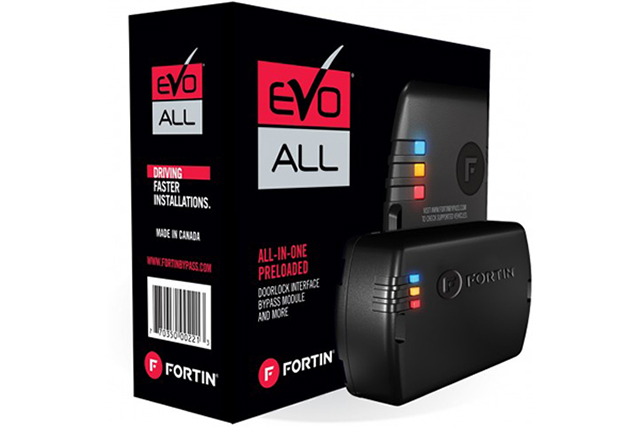 Fortin EVO-ALL
The EVO-ALL is the ultimate ALL-IN-ONE data immobilizer bypass, keyless entry, convenience, low power remote start and security interface combo module in the industry. It raises the standard of hassle-free installation convenience to a whole new level. It uses a multiple bus architecture with 10 separate communication ports that provide more complete functionality on every supported vehicle. https://fortin.ca
---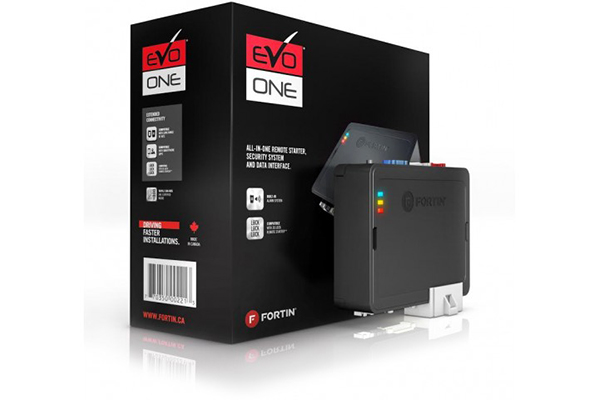 Fortin EVO-ONE
The EVO-ONE is the ultimate and smallest ALL-IN-ONE HIGH POWER data immobilizer bypass, doorlock, security system & remote start interface. Compatible with all EVO-ALL T-Harnesses and also providing a new broad access to High Power T-Harnesses the EVO-ONE now sets the industry benchmark to a higher level. It raises the standard of hassle-free installation convenience to a whole new level. It uses a multiple micro controller and bus architecture which redefines the word Remote Starter. This unit is much more powerful than most entry level vehicle's BCM. EVO-ONE is an impressive state of the art unit at reachable cost. https://fortin.ca
---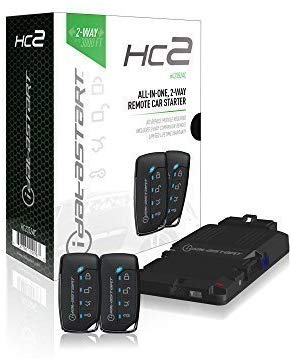 iDatastart CMHCXA0 2-Way Remote Car Starter
iDatastart HCX remote start control module for most vehicles 1988 and up. Enables (3 x LOCK) remote start from the factory trasmitters on most vehicles. No key required for immobilizer bypass on most models. Compatible with iDatastart long range RF kits, select T-harnesses and smartphone control systems sold separately. www.idatastart.com
---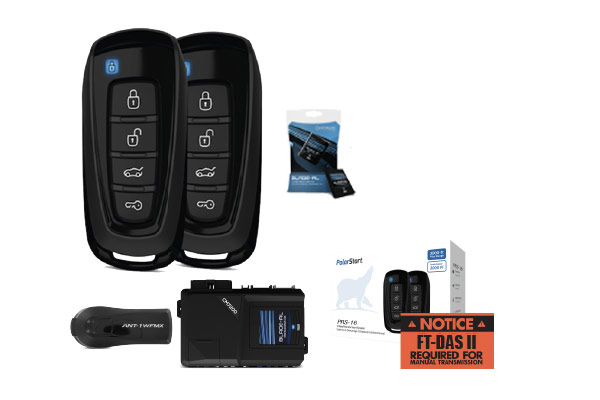 PolarStart 1-Way Remote Starter with Blade ALCA
Includes: 2x Pre-programmed 1-Way FMX remotes, ANT-FMX Antenna, CM7200-S Control Module. Features: Up to 3000' of Range, Water-resistant, durable Remotes, Linear installaton design, Manual/Automatc transmission capable, Dual RS232 +Blade-Ready, Hi/Low Current optons included, 3 Configurable Hi-Current outputs, LC1 optonal harness compatble, 8 Programmable Output Channels, 6-Pin Lock Connector to accommodate door lock module accessories, 5 Programmable Input Channels, 3X's lock capable, Includes BLADE ALCA bypass. https://automob.ca
---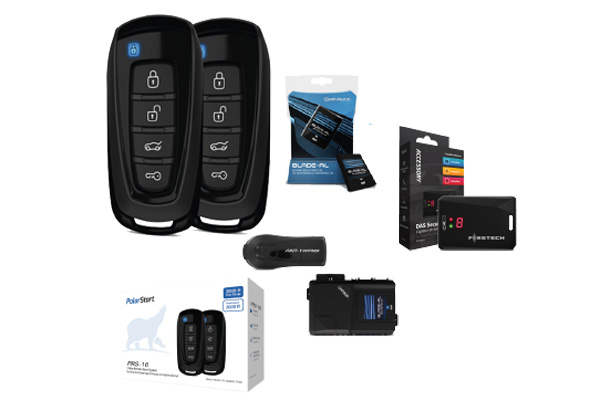 PolarStart 1-Way Remote Starter with Blade ALCA and FT-DASII
Includes: 2x Pre-programmed 1-Way FMX remotes, ANT-FMX Antenna, CM7200-S Control Module. Features: Up to 3000' of Range, Water-resistant, durable Remotes, Linear installaton design, Manual/Automatc transmission capable, Dual RS232 +Blade-Ready, Hi/Low Current optons included, 3 Configurable Hi-Current outputs, LC1 optonal harness compatble, 8 Programmable Output Channels, 6-Pin Lock Connector to accommodate door lock module accessories, 5 Programmable Input Channels, 3X's lock capable. Includes BLADE ALCA bypass. Includes FT-DASII for manual transmission vehicles. https://automob.ca
---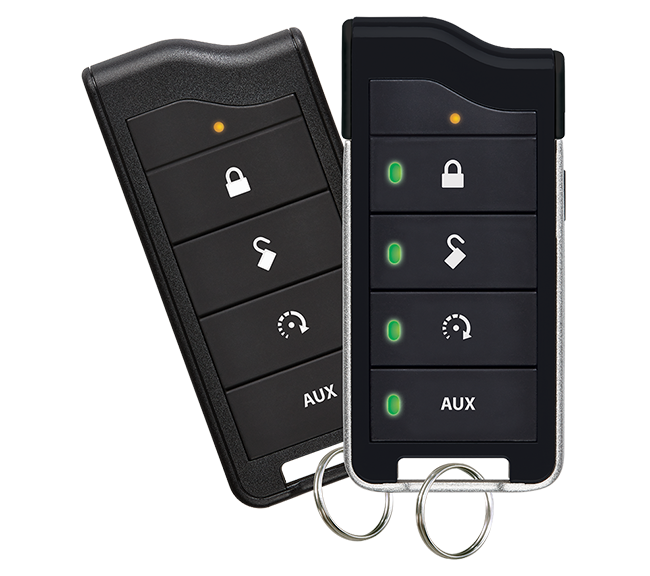 Python 4806P LED 2-Way Remote Start
LED 2-Way Remote Start System features one-mile range, one 2-way remote control with LED command confirmation and one companion remote. www.pythoncarsecurity.com
---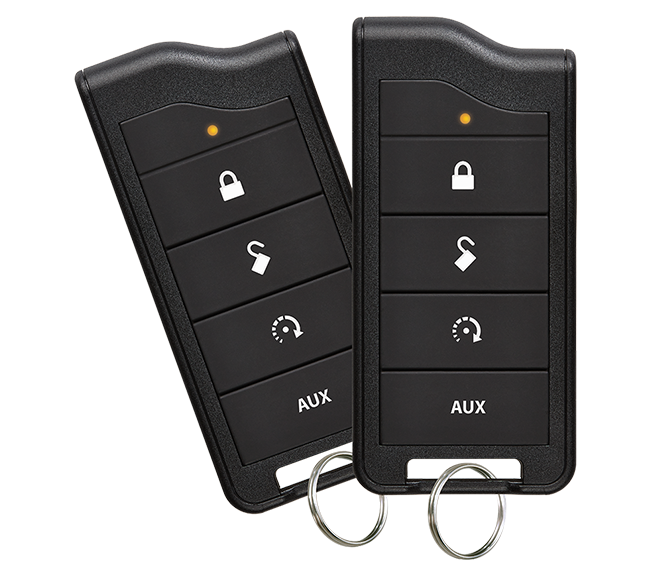 Python 4606P 1-Way Remote Start
1-Way Remote Start System features 1/2-mile range and two 5-button 1-way remote controls. www.pythoncarsecurity.com
---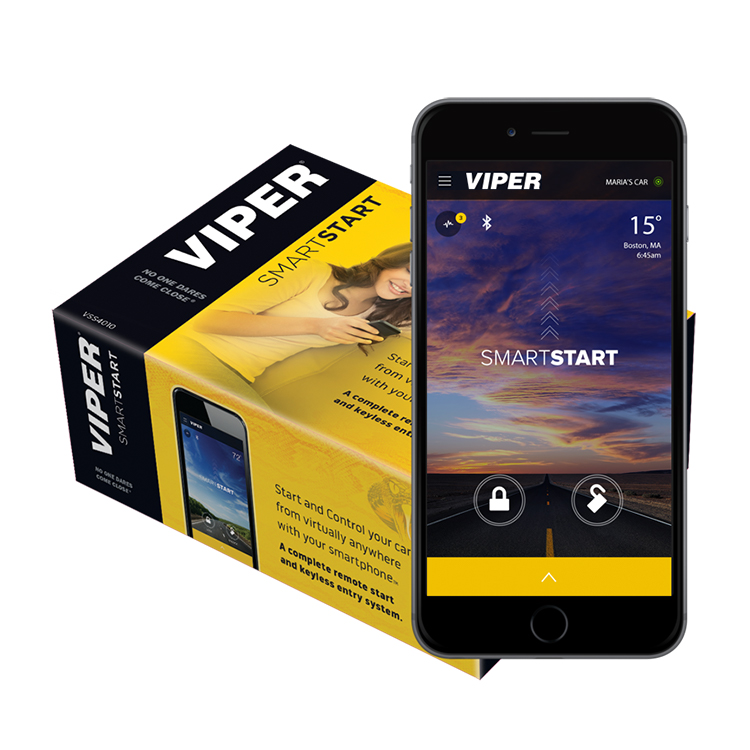 Viper SmartStart System
Get everything you need for a complete Viper remote start system, including Viper SmartStart and 1 year secure service in a single box. Combines the top of the line DS4+ digital remote start system and Viper SmartStart GPS module. www.viper.com
---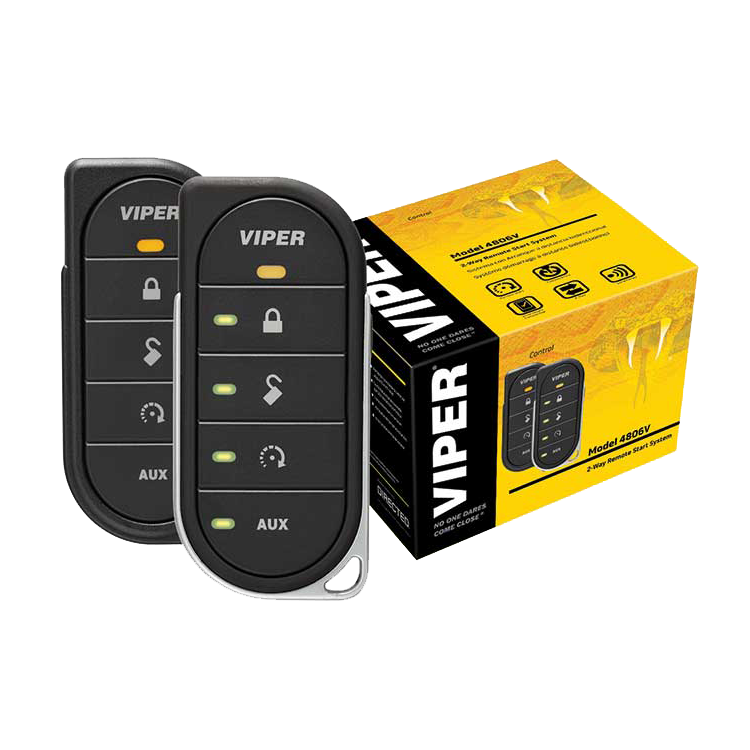 Viper LED 2-Way Remote Start System
Viper's elegant new Responder LE transceivers mark a giant leap forward in 21st century remote start, and an evolutionary milestone for the keychain remote. These slender & sophisticated 2-Way remote controls feature a clean sleek ergonomic industrial design, made to fit the user's hand comfortably, enabling effortless and intuitive single-handed operation as Brilliant LEDs confirm your commands. www.viper.com
---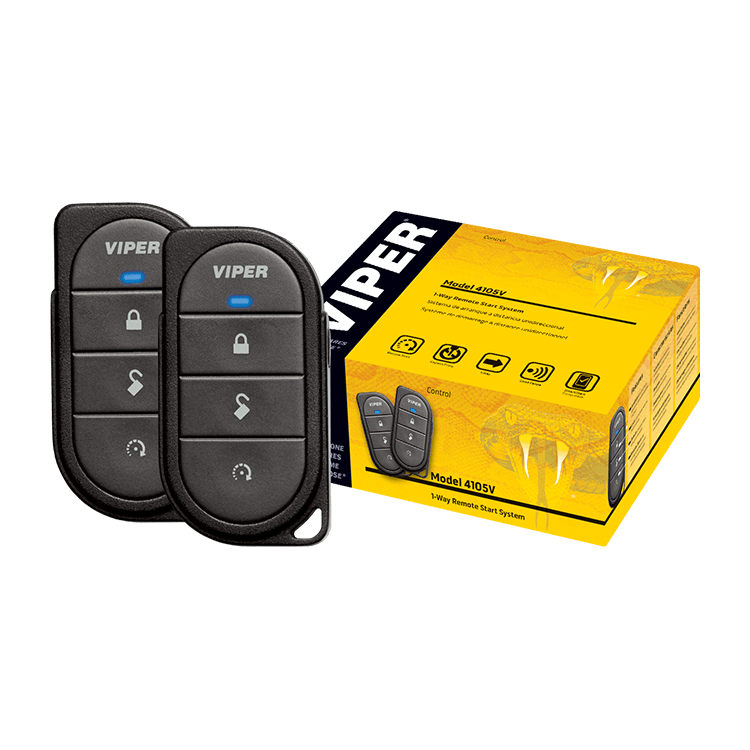 Viper Entry Level 1-Way Remote Start/Keyless Entry System
Start your engine from up to a quarter of a mile away with this entry level Viper remote start system. This system comes with two 4-button remotes and several features, such as keyless entry and SmartStart compatibility. www.viper.com