Now Available for Pre-Order, This Innovative New Lighting System Provides Additional
Protection for the Sway Bar and Steering Box While Also Integrating High-Powered
Functional LED Lighting for the 2018-2021 Jeep Wrangler JL and the 2021-2022 Gladiator JT
METAIRIE, LA, Oct. 18, 2021 – Oracle Lighting (www.oraclelights.com), the market leader in creating high quality lighting products and innovative LED solutions for the automotive aftermarket, is proud to announce the launch of the new Skid Plate with Integrated LED Emitters for the 2018-2021 Jeep Wrangler JL and the 2021-2022 Gladiator JT (p/n 5883-001/006) during the 2021 SEMA Show, held in Las Vegas, Nev. from Nov. 2-5 at the Las Vegas Convention Center, booth #C20547. Now available for pre-order and scheduled to ship in November, the new Integrated LED Emitters has an MSRP of $449.95.
"Offering additional protection for your JL or JT sway bar and steering box, this innovative skid plate also integrates high-powered functional LED lighting," said Justin Hartenstein, Oracle Lighting director of development. "This heavy-duty skid plate is formed from a 3/16in. steel plate with a satin black powder coat finish, which provides durable underbody protection."
The LED Lighting modules feature precision optics for a 30 degree beam width and an option of white or yellow LED light. These LED emitters can be easily replaced individually if there is ever damage to one of the modules. 
"This Skid Plate is a simple no drill installation with all necessary hardware included," added Hartenstein. "Wiring is easy with the included harness, which includes a switch for easy on/off operation or connect to your AUX switches if your Jeep is equipped."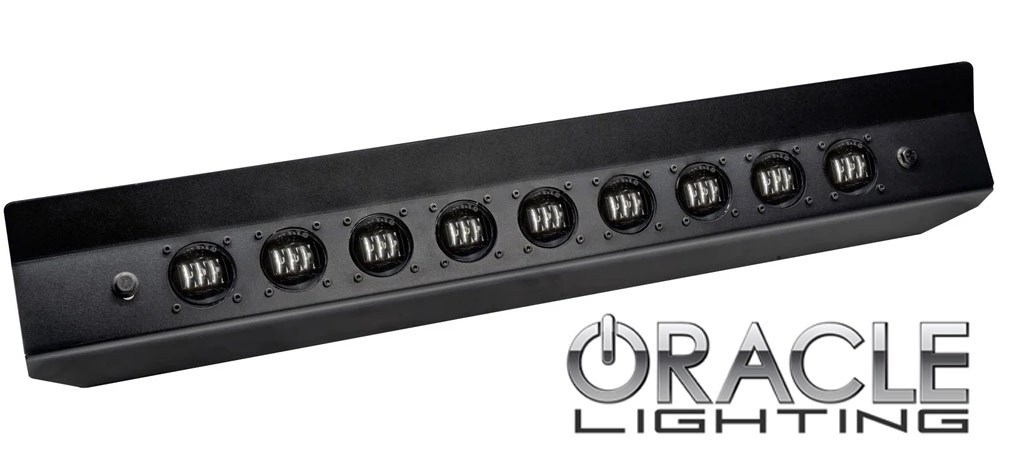 Additional product specifications and features include:
9x High-Output 15W LED Emitters
Total Wattage: 135W
Total Lumens: 9000Lm
Total Power Draw: 6A @12V DC
Advanced LED Optic Design
Modules DOT, SAE, & E9 Marked
IP Rating: IP68 Ingress Protection
1-Year Warranty
Package contains:
Skid Plate Lighting System
Switched Relay Wiring Harness
Mounting Hardware
Louisiana-based Oracle Lighting has been designing innovative lighting products and technologies for the automotive/12Volt, powersports, motorcycle, and marine markets since 1999. Oracle's philosophy is this: in today's world of fly-by-night vendors, we think it is important to partner with businesses that you can trust to be there for you today, tomorrow, and for years to come.
For more information on Oracle Lighting and its full product line, please visit www.oraclelights.com, call (800) 407-5776, or email This email address is being protected from spambots. You need JavaScript enabled to view it..