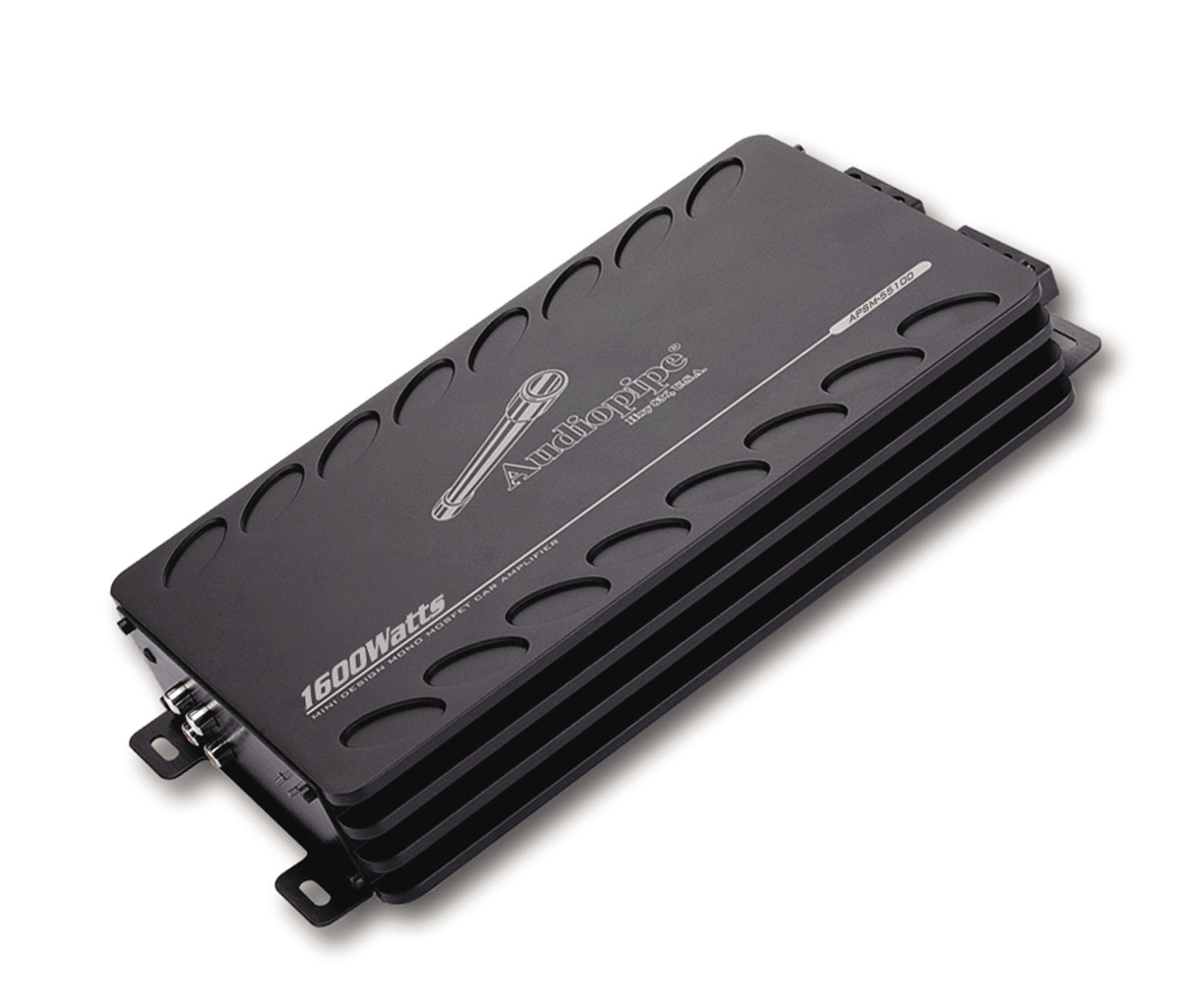 From the folks at Audiopipe in Miami, Florida comes a new mini series of amplifiers – the APSM series. Comprised of a total of nine different models, the series offers a variety of choices whether you want a mono, two-channel, four- or even a five-channel amp in a very small footprint. All of the APSM amplifiers make use of modern class D topologies and are highly efficient to allow a major reduction in heatsink size. The newest model is a five-channel amp known as the APSM-55100, whose price was not available at press time.
FEATURES
The APSM-55100 is indeed a small amplifier when you consider it has five channels of power and a rated total power of 980 watts at two ohms. The ruggedl extruded aluminum chassis measures under 12 x 6 x 2 inches tall.
Controls are clustered on one end of the amplifier and it's here you'll find three pairs of RCA inputs, gain and crossover controls and a variable subsonic filter control for the subwoofer channel. The high pass crossovers for the front and rear channels have a wide adjustment range from 50 Hz to 1,200 Hz while the sub channel sports a more typical 50 to 250 Hz bandwidth. The aforementioned subsonic filter (handy for vented box applications) is more cryptically marked zero to 50 Hz. Zero Hz? Really? Pretty tricky. Also found on the control end of the chassis is the 1/8-inch input jack for the wired level control that's included with the amp.

The opposite end of the chassis houses the power and speaker connections, which are standard stacked terminal block type connections with Phillips head set screws. Power and ground terminals will accept up to four-gauge cables and the speaker terminals are good for 10 gauge.
The amp mounts securely via slotted tabs formed in the steel end plates that lift the amp high enough off its mounting surface to allow the underside vents and cooling fan exhaust a chance to breathe.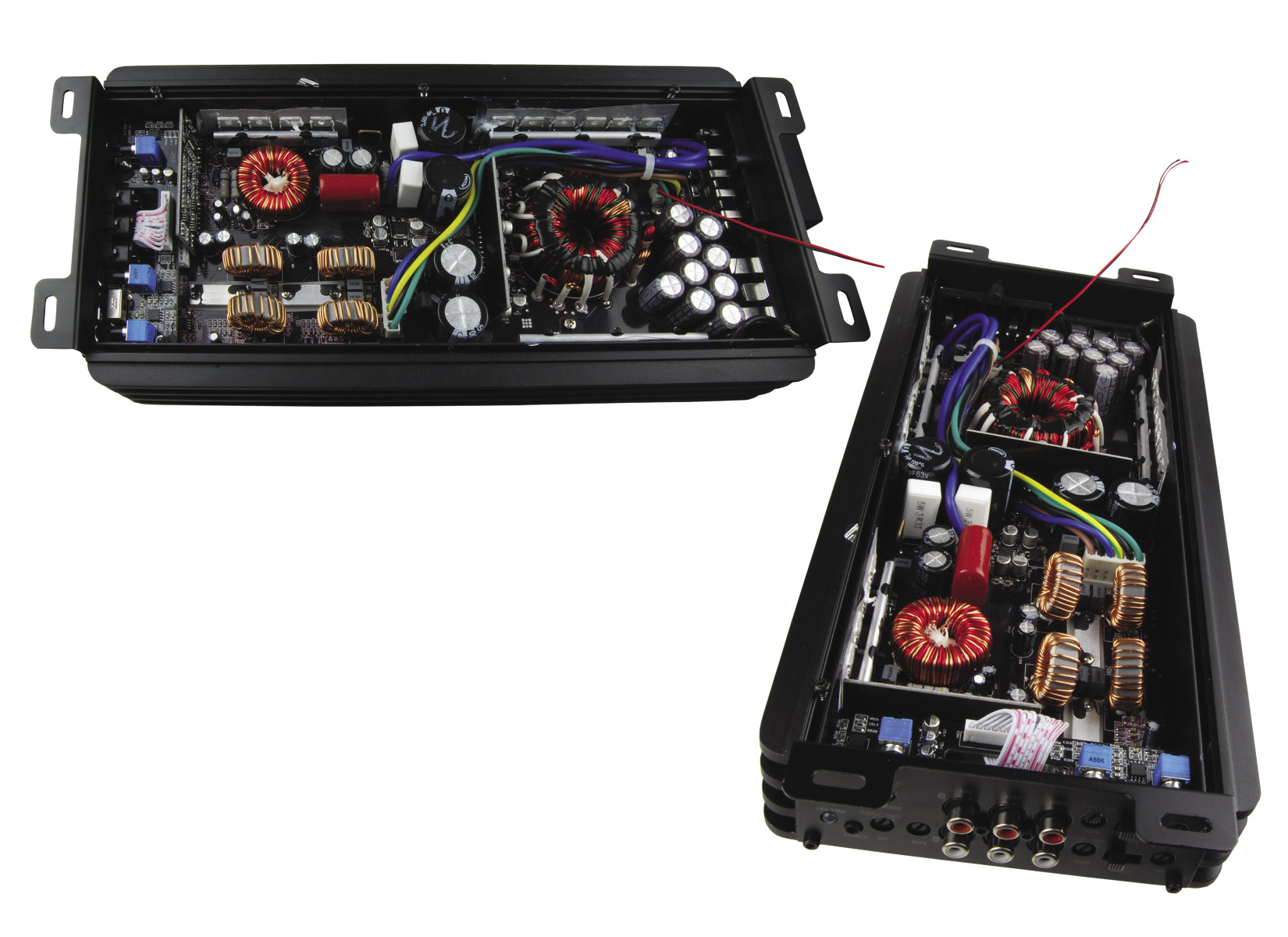 Taking a look inside the amp, I find a fairly typical topology for a modern full range class D amp. The full range channels are designed around a pair of the Phillips NXP chip-sets and the amp uses a single toroid to provide the dual rail voltages. And, because of the close quarters, a fair amount of circuitry is mounted on daughter boards, which stand vertically on the main PCB. Surface mount parts are used extensively again to save space and to maintain accurate tolerances.
Primary capacitance is handled by nine 2,200 µF low-ESR high temperature capacitors. The secondary caps for the sub channel are a pair of 2,200 µF caps. A second pair of 4,700 µF caps handle the secondary energy storage for the main channels.
Due to typical magazine deadline issues, we did not have time to do the normal listening evaluation this time around. Fortunately, I have a few basic bench measurements for you close scrutiny. But, suffice to say, from what I can see by looking at it, the Audiopipe APSM-55100 appears to be a well-built product and should provide years of enjoyment.
TECHNICAL DATA
The following power measurements have been obtained using industry standard methods (1 kHz @ 1.0% THD+N – Battery voltages shown +/- 0.2 V).
MEASURED PERFORMANCE SPECIFICATIONS
Manufacturers Rated Power

Actual Measured Power

@ 1.0% THD+N

@ 12.6 V Battery

Actual Measured Power

@ 1.0% THD+N

@ 14.4 V Battery

75 W x 4 + 350 W x 1 @ 4 ?

60 W x 4 + 147 W x 1 @ 4 ?

79 W x 4 + 206 W x1 @ 4 ?

120 W x 4 + 500 x 1 @ 2 ?

89 W x 4 + 229 W x 1 @ 2 ?

113 W x 4 + 306 W x1 @ 2
Signal to Noise Ratio referenced to 2 V output

(CEA-2006A) (1 W @ 4 ?)

-65.6 dBA

Signal to Noise Ratio referenced to full output

-84.5 dBA

THD+N at rated 4 ? power

0.28%

CEA-2006A rated 4 ? power (min. power per ch. developed over the entire intended audio bandwidth)

75 W

Maximum Efficiency at full 4 ? power per ch.

78.5%

Maximum Efficiency at full 2 ? power per ch.

68.5%

Efficiency at 10 W per ch. at 4 ?

53.7%

Idle Current

2.3 A

Input Sensitivity

185 mV – 3.8 V

Maximum Current at full power, lowest rated impedance

62.2 A

Frequency Response (-3 dB)

10 Hz – 35k Hz

High Pass Crossover

50 Hz – 1,200 Hz

Slope varies with freq.

Low Pass Crossover

50 Hz – 250 Hz

-12 dB/Oct

Subsonic Filter

37 Hz – 48 Hz

-12 dB/Oct

Bass EQ boost

None