Some people agonize for months over their choice of subwoofer.
Do you go more sound quality or SPL? High power handling or high efficiency? Sealed or vented? Well, if you ask the folks at Digital Designs, they'll tell you that you don't really have to compromise. To prove the point, they sent us one of their amazing Power Tuned 3500-ESP series dual voice coil woofers.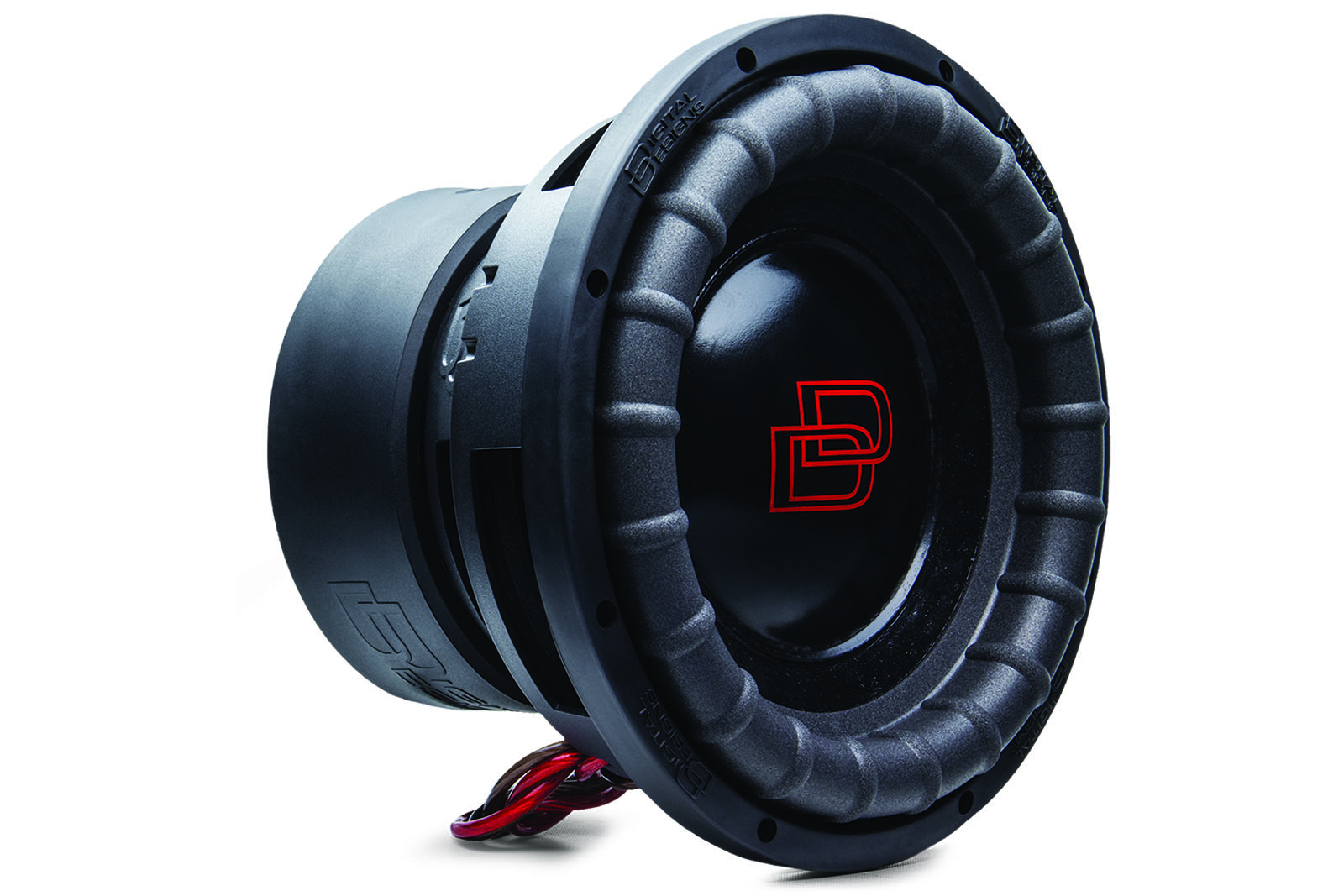 FEATURES
The Power Tuned woofers are constructed with additional mechanical and electrical damping to handle the daily rigors of any bass enthusiast. DD Audio's 3500 series woofers are some of the most sonically accurate woofers the company sells. Thanks to a low moving mass design, high energy, and well-focused magnetics, these woofers provide accurate reproduction of any bass note, regardless of how loud you want to play it.
The 3500 series woofers also come equipped with DD Audio's Evolution Subwoofer Package (ESP). The ESP-equipped subwoofer has a larger suspension diameter than a standard woofer, as well as a deeper basket and specially optimized surrounds for greater excursion and enhanced reliability.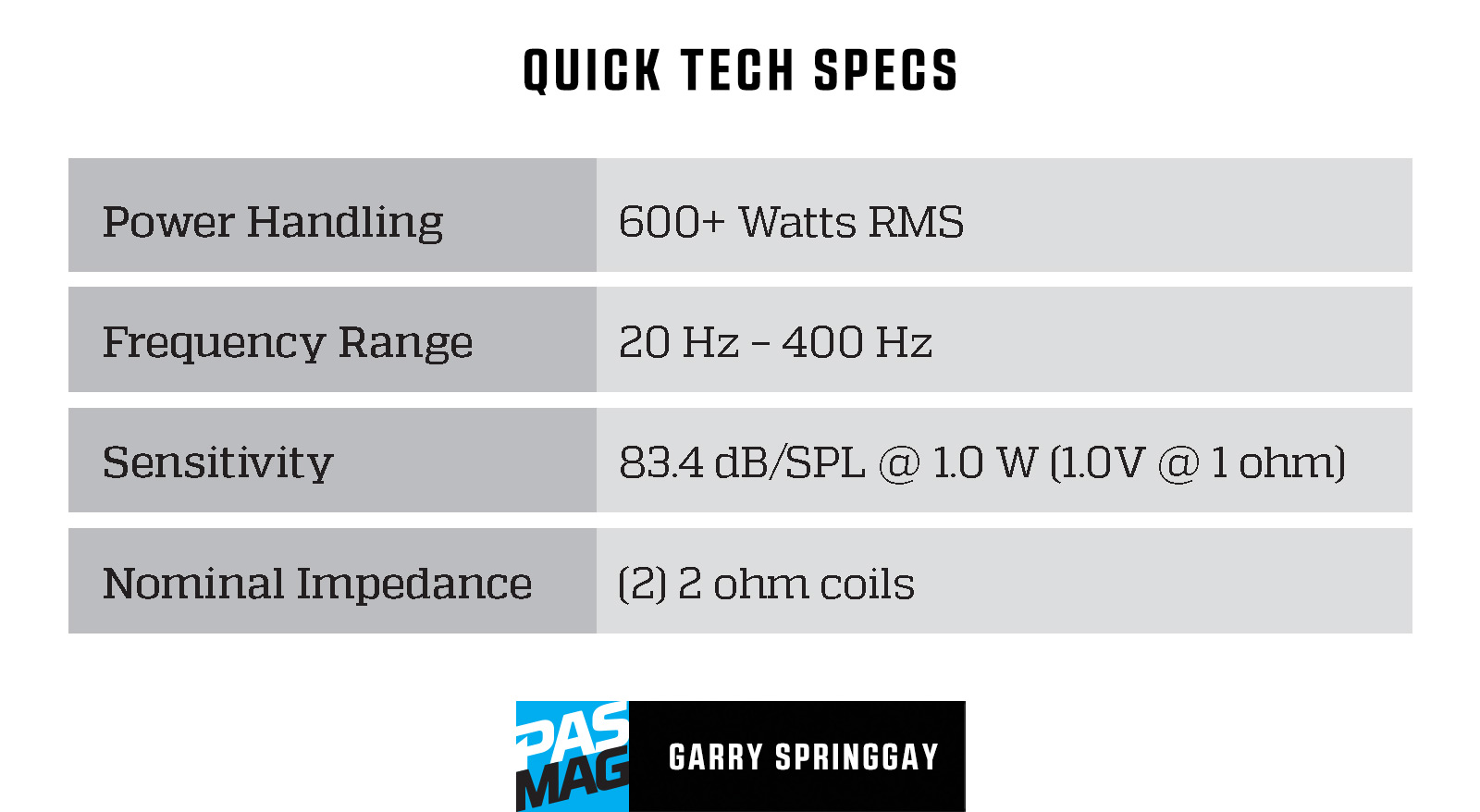 Our sample is the 3510-ESP, a 10-inch subwoofer built on a rugged cast aluminum basket and powered by a huge triple-stacked 170-mm motor. The woofer tips the scales at right around 37 pounds, so you know this is a serious 10-inch driver as soon as you pick it up! The 3510's magnetic energy is focused around a pair of three-inch, four-layer copper voice coils. The coils are coated with an ultra-high-temperature capable varnish, and wound on a special former composed of several different materials. All of this engineering is designed to result in excellent heat transfer, and allow really high power handling without failures. Furthermore, the former is double-slit to reduce inductance, and there are vent holes placed above the coil windings to increase airflow and improve coil cooling. The woofer has a continuous power rating of 600 watts, and I have no doubt that it will easily handle that all day long.
All of this technology drives a cone made from a combination of pulp and carbon fiber, which is also supported by a special V-ROM design foam surround. The surround is built with the same profile as DD Audio's Extended Range of Motion (EROM) surrounds, but with flex ribs that allow it to retain its strength and shape even at the extremes of excursion.
Audio power is fed into the coils via direct connection to 10-gauge copper cables. From there, it travels to the coils via high-current tinsel leads that are laminated in place between the spiders. A rubber gasket trims out the mounting flange of the woofer, and helps provide a good seal to the enclosure baffle.
NOTE: There are also Hi-Def tuned versions available for those wanting a more compliant suspension.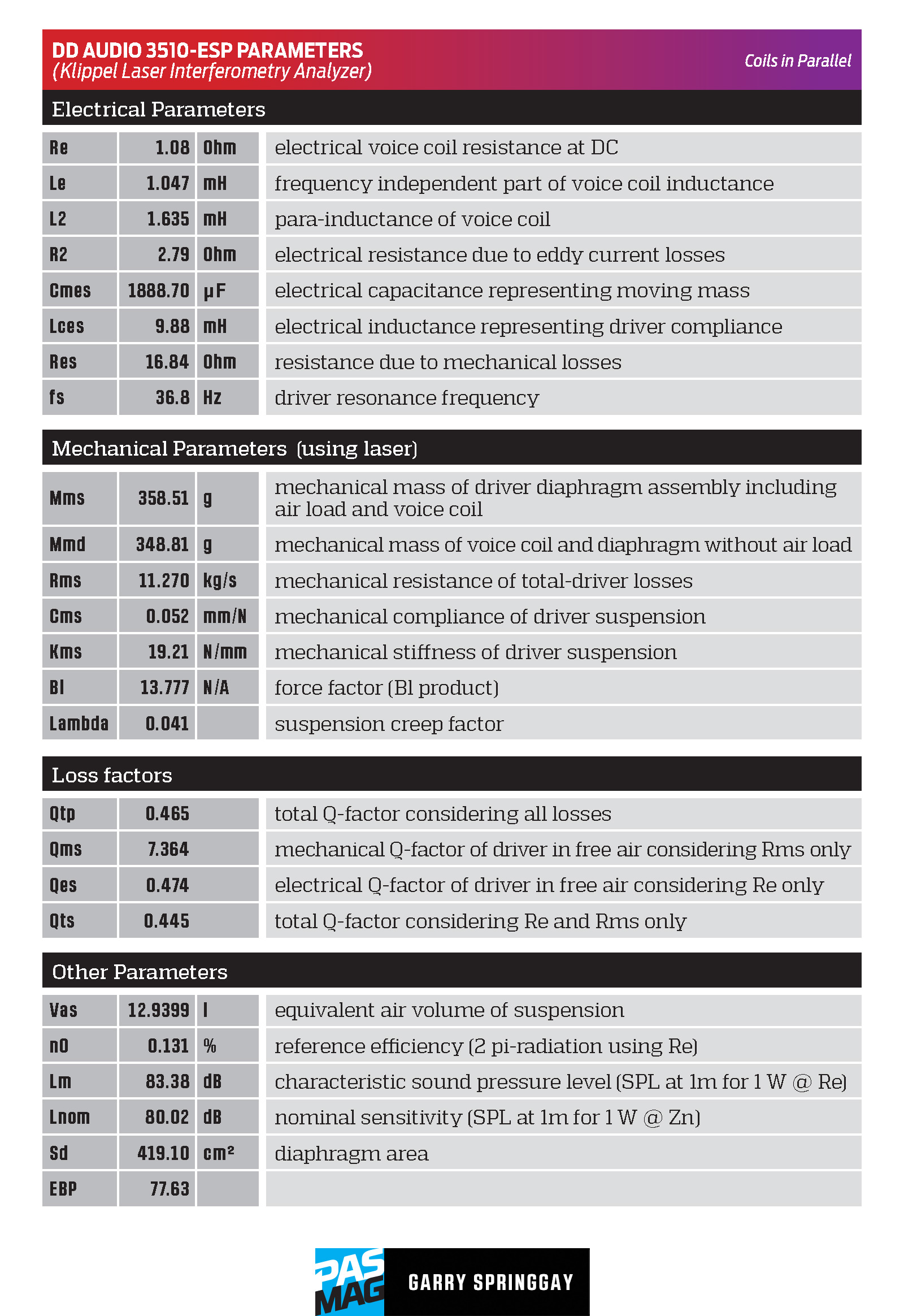 LISTENING
After a few hours of break-in time to soften up the suspension and allow it to normalize, I mounted the 3510-ESP in a 1.25-cubic-foot vented enclosure that was tuned to exactly 31 Hz.
In the supplied vented enclosure, the performance of the 3510-ESP certainly did not disappoint. The very bottom of the audible register was very low, allowing me to easily hear the very subdued kick drum in Livingston Taylor's Grandma's Hands. This is a listening test I perform frequently, as a good many woofers do not reproduce these extremely low frequencies at audible levels. Well-recorded rock and roll sounds great, with very good control. Dire Straits' Heavy Fuel and Marc Cohen's Walking in Memphis were excellent, with tight transients and correct timbre. Plucked bass sounded nice, fat, and round, as it should. On more bass-heavy tracks like the Pussycat Dolls Don't Cha and 50 Cent's In Da Club came across with authority, and the DD Audio woofer showed no signs of stress or bottoming, even though my instrumentation showed it had received brief signals in excess of 800 watts.
Regardless of the type of music I played, or the levels I played it at, the DD Audio 3510-ESP took it all and seemed ready for more. I measured over 750 to 800 watts being applied regularly, and the folks in the business next door to my lab will attest to the woofer having no lack of output!
ON THE BENCH
After the woofer had cooled and normalized overnight, I moved to the lab and measured the small signal parameters and in-box frequency response. The parameters came in very close to the Digital Designs published specs, and well within the usual tolerances found in woofer specifications.
CONCLUSION
Overall, I came away pretty impressed with the DD Audio 3510-ESP subwoofer. As previous evaluations have shown, these woofers continue to be very good-sounding, musical woofers that also happen to be able to produce some serious sound pressure. As with most true high performance products, the price reflects the performance, and at $549.00 USD, this woofer is worth the cost. So, if you are struggling with subwoofer selection, visit a DD Audio dealer and see for yourself that the compromises made don't have to be as great as you may have thought.
Contributor: Garry Springgay