Since the introduction of the series some 15 years ago, the Hertz Mille loudspeakers have been directed as a reference series for enthusiasts.
Developed by a dedicated team with a passion for music, each new iteration of the line has been designed to outperform its predecessor. In this review, we'll have a look at (and a serious listen to) the Hertz Mille 1650.3 component set. The system has a suggested retail price of $1,299.99 CDN.
MIDRANGE AND TWEETER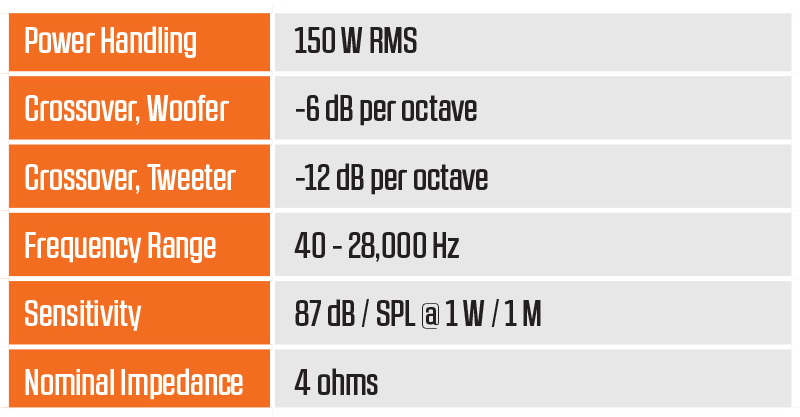 As I unpack the system, I note very high-quality construction, from the tweeters with their cast housings, to the large and complex crossover networks (which to be fair, are actually a lot smaller than the previous design). The midrange driver looks brilliant, with a classy full coverage cone/dust cap and machined brightwork around the circumference of the cast aluminum basket. There has been plenty of attention paid to the basket detail on all the Mille series drivers; from the external aluminum alloy cylinder to the driver's central pole piece and the maximum air gap between the three basket spokes – nothing has been left to chance in an effort to build a great sounding speaker. Even the alloy material itself has been tweaked in an effort to reduce mechanical resonance between 800 and 1,300 Hz.
The goal of the MLK 1650.3 system is to provide a wide bandwidth output with a natural timbre. To achieve this goal, FEA simulations (Finite Element Analysis) was performed on the midrange woofer and tweeter, followed by extensive in-vehicle listening sessions to achieve the design team's desired results.
When the engineering work was completed, a new surround-to-basket attachment system was created, called "Boundary Free Surround." The method of attaching the surround meant a larger cone surface, which we all know moves more air. The surround itself is manufactured from pure IIR butyl rubber for excellent mechanical and thermal stability.
The "V-cone" profile was also a product of the FEA analysis. Hertz discovered that this shape resists deformation during excursion and aids in maximizing the production of acoustic pressure, as well as providing better off-axis response.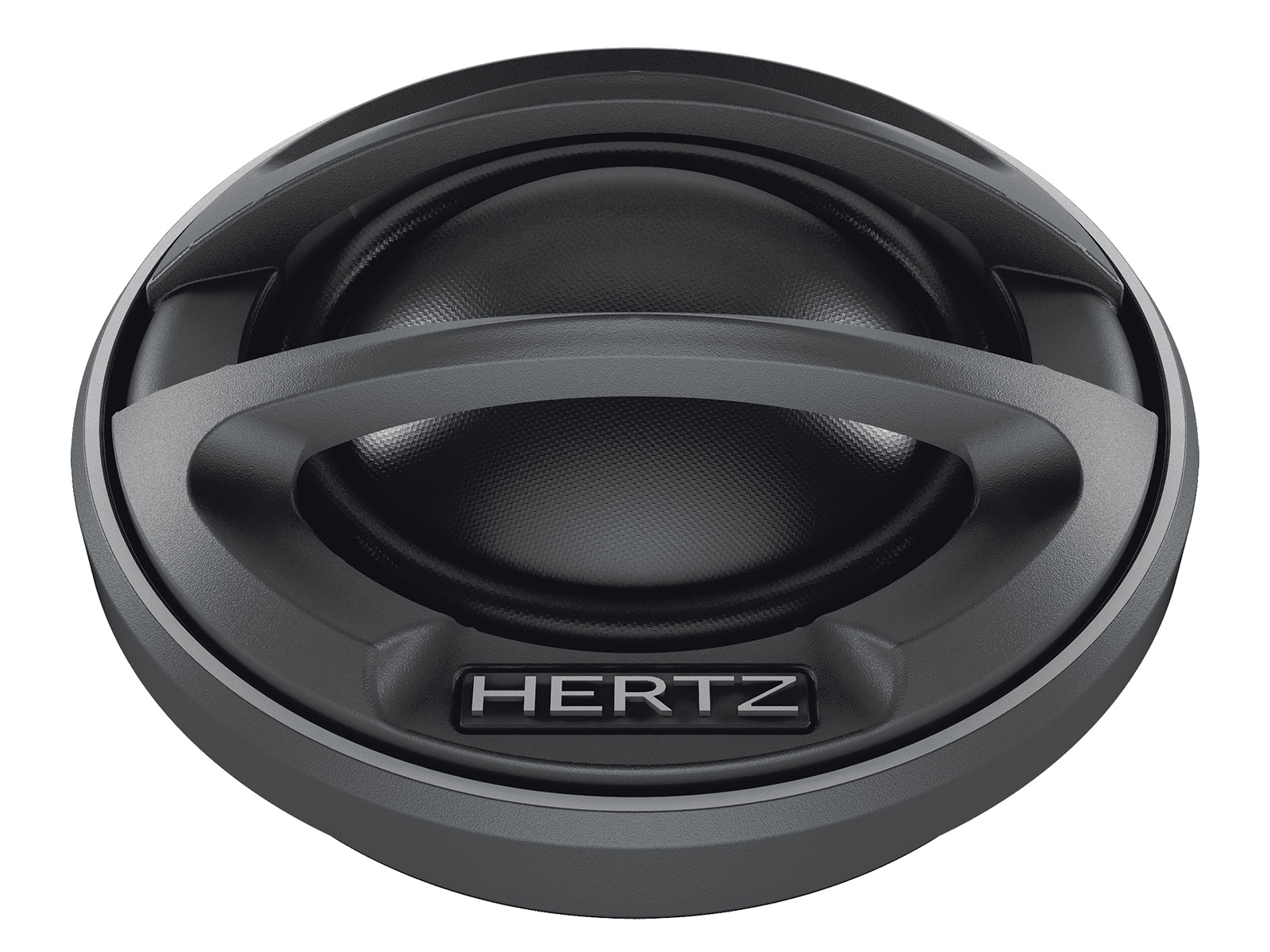 A 36-mm copper-clad aluminum voice coil drives the moving mass of the midrange woofer. The coil material and the polyamide former were chosen for a combination of low mass and high power handling.
The mid/woofer is powered by a high density neodymium magnet with a low carbon content CNC-machined plate, leading to maximum magnetic permeability.
The ML 280.3 tweeter is also powered using a neodymium motor, optimized from countless hours of FEA simulations. The rear of the tweeter housing includes a chamber that is specially designed to reduce resonance to only 900 Hz, for a very wide extension in low frequency cut-off. The tweeter is unusual in that it's mounted in a CNC-machined, acoustically inert die-cast housing, including a non-removable cast aluminum face plate. The dome measures 28 mm and is formed from Tetolon fiber. Inside the tweeter is an esoteric copper shorting ring on the top pole piece, creating an anti-inductive effect and extending the upper frequency response by reducing typical inductance. The wiring is pre-attached to the tweeter, thus avoiding fragile terminal connections.
CROSSOVER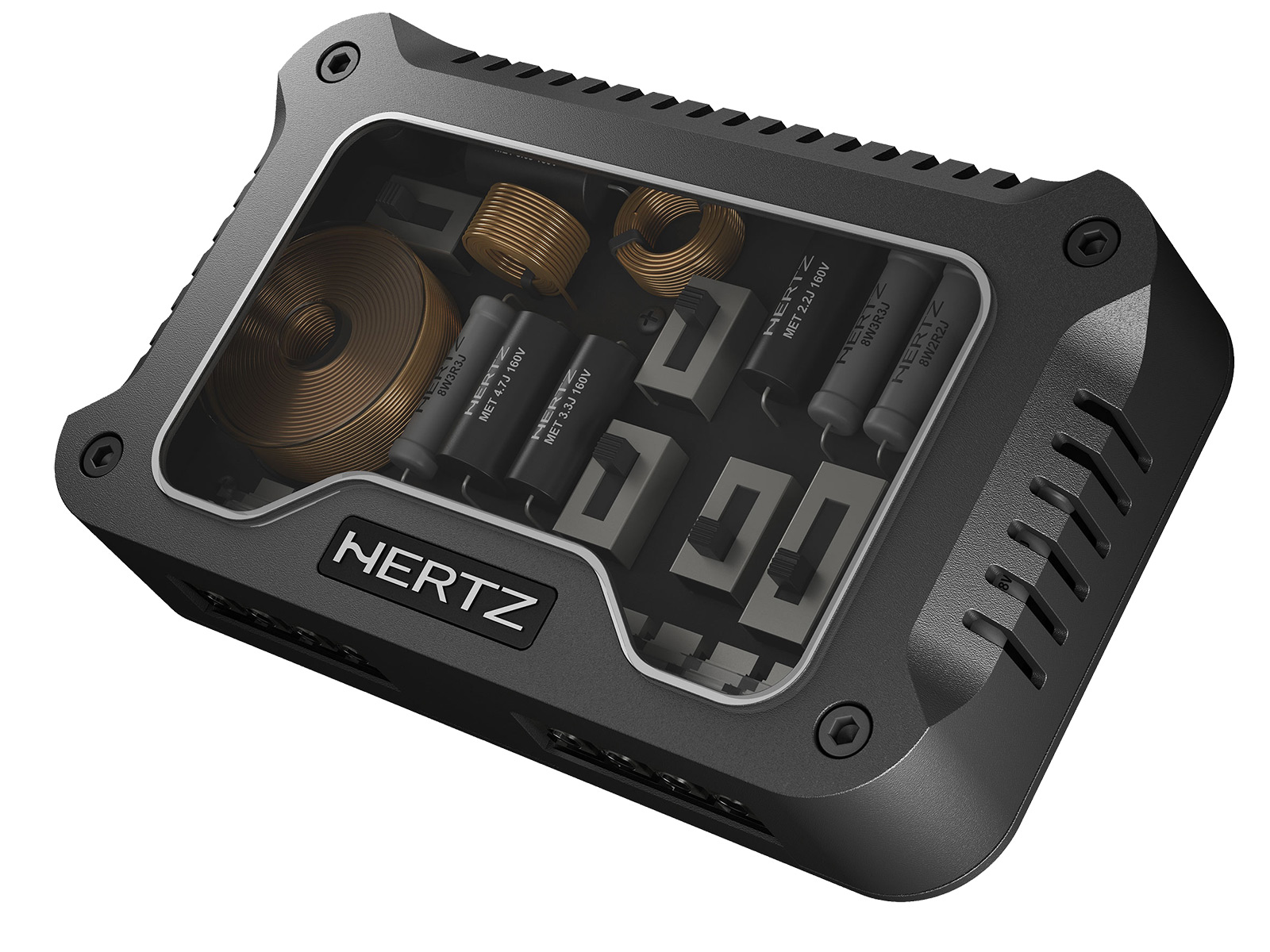 The MLCX 2 TW.3 crossover is a pretty interesting piece of engineering. In addition to the use of bi-metallic polyester dielectric capacitors and air core inductors, this crossover provides more adjustability and tuning capability than any other I've tested in quite a while.
Through the implementation of high quality, low-resistance switches, there are no less than five different adjustments available to the user. There are switches for a mid contour and a high contour. There is also a switch for a high-boost setting, as well as a three-position tweeter level switch. Each of these built-in tuning aids allows a good installer to compensate for in-vehicle speaker positioning (or less-than-optimal placement). There are recommended starting points listed in the owner's manual, but it's always good to experiment. If that wasn't enough, another switch allows the speaker system to be bi-amped. By driving the midrange and tweeter using their own dedicated amplifier channels, sound quality can be increased even further.
Connections are made via sturdy set screw connectors that accept up to 10-gauge cable. Each of the switches and connectors are clearly marked and simple to use. The crossover top is secured in place using machine thread hex head screws, and the cover hides the crossover's mounting points for added security.
LISTENING
As always, I listen to the equipment before measuring it. This eliminates any of my test data from influencing my opinion of the product's sonic performance.
I mount the Hertz Mille MLK 1650.3 system in my listening room baffles and connect the crossovers to my reference amplifier. I'm not using the bi-amp mode, because I feel that most people will use the crossovers in a more traditional manner, so that's what I'm doing as well.
For my initial listening, I use the suggested crossover settings for a "display board" type of setup. This configuration has the mid contour turned off, the high contour on, the high boost off and the tweeter level set to the center position.
I begin with a few very familiar tunes, and after a bit of listening I think the system sounds very smooth and warm, but I decide I'd like a bit more high frequency output. After increasing the output of the tweeters, the top end is better defined, but still very smooth and polite without any hint of harshness or sibilance. A few more tunes have me adding in the high boost and turning on the mid contour to reduce the mid output. These adjustments really wake up the top end, and now I'm genuinely enjoying the system. The bass response from the woofers is lower than expected, with exceptional clarity and definition. Bass guitar and drum work is reproduced with a natural timber and resonance. This same incredible bass output might also be contributing to my one complaint – a small amount of "chestiness" or "thickness" to the upper midrange – mostly evident on female vocals and acoustic guitar.
I spend a couple of hours listening to a vast array of music and make a whole page of notes.
These are very small nits I'm picking here, and the sound of a speaker system is a very individual preference. When my session is over, I conclude that the Hertz Mille system is a very smooth, warm sounding speaker system that has no glaring flaws. While the system does nothing wrong, at the end of the day it does leave me wanting for 'less chest' and a little more brilliance and sparkle in the top end. Personal preferences like this are exactly why I encourage everyone to audition products for themselves before buying, because what left me a bit "wanting," could be perfect for you.
CONCLUSION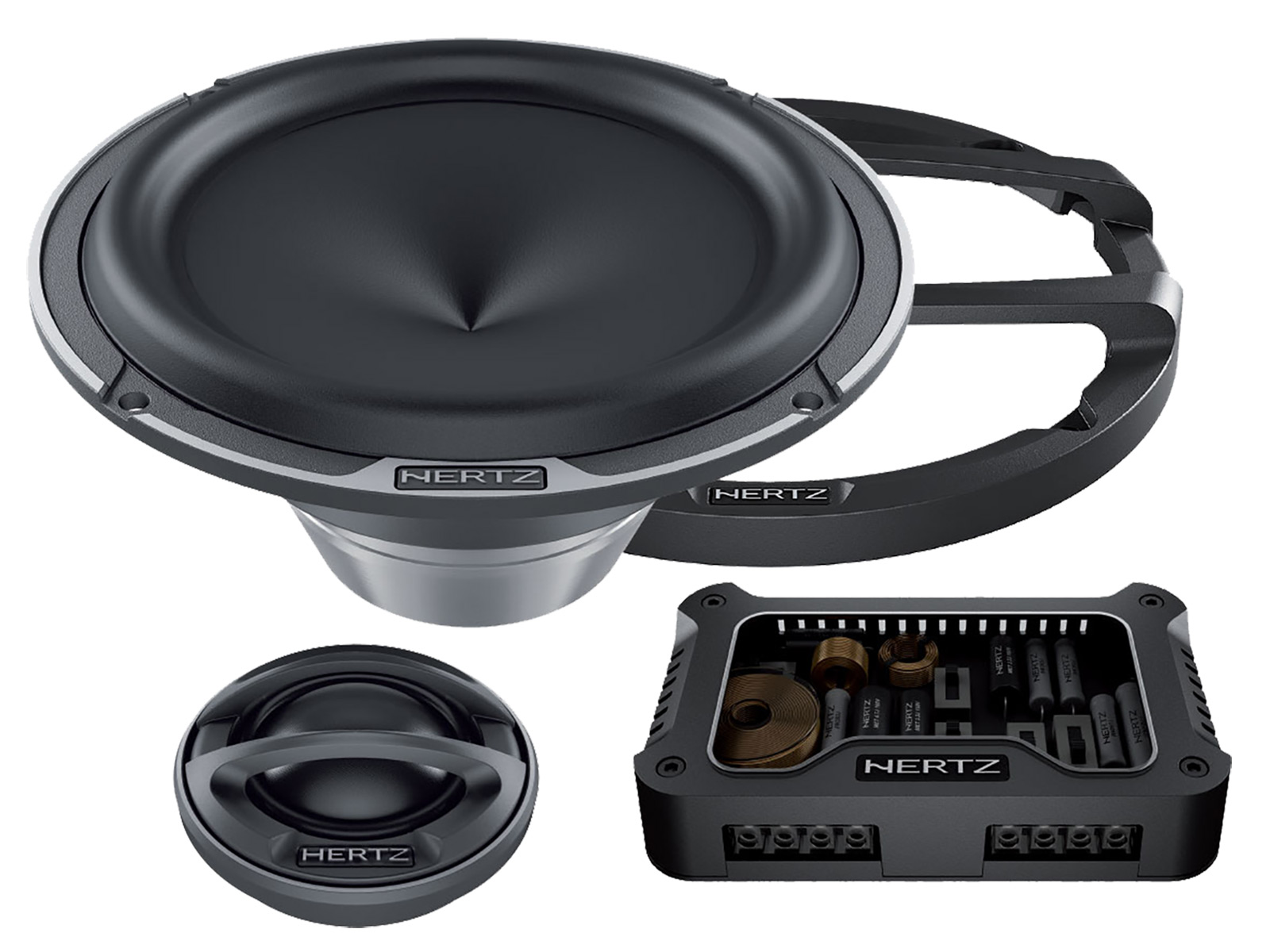 The Hertz Mille MLK 1650.3 component speaker system is a seriously well-engineered and well-built piece of kit. The drivers have been meticulously engineered for a very high sound-quality target, and the crossover network provides a vast range of adjustability. When installed and set up correctly, this system is an excellent choice for a high end audio system. Don't just take my word for it though – go audition it for yourself at a Hertz dealer near you! For more info visit: www.hertzaudiovideo.com.