In the immortal words of Monty Python, "And now, for something completely different."
Over the last couple of decades in the world of car audio, we've seen all sorts of amplifier designs come and go. For a long time, pretty much everything was Class AB. These amps sounded great, but were inefficient, requiring plenty of current and big heatsinks. Then in the early 90s, highly efficient Class D amplifiers were introduced for subwoofer applications, with very little current needed for high output power, limited bandwidth, and they didn't work well above one kHz. But technology pressed onward, and in the last 10 years or so, we've seen Class D designs improve dramatically to become very good sounding, full range amplifiers. Somewhere in between, several brands experimented with Class G and Class H designs, which by switching the rail voltages of the power supply, offered improved efficiency over Class AB with no high frequency bandwidth limitations or restrictive output filtering.
| | |
| --- | --- |
| | |
Well, Phoenix Gold and Steven Mantz (of ZED Audio fame) have collaborated on an all-new type of topology that combines the rail switching of a Class G amp and the ultra high efficiency of Class D output. The result of this collaboration is the new SX amplifier series from Phoenix Gold. Currently, there are five models offered, with three mono versions, as well as four-channel and five-channel models. In this review we'll have a closer look at the SX1200.5 five-channel model, rated at 200x4 plus 400x1, for a total output power of 1,200 watts into two ohms. Pricing is TBD at press time, but we expect it to be very reasonable in terms of watts per dollar. A "Birth Certificate" in the box stated that this particular sample had been tested at power levels well in excess of the rated power.

FEATURES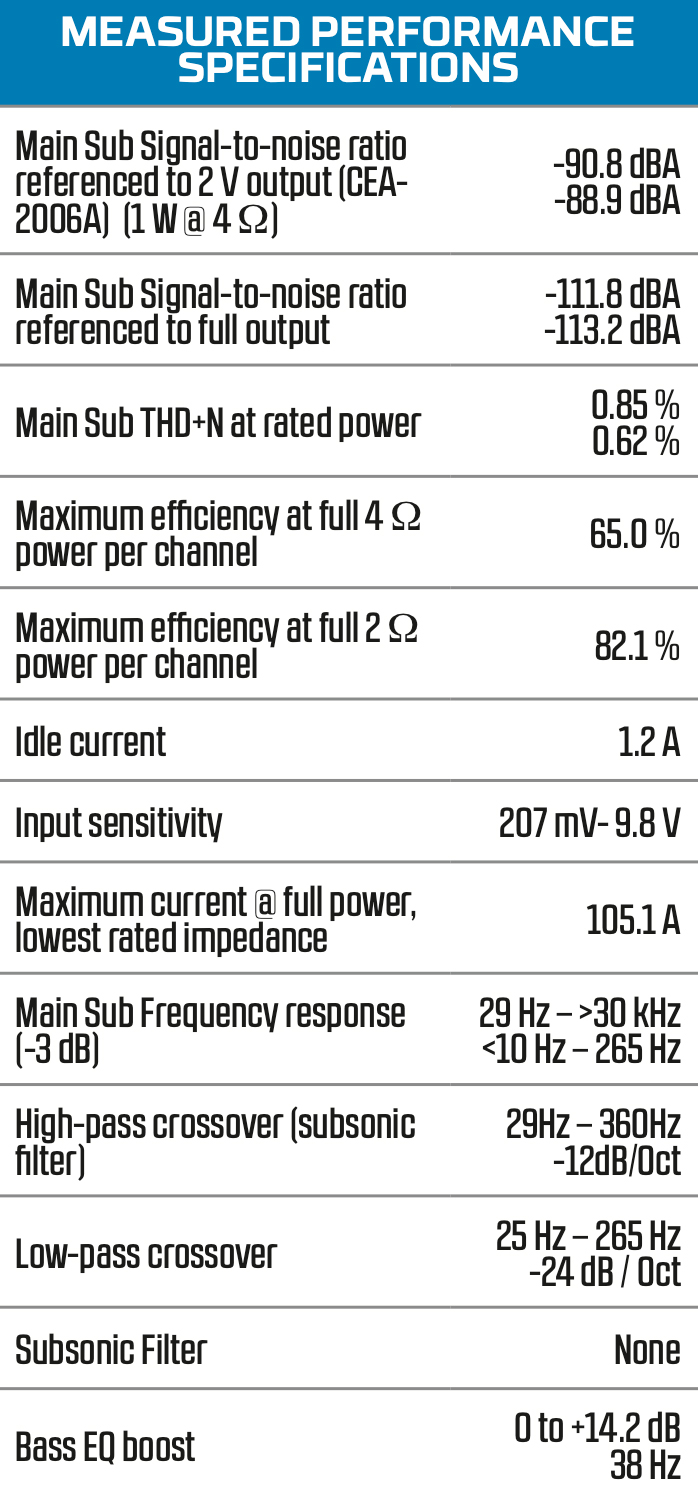 The SX1200.5 is jam packed with a bunch of innovative features, as well as all the usual stuff you'd expect from Phoenix Gold. Because of the overall efficiency of the combined topologies, the amplifier is very compact (12.3 x 6.9 x 2 inches) for the available power. With such a small chassis, finding an appropriate location for installation is easier, and thanks to the layout of the connections, keeping the power and output signal away from the sensitive low level inputs is also a breeze. Cosmetically, it's a smooth, good looking amp finished in black brushed-aluminum with a blue lit logo in the top center.
From a technological standpoint, the feature that stands out the most to me is the ADAPT power management. The concept behind this technology is to create an amplifier that works with real world, in-car battery voltages while delivering the expected power and maintaining high efficiency. To accomplish this, the SX1200.5 uses a highly regulated power supply with a pair of dual voltage rails for the satellite channels and another pair of rail voltages for the subwoofer channel.
If you are unfamiliar with this principle, you will recall that a transistor operates more efficiently the closer it gets to the rail voltage driving it. By using multiple rail voltages, the transistor now has two regions of high efficiency, instead of just one. This decreases device heating, lowers current draw, and allows the amplifier to be physically smaller.
Here is how it works: as the musical input signal to the amplifier varies its level, it causes the amplifiers rail voltages to jump between the two rail voltages, so the amp ADAPTs to whatever the output level needs to be, thereby theoretically improving efficiency. If all this techno-jargon is confusing, think of it sort of like a new car with a variable displacement engine. When simply cruising down the highway, the computer will "shut off" cylinders and the engine gets better mileage. But when you stick your foot in it, all cylinders become instantly available and you have full power. The ADAPT circuitry also allows for intelligent thermal roll-back protection, which means that rather than shutting off your tunes, if the SX1200.5 happens to get too hot, it will simply scale back its output until it cools down.
Another benefit of the design is that there is inherently less Class D interference and noise, which leads to better audio performance and no loss of radio reception. While all the ADAPT technology is very cool, there are a lot of other features included as well. The SX1200.5 is equipped with high-pass filters on the front and rear channels, which can be adjusted from 15 to 250 Hz, and a corresponding low-pass filter for the sub channel. Additionally, the sub channel has an adjustable EQ at 45 Hz, with up to 12 dB of boost. A "sub input" switch allows the subwoofer channel to be driven from the front inputs; a handy feature when your radio does not have sub outs. The amp is also equipped with connections for a separate Phoenix Gold Remote Voltage Display (p/n RMD) and for the included wired subwoofer level control.
Wire connections for the power and speakers are made via well-marked, heavy duty screw type terminals on the opposite end of the amp. A look inside the amplifier reveals a well laid out PCB and low tolerance surface mount parts are used wherever possible.



ON THE BENCH
As I have explained, the ADAPT circuitry in this amplifier is designed to maximize the amplifier's performance while playing music under real world conditions. From a test bench standpoint, the design makes it a bit difficult to obtain real apples-to-apples comparisons with non-ADAPT type amps. This is because on a typical amplifier, power testing is done by driving all channels at the same time into a stated impedance, and having them all reach maximum undistorted power with the same input voltage. Because of the ADAPT design, this "normal" test was not really possible at two-ohms; the amp is simply not built to have all five channels produce maximum current for sustained periods. From a normal use perspective however, a very good argument can be made for the ADAPT design and I would not suspect any problems when playing musical signals. For this reason, the power numbers shown in the chart below are "short duration" numbers, not the typical CEA-2006B data we normally publish. Power efficiency at two-ohms is over 80 percent, meaning the amp only gives up less than 20 percent of the power it consumes to heat generation. Signal-to-noise performance is exceptionally good and the satellite channels are flat to well over 30 kHz.
Another commonly overlooked, but very important specification is CMRR, or Common Mode Rejection Ratio. This is the ability of the amplifier's input section to reject noise that is common on the input cables, noise such as alternator whine. Amplifiers with good numbers here will suffer far fewer noise problems in general and the SX1200.5 has very good numbers indeed, with better than 56 dB of rejection.

CONCLUSION
The Phoenix Gold SX1200.5 is the proverbial big punch in a small package. It has good efficiency, high quality parts, and features an innovative design by an industry guru. We're told that dealers are having a hard time keeping them in stock, so if you are in the market for something completely different, check the whole SX series out at a Phoenix Gold dealer near you.