Okay, I've done plenty of reviews about smartphone oriented head units, and this is going to be another.
This time, however, we are looking at a product that actually fits in a single-DIN opening! So, if you have been longing for a dash full of high tech trickery to meld with your smartphone-obsessed lifestyle, here is one that won't require a complete dashboard remodel just to fit.
The brand-new Pioneer AVH-3300NEX features an innovative and highly customizable interface, and is designed specifically for today's smartphone driven user. It includes all the whistles and bells you'd expect and hope for, including a seven-inch motorized touchscreen in a single-DIN sized chassis. This is a brand-new piece, so the unit I received for review is a pre-production prototype - that's how new it is! The unit is on shelves alongside some of the other recently introduced NEX units by time you read this.
FEATURES
Like the other Pioneer NEX (Networked Entertainment Experience) source units, the AVH-3300NEX includes Apple CarPlay and Android Auto, so it's compatible with the vast majority of popular smartphones (iPhone 5 or later, and compatible Android phones). Touching the screen allows you to take advantage of Siri Eyes Free, or Google Now. Also, built-in is Pioneer's proprietary AppRadio Mode+, which provides control of all your compatible apps directly from the touchscreen. The innovative interface is formatted specifically for ease of use and safer operation. For those of you who have discovered the Waze navigation app, you'll have it right on the screen in front of you, and can access it via Android Auto or AppRadio Mode+ (also available on iOS devices). You also get compatibility with the free to download AppRadioLIVE app, which pulls content from many different sources and services. Whether it's a map, music, news, or a calendar, this app allows you to combine whatever information you need into a single easy-to-use interface.
Of course, full Bluetooth hands-free calling functionality is built in, and you can stream content from your phone via Bluetooth. Once your phone has been registered with the AVH-3300NEX, future pairing is automatic whenever your phone is within range. Pioneer has also improved the call quality with their new Wideband Speech Handsfree Profile 1.6. This exclusive feature nearly doubles the frequency bandwidth of the call, and approaches FM-type sound quality.
Pandora personalized internet radio is also included, and control is available directly from the touchscreen as a dedicated source. Compatible with Apple iOS, as well as Android devices that support the Bluetooth Serial Port Profile (SPP), just download the Pandora app and enjoy new music mixed with your current favorites. If you prefer Spotify, no worries, as it is another supported application, and, in fact, has been given its own dedicated source on the AVH-3300NEX.
Satellite radio aficionados will appreciate compatibility with a Pioneer SXV300 Sirius XM tuner, and audiophiles will love the high resolution 192-kHz/24-bit playback capability via USB. The user interface is customizable to your personal preferences, and there are multiple different lighting colors and display choices available. Two auxiliary video inputs (RCA and 3.5-mm) are available on the rear panel, as well as a rear-view camera input, and a rear video monitor output.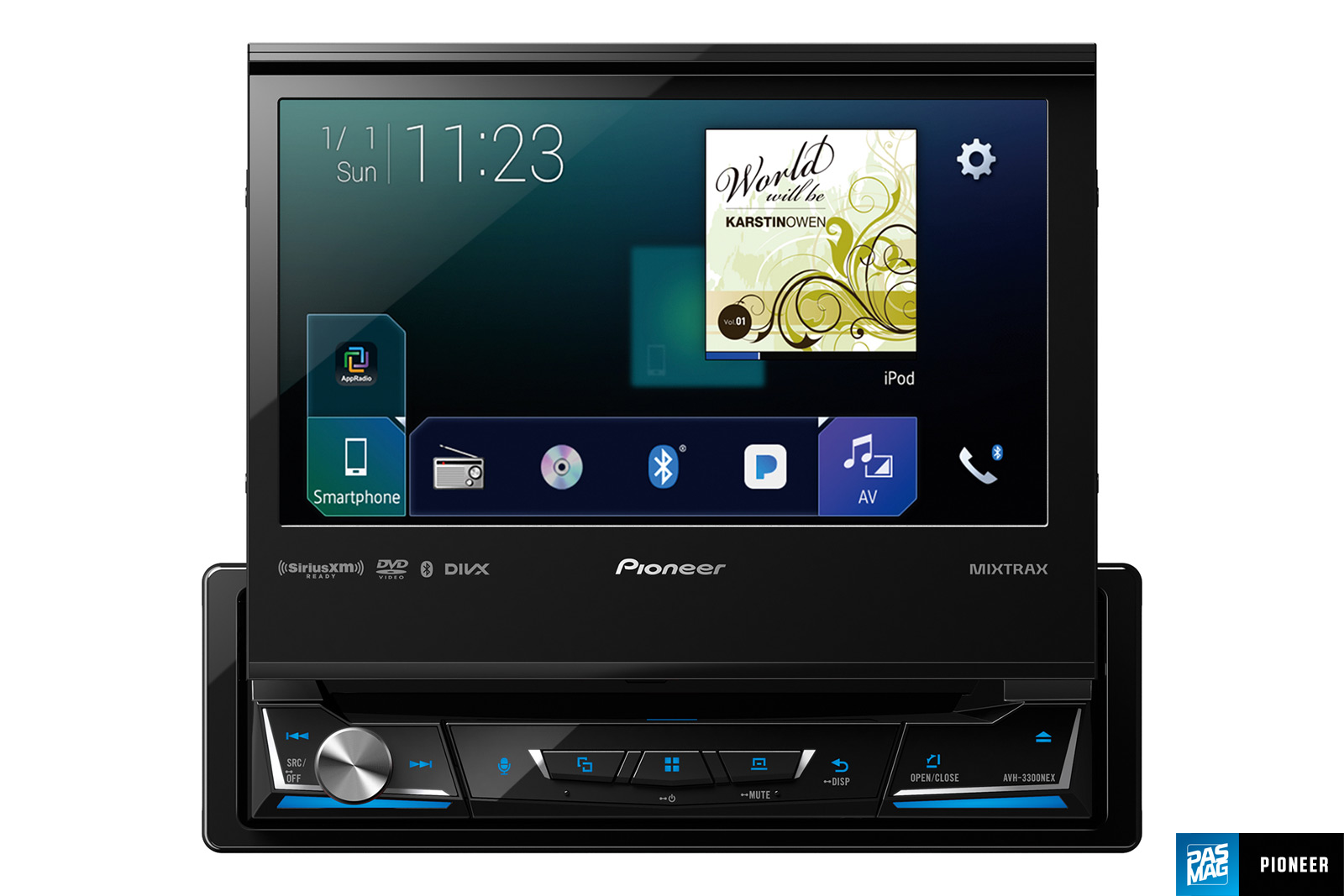 CONTROLS AND FUNCTIONALITY
As you might expect, there isn't a lot of room to fit many hard buttons on the faceplate, as the front edge of the screen takes up the top half of the space. Once the faceplate quietly motorizes out, virtually all the controls and adjustments will be made on the touchscreen, aside from the rotary volume knob on the faceplate. This is a good thing, because most of them are hard to reach when the screen is out anyway. The controls and icons used are clear and easy to use, and the overall ergonomics are fine. The screen provides a clear picture for DVD playback, or when viewing the picture from the optional rear camera input. A wireless IR remote control is also included in the box.
AUDIO PERFORMANCE
On the test bench, the Pioneer proves to be an admirable performer. The built-in amplifier develops 20 watts x 4 into four ohms, and has a ruler flat frequency response. The pre-outs also measure very well, with 3.9 volts of unclipped output, and an equally flat response curve. Output impedance is decent at 190 ohms, and signal-to-noise performance is excellent, measuring -82.1 dB A-weighted. A built-in DSP-powered crossover provides 11 frequency selections and the slope is adjustable from -6 dB to -24 dB in six-dB steps. To further aid tuning, a 13-band EQ is also built in, and the optional Pioneer CD-MC20 would add Auto EQ and time correction functionality.
Graph 1: 4 OHM POWER vs THD+N PER CHANNEL BATT 14.4V
Graph 2: MAX FLAT - FREQUENCY RESPONSE
Graph 3: RCA OUTPUT MAX FLAT - FREQUENCY RESPONSE
Graph 4: HIGH PASS CROSSOVER FREQUENCIES - FREQUENCY RESPONSE
Graph 5: LOW PASS CROSSOVER FREQUENCIES - FREQUENCY RESPONSE
Graph 6: CROSSOVER SLOPES - FREQUENCY RESPONSE
MEASURED SPECIFICATIONS
AMPLIFIER
CEA-2006A Power per channel (all channels driven, @ 4 ohms): 20.0 watts/ch X 4
A-Wtd S/N Ratio (ref to 2V/1W @ 4 ohms) Amplified output: -76.7 dBA (Aux)
THD+N @ 2V/1W @ 4 ohms 1kHz: 0.03%
Frequency Response (-3.0 dB): 20 Hz – 20 kHz (CD), 20 Hz – 20 kHz (Aux)
PREAMP SECTION
Max Usable Output Voltage: 3.9 Vrms
A-Wtd S/N Ratio ref to full output voltage: -82.1 dBA (Aux)
Output Impedance: 190 ohms
Frequency Response (-3.0 dB): 20 Hz – 20 kHz (CD), 20 Hz – 20 kHz (Aux)
CONCLUSION
Smartphone-centric users with single DIN dashboard openings finally have something to cheer about! The AVH-3300NEX has all the bells and whistles of the double-DIN units, but now will fit in your dash. Everything I've seen here tells me it will be an easy to use, easy to live with, and a good sounding unit. With all that in a single-DIN chassis, your search for connected nirvana may finally be over. For more info, visit www.pioneerelectronics.com, Twitter, Instagram, Facebook, YouTube.