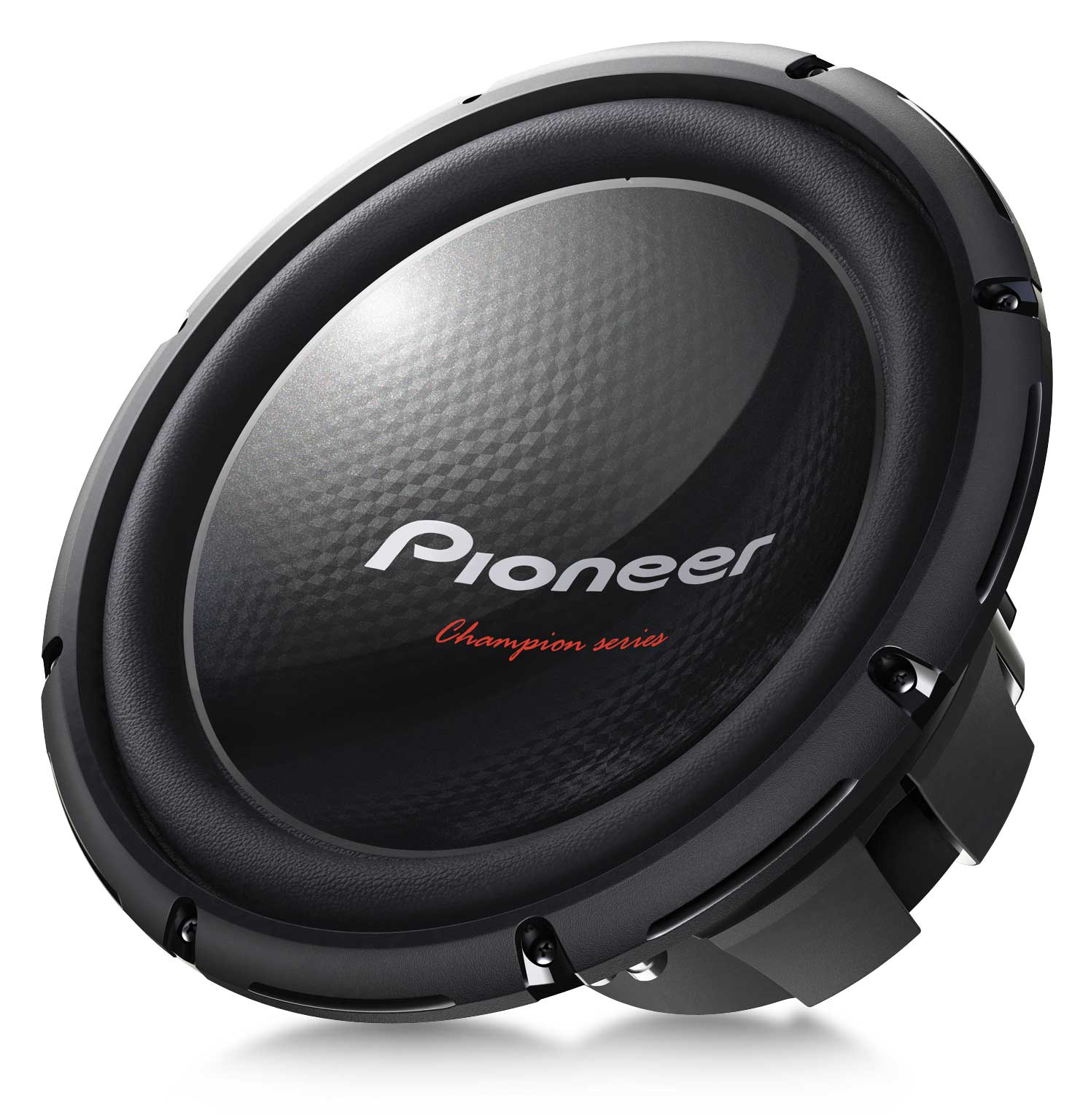 If you follow any of the SPL contest wars, you're probably aware that Pioneer has been stacking up the trophies with its Premier Series high power SPL woofers. Now you can enjoy the same technology and quality at everyday prices, thanks to the new Pioneer Champion Series woofers, available in ten- or twelve-inch sizes. The good folks over at Pioneer Electronics were kind enough to supply us with a twelve inch sample for testing. The new TS-W310D4 woofer is a dual four ohm voice coil design, with a continuous power rating of 400 watts. The manufacturer suggested retail price is $160 and the woofer is available at Pioneer dealers everywhere.
Features
Incorporating many of the Champion Series Pro woofer features like the attractive, high gloss and super strong IMPP composite seamless cone and Pioneer's revolutionary dual layer Elastic Polymer Surround, the TS-W310D4 woofer is designed to move a lot of air. The ultra-rigid, full size IMPP dust cap over the pressed paper cone provides all the strength necessary for high SPL levels, but the high tech materials still allow the low-mass assembly to provide accurate, detailed bass output and good sensitivity.
The cone assembly is driven by a two-inch, four-layer copper voice coil, wound on an aluminum former for maximum heat dissipation. The voice coil assembly is centered in the magnetic gap by a linear-type Nomex spider. This moving assembly is mounted in a heavy duty stamped steel basket, which incorporates venting holes under the spider to allow proper voice coil cooling. The basket has a large, flat landing to mount the spider to and attach an attractive ABS magnet cover to the basket with three screws. Under the cover, a 74-ounce, high energy strontium ferrite magnet assembly provides more energy than a typical ceramic magnet. Spring loaded, nickel-plated electrical connections for the dual coils are conveniently located on one side of the woofer frame. I like the terminals mounted like this as it simplifies the wiring configuration, whether you choose series, parallel, or running each coil from a separate amplifier channel. Mounting the woofer is accomplished with the usual eight screws and the woofer comes with an integrated trim ring for a clean, finished look.
Listening
According to the owners manual, the TS-W310D4 can be used in either sealed, vented, or bandpass type enclosures, with suggested volumes of 1.25, 1.5, and 0.9 cubic feet respectively. For my listening session I decide to try it in both the sealed and vented configurations, since I have the correct size enclosures already on hand.
With the TS-W310D4 loaded in the 1.25-cubic foot sealed enclosure and my amplifiers low pass crossover set for 80Hz, I begin my listening. Within a few bars of the first song I know this is a pretty good sounding woofer, with nice articulation and a warm tone. Detail and control are very good, the bass is tight and accurate, but in this enclosure it seems like the very lowest octave was lacking a bit of output.
Switching to a vented enclosure with the volume of one and a half cubic feet tuned to approximately 35 Hz makes a big difference in output. There is more output almost everywhere, so much that I have to re-adjust the balance of levels between the woofer and my full range speakers. With the level balanced again, I enjoy the additional output, but find it comes at the cost of losing some of the articulation and detail I enjoyed so much in the sealed enclosure. The upside of this is that the TS-W310D4 can please both ends of the spectrum. The audio purists will almost certainly choose a sealed enclosure, maybe slightly larger than the suggested volume, while the folks who prefer high energy and excitement from a lot of low frequency output will lean heavily towards vented enclosures. I prefer sound quality to quantity, so I would opt for a sealed enclosure and enough power to get the SPL levels I want. After all, power is cheap, and this woofer has no problem handling levels up to – and even a little over – its 400 watt rating.
Actual Measured Thiele-Small Parameters
Pioneer TS-W310D4 - Coils in Parallel
Revc= 1.610 Ohm
Fo= 35.677 Hz
Sd= 0.052 M²
Vas= 50.4 Liters or 1.781 Ft³
Cms= 0.131 mm/N
Mmd= 144.730 g
Mms= 151.548 g
BL= 8.509 T•M
Qms= 7.706
Qes= 0.755
Qts= 0.688
Levc= 0.562 mH
No= 0.293 %
SPLo= 86.688 dB
EBP= 47.25
Quick Tech Specs
Power Handling 400 Watts RMS / 1400 Watts "Peak"
Frequency Range 30 Hz -300 Hz
Sensitivity 86.7 dB/SPL @ 1.0W
Nominal Impedance (2) 4 ohm coils
Conclusion
Pioneer has created a woofer that will appeal to a wide range of buyers. While it's not the best sounding or best performing SPL woofer out there, it can satisfy a much wider range of performance goals than most other woofers. The TS-W310D4 is a dream product from a dealer standpoint, because it can please almost everyone, from the sound quality crowd to SPL show-offs, simply by choosing the appropriate type of enclosure. Though this flexibility comes with compromises on both ends of the spectrum, for the vast majority of people who find themselves somewhere in the middle, it offers excellent performance for the price.