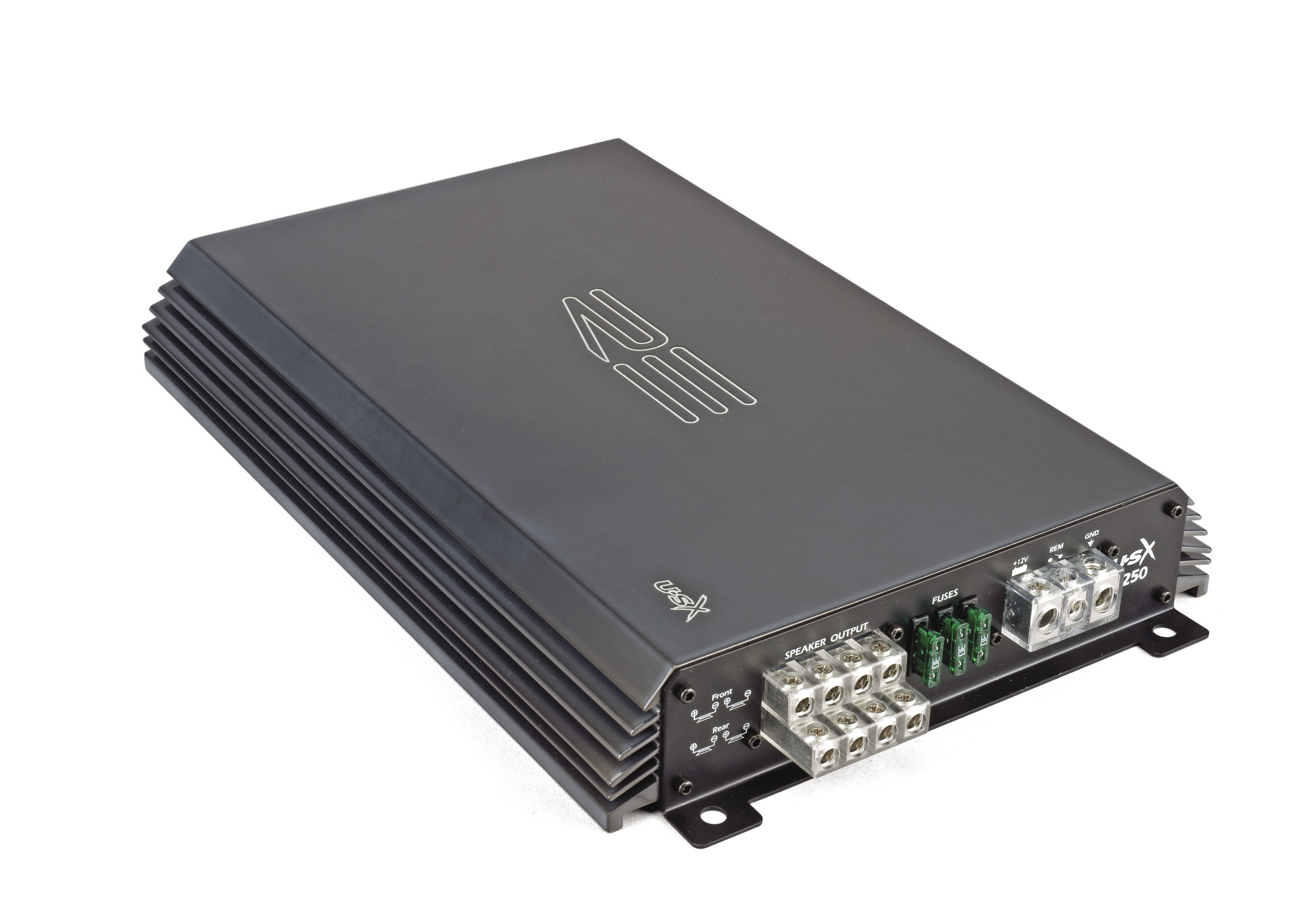 In the audio world, there is something to be said for a time-tested, tried and true design – something that has been providing audio enthusiasts and audiophiles with years of excellent sound reproduction. And that's just what we have for this review, in the form of the RE Audio USX 4250 four-channel amplifier.
Features
The RE Audio USX 4250 is a throwback to the old days of Class AB amplification, sporting a front end that can be traced back to the legendary U.S. Amps models of the 1980s. The same designer, Dirk Ecker (who was one of the original founders of U.S. Amps) is responsible for them both.
The RE Audio USX 4250 is a classic four-channel Class AB amp, rated at 100 watts per channel into four ohms, and 150 watts per channel into two ohms. Housed in a clear covered, gray powdercoated extruded aluminum heatsink, the amplifier is built with a long list of features found in well-engineered products, including a fully-balanced front end to minimize noise picked up by the signal cables, and complementary J-FET direct drive for the TIP 35 and 36 bi-polar outputs – held in place by finned extruded aluminum bars to aid in heat dissipation. The pulse-width modulated power supply is capable of switching over 80 amps of current, and an oversize toroid is used to prevent hysteresis. All this for just $574.98 (USD).
Built on a double-sided printed circuit board with heavy copper traces for high current operation, the amplifier utilizes through-hole style parts throughout, with high-quality, high-speed poly caps in the preamp section for smooth extended frequency response. In keeping with the old school theme, the amp employs a conventional but logical layout, with controls and inputs on one end and high-current power and speaker connectors on the other. Speaker terminals accept up to 12 gauge speaker wires, while the power and ground connectors accommodate four-gauge cables.
Controls are provided for front and rear gain, while low pass crossovers are adjustable from 40 Hz to 250 Hz and high-pass from 40 Hz to 1 kHz.
Listening
The first thing I like to do with a product I'm reviewing is listen to it. I connected the USX 4250 to my reference system, with the front channels driving a pair of 6.5-inch components. The rear channels are bridged to a four ohms woofer in a sealed enclosure. Because my component speakers were up to the task, I ran their full range, but used the low pass crossover to supply signals of 80Hz and lower to the woofer. On my first impression, the amplifier sounded very natural and musical. The midrange had a natural tonality, with acoustic instruments such as grand piano and classical guitar retaining their natural timbre. The sonic quality of the amp is well balanced and the bottom end from my woofer system provided all the power and authority I expected, with good damping and woofer control. On the top end, there is a pleasant presence to the sound, with a decent sense of air and natural vocal sibilance. The reproduction of a cohesive stereo image was also good, with a subtle narrowing of the image towards the rear of the stage. I played the amp at moderately high levels for about an hour. While the heatsink did get warm, I had no issues with thermal shutoff – keeping in mind that I was operating the amp in a cool listening room, not a 150 degree trunk. As always with a Class AB amplifier, cooling is more critical than we are accustomed to with the current crop of Class D products, so a airspace and airflow around the amp will go a long way to prevent overheating. This is where a good installer can really make a difference.
On the Bench
The next morning, I moved to the test bench to measure the technical details, without many surprises. As I mentioned, the front end of this amp, albeit simple and straightforward is very well done. This was reflected in the frequency response bandwidth, which measured an impressive 10 Hz to 136 kHz. Power efficiency was average for this type of design, coming in at a best case of 63.0 percent. Actual measured power was a couple of tenths of a dB off the rated number, but such a small discrepancy would be completely inaudible. My listening session demonstrated clearly that the amp has plenty of power on tap.
Conclusion
It's been a while since I got to evaluate a traditional design and I enjoyed it. The RE Audio USX 4250 reminded me how simple and straightforward audio can be. With its classical design and good engineering, it would serve as a good choice for anyone interested in a more traditional, purist-type amplifier. And there is every indication that it would do it well for a long time.
The following power measurements were obtained using industry standard methods. (1 kHZ @ 1.0% THD+N - Battery voltages shown +/- 0.2 V)
Measured Performance Specifications
Manufacturers Rated Power Actual Measured Power
@ 1.0% THD+N @ 12.6 V Battery Actual Measured Power
@ 1.0% THD+N @ 14.4 V Battery
100 x 4 @ 4 ohms 63 x 4 @ 4 ohms 85 x 4 @ 4 ohms
150 x 4 @ 2 ohms 95 x 4 @ 2 ohms 129 x 4 @ 2 ohms
300 x 2 @ 4 ohms 194 x 2 @ 4 ohms 262 x 2 @ 4 ohms
Signal to Noise Ratio referenced to 2 V output
(CEA-2006A) (1 watt @ 4 ohms) -72.4 dBA
Signal to Noise Ratio referenced to full output -91.9 dBA
THD+N at rated 4 ohms power 0.2%
CEA-2006A rated 4 ohms Power (minimum power per channel developed over the entire intended audio bandwidth) 78 W
Maximum Efficiency at full 4 ohms power per ch. 63.0%
Maximum Efficiency at full 2 ohms power per ch. 54.9%
Efficiency at 10 watts per channel, 4 ohms 20.9%
Idle Current 0.7 A
Input Sensitivity 124 mV- 7.1 V
Maximum Current @ full power, lowest rated impedance 65.3 A
Frequency Response (-3 dB) <10 Hz – 136 kHz
High Pass Crossover 40 Hz – 1 kHz
-12 dB/Oct
Low Pass Crossover 40 Hz – 250 Hz
-12 dB/Oct
Subsonic Filter None
Bass EQ boost None