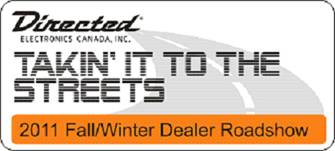 Directed Electronics Canada has announced today their Canadian 2011 Dealer Training Tour. The Takin' It to the Streets Fall and Winter 2011 dealer road show to provide education, technical training and face-to-face interactions with Directed Canada's leadership team.
"This Dealer Training Tour will prove to be extremely valuable for both our extensive dealer base and Directed Electronic Canada's team. This event will give us the opportunity to expand the knowledge of Directed Electronic Canada dealers and to help them become more profitable and successful with our products, services, promotions and technical tools." says Jed Tommy, Senior Director of Sales for Directed Canada.
The tour, which will stop in 5 cities from August 9th 2011 through September 21st 2011, will be focusing on product knowledge and technical training and support. All attendees will receive a preferred discount when signing to the Takin' It to the Streets Fall and Winter booking program.
The 2011 Directed Canada Dealer Education Tour stops in the following locations:
Edmonton, August 9-10, 2011
Calgary, August 16-17, 2011
Toronto, August 23-24, 2011
Quebec, September 6-7, 2011
Montreal, September 20-21, 2011
For more information, call your regional Directed Canada sales representative at 1.800.361.7271